What is the Sole Fitness E95 Elliptical
With a design that was updated in 2020, the E95 is Sole Fitness's premium quality, mid-price range elliptical that's been a common sight in most best-of lists for the last few years.
Balancing a huge list of thoughtfully chosen features and a lot of modern conveniences, on top of a huge and powerful flywheel, and an incline mode, for efficient, effective workouts, the E95 is a beast of a system that's great for almost anyone, no matter their goals or fitness level.
But what makes it so good? And as good as the E95 is supposed to be, is it right for you? Let's find out.
What can you get from training with the Sole Fitness E95 Elliptical
Ellipticals and cross trainers are an excellent choice for almost anybody who's looking to get fitter and healthier.
The first big reason is that when you're using an elliptical your whole body is supported throughout the entire exercise. This takes a lot of the strain off of your joints, making machines like the E95 incredibly low impact.
This means that there's almost no short term or long term strain, lowering the risk of injuries, and making the elliptical a great choice for people who have joint issues, are in recovery, or are getting older and finding it harder to keep working out at the same intensity.
The design of an elliptical includes moving arm handles, which work your upper body, including your arms and back. This makes the E95 a solid choice over things like treadmills and bikes, which only work your lower half.
Finally, ellipticals are also great for losing weight, burning on average 350 to 450 calories per hour at a moderate intensity.
Who is this best suited for?
At its price point, and with its features list, the E95 isn't aimed at the bottom of the market; people who are going to use this once a week for ten minutes and then forget it exists.
But if you're at all serious about your health and fitness, and want one of the best cross trainers available in 2023, then you're in the right place. Everything about the E95 screams quality, and it's literally one of the single best-equipped ellipticals that's available right now.
---
Sole Fitness E95 Key features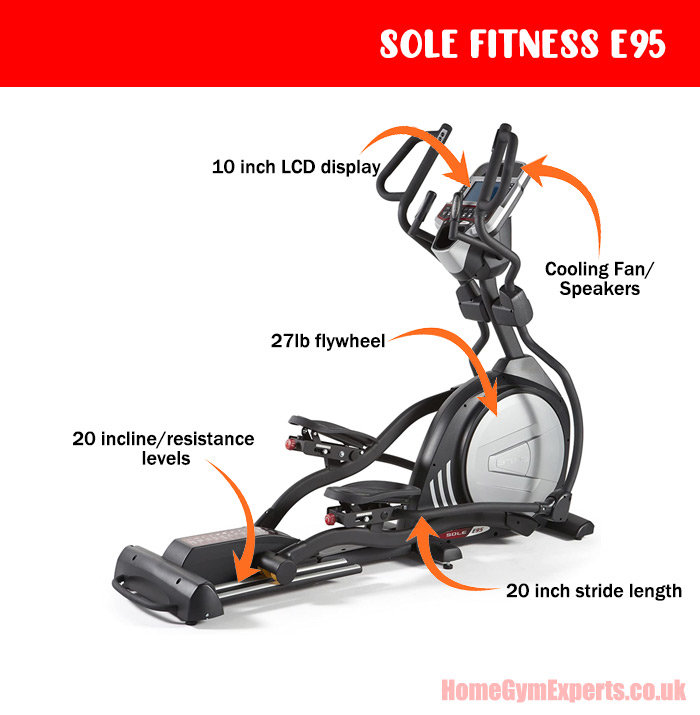 27lb flywheel
20 resistance levels
20 incline levels
20-inch stride length
10-inch display
150kg (330lb) user weight
117kg unit weight
Built-in heart rate sensor
Lifetime warranty
---
What we like about the Sole Fitness E95 Elliptical
Incredible build
If there's something every piece of Sole equipment has in common, it's the fantastic build quality and overall thoughtfulness that they're designed with.
The E95 elliptical is no different. From top to bottom, everything about this is incredibly well constructed and screams quality. There's almost no flex, nothing is flimsy, and the reassuring 150kg (330lb) weight limit is suitable for basically any home exercise plan.
Stepping onto it, the E95 feels solid, stable, and tough. Your feet slip comfortably into the oversize footwells, which can be adjusted to find a comfortable standing position to hit the full 20-inch stride length. In another smart touch, the pedals are inclined inwards at a more ergonomic 2 degrees, which puts your body in a natural posture and helps to reduce the strains and aches of heavy use.
The moving handlebars are comfortable on the skin, with multiple grip options that are designed to emphasize different hand and arm positions, helping to work different muscle groups in your arms.
Built into the handlebars are a set of heart rate grips, standard on an elliptical that comes at this price, as well as the option to link a chest strap sensor if that's something you have access to. Also on the handlebars are a set of easy controls, which let you adjust resistance and incline without taking your hands off of the bars and interrupting your flow.
Finishing off the basic features are all the standard conveniences you'd expect to see:
A bottle holder
A holder for a phone or tablet
Bluetooth connectivity and a USB charging point
A set of good quality workout fans
Huge flywheel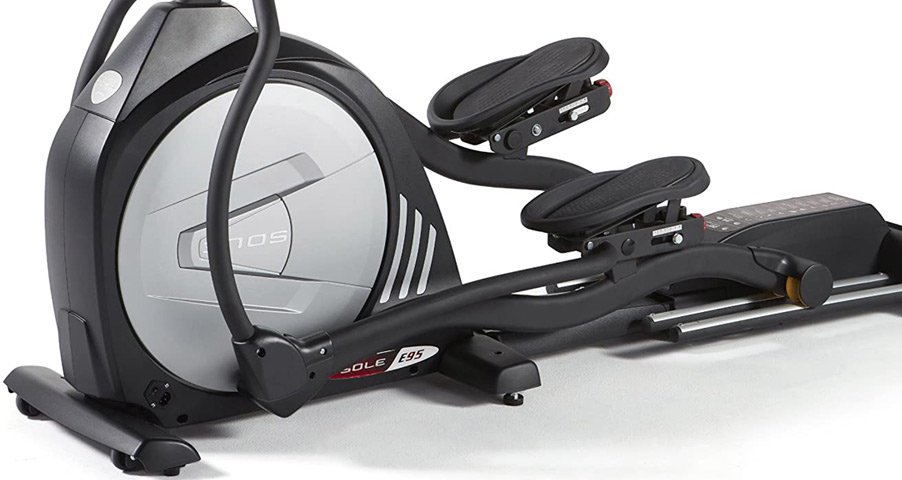 The heart of the E95 is an absolutely colossal flywheel, that sits comfortably at the top end of what you'd expect to see even in commercial level exercise gear.
This gives the system a huge 20 levels of resistance, with the highest levels offering a lot of pushback, enough resistance that even the fittest among us will feel it.
Powered incline
On top of the high amounts of resistance the E95 has on offer, it also has something you rarely see on ellipticals. A powered incline feature.
The addition of an incline adds another level to workouts. Even an incline of 5%, which is low enough that you're barely going to notice, can increase calorie burn by up to 15%, as well as feeling far more comfortable and conditioning your body for natural terrain.
The incline function is fully powered, driven entirely by the E95 itself, and can be adjusted in seconds from the control panel, or handlebar quick controls.
Ease of use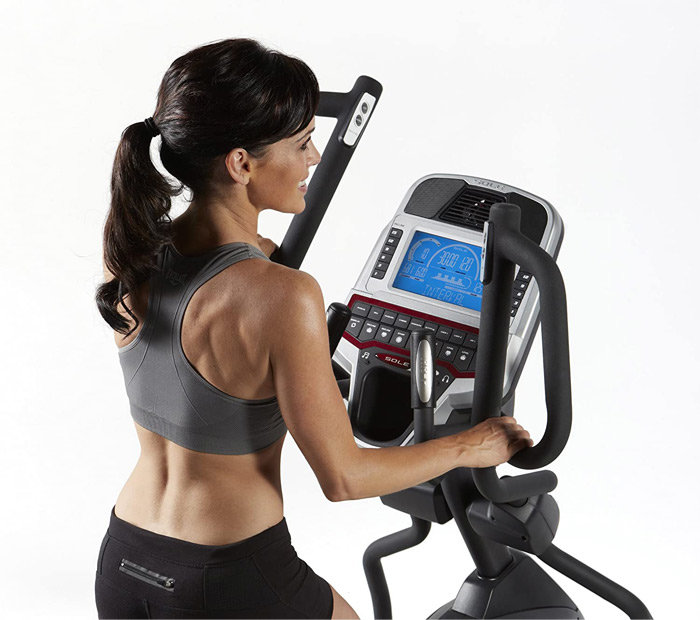 The E95's console sits dead centre, with a large and simple to understand 10 inch LCD display. Unlike most exercise systems, the E95 uses a blue on a white screen that's much easier on the eyes.
Built into the console are 6 standard fitness programs and 2 dedicated programs that are designed around improving your heart health. Two user profiles are covered as standard, but realistically, you're going to be using this with a fitness app.
SOLE offer their own fitness app as part of the E95 package, completely free. The app is … fine. A little bare bones, and has several issues that limit its features (which we'll touch on later.)
But the E95 also links with most of the big, ubiquitous fitness apps, including Fitbit, iHealth, and RECORD, so it's easy to keep track of your fitness metrics, especially if you already have some sort of fitness tracker.
Finally, the E95 can run Kinomap, massively opening up your fitness options. Our full guide found that Kinomap was one of the best third-party apps for cardio exercises, letting you choose to workout from literally thousands of routes around the world, streamed directly to any of your devices.
Pricing and delivery
The E95 comes with the option for 24 months at 0% finance, breaking the price down across a much more manageable period.
On top of this, there's a choice of set-up options, including delivery to your door, or full installation by a team of SOLE's driver-technicians.
Monster warranty
SOLE trusts their gear, and the E95 comes with a warranty that equals or exceeds anything else in its class.
Buying this fully covers your machine with a lifetime warranty on the frame, 5 years on parts and 2 years on labour. If something goes wrong, you're getting the support you need to get moving again, fast.
---
What we don't like about the Sole Fitness E95 Elliptical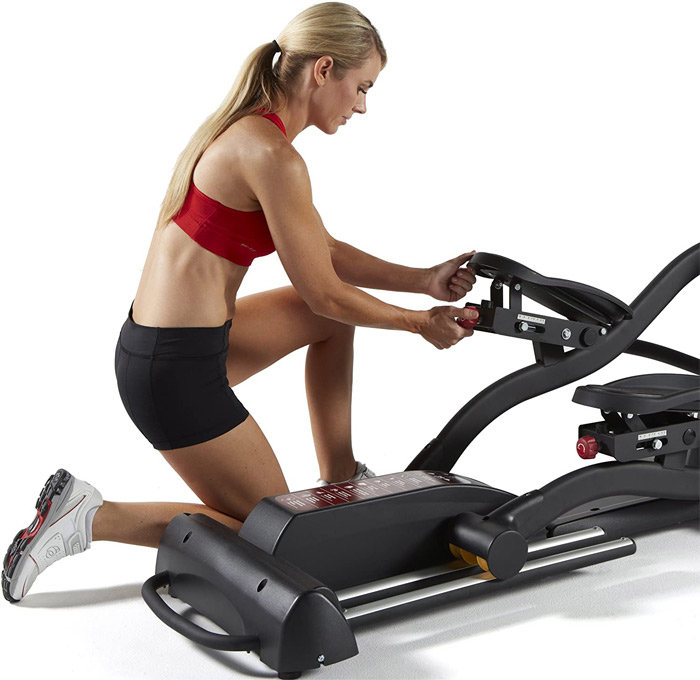 The app isn't the best
Probably the biggest issue with Sole Fitness's exercise equipment is the app. Compared to equivalent apps, most obviously iFit, there are a few holes in the service.
Firstly, the app is relatively bare-bones, with little in the way of controls for your gear, and no options that you can't change on the E95 elliptical itself.
Second, connectivity isn't good, with frequent drops. But the biggest issue is that losing signal regularly results in losing data, which almost eliminates the point of the app.
Our recommendation, download and use a third-party app with a good fitness watch like Fitbit, instead.
The large, non-folding design
Every piece of Sole equipment is built around a large, heavy frame. We've already touched on how well everything is put together, but this comes with a minor issue.
Smaller homes might struggle to find a place for this because once you've set it up, you're really not moving this. But it's worth finding, or making, the space.
Final thoughts
The Sole E95 is legitimately one of the best ellipticals on the market right now, both in its price bracket and in its feature list.
It's simple. If you're looking for a well made elliptical that comes with all of the modern flair, a powerful incline feature, and simple, easy to use controls, the E95 is going to outperform your expectations.
There's a reason this cross trainer is constantly at the top of best-of lists, is what we're saying, and you're never going to regret buying this for your home gym.
Sole Fitness E95 Elliptical Full Specs
| Brand | ‎Sole Fitness |
| --- | --- |
| Manufacturer | Sole |
| Color | Black |
| Style | ‎Elliptical Trainer |
| Weight | 117 Kilograms |
| Batteries included? | No |
| Maximum Weight | 330 Pounds |