If you haven't discovered the benefits of using a cross trainer yet, now might be the time. Get an all-over body workout without any impact to your joints.
I discovered these machines pretty recently, having ignored them at the gym for years. When I did try them out, I found a really good way to burn calories, and get some cardio without, as strange as it sounds much effort. Everything is smooth and feels great.
With that in mind, let's talk about something really cool – the NordicTrack Commercial 14.9 cross trainer, which comes with a built in HD touch screen that you can use to stave off training boredom and a lot more besides…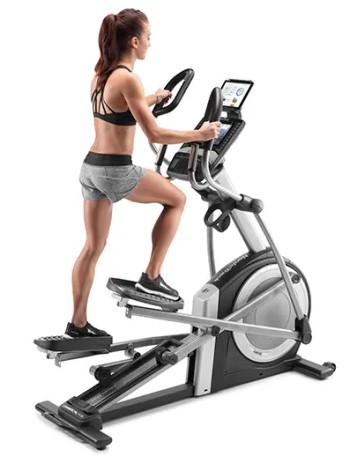 It's not often we're as impressed by something as we have been with Commercial 14.9 professional cross-trainer. We'll get to the practical part in a minute, but let's talk about the cool part – the colour screen.
This cross trainer features a large iPad style tablet display which is designed to work with the online subscription service, iFit. Some of the things you can do with iFit include:
Live online classes
Pre-recorded follow-along videos
Exploring famous routes with Google street view / maps
As well as iFit, the cross trainer works perfectly well without the service. Here the screen is used to track your time and progress and display calories and a wealth of other info.
Or you can just put on some music or a movie if that's what you're after. And use of a screen is completely optional.
There's a good selection of programs, something that's important with a cross trainer.
Other things we really like about this machine is the 5 year warranty – a lot more than the standard year you can often find on gym gear. Ultra-quiet drive system and magnetic braking keep the noise down. And we also appreciate the little things, like a water bottle holder.
This elliptical trainer has excellent construction and feels very solid, despite the fact it's actually not that heavy. The footplates are nice and big, with non-slip pads built in.
If you're looking for a way to stay motivated when training, this cross trainer has your name written on it.