If you're in the market for a budget elliptical cross trainer, you're going to like what we've got to show you here. Hopefully this guide will save you some time and some money picking your new cross trainer. And we love these machines. They offer a low impact, safe way to shed calories and get in shape. So let's get started with out top 5 trainers for under £200!
---

#1 – Dripex Cross Trainer – Amazon UK
Best overall elliptical for our price range
Max user weight: 120kg (265lbs)
Footprint: 108 x 68cm
Display: Time, distance, speed, calories
Bike seat: Yes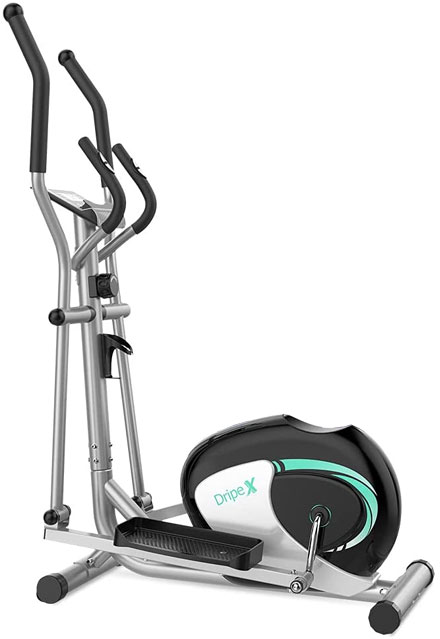 With the highest user weight we could find, and the ability to serve double duty as an exercise bike, the Dripex Cross Trainer definitely earns its place on the list as the perfect choice for anyone looking for a comfortable and tough elliptical.
It's the build that stands out here. Everything feels solid and stable, which is all backed up by that large 265lb user weight. All fixtures are great, especially the oversize pedals with a big stride length.
The bike seat is small, but comfortable, and has the all-important option to adjust both vertically and horizontally, so you will always be able to find the perfect ride position.
The flywheel is a little lighter than we'd like to see, at only 4kg, and 9 levels of magnetic resistance. This is a good weight for normal cardio, but it won't offer enough resistance for high impact exercises, securing this cross trainer's position as a comfortable machine that's aimed at maintenance and general fitness.
The controls are also relatively simple and easy to set up, letting you get into exercising as quickly as possible, and measuring distance, speed, time and calories.
Another huge plus with this budget machine is the noise. Something that's easy to overlook when looking at these kinds of machines online is how much noise they can generate, especially the cheaper ones.
While you can still hear it, it won't wake up the children or anyone else in your house and it definitely won't drown out your tunes. It's a very quiet elliptical.
Verdict: Overall, the Dripex cross trainer is best if you're looking for a cross-trainer that holds a little extra weight, and is good for an hour or two of training several times per week.
Above-average display for this price
Really quiet for a budget machine
Has heart rate sensors missing on a lot of cheap ellipticals
Quick, painless assembly job
One person can move it around
Stride length here makes it unsuitable for anyone 5″ 10′ and over
Check Current Amazon UK Price
---
Max user weight: 110kg (242lbs)
Footprint: 122 x 60cm
Display:Time, distance, speed, calories
Bike seat: Yes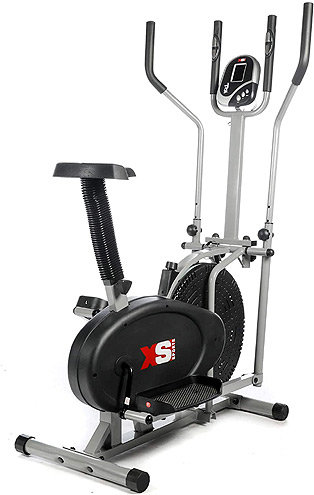 There's no excuse not to get back in shape with this new cross trainer from Orbfit. It's a sturdy workhorse of a machine that's perfect for getting fit at home, or adding to your home fitness studio.
Everything you can think of is adjustable, from the resistance to the handle bars. You can take on simple workouts, up to mountain style terrain on this cross trainer. It keeps track of heart rate, time, distance and all important data.
This is the best elliptical for under 200 for anyone on the heavy side, with it's robust design. It's also suitable for taller users, unlike the previous 2 we've reviewed above. Build time is around half an hour. Another benefit with this model is that the bigger wheel provides better resistance than smaller models.
And if space is an issue, this cross trainer has handy wheels on the bottom, allowing you to move it anywhere you need to.
This is a superb, strong cross trainer that can be moved around easily. It's perfect for larger users or tall people.
Very good value for money at under £100
Impressive strong build
Suitable for heavy users
Good range of workouts – easy to hard cardio
Pedals can take time to align correctly
Can take time to assemble
Check Current Amazon UK Price
Or check out our full XS Pro Review here
---
Super-cheeky budget pick
Max user weight: 110kg (242lbs)
Footprint: 98 x 66cm
Display:Time, distance, speed, calories
Bike seat: Yes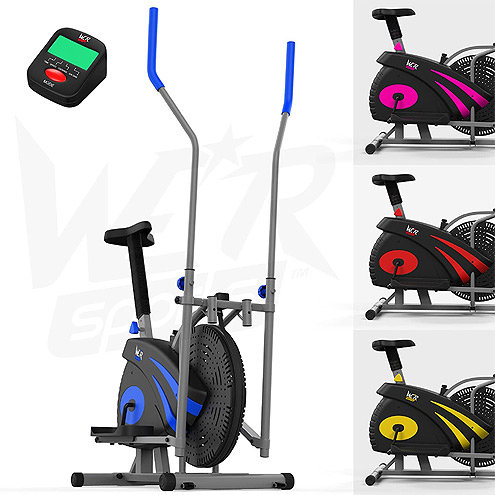 The cheapest model on our list, if you're looking for a simple elliptical on a budget, capable of doing what you need it to do, without butchering the wallet, this is a solid and dependable choice.
The watchword for the We R Sports 2 in 1 is simplicity. Everything about this elliptical is built for ease of set up and ease of use. Overall construction is decent. Foot pedals are large and comfortable, with a respectable 39cm stride, and the single set of handlebars (no double set here, like the other options on the list) are simple to hold.
The overall build is also reflected in the weight limit, which is good at 110kg. Despite being the most budget option here, this elliptical is also a bike, which is incredibly impressive, considering that a lot of bikes cost more than this alone.
Controls are simple, which you'd expect at this price point, but they're simple to use and show all the important metrics.
One thing to bear in mind is that this is very simple to put together, but if you use this a lot you'll find yourself regularly having to tighten up bolts to make sure that everything stays together.
Our Verdict: Overall though, for the cost, this is an impressive bit of kit, and it's more than worth the low asking price.
About the cheapest elliptical you can find
Not hard to build
Very good value for money at under £100
Forward and reverse action
It's size & weight makes it tricky to move around
Not the quietest elliptical you can buy
Check Current Amazon UK Price
---
Max user weight: 100kg (220lbs)
Footprint: 115 x 75cm
Display: Time, distance, speed, calories
Bike seat: No, standing only
JLL gear is a regular fixture here at Home Gym Experts, and in general, their equipment is well built and decently made, with a good amount on offer for the asking price.
The CT 200 is exactly this, which is why it's at the top of our list. With a relatively slimline design, the CT 200 is sleek and smart looking. Despite being relatively small, it has a decent weight limit of 100kg, and it's comfortable and easy to use, with oversized, comfortable pedals and large, easy to hold handles.
The flywheel is a reasonable 5kg, using magnetic resistance to offer up to 8 different levels, offering enough Everything is controlled from a simple and easy to understand monitor, that offers 7 functions, including time, speed, distance, calories and more.
There's also a tablet holder built-in, if you want to catch up on Netflix when you're working out, and built in heart rate sensors in the dual handlebars.
Verdict: All of this combined makes the CT 200 the best budget elliptical on the market right now. It offers everything you need for an effective workout, all for a very reasonable price.
Great value for money
Forward and backwards pedalling
Nice extras like the tablet holder and pulse sensors
Keeps the noise down
No seat on this machine
Can take a couple of hours to assemble (check out the assembly video)
Check Current Amazon UK Price
---
Max user weight: 100kg (220lbs)
Footprint: 148cm x 63cm
Display: Time, distance, speed, calories, 12 programs
Bike seat: No, standing only
OK, we're cheating here as this elliptical is poking above our £200 price range unless you really got a good deal on it. But Reebok's ZR8 is such a good machine for this price that we wanted to show it in our budget-cross trainer round up.
There are 32 levels of resistance and the two way 9kg flywheel means there's plenty of weight here for anyone needing a serious workout. Build quality is always something to look at when choosing your elliptical machine and this is a sturdy machine that can take a real pounding.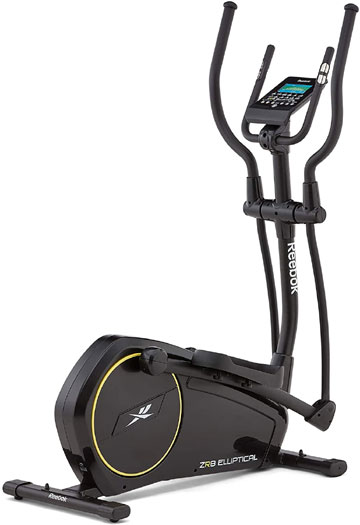 There's nothing worse than a noisy bit of gym equipment and we're happy to report this elliptical trainer offers a nice quiet training session. That's thanks to its 'quiet belt drive technology'. There are also some 'sneaky' wheels hidden at the front, which makes this machine very portable.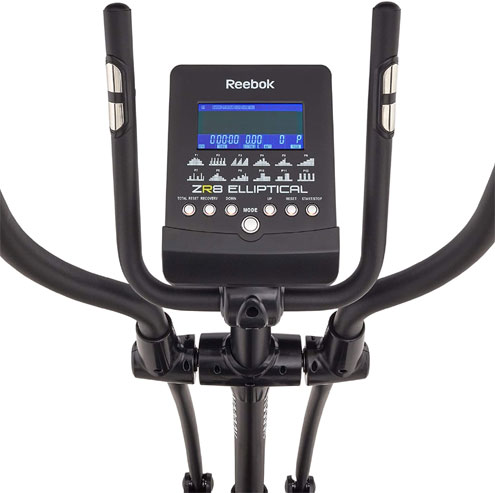 We were also impressed by the computer and display on this budget cross trainer too. It's large, easy-to-read and offers everything you need to get in shape. If you're planning a longer training session, there's a holder for your tablet or phone too. Stick a box set on!
If you need any help, Reebok has very good customer support and are on hand to lend a hand if you need it. It's nice having a 'known brand' behind this bit of gym gear, rather than some unknown Chinese make we haven't heard of before.
As well as the usual time, speed, distance, heart rate and calories, we're impressed by the ZR8's choice of exercise programs which break up the repetitive nature of this exercise and give you something to work towards. There are 12 programs to play around with.
Our verdict: This is a fantastic cross trainer that's built to be used day in day out if you need it that much. It has the best on-board computer/display for this price range and it is very good value for money. Highly recommended.
Meaty 9kg flywheel gives plenty of resistance
32 levels of resistance
Good range or programs to try out
Reliable, known brand
OK we're cheating – it's above our £200 budget!
Check Current Amazon UK Price
---
Help buying and to choose a budget elliptical machine
Basically, every gym you walk into has ranks of ellipticals (also called cross trainers, there's very little actual difference) alongside the other cardio systems.
This is incredibly impressive for a piece of kit that's only existed in the fitness world for a short amount of time, as these things go.
It's no wonder that home sales of ellipticals (cheap or premium) are just as high.
This guide goes into the best ellipticals you can buy on a budget, what to expect, and which one is right for you.
Is it worth buying a budget cross trainer?
As with everything fitness, the answer is the same. It depends on your goals. But for most people, the answer is a resounding yes.
An elliptical is a great source of cardio that will happily fit into a lot of health and fitness plans. On top of this, most people are going to notice the little quirks and issues a budget elliptical might have a lot less than they would with other pieces of kit, like treadmills and bikes.
Manufacturers are also taking notice, and in the last few years, there's been a flood of budget models hitting the market, giving you far more option to choose from.
If an elliptical is something that you're going to be relying on as your main focus of fitness, we'd recommend investing a little more, but for the majority of people out there, any of the ellipticals on this list would be a great addition to their home gym.
How to choose a decent cheap elliptical: A buyer's guide
When you're buying exercise equipment on a budget, it's a good idea to set expectations, and have an idea about what's most important, so you can make the right choice.
A lower price tag means fewer overall features, and the manufacturers will have made choices about what to focus on, what to keep, and what isn't important to a consumer looking to buy a budget elliptical. Here's what you should pay attention to when making your choice.
If you're looking for an elliptical and you're under 6 feet, check out our Best Ellipticals For Short People guide.
The flywheel
The single most important part of any elliptical is the flywheel. It's the beating heart of the machine. The part that provides all of the resistance, and so the part that decides whether you're going to be able to work out effectively.
Cheaper ellipticals tend to have smaller flywheels, on average. But smaller doesn't mean ineffective. Several of the systems featured in our list have flywheels that weigh around
which is a solid weight that can provide a decent amount of resistance
Magnetic resistance
When looking at ellipticals, pay close attention to whether it uses silent magnetic resistance. (SMR.)
SMR, sometimes just called magnetic resistance, means that the flywheel uses magnets instead of friction to provide its resistance as you exercise. The range of ways in which this improves your workouts is huge, including smooth resistance throughout every rep, less wear on the machine so it lasts longer, far less noise, and more.
Put simply, if you can buy an elliptical with magnetic resistance, do it.
Getting to know your elliptical's display
One of the biggest differences between cheap and expensive exercise gear is the consoles.
At the higher end, it's common to see integrated touch screens, built-in workout apps and big, powerful speakers. But these are all expensive, and can really jack up the cost of a machine.
Budget ellipticals are more likely to have a standard LCD display with integrated stats and workouts.
But it's becoming a lot more common for even the cheapest exercise machines to let you link your own phones and tablets via Bluetooth, giving you the same benefits as a touchscreen, without increasing the cost.
Overall build quality
Cheaper ellipticals tend to be built less sturdily and with weaker, thinner materials than more expensive models. In most circumstances, this won't make a difference to performance, but it does tend to mean a few things:
The overall weight limit will be lower
Fittings like the seat and handles will be cheaper and less comfortable
Expect more noise in operation
Lower overall lifespan, and needing to be replaced earlier