If you're on the shorter side of things, you might have noticed that some gym equipment just isn't built for you.
Ellipticals, with their wide stride and swinging armbars, are one of the chief offenders. For people with shorter arms and legs, it can be easy to feel like you're losing control of a larger elliptical, especially if you're moving at a reasonable speed.
Thankfully, there are a lot of ellipticals out there suited for people like you (and, uh, me.) Here's what you should be looking for when buying an elliptical if you're not the tallest person on the block.
---
What are the best ellipticals for shorter people in 2022?
Explicitly designed as a compact, easy to use elliptical that still has a standard stride length of 18 inches, the NordicTrack C 7.5 is the perfect choice for shorter users.
Despite being absolutely tiny, with a ridiculously small footprint (less than a square meter!) the NordicTrack C 7.5 is solidly built, with a tough steel frame and a massive 125kg weight limit, which is incredibly impressive for the size.
Two pairs of handlebars give you options, with fixed internal bars and moving external bars that both have heart rate sensors built-in.
This elliptical also comes with a built-in full colour HD display which forms the main console and can be used to take part in a host of online content. The elliptical works with NordicTracks tried and tested iFit service. This is a paid subscription (think Netflix for fitness) and lets you do everything from pre-recorded elliptical workouts to live online classes.
All in all, considering the price and options available, there's an awful lot to love here, which is why we put this at the top of our list. It's from a reliable brand, has the perfect stride length for less tall users and is packed with quality and features you'll love.
---
By far the most budget-friendly option on the list, this elliptical by JLL, a company is known for putting together reasonably priced exercise gear, is perfect if you're setting up a home gym on a budget, or just want a pure elliptical with no frills or fancy tech.
First off, for a budget model, the construction is surprisingly impressive, with a steel frame that holds a respectable 100kg, comfortable handles and well-sized footwells. The stride is a decent 16.5 inches, which can be adjusted down to a short 12 inches if necessary. There are 8 levels of resistance available, which, incredibly, is delivered through a magnetic flywheel.
The console is very basic but shows standard metrics, and there are heart rate sensors in the handlebars (though we wouldn't rely on them for anything more than a general understanding of where you're at.)
It's also worth bearing in mind that this does not fold up in any way and has a reasonable footprint, so have a plan to store it out of use. However, for the price you're paying, this is by far the best budget elliptical for smaller people we've found.
---
We've already written a review on the NordicTrack Freestride series, and come out of the other side with an impressive impression of the system.
While it's not technically an elliptical, the Fs7i can be one. And it can also be a stepper. And a treadmill. All in one device, that's incredibly simple to adjust to precisely your needs.
It's worth re-emphasizing this. The Freestride lives up to its name, with an adjustable stride length that goes anywhere from 32 inches, down to 0. The system actually picks up your natural stride, automatically changing tension to make exercise feel as natural and comfortable, and effective, as possible.
On top of this, the Fs7i comes with an incline feature, not seen anywhere else on this list, as well as a year's iFit membership, which is worth several hundred pounds by itself.
The Fs7i is absolutely the best elliptical on this list by a long shot. While it might be on the expensive side, what's on offer here is absolutely worthwhile, especially if you're going to use all of the features on offer.
---
Finishing off the list is another unusual hybrid trainer that combines the features of an elliptical with high intensity, body blasting intermittent training exercises.
A lot of ellipticals, especially cheaper models, fall into the trap of only having weaker levels of resistance.
But the Proform HIIT trainer was designed first and foremost to hit your body as hard as you want it to, which is why it's built around a 7kg flywheel that uses silent magnetic resistance (SMR) to provide up to 16 resistance levels across 16 preset workouts, and tablet-based iFit exercises, if you want something more.
The stride on the HIIT Cross Trainer Hybrid is unusual compared to a lot of other options; with a significant vertical element. While this can take a little getting used to, it lets you add a lot of resistance to your workouts, and really lets you drive into the motion for maximum muscle building.
The handles and console are well laid out, with an array of arm positions that are suited for anyone, no matter their size, with a suite of controls that are incredibly simple to understand and use, even when you're in full swing.
While the Proform Hybrid might not be for everyone, because it's a little more unique than your standard elliptical, it offers a massive amount, especially for its mid-range price tag.
If you're looking for a stepper or elliptical that can also help you with your running, cycling, or putting numbers on your squat, this might be exactly what you need.
---
What to look for when buying an elliptical if you're shorter than average
Stride Length
Stride length on ellipticals is how far the footpads/footwells move in a complete cycle, from front to back.
People with shorter legs obviously have a shorter stride length, meaning a longer stride on an elliptical can be uncomfortable, or even painful. While it might feel fine initially, across hundreds of reps, an incorrect stride length can and will lead to aches or long term strain in places we'd rather not consider.
Armbar Length
Secondary to stride length but still important is armbar, or arms support, length. While this is less vital than stride length, some ellipticals have massive arm bars which can whip backwards and forwards at high speeds as you work out.
Since ellipticals are designed to work most of the major muscle groups in your body, having improperly positioned armbars defeats the object of half of the exercise, as well as making everything much less comfortable.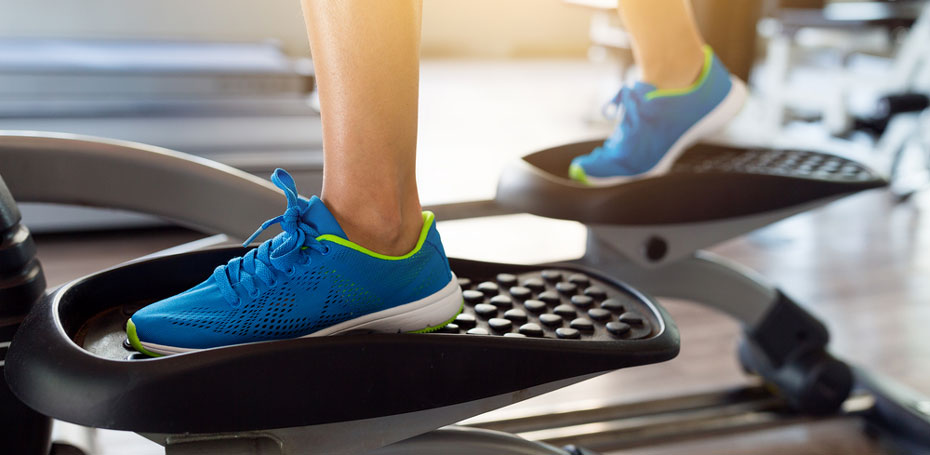 Foot Plate Size
If you're not particularly tall, then you're probably not going to have the biggest feet. That means an elliptical that has enormous footwells is going to absolutely drown your feet, and make it a lot less comfortable to use.
There's a push for oversized footwells with a lot of gym gear these days. If an elliptical has particularly small footwells, we'll be sure to point it out.
Adjustability
No one piece of equipment is ever going to fit you perfectly, and even if it did, most home gyms are used by multiple members of the family.
If possible, buy a piece of equipment that can be adjusted to fit your dimensions, and readjusted to fit your partner or children when necessary.