When most people think of treadmills, they think of the massive, bulky machines that you see in most commercial gyms, with a big set of guide handles, and a huge, whirring running deck.
But over the last few years, there's been a quiet revolution in treadmill use. As we become more aware of the host of benefits that come from regular walking, and the amount of damage sitting around all day actually does to us, more people are taking walks than ever.
But for most of us, staying active and on the move is simply not possible.
Whether it's the realities of having to work an office job, being older or having long term injuries, or simply the long term effects of the pandemic of 2020, outside walking might be outside the remit of a lot of us.
Thankfully, there's an easy fix that anyone can use. A walking pad treadmill.
What is a walking pad treadmill?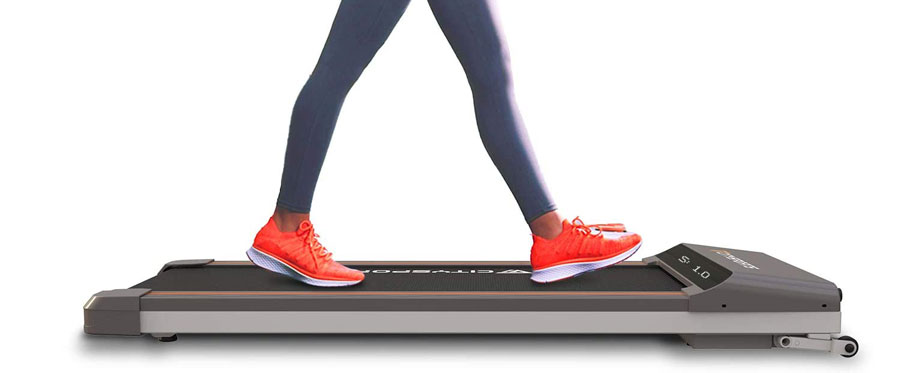 The answer is simple. A walking pad treadmill is a treadmill that has been specifically designed for walking.
This means it has a low maximum speed and a smaller total area on the running deck. But what makes it specifically a walking pad treadmill is the fact that there is no guide rail or additional support.
---
What are the best walking pad treadmills in 2021

Best overall: Citysports Folding Motorised Treadmill
The best on our list, through its virtue of having great construction and a big, beefy 500W motor powering it all, this walking pad by Citysports is one we're looked at in the past, and we still love it now.
The build quality is fantastic, with strong, solid construction and a commensurately high user weight of 100kg (220lbs.) The size of the walking deck is a solid 115 by 41cm, accommodating even bigger strides, and speeds run from 0.5 to 4mph, read; a slow, gentle stroll to a brisk, bracing stride.
In terms of size, it's slightly bigger than the deck, at 147 by 59cm, with a total ground clearance of 15cm, which is easily small enough to slip under a bed or sofa. At 26kg, it's not the lightest, but the transport wheels still make it relatively simple to move, and it can be stored standing if necessary.
The best thing about this walking pad though is the motor, which is a sleek and powerful 500W, pushing out a maximum of 3HP. For a walking treadmill, that's seriously impressive.
Combining all of that with the relatively modest price, it's easy to see why the Citysports walking pad is our number one pick. Versatile and variable, no matter what you're looking for a walking pad for, this can serve your needs.
---
Best budget: BLBK flatbed treadmill
Light and small, this treadmill is incredibly convenient to store and comes with a lot of fantastic options you're not getting on most other models, at a conveniently low price. Unfortunately, it's hampered by a low powered motor, but if you're only buying this for walking, that might not matter.
Compared to a lot of other treadmills we've seen, this one is comparatively tiny, at 118 by 50cm and 18kg. According to the manufacturers, it's able to take user weights up to 130kg (285lbs) but we would not believe this. We'd be happier with a maximum weight of around 100kg (220lbs) instead.
The controls are lovely, with a wide and easy to read LCD screen that gives you all of your stats, and the option of remote control, letting you change speeds without getting off the treadmill.
Speeds are from 0.5mph to 4mph, as usual, but it's held back by a 0.5HP motor that's going to struggle at anything past half speed. If it wasn't for that, this might have been our top pick. Instead, it's a great budget model but won't have enough grunt for serious speeds.
---
Best for stability: Arundo Walking Treadmill
While we might have mentioned that walking pads don't generally have the support bars, we've included one in our list that has the option, just in case it's something you're looking for or you'd appreciate the extra safety and stability that it offers you.
With that in mind, this treadmill has a very basic support strut that can be attached to the treadmill as needed and also has a phone or tablet holder for devices.
Like a treadmill, it's very decent, sitting at 130 by 59cm, and weighing in at 22kg. It can carry the expected 100kg (220lb) user weight but differentiates itself by its higher maximum running speed of 8mph, which is a decent jogging pace.
It's got the motor to match, too, pushing through a decent 2HP. This is easily enough for a good walking pace, though in our opinion it might struggle at the top ends of the speed range, especially if you're on the heavier end of the user limit.
But overall, there's an awful lot to love here. For a pure walker, we'd still recommend our top pick, the Citysports, but if you need a variable running machine as well, then definitely consider this one.
---
What are the advantages of a walking pad treadmill?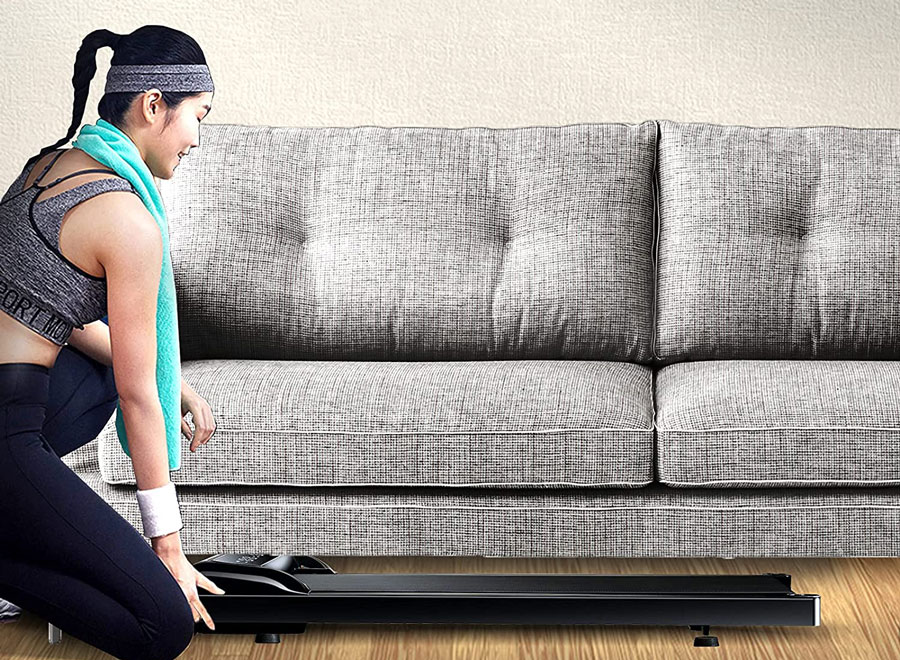 Anyone can use them. Because of the low maximum speed and ease of use, anyone who can walk can easily use a walking pad treadmill to keep themselves mobile and their health and fitness up.
They fit almost anywhere. Walking pad treadmills have a small footprint and profile, meaning that they can be stored almost anywhere in the home when not in use, as well as being able to be used whether you live in cramped student digs or a palatial mansion.
They're perfect for a walking desk. Work-life balance is hard, and sitting down all day is not good for your body. A walking pad treadmill is an easy answer, switching any desk into a walking desk almost instantly.
They're good on the joints. Running on a treadmill can actually cause long term harm to your knees and ankles, and walking outside can carry its own issues. But walking in your house, on a comfortable and padded surface, has basically no long term health issues.
They're incredibly quiet and unobtrusive. Most walking treadmills will have a working speed of around 30 to 40dB, which is around the level of a fan or air conditioner on low, so it won't interfere with TV watching, conversation, or conference calls.
They're very cheap. Smaller motors, fewer parts and less stress on the machine mean that you can pick up a good walking pad for very little money, making them an accessible fitness tool for almost everyone.
---
Final thoughts
Adding extra walking to your day has such a huge range of benefits that, if you can do it, you probably should.
A walking pad treadmill like this gives you the option to fit in an hour or two, as and when you need, at your absolute convenience. If you work from home, or even if you don't, if you want to burn some extra calories and keep your heart healthy, there is no better way.