Welcome to our Walkslim 830 review, a look at one of the new breed of 'walk pads' (think less-bulky, easy-storage treadmills).
If you're interested in this running machine and are wondering if it's right for your home, then this article is for you. We'll be going into everything there is to know about it and give your opinion on whether this is a good buy or not.
With the events of the last couple of years on everyone's minds, the amount of people working, and working out, from home has skyrocketed.
Taking a humble walk has been a health and fitness staple forever, with very good reason, and walking treadmills are a simple way to get your steps in from the comfort of your own living room.
Lets find out if the 830 is a decent entry into this growing market!
What is the WalkSlim 830 Home Walking Treadmill
Much like the Bluefin Task 2 we reviewed earlier, this is a motorized treadmill with a more compact size than regular treadmills.
It achieves this skinny profile by doing away with much of the clunky frame bigger machines have and cutting down the scope of other mechanical parts. The WalkSlim 830 caters for anyone looking for a way to walk or jog, and who doesn't need to do all-out running or sprints at home.
Following the design of other walkpads, there's a greatly reduced size treadmill base that has two positions:
Jogging position – with the crossbar fixed up
Walking position – with the handlebar folded down and 'nothing to hold on to'.
It's packed with built-in smart features like a fractional incline, specifically designed to encourage good posture and lower injuries, automatically adjusting speed, and enough power to function as a running deck.
Here's a video of the WalkSlim in action
Check Current Amazon UK Price
Where can you buy the Walkslim 830 for the best price?
There are a couple of options if you're looking to pick up one of these machines.
Amazon UK – Usually has this treadmill in stock. Check the price.
Vitality4life – You can also buy direct from Vitality 4 Life (the official site for the Walkslim 830.) Check the price
Both websites offer free delivery for the 830 treadmill too. Check the price on the day you're looking to buy and pick the cheapest one. Both offer excellent service and you'll be buying the item from sellers Vitality4Life either way.
Who makes the Walkslim and are they a good company?
The latest walking treadmill from Vitality4Life, an Australian brand with a 20-year heritage, the WalkSlim 830 is their premium grade walking treadmill, that's designed around the needs of the modern home.
They've got fantastic customer support (check out the live chat on their site, or ask a question on Amazon and you'll get a fast reply).
6 Things you might just love about the WalkSlim 830
…if you're new to walking pads and running machines you have more room to practice without clipping the side guards.
While walk pads are still something relatively new, we've seen several of them pop up and have reviewed a few of them here on the site. So what's this one do that they don't? And how does it compare to a full-size runner? Here's a quick list of some of the best things about the WalkSlim.
You can have a treadmill, even if you don't have room – Pretty much every treadmill does some kind of folding, each trying to convince you it's small enough for an apartment. But a fold-up deck can't compete with these running pads. When it folds down, it's an impressive 13cm off the ground and weighs around 33kg. Although that's still heavy for most people, you can move it around with the built-in wheels.
The tiny slope makes a big difference – While this doesn't sound like much, a 1% incline can make a treadmill feel more like 'real' walking or running. While walk pads don't have powered incline due to their size, the fact it's got that the 830 has a 2% slope makes for a different feel and will do more work on your muscles and fitness over time.
It comes with a really cool remote – If you're wondering how you adjust the speed of the treadmill when the arms are folded flat and there are no controls to reach, there's a nifty little keyring that you can keep in your pocket with simple up, down, play and pause controls. This means you don't have to awkwardly jump on or off the WalkSlim to change something.
They haven't skimped on the running surface – A lot of these new-fangled flat treadmills often cut back don't the size of the running track – especially in the width. The 830 measures 48cm wide and has a track length of 121cm. That's good because if you're new to walking pads and running machines you have more room to practice without clipping the side guards.
It will slide under a bed and it's easy to move – If you're interested in the 830, chances are you don't want to leave it set up and in a permanent spot in your home. The main reason to go for one of these walk pads is that they are easy to move around. Although the Walkslim 830 is over 30kg, it's still easy enough to move around, even if you're not a bodybuilder! It folds down to less than the height of a can of coke too.
You can get your walk even if the UK weather sucks – (which it frequently does). At the time of writing this, we've had to cancel our plans for a walk along the coast as the wind is rattling the windows and the rain is coming down hard. One of the main things to love about the WalkSlim 830 is that you can always rely on it.
Check Current Amazon UK Price
What you'll get from training on the WalkSlim 830 Home Walking Treadmill
It's been proven that as little as 30 minutes of walking a day can make a huge impact in terms of your health, fitness and even weight loss. Walking is a  fantastic exercise that makes you feel great.
Almost anyone can take a walk, and there are multiple ways to adjust a walk to your level of fitness and ability.
Walking can be solid cardio, especially if you up the pace a little, but it's still gentle enough to be good for recovery or used as a warm-up for fully-fledged workouts.
Finally, the WalkSlim 830 is perfect for use in conjunction with a walking desk. It's ultra-slim, so can fit literally anywhere when not in use, automatically adjusts its speed to you, and has a powerful motor and solid warranty that's going to run forever.
---
Who is this treadmill best suited to?
Walking treadmills like these are literally designed for people who want daily movement, whether that's as a walking desk, or as a method to stay fit and healthy.
We would recommend the WalkSlim830 for anyone who's looking for a solid, stable, premium level treadmill that's designed as a walking system, rather than a heavy-duty fitness machine like a NordicTrack Commercial 2450, that's well built, well designed, and covered under an ironclad warranty.
The WalkSlim 830 is perfect for home office, injury recovery, or daily walking use.
WalkSlim 830 Key Features

33kg unit weight
Ultra-slim foldable design
120kg (265lb) max user weight
Optimal 2% incline
0.8 – 12kph speed range
Auto-stop safety key
Tablet holder
Fantastic warranty
30 Day money-back guarantee
---
Related Guides
---
What we like about the WalkSlim 830 Home Walking Treadmill
Impressive construction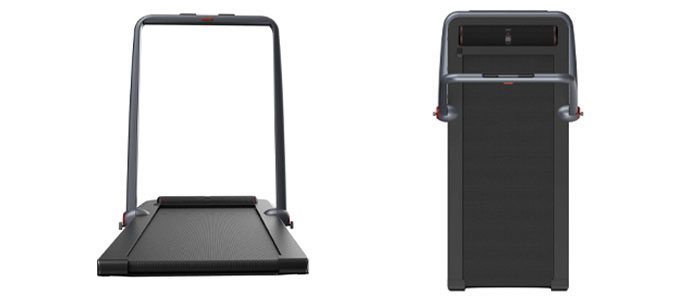 The WalkSlim 830 is built to the same objectively high standard as the biggest names in health and fitness. Everything is built from premium materials, with all safety and comfort concerns taken into account.
The overall build is robust and strong, taking up to 120kg (265lbs.) The brushless motor is 1 continuous horsepower (CHP,) which is decent for a treadmill of this size.
The console is simple to use, with a handheld speed controller, and a set of controls that are so simple your dog could probably work them out, as well as a tablet or phone holder, ideal for work or leisure.
Then factor in that everything is ultra-lightweight and built to the highest standard, with a ridiculous warranty, (more on that later) and it's hard to fault this.
Great walking deck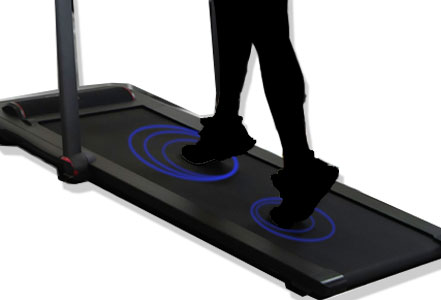 The main feature of the WalkSlim 830 is its large, high-quality running deck. Built around a multi-layer, low impact, high-density surface, that has a lot of width for a walker. Walking treadmills are slightly shorter on average than a machine designed for running, but there's still more than enough space for an easy jog.
One feature that might get overlooked, but has a surprisingly big impact, is the built-in 2% incline.
This seems small, but a slight incline like this actually helps to simulate a more realistic running experience, as the human body isn't designed to run for long distances on completely flat surfaces. This is why so many people who regularly run long distances on treadmills end up with shin splints and other issues.
A simple 2% incline like this is proven to be much better for your joints, helps prevent long-term injury, and also makes your exercise more effective with barely any more exertion.
Finally, despite being a walking system, the big, powerful motor lets this spin up to a reasonable speed. It can run from 0.8-12kph, (0.5-7.5mph,) an 8-minute mile, which is still a decent running pace.
The speed itself also intelligently adjusts to your pace when in walking mode, (putting the handrail down locks the treadmill in walking mode, with a 6kph (4mph) max speed.)
Easy to store and move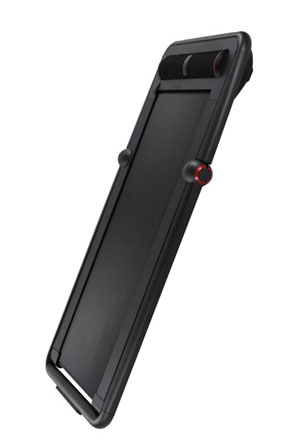 As a walker, the WalkSlim 830 is incredibly light, slim, and easy to move.
The total weight is a mere 33kg (72lbs,) which keeps everything light and manoeuvrable, especially using the built-in transport wheels.
Everything above the running deck folds down effortlessly, and the treadmill can be used with the handrail down. When fully folded, it's just 13.9cm tall, so it will slip under any bed or sofa, and can be stored vertically, so it's also easy to slip into a cupboard with the rest of your appliances.
Incredible warranty
The warranty on the WalkSlim 830 is equivalent to the best on the market, with a lifetime on the frame, 5 years on the motor, and 2 on parts and labour.
This is almost exactly in line with brands like Peloton and NordicTrack and really speaks to how well this thing is built.
Check Current Amazon UK Price
Downsides and things that could have been better
No online app integration
One thing that was strangely absent, especially for a relatively new and modern machine, is some kind of app or integration with something like Kinomap or iFit. There's no Bluetooth integration here and no way to track your progress by connecting the machine to your phone in any way.
It's a shame as the integrated tablet shelf is brilliant and it would have been nice to see it used for something other than entertainment to keep you busy on your walking.
This is not a budget machine
There's no escaping the obvious. For a walking treadmill, this is very expensive.
In our opinion, there's more than enough on offer here to justify it, from the amazing all-around build to the impressive motor and solid list of features.
If you're looking for a simple walking treadmill, the cost might put you off, but if you know you're going to use this often and work it hard, it's clearly a long-term investment that's going to pay off.
---
Conclusion: Is the Walkslim 830 worth it?
The WalkSlim 830 is one of the best walking-style treadmills we've ever seen. It's not cheap, but the features list and superior quality more than justifies the price. It's built like a tank too, with an absolutely monstrous warranty cover to match.
Honestly, for a lot of people, the WalkSlim 830 might be a little pricey. If you don't see yourself using a walking treadmill often, it might be worth considering something a little cheaper.
However, if you want a walking deck that's going to last damn near forever, and you're looking for the best, the WalkSlim 830 is a beast of a machine that's going to go on and on and on.
Check Current Amazon UK Price
---
FAQs
Is this as good as a running machine?
This is definitely a different experience to a running machine. There's no 'console' as such and you can't run as fast as you can on a full-scale machine. Having said that, if you want to do light jogging and especially walking, this is a good machine to go for.
Why is the WalkSlim 830 more expensive than other walk pads?
We've seen walk pads selling for as low as a third of the price of this machine, so what gives? The main difference between the WalkSlim and the budget machines is hard to see from the pics, but easy to feel when you compare them. The WalkSlim has much better quality parts, from the belt to the brushless motor.
Is it easy to move about?
This machine works the same as the other pads we've seen. You up-end it and push it along via the wheels in the thick part of the treadmill. The 830 weighs 33kg but you'll never have to lift that. As long as you're just wanting to move it to somewhere on the same floor, you just tilt one end up and push it along. It's easy enough for seniors to manage no problem.
Can you adjust the incline?
No. The running angle on this machine is fixed. We've yet to see a walk pad with manual or automatic incline (although it would be cool!) but the size and weight restrictions would make it a tough thing to integrate into this kind of machine. That said, the WalkSlim 830 does have a 2% incline which we wish more 'fixed' machines' would adopt.
Can you store it on its end?
Yes. You can tilt the machine into a vertical position and slide it beside a desk, or into any other place as long as there's around 13 cm for it to slip into. The adjustable arm on this machine just folds down and you don't need to remove it, as you do with some walk pads. You won't damage the belt or the motor storing it in this way.
Could you take it outside?
As long as it's not raining and you have a long enough extension cord, you can operate this machine outdoors! We've heard of people taking the treadmill into the garden or yard to get a change of scenery.
WalkSlim 830 Full Specs
Brand
WalkSlim
Model
830
Color
Black
Size
‎148 x 79.2 x 106 cm
Display type
LCD
Material type
‎Steel, ABS And MDF
Horsepower
‎746 Watts
Power source
Corded Electric
Features
‎NEW Speed Range from 0.8 -12 KM/H,
Automatic Speed Control with 2 percent incline,
Download the APP 'KS RECORD' to monitor progress
Speed rating
12 kilometers_per_hour
Included components
‎Manual, Remote Control, Power Cord,
Safety Clip, Wrench, Silicon Oil, Bolt
Maximum weight capacity
‎120 Kilograms
Product Dimensions
148 x 79.2 x 106 cm; 33 Kilograms
Packed size
148 x 79.2 x 106 cm
---
References & Further Reading