Here's an interesting machine, in a saturated market: Proform's Hybrid XT aims to combine two types of exercise machine into one. The XT aims to give you a recumbent bike and an elliptical cross trainer in one. So does it pull it off? In this review we're taking an in-depth look a the Proform XT  and finding out if it's actually any good.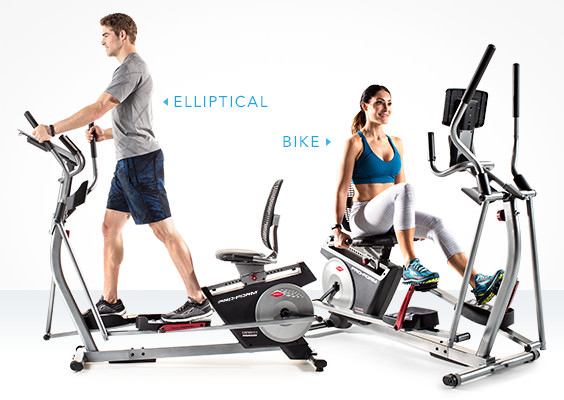 ProForm Hybrid Trainer XT Best price & full guide
Get the best price here (Amazon UK)
What is the ProForm Fitness Hybrid Trainer XT?
A combined recumbent bike and elliptical cross trainer
Two hugely popular gym machines for anyone looking to get in shape, but especially for those who can't use treadmills and similar machines are ellipticals and recumbent bikes. Both offer a very low impact, supportive form of exercise. The XT cleverly combines both types of gym gear into one product.
This is a mid-price bike from Pro-Form Fitness, a higher end company known for quality and good service. This machine uses a weighted magnetic flywheel to provide resistance. It's also built to work well with the online service iFit (more on that in a bit…)
A clever design that combined two popular bits of gym gear
It's a clever idea because the machine doesn't have to transform from one to the other. It basically meshes together the complimentary shape of each machine, with the recumbent's seat to the rear and the stand-up elliptical part to the front. Despite the odd-sounding concept, the machine looks neat, and completely un-Frankenstein like.
ProForm already offer a successful Hybrid Trainer model that works as both a bike and elliptical, and the XT looks like it's going to be the direct replacement to that model. That's because it's essentially the same system, except with an added multimedia screen. The XT is ready to take the tested design of the Hybrid Trainer into the future, building on its success with the advantage of streamed fitness apps and other benefits.
Unlike a lot of exercise machines, the Hybrid Trainer XT does two things at once, and does them both well. Factor in the price, and the long list of built-in features, and it's clear why ProForm are updating an already successful model.
Check Current Amazon UK Price
---
ProForm Hybrid Trainer XT – At a Glance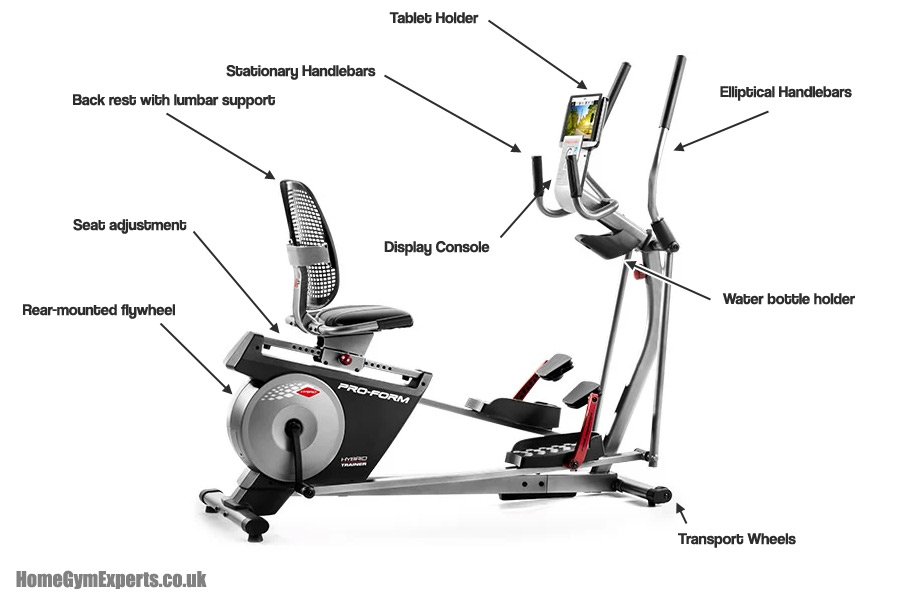 A quick overview of what this elliptical / recumbent bike combo has to offer
Combined Recumbent bike and elliptical machine
The XT has a 7kg flywheel
16 resistance levels
16 on-board workouts (8 for the bike, 8 for the cross trainer)
1 month iFit subscription
15 inch elliptical stride
Grip EKG heart monitor
Max user weight 150kg (330lbs)
Water bottle holder
Built in transport wheels
---
What you'll get from training on the ProForm Hybrid Trainer XT
The single biggest benefit of the ProForm Hybrid Trainer is the fact that it's a recumbent bike and an elliptical trainer.
It's hard to overstate how major this is. Cardio isn't just cardio. The differences between a bike workout and an elliptical workout are massive, and having both options available to you gives you the ability to switch between intense interval training, slow calorie burning solid state endurance training, and hard muscle building burns.
Tie this in with the iFit training programs, which mean you don't even have to plan out your workouts and you have the psychological boost of a personal trainer inside your own home, and it's hard to find fault here.
---
Who is this best suited for?
The ProForm Fitness Hybrid Trainer XT is a great choice for most home gyms, no matter the circumstances.
For the price you pay, you get two impressive pieces of kit, for slightly more than the price you'd normally pay for just one. It switches in seconds, so there's no messing about in the middle of a workout. Both exercise machines are solid and easy to use, and the sheer variety of possible workouts is incredible, so you're never going to get bored.
If you can't use a treadmill, or use an upright indoor bike
Clearly this product is going to be of interest to anyone who is suffering from bad back, knee problems or who can't run on a treadmill, use a rowing machine, or partake in other kinds of exercise. The supportive nature of the recumbent offers a back-rest on the seat which has full lumbar support.  While the elliptical offers a smooth, judder-free training experience that doesn't impact your joints.
Anyone looking to lose weight and get in shape
While recumbent machines and ellipticals are often a good option if you can't use other gym gear, they're also great for anyone looking to get in shape in general. I use both an elliptical and a cross trainer regularly and they're some of the toughest workouts you can get – it's all about how much you want to put in.
---
Who  is the Proform Hybrid XT not ideal for?
So who might want to look elsewhere?
The only real downside is the flywheel, which is on the lighter end of the spectrum. If you need a heavy-duty machine, it might be worth considering something else. But for most users this isn't going to be an issue, as the 16 levels of resistance are more than enough.
If you're used to a commercial gym cross trainer and really want to push yourself, you might be better off hunting out a machine with a larger flywheel, that can give you more resistance and a harder workout.
Check Current Amazon UK Price
---
What we like about the ProForm Fitness Hybrid Trainer XT
the two machines go together so well it makes us wonder why more manufacturers aren't doing this.
Two fitness machines in the same footprint
In a home gym, space is a premium, and anything that can claw back a little bit of extra room is worth paying for.
With that in mind, the fact that the Hybrid Trainer XT works as both a bike and a cross trainer while sharing the same footprint is fantastic, especially if you're stuck for space and need that variety of cardio exercises.
It's simple to change too, switching between bike and elliptical in literal seconds. You only need to adjust two parts of the machine, the pedals, and the console, and you're ready to go.
Both machines stand on their own two feet
It's also worth pointing out that, unlike some other combo machines we've seen, the Proform XT doesn't make any compromises or cut backs with either machine. This is a proper elliptical and it's a proper recumbent.
There's literally zero difference between how these machines work and the two machines go together so well it makes us wonder why more manufacturers aren't doing this.
It's well built and comfortable
Whether you're using this as a recumbent bike or elliptical, it's incredibly comfortable. As an elliptical, you benefit from a wide 15 inch stride range, comfy handles, and an incredibly smooth action due to the high-quality flywheel.
As a recumbent bike it's even more comfortable. Recumbent bikes are already the most relaxing style of bike, because of the sitting position. The seat is large, with extra cushioning and lumbar support, cutting down on aches and pains after long sessions. It's also highly customisable, with both vertical and horizontal adjustability.
The general build is comfortingly robust, especially the high maximum user weight of 150kg (330lbs.) The machine itself is only 58kgs (127lbs,) and it's easy to move around using the front-mounted wheels.
Great workout programs, plus iFit
Out of the box, the ProForm Fitness XT comes with 16 built-in fitness programs; 8 each for the bike and elliptical trainers.
But for most users, the big draw is going to be iFit. iFit is a live streamed at home fitness app that delivers gym studio quality workouts directly to your living room.
Usable with any Bluetooth enabled device, especially tablets which fit snugly into the built-in tablet holder, iFit lets you choose from a library of hundreds of fitness programs to workout along with, or join directly in with live studio exercise classes, led by professionally certified personal trainers.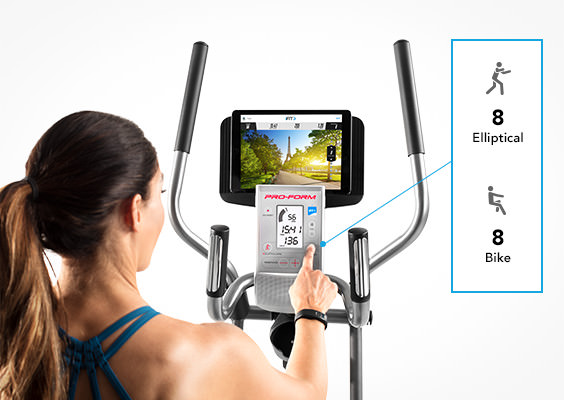 iFit also lets you program in a route to follow, linked to Google Maps. Once you've created a route, the machine itself will adjust the resistance to try and mirror the speed and toughness, giving you an entire world to work out in.
iFit is a subscription service, but the ProForm Fitness Hybrid Trainer XT comes with a one month subscription as part of the cost, and once you've used it, you'll realise that its cost is worth it, especially balanced against a traditional gym membership.
The pedalling and striding motion is super-smooth
One of the downsides of making your own home gym is the impact it has on your home and the people around you. First you have to find the space to store everything, and second you've got to be considerate of friends, family and neighbours when you work out.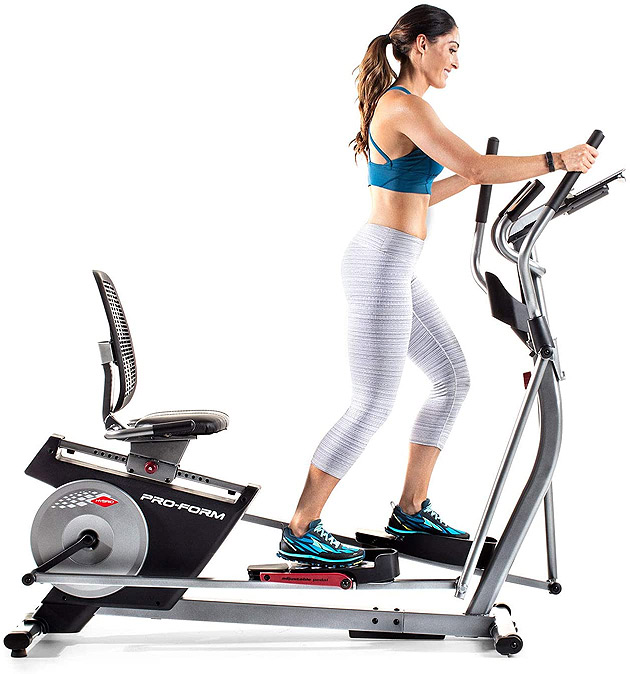 Because the ProForm Fitness Hybrid Trainer XT is a dual function machine, it's saving you a massive amount of space. The whole thing takes up the same amount of average space as a standard elliptical trainer, so you're essentially getting the footprint of a bike to play with.
When it comes to sound, the Trainer XT is smooth and quiet, in part because of the excellent construction, but mostly due to the magnetic resistance used in the flywheel. Almost all high-quality exercise brands are shifting to magnetic resistance, because it's better in literally every way, and ProForm are no exception.
It's not that heavy
While the Hybrid XT doesn't fold down at all, it does have transport wheels and the 58kg weight means that (once tipped up) it's not too hard to move around. It's slightly cumbersom and you'll have to watch the doorframes but easy enough to move around if you haven't got a dedicated spot for it.
---
What could the ProForm Hybrid XT do better?
So what are some things you need to watch out for with the Proform XT?
The flywheel is reasonably light
The built-in flywheel on the ProForm Fitness Hybrid Trainer XT is a slightly underweight 7kg, and it only has 16 levels of resistance.
While this is more than enough for general use, it does mean that the upper levels aren't quite as tough as they could be, and if you're looking for a bike or elliptical that offers a heavy workout, you might want to consider something else.
There's no built-in fan
This is more of a preference, as a fan isn't necessary on most machines like this, especially if you're setting up your home gym right, but it would have been nice to see a fan built into the body of this system. If you've used other machines that have a coolAir system, or something similar, don't expect that with the Proform XT.
90 day warranty on parts and labour
At this price level, it's common to see warranties of at least a year, but unfortunately the Hybrid Trainer XT only offers 90 days on parts and labour. We'd have liked to see a longer warranty that went beyond this period. You do get a full 5 year warranty on the frame, but the frame is the part that's least likely to go wrong.
Still, overall the whole machine is well put together, so unless you're really unlucky, this probably won't be an issue.
Would have preferred a few more programs
Let's forget for a second about the awesome iFit that most people will be buying this bike / elliptical combo for. The basic console itself has 16 programs. The catch here is that they're split over the two different machines. Eight programs isn't a huge amount by any stretch and a few more variations would have been desirable.
---
Final thoughts: Is Proform's Hybrid Cross Trainer worth a buy?
Value value value. For the price you're paying here, it's going to be almost impossible to buy an equivalent bike and elliptical separately.
Both parts of the machine are solid, dependable pieces of kit that are only let down by the slightly lower maximum resistance. If you need serious resistance training, look elsewhere, but considering what's on offer, backed up by a 1 month iFit subscription, the ProForm Fitness Hybrid Trainer XT is a decent dual system that would be happy in a lot of homes.
And iFit is extremely well integrated here. If you're looking for something engaging that will keep you coming back to your exercises time and again, this is it.
Summing up, the Proform Hybrid XT is definitely a success in what it aims to do. This is a great bit of kit the whole family will likely get a kick out of using.
Check Current Amazon UK Price
---
Proform XT Full Specs
Here's the full list of tech-specs for this cross trainer:
Brand
ProForm
Model
Hybrid XT
Flywheel weight
7kg
Resistance type:
Magnetic
Adjustable resistance?
Yes
Folding
No
Seat
Ventilated lumbar support seat
Resistance levels
16
Heart rate sensors
Yes
Tablet holder
Yes
Muscles trained
Arms
Legs
Core
Back
Chest
Machine weight
58kg
App compatible?
Yes
Dimensions
180 x 64 x 154 cm
Stride length
15" stride
Max user weight
150kg
Assembly
Self assembly
Membership included?
Yes, 1 year, iFit
Transport wheels
Yes, front mounted
Bluetooth Enabled?
Yes
Folding
No
Fan?
No
---
References and further reading