More people than ever are looking to recumbent bikes as a way to stay fit and healthy.
Traditional exercise bikes can be difficult to use as you start to get older because the positions involved; sitting, standing, and hunched over the handlebars, can put a lot of strain on the body.
But the unique design of a recumbent bike basically eliminates every issue someone might face using a traditional style exercise bike. This guide goes into everything that makes a recumbent bike essential for senior riders, and how to make the choice of which one is right for you.
The top 5 recumbent bikes for seniors
In our opinion, the Schwinn 570R isn't just the best recumbent bike for seniors. It might well be one of the best recumbent bikes on the market.
That's a bold claim, but one that's backed up. In terms of features, the list is large, with everything at a premium level. First, is the design. At a glance, the bike certainly seems to justify the slightly higher price tag. All the fittings, including the seat, pedals, and dual handlebars are well made and comfortable to use, and the overall appearance is sleek and pretty.
But the 570R stands out in two ways. One is the absolutely enormous flywheel, which sits at a huge 13.5kg; the highest on the list, and more than double the weight of some cheaper models. This is fantastic because it gives you, the rider, the option to increase resistance and work out far harder than almost any other recumbent bike we've seen.
The second is the console, which is large, simple to understand, and simpler to use. Unlike most bikes, this has two LCD windows, instead of one, giving you instant access to all of your important data while also letting you track your workouts up to the minute.
The controls look complicated at first glance, with a whole suite of buttons, but Schwinn made things simple by making the main controls, resistance and incline, their own set of big, accessible buttons right in the middle of the main console.
This is backed up by a built-in sound system, USB port to link devices to, and support for the freedom to install the RideSocial cycling app. All of this put together makes the Schwinn 570R by far the best general bike on the list.
---
With a simple design and lighter, folding, non-fixed frame, this bike by VRAi Fitness seems very different to most of the bikes on this list, at least at first glance.
But budget doesn't necessarily mean bad. Firstly, this is a tough little thing, despite being smaller and lighter than most recumbent bikes. The folding design is simple to set up, and supposedly holds up to 150kg (330lbs) of weight. Honestly, we probably wouldn't put that on it, but well-made steel-framed bikes like this can easily hold around 300lbs without issue.
The folding design also comes with another couple of advantages. One, unlike most recumbent bikes, this can easily be put into a cupboard when it's not in use, saving a lot of room in the home.
Second, in addition to being a recumbent, you can lock the bike into a semi-recumbent position, with the seat much more vertically oriented over the pedals, changing the workout options available.
Despite being budget-priced, this little thing still uses a high-quality magnetic flywheel to deliver its 10 levels of resistance and has a serviceable LCD display, as well as pulse sensors, and built in resistance bands that help you work out your arms and back.
While we wouldn't recommend the VRAi SXB-350 for people with serious mobility or balance issues, anyone looking for a well-priced budget bike that also has other options will find a lot to love here.
---
If you're looking for a bike that's built for bigger or heavier users, the Exerpeutic Gold 525XLR is the best we've found.
This is because of the absolutely massive weight capacity, up to 181kg, (400lbs, or 28.5 stone.) On top of this, the comfortable, adjustable seat is capable of fitting people between 5 foot 2 and 6 foot 5.
The semi-recumbent design is easy to sit down on, with simple to access handles with built-in pulse sensors. The LCD computer is basic but placed on the central column between your legs, so it's easy to reach even for people who struggle with mobility.
Compared to a lot of the bikes on this list, the Exerpeutic Gold is definitely a little more basic in design, but that's not what it's for. It's the weight limit, build quality and strength that matters.
---
We regularly review JLL products at HomeGymExperts, and as a rule, their gear is well made, with an eye to detail, but aimed towards the fitness end of the market.
The RE600 Pro recumbent bike is no exception. It certainly looks the part; the sleek lines and obvious branding stand out and would put this at home in high-end gyms or health clubs. The seat is large and comfortable, with easy adjustability and a high back. Twin handlebars are well placed, with heart rate sensors built-in.
One thing we particularly love though is how simple this is to step through because there is literally no crossbar on the body. The flywheel is mounted in its own housing, meaning that the central bar is literally only inches above floor height, making this the simplest bike to get on and off of on our list.
The bike backs this up with solid fitness credentials. A reasonably sized 6kg magnetic flywheel offers ample resistance across 12 workout programs. A simple console tracks all of your metrics, including calories, but also body fat and BMI, as well as having the option to connect your devices via Bluetooth.
With a max user weight of 300lbs and a 12-month warranty, there are a lot of positives on this bike, especially if you're looking for something that's not just comfortable, but equipped for fitness too.
---
No list of exercise gear would be complete without a model from NordicTrack. Their VR19 recumbent bike combines everything you would expect, including incredible build quality, with a whole host of smart touches that elevate this almost any other bike.
Firstly, it's important to re-emphasize the design elements here. The bike is gorgeous and just as nice to use. Everything about it is incredibly well made, with a powerful 7kg flywheel, 22 levels of resistance, a big, comfortable premium seat, dual handlebars with EKG handgrips and oversized, comfortable pedals.
The console is large and easy to control, with a 5-inch backlit display, a whole bunch of simple to use controls buttons and the ability to link your own devices. But the real advantage here is iFit.
iFit is NordicTrack's fitness app, and in our opinion, it's one of the best fitness apps on the market. There are literally thousands of workouts available, including daily live workouts that are led by real, world-class trainers, and the bike comes with a 30-day free trial.
Finally, it's worth pointing out how good NordicTrack's warranty is. The bike is fully covered for two years on parts and labour, which is double what you normally see, with an absolutely massive, industry-leading 5 years on the frame.
---
Why recumbent bikes?
So why actually choose a recumbent bike?
There are multiple reasons why you might want a recumbent bike over other options, and several key features that you can only find on a recumbent style bike that make them uniquely suited for more senior riders. Here's what you need to know.
Ease of use
Out of every style of bike, recumbents hold the enviable position of being the easiest to use, both when you're cycling, and when it comes time to get onto and back off of them.
It all comes down to the unique riding position. Rather than forcing you into a standing position with the seat under you, which puts a lot of strain on the lower body, including the hips, knees, and ankles, recumbent bikes let you cycle while sitting comfortably back.
This takes almost all of the force that your joints would be subjected to and spreads it safely through your entire body, which means far fewer short and long term issues like muscle strain, aches and other pains.
Additionally, recumbent bikes tend to have a much lower design, with a long, flat central body and a larger seat, that sits below your waistline. This makes it much easier to get on and off of a recumbent bike, which is incredibly useful for anybody, but especially for people who have mobility or joint issues.
Safe and easy
Exercise bikes are already one of the best forms of cardio in terms of body impact and joint health. Recumbent bikes simply take that a step further.
We've already mentioned that the sitting position of a recumbent bike puts a lot less strain on your joints by taking away the strain of holding your body weight up in a vertical position. This lets riders exercise effectively, working the muscles of the lower body and getting a decent cardiovascular workout, without subjecting their body to unnecessary stress.
The balance of a recumbent bike is also completely different. Because you're not supporting yourself using your legs, it's much easier to balance, meaning that you can just focus on completing your exercise, rather than keeping yourself upright.
These features make recumbent bikes uniquely suited for people who find it hard to exercise on a conventional exercise bike, which is why they're favoured by physiotherapists, athletes in recovery, people with joint issues, and the elderly.
Excellent for exercise
Recumbent bikes tend to be lower intensity than standard exercise bikes, and don't work the core in the same way, but this is by design.
By shifting the riding position of the user, a recumbent bike allows the focus to be on safe, effective exercise. Recumbent bikes are great for exercising the lower body, especially the glutes and thighs, as well as being a fantastic way to both burn calories and work the cardiovascular system with minimal stress on the body.
And just because a recumbent bike is lower intensity doesn't mean you can't get an effective workout, by focusing on intervals, where periods of intense, high energy exercise is mixed with lower speed, slower rest periods.
Price
In terms of pricing, recumbent bikes only cost a little more than standard upright exercise bikes, which makes them an attractive prospect, considering all of the extra features that you're benefiting from.
Our best of the list contains bikes at all price ranges, from smart budget models up to higher-end, feature-packed premium bikes.
---
How to choose a recumbent bike: A guide for you
If you're looking to buy a recumbent bike, then you should be looking for the same markers that make any exercise bike quality: overall build, display and controls, and ease of use.
Design and ease
The main advantage of a recumbent is comfort and ease, so when making your choice, start by looking for a bike that will be easy to get on or off of, as well as supportive and comfortable in use.
Factors that can affect this include;
How high the centre crossbar is, affects how high you have to lift your leg to get yourself onto the bike
Seat size and cushioning, to support your body during workouts
Whether the seat position and riding position is fully adjustable, which allows you to find the perfect riding position and take all of the strain off of your body.
Build quality
Compared to equivalent bikes, recumbent bikes tend to be stronger and more solidly built, because of the horizontal design that spreads a lot of the rider's weight across the frame and floor.
This means that recumbent bikes also tend to have higher weight limits, even on budget models, with a user weight of around 300lbs minimum being the standard.
When checking the specifications of your chosen bike, remember to measure the dimensions and work out how and where the bike might fit into your home. Recumbent bikes are larger than the equivalent exercise bike, with a longer and wider footprint, and tend to be harder to move, so finding a space where it can live permanently is essential.
Display and controls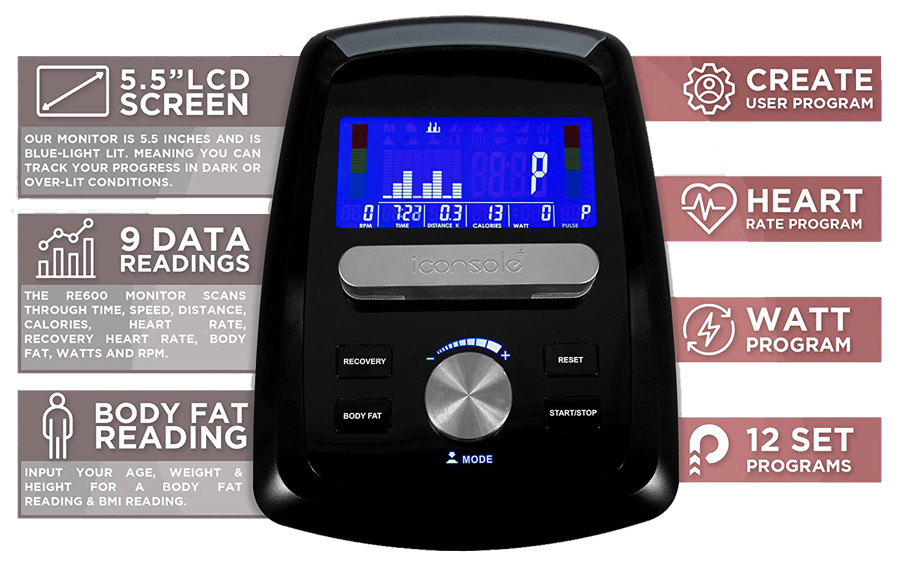 Almost recumbent bikes will have a front-mounted control panel, but the actual controls can vary wildly between models.
Budget models may have simple LCD control panels and large, easy to understand buttons, whereas more expensive bikes, could have full, integrated touchscreens and the option to link to other technology like smartphones, smart TVs or tablets via Bluetooth.
Pay specific attention to whether there are built-in workout plans, whether you have the option to link the bike to devices, and whether there is a heart rate monitor built into the bike, all of which can expand the uses available and make it much easier to get and stay fit and healthy.