What is the NordicTrack GX 4.6
The premier model in NordicTrack's Classic bike range, we've already looked at the GX 4.6 Pro in our comparison of the entire GX range.
We found, incredibly, that the bike compared favourably with models that cost almost twice as much, because of the massive and powerful flywheel, a packed features list and a smart little touchscreen.
What do you get from training on the NordicTrack GX 4.6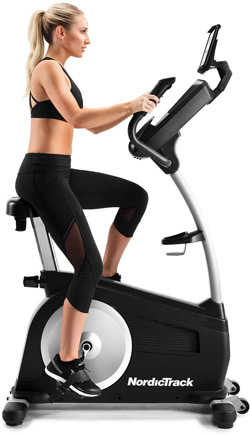 If you're looking for a solid bike workout, then the GX 4.6 Pro is going to deliver. There's a reason that cycling is widely one of, if not the best form of cardio.
One, cycling can be ramped up to any difficulty level. Whether you're an absolute amateur, in recovery from an injury, or a veteran triathlete, cycling can push you to your limits.
Two, cycling is easy on the body, doesn't hurt your joints, and is easy enough that anyone can do it.
Three, no matter your goals, there's a cycling regimen for that. Slow steady-state cardio to warm up. High-intensity intervals for fat-blasting. Heavy resistance to build leg strength and muscles. Ironically, a stationary bike can get you where you want to go.
Who is this best suited for?
With its combination of exceptional features, combined with ease of use and the huge amount of workouts possible through iFit, there really isn't anyone who wouldn't love using the GX 4.6 Pro.
Truth be told, though, this might be just too much bike for some people. If you're looking for an exercise bike that you can hop onto once or twice a week for some simple cardio, then the GX 4.6, with its immense feature list and superlative quality, probably isn't necessary.
But for anyone else, especially someone looking for a serious cardio system that's fully equipped to take on damn near any workout, there's a lot to love here, which we'll dig into below.
---
NordicTrack GX 4.6 Key features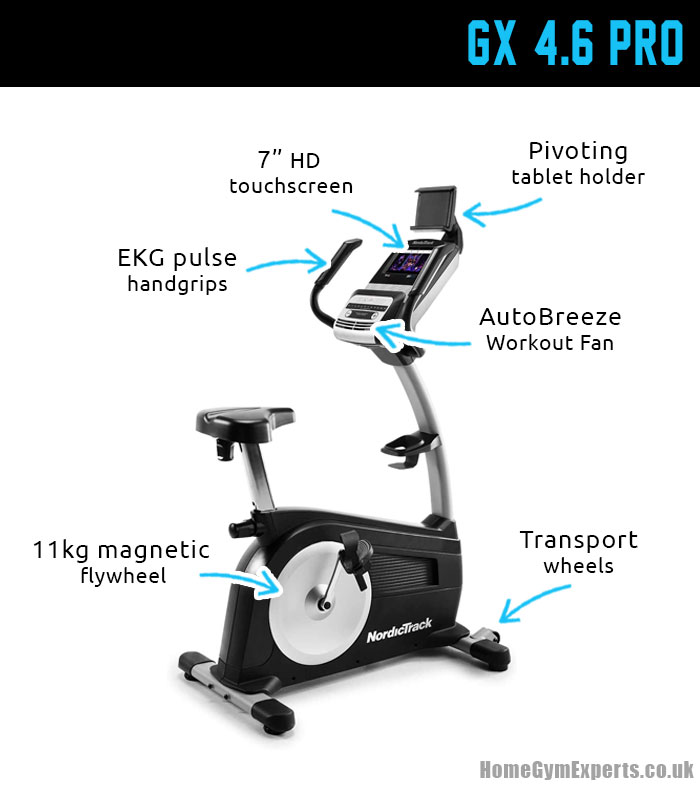 11kg magnetic flywheel
7 inch HD touchscreen
24 levels of resistance
EKG pulse handgrips
Pivoting tablet holder
Autobreeze
130kg (285lb) user weight
NordicTrack 5-year warranty
---
What we like about the NordicTrack GX 4.6
NordicTrack build quality
We've reviewed a lot of NordicTrack gear over the years, and basically, everything that we've looked at has been built to the same exacting standards.
The GX 4.6 Pro is no exception to this. The bike looks great; with a chunky body and sleek lines, perfectly at home alongside other commercial quality bikes in high-end gyms and health clubs. The build is as stable as you'd expect, with everything built on a rock-solid steel frame that has basically no wobble on its moderate footprint, and an impressive 130kg (285lb) max user weight.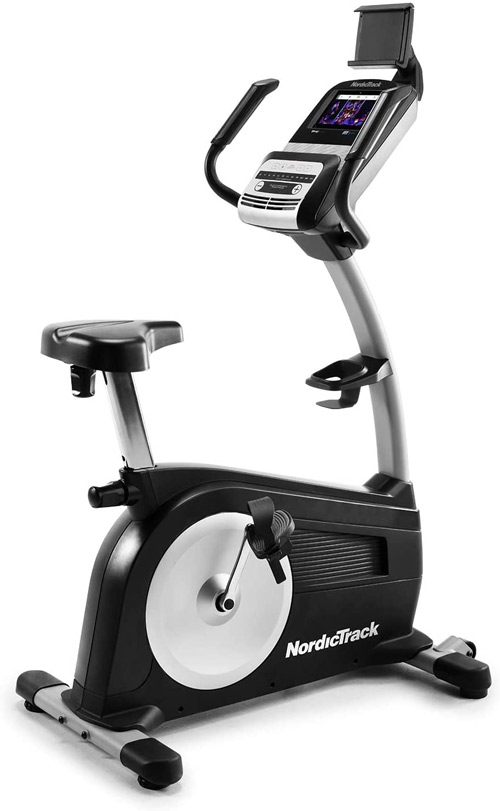 Everything you interact with is also equally good, with no obvious attempts to save money using cheaper, subpar fixtures. The big saddle is gel padded and comfortable, and adjustable both horizontally and vertically so you can find your ideal riding position. The pedals are oversized and equally comfortable, as well as being easy to adjust, and the handlebars are large and well padded.
One small gripe is that it would have been nice to see the second set of horizontal bars, set for spin classes, but this is a relatively minor thing, especially weighed up against the rest of the bike.
The biggest positive is that the heart of the machine, the flywheel, is a heavy and reliable 11kg chunk of weight. Using silent magnetic resistance for smooth and even training, which is expected from a bike of this calibre, it delivers 24 levels of resistance which ramp up fast. Expect the upper levels to be hard going even if you're on the fitter end of the scale.
Best of all, everything is fully covered by NordicTrack's industry-leading warranty. Two years on parts and labour, and a full five years on the frame, which is essentially unbeaten anywhere else.
Great fitness tracking and controls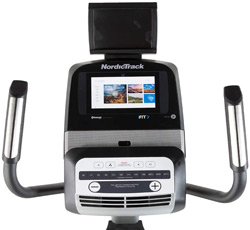 As we've come to expect from NordicTrack, as much attention has been paid to how you actually interact with the bike, as to the bike itself.
The first thing that will catch the eye is the touchscreen, sitting centre stage and right in the middle of the control panel. While the screen isn't large, at 7 inches, the display is crisp and easy to see, with an HD screen, as well as control being responsive and easy to understand.
This is backed up with a set of physical buttons that give you instant access to the most important features that you're going to use more often, for resistance, sound, and fans. Resistance can be adjusted on the fly, with a choice to gradually increase and decrease, or simply jump to one of several preset resistance settings using NordicTrack's OneTouch control system.
Set just above the resistance controls are fans up and down, for the large and powerful AutoBreeze fan (which you'll appreciate on hot summer days, and after long sessions) and the volume controls. Sound is provided through a pair of decent 2-inch speakers, though there is the option to link a tablet or your own headphones via Bluetooth.
Fitness metrics and workout data is all tracked through the iFit app (more on this in a second.) It's here that the GX 4.6 Pro shows its chops again, with EKG heart monitors built into the handgrips, which you'd expect, but also having BLE chest belt availability for more accurate readings. And yes, a chest belt is included with the bike.
Full iFit workouts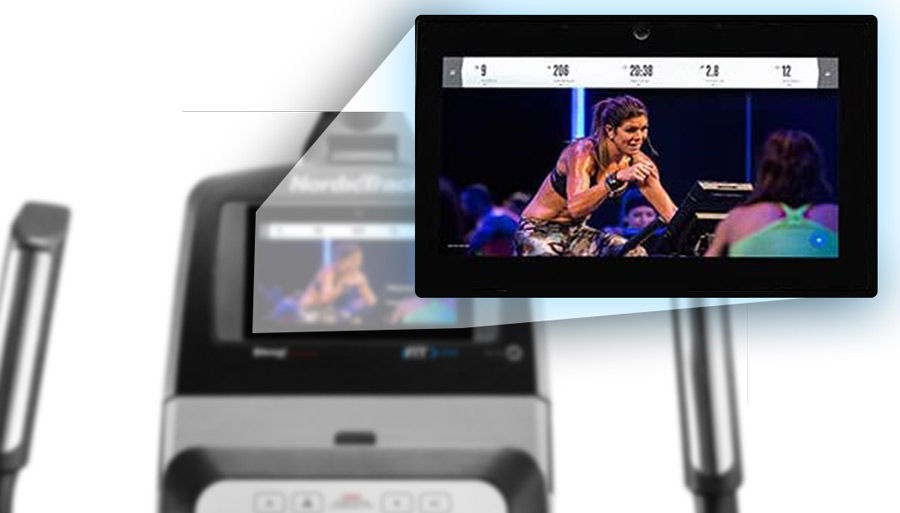 One of the biggest advantages of buying a NordicTrack bike is access to the iFit app and accompanying library of workout options.
iFit (and interactive workout programs in general) are a fitness game-changer, and it's hard to overestimate how much of an impact it can have on your ability and willingness to train hard, hit your goals, and get fitter and healthier than ever.
We've written a full guide on what iFit does, and what it can do for you, which you can find right here. But if you don't have time for the whole article, iFit gives you access to loads of live workouts, delivered directly into your home and led by world-class trainers, every single day. On top of this, you also have a library of literally thousands of previous workouts, freely available for you to choose from, whenever you want.
All of this, for less than the monthly price of a gym membership.
---
What we don't like about the NordicTrack GX 4.6
No built in workouts
Everything that the GX 4.6 Pro offers is fantastic, and once you're logged into iFit, the selection of available workouts is enough that you could literally do one a day and never run out.
But there lies a problem. There are no included basic workout plans like you might see on other, simpler exercise bikes.
This means that, if you don't want to run through a self-directed workout, where you set the resistance, you have to have an iFit subscription. As already mentioned, the bike does come with 30 days free, giving you the option to try before you buy. One of the biggest draws of the GX 4.6 Pro is iFit, so for most users, this won't be an issue, but it is something to bear in mind.
---
Final thoughts
The GX 4.6 Pro is a beast of a bike. Well built, and with a solid host of features that will suit any rider, from brand new to cycling up to semi-pro, in our opinion, this is one of the best bikes in its price bracket.
If you're looking for a high-end bike that's built to take you from where you are right now towards your fitness goals with effort and flair, we'd strongly consider picking up the GX 4.6 Pro.