Anyone who's ever used an assault bike will remember the experience. Working from a huge front-mounted fan, the key feature of an assault bike is how its resistance ramps up with your effort. And the resistance ramps up fast, meaning that no matter how fit you are, a few minutes of pushing on an assault bike will leave you a sweaty mess with screaming calves.
But there's also almost nothing that hits your body as hard or burns as many calories as an assault bike.
What is the Confidence Fitness Air Bike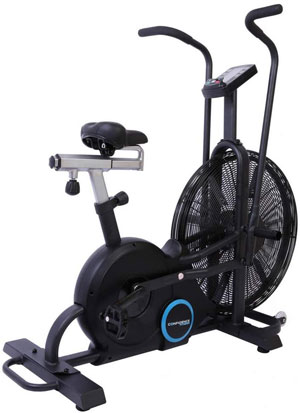 Quick quiz. What's the most popular assault bike on the market? If you guessed the imaginatively named 'Assault Bike,' you win!
Confidence Fitness has clearly seen the sheer popularity of the Assault Bike and decided to produce its own version. We won't lie to you. That's what this bike is. A near carbon copy of the best bike on the market.
And honestly, that's a great thing for you. There's a reason gear gets widely adopted, and the Confidence Fitnesses version takes all of the best while finding ways to cut costs and deliver something that offers the same performance to you while costing around a third less.
What can you get from training on the Confidence Fitness Air Bike
In our opinion, assault bikes like this one are the future. An air bike offers all of the benefits of a high-quality exercise bike while adding a few of its own quirks that turn the bike into a fat-burning, intensive cardio machine.
Air bikes are ideal for:
Warming up and warming down
Heart rate training
Intervals
Long term, solid-state cardio
Who is this best suited for?
For a bike that seems to have the main draw of 'being absolute hell to work out with,' there are a surprising amount of people who can benefit from using the Confidence Fitness Air Bike.
First off, if you're looking to burn calories and boost cardiovascular health, accept no substitutes. Unless you're planning on dropping more than double the cost on an ultra high tech spin bike, there's basically no way to match how hard you can work using an air bike.
Second, if you've only got space for one form of cardio in your home gym, and you're looking for something that can be used to warm up, burn fat, get fitter, intervals, or anything else, it's hard to beat the versatility of an air bike.
Finally, and most surprisingly, because the resistance is entirely based on how hard you're working, air bikes are great for people with joint issues or who are in recovery from injury. This minimises the chances of over-training or strain and makes air bikes a very safe and reliable option for cardio exercise.
---
Confidence Fitness Air Bike Key features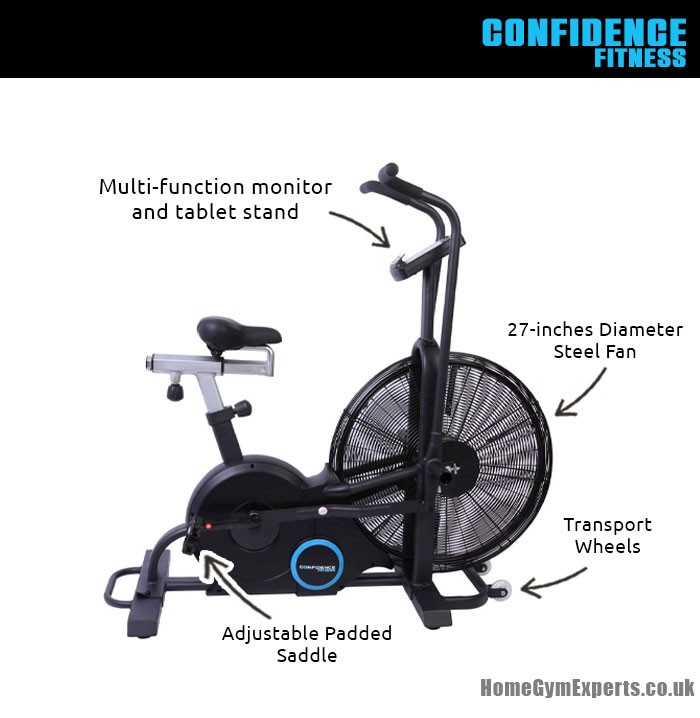 27-inch diameter steel fan
Alloy steel frame, padded saddle and oversize pedals
Multi-function monitor and tablet stand
Inbuilt pulse meter
135kg (300lb) weight limit
12-month warranty
---
What we like about the Confidence Fitness Air Bike
Great build quality
If you're using your assault bike correctly, it's going to be put through some serious stress. So it's good to know that the overall build quality across the bike is excellent. From the heavy-duty steel frame to the 300lb weight limit, to the high quality padded saddle and big, comfortable pedals.
The rest of the bike is also well thought out. The console is basic but provides literally everything you need for effective exercise (more on this later.) The handlebars are large and comfortable, with enough movement to provide a solid upper body workout. Finally, the bike has built-in movement wheels, meaning that the bike is surprisingly easy to move around your home, despite its reasonable large size and 100lb weight.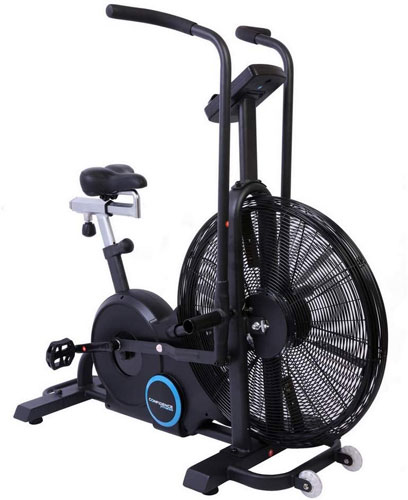 Intense workouts
Assault bikes are capable of delivering viciously effective workouts that can have you shaking in less than 5 minutes, or a gentle, easy warm-up, and the Confidence Fitness bike is comfortable with all of it.
This is delivered through the hefty 27-inch diameter steel fan, which is actually bigger than many of the competitors out there, and delivered to the pedals with a dependable chain drive and subsidiary flywheel. No matter what you plan on doing with this bike, it's going to take it in stride.
Simple, effective and easy to use
A huge advantage assault bikes have over the competition is how simple they are to use. There are no complicated resistance settings, no need to program in multiple workout types. Instead, you just jump on and start working, and the bike does the rest.
With this in mind, the console on this bike is basically perfect. It's simple and easy to understand, with options to exercise for time, distance, calories or heart rate (using the built-in heart rate monitor,) use one of the two included interval plans, or design your own exercise program.
Another advantage is how simple this bike is to set up. Out of the box, it's possible to have the bike together and running within an hour of delivery, even if you have zero experience with equipment like this.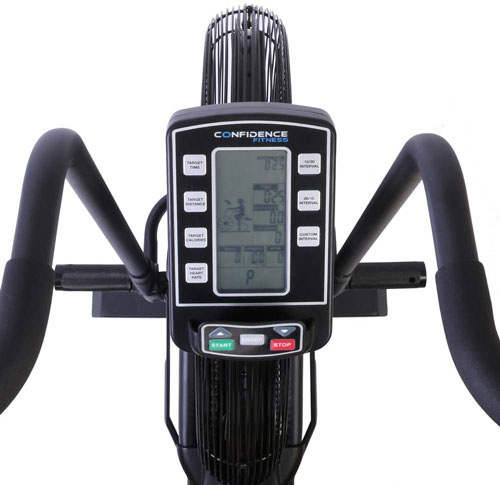 The price
When you're setting up a home gym, budget matters, and given the option between two near-identical products, but one costing significantly less, the choice is obvious.
That's why one of the biggest draws for the Confidence Fitness Air Bike is the cost. The fact that you can get a bike of this quality, that's essentially as good as the best on the market, while slashing a third of the cost is a big deal, and a real reason to seriously consider this bike over other options.
---
What we don't like Confidence Fitness Air Bike
The chain drive
While there's nothing wrong with chain drives on bikes like these, it would have been nice to see a quieter, generally more reliable belt drive instead.
Small build issues
While the general build quality on the Confidence Fitness Bike is great, there are a few minor issues that are noticeable, including:
Slightly flimsy feeling seat adjustment knobs
Bike movement wheels are cheap plastic
The monitor turns off after 30 seconds of non-use, so you have to switch it back on if you're off the bike for any period of time
---
Final thoughts
Our final thoughts on this bike are identical to the opinion we put forwards at the start of this review. The Confidence Fitness Air Bike is essentially the same as the Assault Bike Classic, the single best air bike on the market, with a few cheaper fittings to push the cost down without compromising on the quality.
And for the consumer, this is nothing but a good thing. If you're looking for a powerful, effective assault bike that's significantly cheaper than a lot of the other options out there, Confidence Fitness have you covered.
---
Confidence Fitness Full Specs
Brand
Confidence
Item dimensions L x W x H
126 x 59 x 130 centimetres
Minimum height
160 Centimetres
Item weight
46 Kilograms
Resistance mechanism
Air
Material
Alloy Steel
Power source
Battery Powered
Maximum weight
recommendation
135 Kilograms
Meter
‎Heart Rate, Speed,
Calories Burned, Time,
Distance
Batteries included?
No