NordicTrack have a reputation for commercial level, ultra-high quality fitness systems. But exceptional quality comes with a cost, and they're also well known for the high price tags that most of that same equipment commands.
The NordicTrack GX series of bikes changes that. It combines the benefits of NordicTrack's fitness experience, fantastic build quality, and iFit interactive fitness app, with a much lower and more affordable point of entry, making them a much more attractive and accessible proposition for a whole lot of people.
So what is the NordicTrack GX Classic series?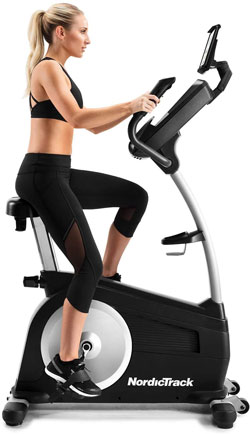 The NordicTrack GX Classic series is their entry level series of bikes (if anything NordicTrack can be said to be 'entry level.')
By focusing on the essentials, like a large enough magnetic flywheel for effective resistance and great overall construction, and leaving off some of the things that regularly drive the price up, the cost has been kept low enough to be accessible without compromising on quality.
Obviously, all three bikes are different, but they do share some commonalities, such as:
• Overall exceptional construction: NordicTrack over-engineer everything they make, with rock solid steel frames, and great fixtures and fittings. This extends the life of the bike, and also makes training on them that much more pleasurable and relaxing, as it's less likely to rock and flex as you workout. T
• iFit interactive fitness access: NordicTrack's iFit is their premier interactive fitness service. It offers thousands of classes across every single system in their range, as well as general fitness. Interactive fitness is definitely the future, you can find out more in our guide here.
• Industry leading warranties: Every single bike in the range has a full 2 year warranty on parts and labour, and a massive 5 years on the frame, unmatched by almost anyone else.
With that said, while the bikes have a lot in common, there's a lot to differentiate them. Lets break each one of them down.
The NordicTrack GX Bike Range
GX 2.7 U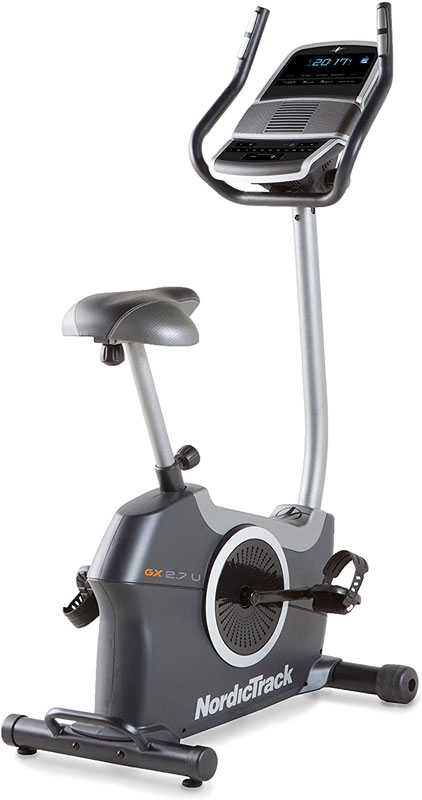 Being the baby of the trio doesn't mean the GX 2.7 U is an inferior bike. It's actually the exact opposite. Compared to a lot of other bikes on the market at a similar price range (at time of writing, you can buy this on sale for £369) this is an incredibly well built bike that has a serious amount on offer.
The biggest thing that stands out initially is just how well built everything is. NordicTrack's exercise systems are known for their quality, and this doesn't disappoint. The frame is small, but rock solid, supporting a huge 125kg (275lb) user weight, an incredibly impressive number for a bike this compact.
That forethought extends to everything you touch as you're exercising. The seat is large and comfortable, with ergonomic pedals that are easy to adjust and large, easy to hold handgrips, with built in EKG heart rate sensors.
Resistance is provided by a 7kg flywheel, which is pleasingly quiet and smooth and offers 20 levels of resistance. If you're reasonably fit, the resistance on offer might be a little light, but it's perfectly workable for general fitness.
The controls are simple, using a 5 inch backlit display and old style buttons, which are unexceptional but easy to use. The console also has 20 onboard preset workouts, all of which are easy to follow.
But none of this really matters, because you can and should be linking a device to this, to unlock its full potential. Using a phone or tablet lets you link the bike to iFit, NordicTrack's interactive fitness program, which gives you essentially infinite workouts, including daily live workouts and a library of thousands more.
While creature comforts are sparse, everything this bike offers is great. Reliable, effective, with the benefits of iFit, the GX 2.7 U is a great entry level bike.
GX 4.4 Pro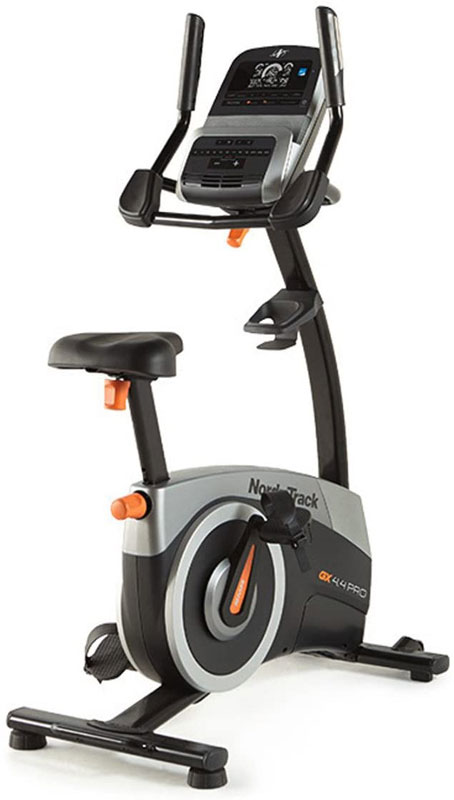 The mid-range bike in the series, the GX 4.4 Pro is a jump in quality from the GX 2.7, adding a heavier flywheel and a few other options that make this a much better choice for more experienced athletes.
Built around a larger, heavier frame, the GX 4.4 looks much closer to a commercial style beast. The riding position is more flexible, including vertical and horizontal adjustment, as well as extra-wide ergonomic pedals.
The handlebars have the same EKG meters as the rest of the range, but stepping up to the GX 4.4 also offers compatibility with all good Bluetooth-equipped heart rate chest straps, which are both more accurate and more convenient.
The flywheel has also been boosted, to a much more impressive 9kgs of magnetic resistance, and 25 levels of resistance. This is a much more reasonable weight, and offers the edge that people looking for serious training might require.
The display is still the same small 5kg backlit display as its smaller brother, but again, you can link any touchscreen device to this, giving you the benefits of iFit, (a 30 day membership comes free with the bike.)
Our honest opinion about the bike though is surprisingly negative, because it's hard not to compare it with the others here. The price increase just doesn't do enough to justify the increase in performance from the GX 2.7, and the 4.6 Pro offers so much more, for a little bit extra, and realistically, we'd always consider buying either of those before this (still very fine) bike.
GX 4.6 Pro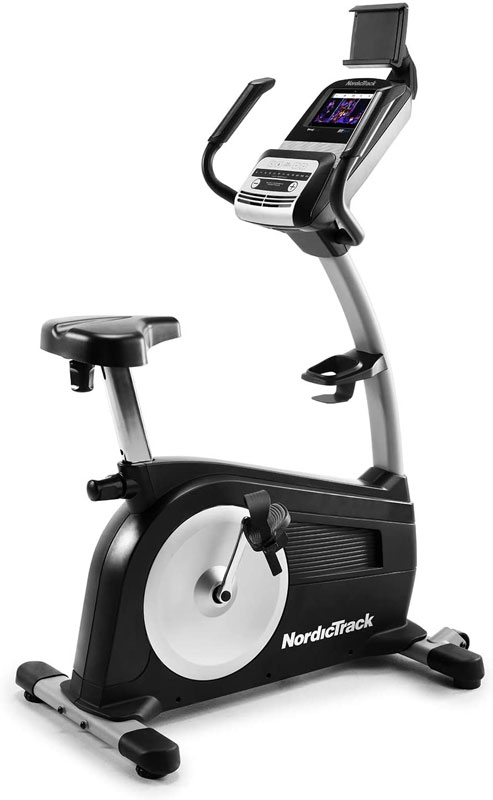 Much closer to NordicTrack's Commercial series, the GX 4.6 Pro is a beast of a bike that acts as a jumping off point towards the beefiest bikes in the range.
The differences are easy to see. It's big and heavy, built around a powerful 11kg inertia enhanced, silent magnetic resistance powered flywheel. The seat is comfortable and easily adjustable, as are the handlebars, which sit pretty on the outside of the console.
It's the console that's the biggest difference. The jump in price brings a compact little 7 inch touchscreen that's used for most of the controls, and in a pinch can run any of the iFit training programs. You still have the option to link a tablet or phone, and you absolutely should, especially since the tablet mount can rotate off of the bike, which makes it much easier to take advantage of the (many and varied) off-bike workouts like Yoga and fitness classes that are available through iFit.
This is backed up by built in pulse monitors, and the option to expand to a chest belt, great speakers, built in personal fans, and overall fantastic construction.
The GX 4.6 Pro is a great bike. It actually compares favorably with NordicTrack's own Commercial series of bikes, which costs almost 50% more. The addition of a touchscreen elevates this, as does the heavier flywheel, and it comes highly recommended.
Final thoughts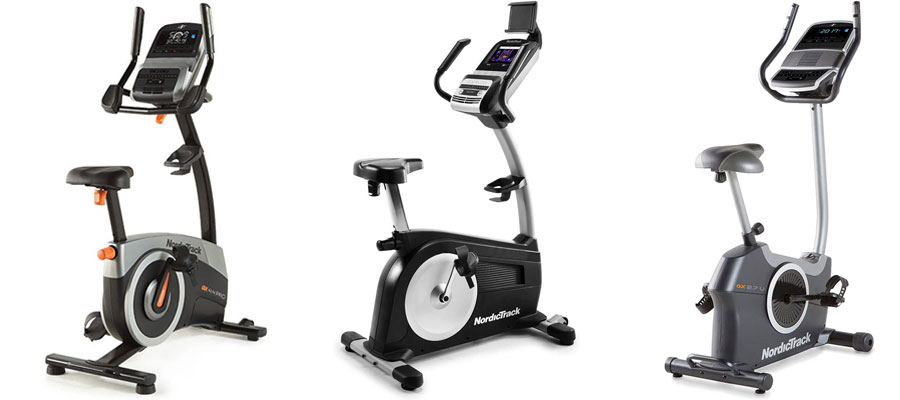 NordicTrack have earned their reputation over years of consistent quality with everything they release.
The GX Classic series is no exception. All three of these bikes are impressive in their own way, and offer a huge amount for someone setting up a home gym. Great construction, enough resistance to train effectively, all at a great price point. And the fact that even the smallest, cheapest bike in the range has iFit means that this is one of the easiest ways to get access to it.
Put simply, if you want a solid, dependable bike that's going to last literal years of training, with the option to jump into a class whenever you have time, the GX series covers it.
Experienced trainers and serious athletes might want to look at some of the heftier bikes in NordicTrack's range for a little more resistance, but for the remaining 90% of us, the GX Series delivers literally everything you need.