If you're on the hunt for that new exercise bike and want something a bit better quality than the budget buys out there, Proform is one brand you should definitely check out.
In this guide, we're focusing on the ProForm exercise bikes range, which feature some interesting tech and engineering.
We'll look at the different models and also ask: are they worth the price?
Why Proform bikes?
Here's the stuff that ProForm's exercise cycles get right:
Good quality – This is a step up from the usual no-brand, budget gear you often find online.
Affordable – considering these are high quality machines, they're not as steep as some of the competing machines that offer iFit integration.
iFit is brilliant – If you've not heard of iFit, it's online classes, virtual racing and a coaching. Proform's bikes (with the exception of the DUO) integrate seamlessly with iFit via a colour HD screen.
Keep it down!  Proform's machines all use magnetic resistance and have that level of quality where they're some of the smoothest and more silent bikes out there.
Reliable customer service – With a lot of scammers around, it's a relief buying from a proper, well-known brand with good rep. Proform have a good Trust Pilot rating at the time of writing and they're a real Brand. (Links at the bottom of this guide for their support).
---
Who are ProForm Fitness?
Proform have been around for over 30 years and are a are a UK-based maker of all kinds advanced home gym gear. They have everything from HIIT trainers, Cross trainers, treadmills and, of course, exercise bikes.
Owned by the same parent company that makes elite level exercise equipment like NordicFit, ProForm have a solid range of equipment that's squarely in the budget-to-mid-range price point.
As far as exercise bikes, Proform have machines in the following areas:
Indoor cycling (spin-style bikes)
Recumbent (sit back like a dragster)
Regular (upright) bikes
Folding (the X-Bike)
What are reviews like for Proform?
Independent review site, Reviews.co.uk currently places ProForm in the 72% of reviewers would recommend bracket. Or around a 3.5 star rating.

What's delivery like from Proform?
You get free delivery on most products from Proform, and the wait time is not too shabby. Sadly, there's no next day option but you'll get your bike delivered within 7 – 10 working days. They will deliver off-shore but you'll have to get a quotation if you're in certain postcodes.
---
What is the ProForm trainer series?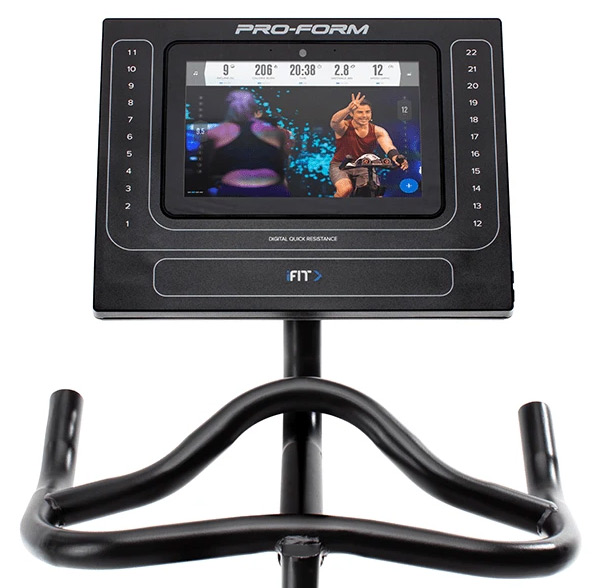 ProForm trainer bikes are solidly built, with a decent suite of general features and a few solid touches that elevate them above basic, entry level bikes.
The multimedia systems
Most ProForm bikes come with a decent multimedia suite. The more expensive bikes, marked with a plus (+) in their name, have HD touchscreens to control the settings.
Any bike in the plus range also lets you use the iFit online workout program. iFit is a series of interactive, online workouts, both live-streamed and recorded, which is like having a gym class in your house.
iFit is a subscription service, but every plus model comes with at least a 1 year complimentary subscription, so you can tell if you like it before you buy. Every bike is still perfectly functional without it, and they all come with built in workout programs, too.
Silent Magnetic Resistance Flywheels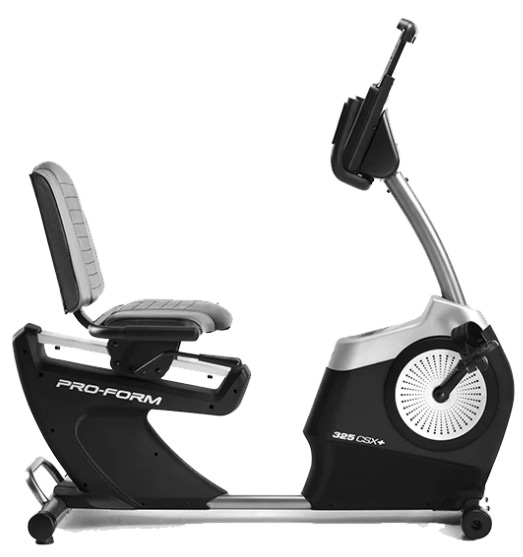 The ProForm bikes use faster gear ratios and magnetic flywheels for resistance. They aim for a natural riding experience, with good feel and feedback.
Every single bike uses a silent magnetic resistance system, which boasts smooth performance at all resistance levels, and doesn't make any of the noise you get with cheaper bikes.
Frame and build
General build on ProForm bikes is built-to-last. More expensive bikes are built around commercial steel frames, which are solidly tough and have a maximum user weight of 115kg (255lbs.)
They're comfortable to use, with large, fully adjustable seats and chunky, robust handlebars. Controls are simple and well laid out, and the screens are big enough to see and fully adjustable, including incline and rotation.
What is the warranty like on these machines?
The warranty on ProForm bikes is a solid 1 year that covers everything, and it's worth checking, because generally you can extend the warranty to 2 years if you register the product within 4 weeks of purchase.
---
Why train with the ProForm bikes?
Cycling: a simple, proven way to get in shape!
We're HUGE fans of all kinds of bike riding on HomeGymExperts – from recumbent to standard uprights. Indoor cycling of any kind is a great way to lose fat, increase cardiovascular health and boost general fitness levels.
There's a wealth of data and studies now that show just how good hopping on a bike in your home or even office is for your health. All without any jolting impact on your joints.
Online classes – no more boring rides
There are multiple ways to train on a stationary bike, and it's both effective and fun, which is why spin classes are have become increasingly popular all over the world (online and offline).
On top of this, most of the expensive models have iFit functionality, which guides you through full body workouts. Like the NordicTrack machines we've looked at, you'll be encouraged to hop off your bike in some classes and mix things up with all kinds of bodyweight and freeweight exercise.
iFit is designed as a complete workout system, so programs will get you off the bike and doing bodywork exercises, stretches, and more. It's great having the screen built into the bike and iFit set up and ready to go.
Downsides to the iFit service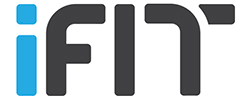 iFit is pretty cool, but it is a subscription service. If you're sick of all those subscription services, from Sky to Netflix, and absolutely loath that business model, then there's not much point in plonking down a grand for one of the expensive Proform bikes.
Having said that, you get 1 month free with the Pro-Form range to see if it's for you. A family pass no less. And it's not ludicrously expensive either. At around £25 / month for a family pass, or £12 / month for an individual it's fairly competitive with gym memberships.
Ultimately, you'll have to decide if you're ready for another subscription… even if it's a good one.
---
Best bikes in the ProForm range
The 10 inch smart HD touchscreen links into ProForm's iFit system
Trying to target as many users as possible, Proform's range includes a number of different machines, from uprights to recumbent machines. Let's take a look at the main models in 2023 and which ones are the best.
Type: Spinning-style upright bikes
Best for: Intense workouts, losing weight, toning muscle
The Studio is the pinnacle of ProForm's exercise biking systems.
Built around a heavy flywheel using ProForm's magnetic resistance system for 22 levels of resistance, it's powerful. Adjustable seat and handlebars mean it's comfortable, too.
But the main thing that differentiates the Studio is the multimedia system. The 10 inch smart HD touchscreen links into ProForm's iFit system, letting you join in with live classes from the comfort of your own home.
The bike is also decked out with all the extras; a water bottle holder, movement wheels, commercial steel frame, aux ports for your own music, and more.
More info »
---
Type: Sit down bikes with a back-rest
Best for: Less-intense workouts, anyone with certain injuries
Exercise in comfort with ProForm's premier recumbent bike. Built around a super comfortable sitting position, it boasts 22 digital resistance levels on a 7kg flywheel.
Work against 24 programmed workouts, or upgrade to the 324 CSX+ and link into iFit to follow one of the thousands of online plans or program your own on the digital touchscreen.
Alternatively, use the built in tablet holder to watch Netflix as you burn away those calories.
---
An entry level bike with an entry level price tag, the 310 CSX puts in effort where it matters.
The bike is built around a relatively light flywheel that's only 5kgs, with 16 levels of resistance. That's enough for light training and weight loss, but isn't suitable for heavy resistance work.
For such a cheap bike, the fact that it has an LCD screen and iFit functionality is a huge draw. This bike is probably the cheapest effective way to get involved with an iFit membership, and considering how effective it is, that's massive.
Finally, if you're not interested in iFit, you can use your own devices.
---
ProForm Original Series
Type: Traditional upright exercise bikes
Best for: Losing weight, getting in general fitness, toning muscles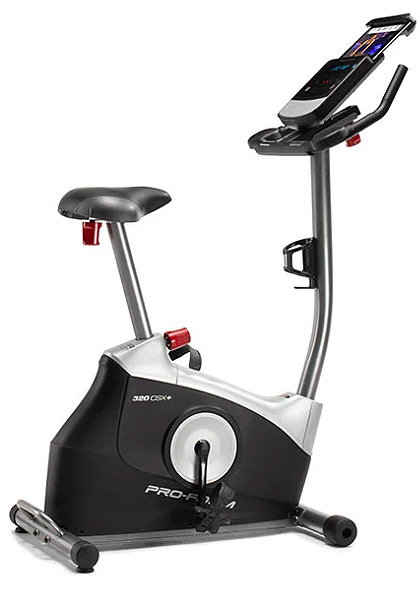 ProForm's most expensive standard bike, the 320 CSX+ combines the best of everything ProForm exercise equipment offers.
Built around the standard 7kg flywheel, it has a reasonably mediocre 16 resistance levels, disappointing for a bike at this cost.
The bike itself is well built, with an oversized, adjustable seat and heavy construction.
The best thing about the CSX+ is the media system that links into iFit, just like the other high-end models in ProForm's bike range. The fact that there are so many workout programs available to you adds so much to the workouts, and turns a bike that's only average in a lot of ways into something worth using.
---
A basic bike with a wallet friendly price tag, the 225 CSX inexplicably has one of the heaviest flywheels in ProForm's entire range of bikes, at a decent 8kg, and has 20 levels of resistance.
Honestly, that's the main reason to buy this bike. Apart from that, it's pretty well made, with iFit functionality and all the standard specs, like built in workout programs, EKG heart rate monitors in the grips, and moving wheels on the bottom.
If you need a heavier flywheel over the rest of the range, here's the choice.
---
Type: X-shaped folding bike
Best for: Burning off calories, anyone short on space will love these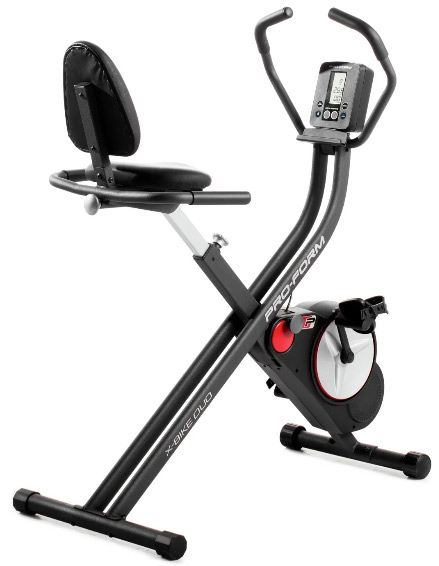 Folding exercise bikes aren't anything new and they're a brilliant invention for anyone who is really strapped for space. Or if you don't want an exercise bike on display all day.
The simple X-shaped bike pivots in the middle and can be folded down extremely flat and easily wheeled out of the way.
Traditionally a wobbly, lower quality bike, folding exercise bikes can be very hit-or-miss, especially at the extreme lower price points. But the X-Bike Duo aims to offer a more stable experience, with a better quality flywheel, on-board display and a bike that actually does the same job as a bigger, full-blown exercise bike.
This series has big, comfy seats, compete with back-rest, and there's 14 workout apps to keep you busy. It's also one of the cheapest bikes in the Proform range.
More info »
---
Are ProForm bikes worth the price tag?
ProForm bikes are fairly priced and offer good value for money
With the cheaper entries in ProForm's current line up of exercise bikes coming in just under the £300 mark, it's good to see they are not going all in on expensive machines.
Having said that, there's a clear bump in quality on the more expensive models such as the SmartPower 10 Pro, which is clearly aimed at people who are already in decent shape.
Final thoughts
Proform bikes have a lot to offer if you're looking for a new indoor cycle for your home or garage gym. Unlike a lot of brands, there's cheaper bikes as well as more expensive models to suit any budget.
As we've seen with machines from NordicTrack, the way ProForm integrates iFit is a superb way to stay motivated; it gets rid of the boredom that can set in when training on an indoor bike, over time.
All in all, ProForm represents good value for money, sturdy products that are well made and with plenty to keep you busy.
Check out Proform's exercise bikes here:
<a class="productBoxButton" href="https://www.homegymexperts.co.uk/proform-exercise-bikes.html" data-wpel-link="internal">See the full range of ProForm Bikes</a>
Refences and Further Reading