Welcome to our review of the NordicTrack VR19. In this guide we'll cover everything you need to know about Nordic's recumbent bike including our opinion on what this bike gets right, and where it falls short. Is this reclining exercise bike for you?
Let's find out!
---
What Is the NordicTrack VR19?
The NordicTrack VR19 is a stylish and compact recumbent home exercise cycle with many added features to up your home workout. It is part of NordicTrack's 2023 line-up of recumbent exercise bikes.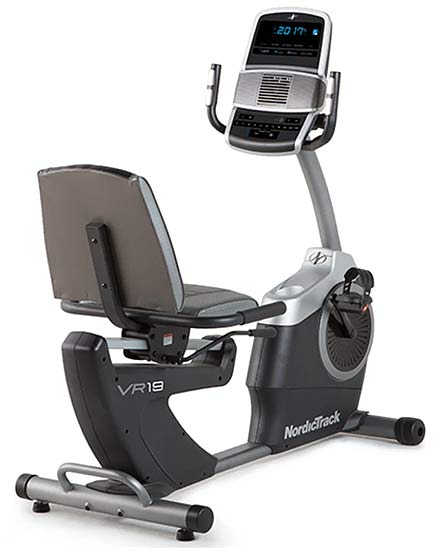 The VR19 has an 'oversized' ergonomic seat adjustable and provides both comfort and support to your lumbar region. The VR has easily adjustable foot pedals and a smooth pedalling action.
There are 22 magnetic resistance levels to give you plenty of scope to increase your fitness as your endurance increases. You have access to 24 varied pre-set workout programs for varying levels of training intensity.
Your NordicTrack VR19 is Bluetooth equipped and is iFit ready for you to enhance your workout experience. iFit offers you Google Maps integration to vary your route and street views to multiple locations worldwide. The iFit also allows you to integrate off-bike exercises into your routine to add variety to your training.
Your 5'' Display screen is full colour and high contrast and lets you track your progress clearly while you can listen to your favourite music from your two onboard speakers. As an added luxury, you can take advantage of your Autobreeze fan to cool you down.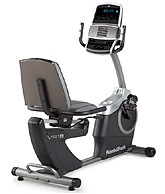 The NordicTrack VR19 offers a superb quality recumbent bike that's easy-to-use, robust and offers excellent online training facilities such as  coaching, live classes & more.
Who are NordicTrack?

NordicTrack are a long-running luxury exercise machine brand, known for pushing boundaries and advancing the idea of what technology can be used for when it comes to home exercise.
While anyone into treadmills will likely have heard of them, you'd be forgiven for not knowing Nordic have a line of rowers (and other gym gear) on the market.
Key Features:
7kg Magnetic Flywheel
22 levels of magnetic resistance
24 pre-set program options
Compact dimensions 137 x 64 x 131 cm
Inbuilt wheels for portability
Oversized chair with cushioned lumbar support
Dual grip EKG monitor
Bluetooth enabled
2 onboard speakers iPod compatible
5'' Display High Contrast
Autobreeze Function
2-Year Warranty on Frame
---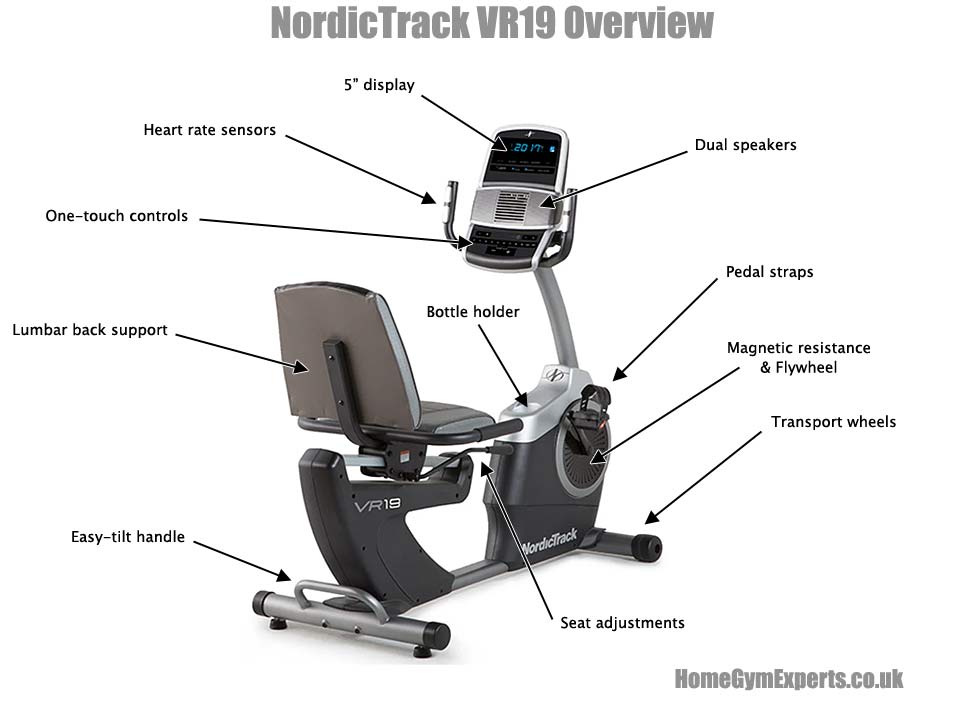 Check the Price at NordicTrack
---
Benefits to Training with recumbent machines like the NordicTrack V19
Crank up the resistance a little and you'll soon find a good way to push out of your comfort zone.
Work out with less strain
A recumbent bike gives you the best of both worlds, great exercise, and a low impact strain-free workout experience. Machines like the VR19 exercise your glutes, thighs, and calves with much less strain on your joints than other home exercise equipment. They are also more comfortable and provide more balance than an average bike.
Cardiovascular benefits
Although the recumbent position seems more relaxed than upright stationary bikes, there is not much difference in the two's muscle workloads. The consistent aerobic exercise provided by the V 19 strengthens your heart muscles and improves lung capacity, and reduces overall blood pressure.
Some of the toughest (oh, my word… how long have I got left!!!) workouts I've had in recent times have been on recumbent machines like the VR19. If you want a challenge, then there's plenty here to get stuck into. Crank up the resistance a little and you'll soon find a good way to push out of your comfort zone.
Lengthen your workouts
Because the recumbent position relieves the pressure and strains associated with stationary bikes, you can extend your training longer. Because you are seated in balance and comfort, saddle soreness or joint pain won't shorten your workout time.
With a recumbent you can push back and relax your upper body, a little, and it really focuses on your leg muscles.
Customize your workout
The VR19 has 22 magnetic resistance levels, you can fit your training to suit your fitness levels and increase resistance as your fitness improves. Pedaling fast brings your heart rate up, and resistance gives your leg, thighs, and glute muscles a proper burn.
While there's plenty of programs to get stuck into, it's really up to you to play around and find a level where you're working, without either taking it too easy, or thinking you're not going to be able to walk tomorrow.
Balance and stability
The oversized ergonomically designed seat provides balance and the proper support for your lumbar regions. There is less chance for injury on a recumbent such as the VR19 than upright bikes. This feature can be especially beneficial for those suffering from back problems or sport-related injuries.
Burn calories and lose weight. Despite seeming more relaxed on a recumbent cycle such as the VR 19, there is no significant difference in calorie consumption and weight-loss potential between the two bikes. Those who have larger body mass will find it less painful to use a recumbent bike due to the balanced seating position and exercise for more extended periods.
You can exercise at home
With a VR19, your exercise equipment is right there when you need it, without costly commutes to expensive gyms. You are not subject to inclement weather, and you may exercise safely at all hours. Got 10 minutes spare? Work in another session and get that good feeling knowing you've burnt off a few more calories!
You can do other things while exercising
One massive problems with sticking to any fitness program inevitably becomes boredom. Sitting pedaling away hour after hour gets a but dull. One of the great thigns about recumbent machines like NordicTrack's range is you've pretty much got your arms free to do other things. And with the tablet shelf on the VR19, you can:
Browse the web
Play games
Do some work
Listen to music
Or just catch up on a streaming show
---
Who will get the most out of the NordicTrack VR19?
Anyone looking for a less-hyper workout
People who want a more relaxed and comfortable workout will benefit from the recumbent's low-stress action without sacrificing fitness and weight loss. Upright stationary bikes are often uncomfortable, and provide little support for your upper body, especially the lumbar region.
The reclined recumbent bike position would suit those who suffer from saddle soreness or discomfort on upright stationary bikes.
It is easier to stay motivated on the VR19 because you can train in comfort and have the freedom to entertain yourself during your workout. Stationary bikes require more concentration and balance, and soreness can often be demotivating. Training without joint stress and saddle pain will motivate you to exercise more frequently and for extended periods.
If you're recovering from injuries
Those who have injuries will find great benefit in the VR 19 recumbent bike. The low impact and supportive seating allow you to train in a supported position, and the 22-resistance level means that you can gradually build yourself up over time. Individuals suffering from neurological disorders or arthritis will find significant advantages in the reclined stance of the recumbent bike.
The VR19 supports and provides challenges for all fitness levels with the 22 levels of magnetic resistance. Not only is the VR19 easy to adjust and adaptable to different user dimensions, but it suits all fitness levels as well. As the magnetic resistance increases, the intensity of your workout increases.
Multiple users in one household at various fitness levels can benefit from the numerous training intensities of the VR19.
Anyone short on time to exercise normally
People who find little time to exercise will benefit from having the compact VR19 in their home. Lives can be busy, and often, individuals want to increase their fitness but can't find enough time to achieve this. With the compact and portable VR19, you may exercise any time you have a stretch of free time without leaving your home.
People who are serious about improving their health will find having an exercise machine such as the VR19 at home a great motivation to exercise. The recumbent provides excellent cardiovascular benefits and will allow you to burn calories and improve your health without many home exercise equipment's discomforts.
Here's a great video for anyone new to the wonderful world of recumbent bikes
---
Our Review: What we liked About the NordicTrack VR19
Comfy and supportive
The NordicTrack, once assembled, is quite a luxury to use if you are used to the cycle action of a stationary upright exercise bike. The seat seems to embrace you in without making you feel sweaty or overheated.
There is a marked difference in the support while cycling, and you feel more encouraged to push up your resistance because you feel so supported. Considering this is NordicTrack's cheapest recumbent machine, they've packed an impressive high quality feel into this bike.
Intuitive & easy controls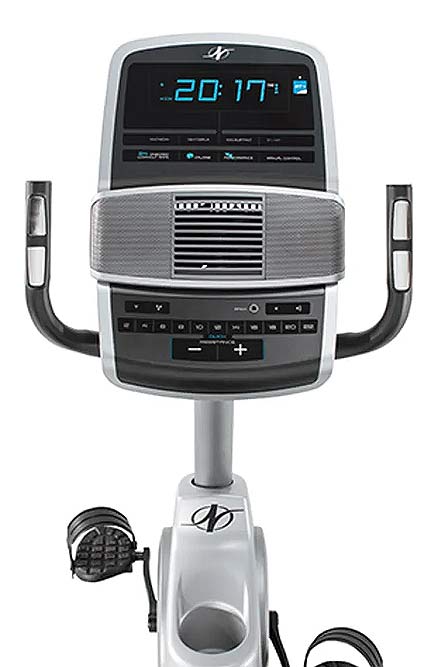 The one-touch controls are well placed and intuitive, and although a tad on the small side, the 5'' colour display shows your stats clearly without having to squint.
iFit is the star of the show
You get month of free iFit with this machine, something that's common with many of NordicTrack's 2023 line-up. Although it's a paid service, you're getting a month's pass included with the VR19, and it's arguably one of the best parts of it. You'll need to hook up your tablet to the service to get the most from it.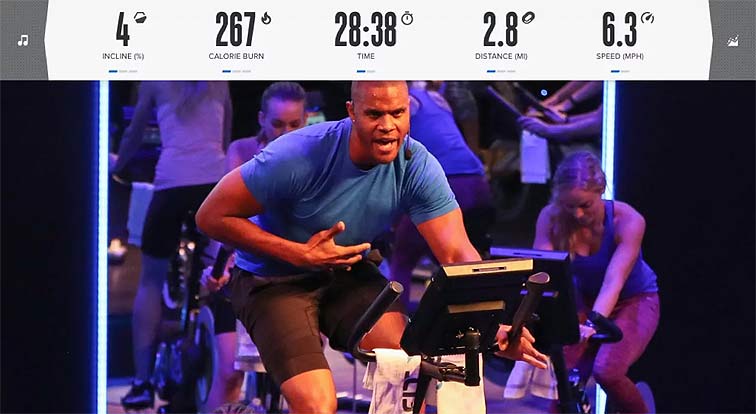 Once connected you can choose from a daunting array of both pre-recorded and live content based around the VR19 machine (and other workouts). Even if iFit isn't the main reason you buy this machine, give it a try regardless – it's really interesting how it all works and there's some workouts here for everyone.
Silky smooth operation
Sadly, not all recumbent machines feel like NordicTrack's range. We've encountered some pretty rough mechanics in our time reviewing these beasts. But the VR19 uses smooth magnetic resistance and better quality bearings and components in general. It all makes for a consistent, smooth experience.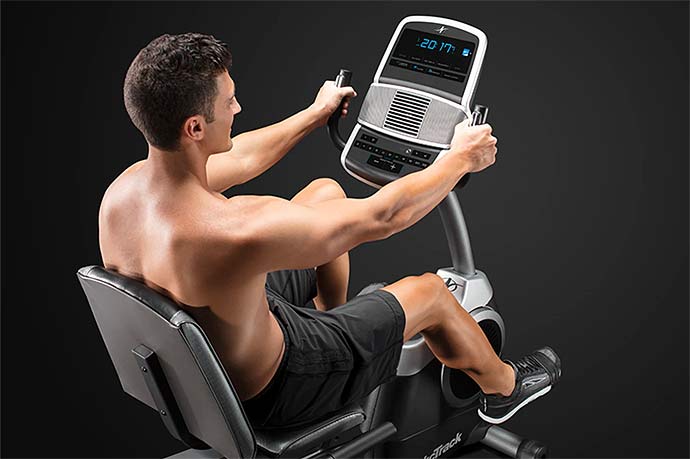 As well as a buttery-smooth cycling action, the VR19 is also extremely quiet. It's perfect for those who will be working out in a multi-occupant home. The smooth motion is quite deceptive because you seem to burn calories without really noticing. Unlike upright stationary bikes where you feel like you are actively cycling, you achieve the same results recumbent with half the effort.
Good adjustments to different sized users
The Vr19 accommodates differing heights well, and the seat adjustment is a breeze once you get the hang of it. The VR19 accommodated my 6ft colleague with ease as well as my short frame.
We enjoyed how we lost track of time while exercising. The smooth pedal action and the supported seat are cunningly deceptive when it comes to your workout time. Because you are not hunched over an uncomfortable seat, you don't feel as aware of your exercise on the recumbent. I was sold on the VR19 on this factor alone.
Check the Price at NordicTrack
What I didn't Like About The Nordictrack VR19
The Nordictrack is a monster to assemble, and it took two of us quite some time to figure it out. The machine is also deceptively heavy at 48kgs, and being a smaller woman, I needed assistance to move and assemble the VR19. They do offer assembly services, and perhaps that would be an option for those not mechanically inclined.
The display is a bit small at 5''. Even though your stats are clear to read, one would expect a larger display for the price range of the VR19. The onboard speakers were not great quality, but we enjoyed the Autobreeze function even though it was not super powerful.
---
Conclusion: Is the VR19 worth a buy?
The NordicTrack VR19 is a solid piece of kit with a sturdy frame. The 2-year frame warranty support the sturdiness of the VR19. The action is smooth, and the seat is great, with a magnetic resistance that can pack a punch.
If you're interested in trying iFit then there's a wealth of content here too. Although you'll have to pay for it once the trial month is up.
Beginners or experienced gym-goers will find a lot to like here in NordicTrack's more budget-friendly machine. And The VR19 is a great all-rounder for all fitness levels and kind to those with back conditions or sports injuries.
Highly Recommended
Check the Price at NordicTrack
NordicTrack VR19 – Full Specs
Brand
NorticTrack
Model number
VR19 (NTEVEX49018)
Construction
Commercial Solid Steel Construction
Color
Gray, Black and Silver
Display
5'' High Constast Multi-Color
Stats tracked
Time
Calories
Distance
Speed
Heart rate
Speakers
2 x 2'' iPod Compatible
Flywheel
7kg
Resistance type
Magnetic
Resistance levels
22
Workout fan
Yes
Max user weight
125kg
Pedals
Extra-wide Ergonomic Pedals with Adjustable Straps
Seat
Lumbar Supported Cushioned
Water bottle holder
Yes
Hand grips
Handgrips
Dimensions
137 x 64 x 131 cm
Weight
48kg
Warranty
5 Year Frame Warranty
2 Year Parts and Labour
Chest strap compatible?
Yes, via Bluetooth
# Workout apps
22
Tablet holder?
Yes, shelf for tablet or phone
References and further reading