If you've not come across them yet, the Reebok cross trainers (Available on Amazon UK) are a family of elliptical machines with a good set of features and a respectably low price tag. This guide will cover everything we know about this line of machines, and help you decide if they're actually worth it.
We'll be diving into the different models in the 2023 line-up of Reebok's elliptical machines, along with how they stack up compared to similarly priced machines, and more expensive ones.
Reebok are a titan in the world of exercise equipment and fitness clothing, recognisable all over the world. But are their machines as good as the reputation suggests?
---
| | | | |
| --- | --- | --- | --- |
| | | | |
| | | This is the best Reebok Cross trainer thanks to it's automatic resistance and 32 levels of difficulty. The display is way better on this model than the others. It's a bit more expensive but worth it for what you're getting. | |
| | | A budget friendly entry into the cross trainer market from Reebok. It's battery rather than mains powered and light enough to move around. A good, if basic display. The resistance is, however, manual. | |
| | | The ZR8 is a good option for anyone new to ellipticals. It's got a simple, easy-to-use display and a nice weighty 9kg flywheel. This model also has automatic resistance and a good range of programs. | |
---
Reebok Just Do Sportswear, Don't They?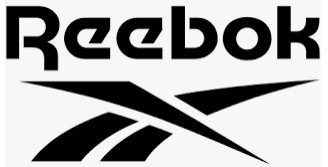 Reebok are well known in the fitness world, mostly for their fitness clothing and accessories. But some people might not know that Reebok also offers a wide range of fitness machines, including weight benches, cages, yoga gear, and cardio systems.
They also do some pretty good cross-trainers, too.
Reebok's ellipticals share a distinctive colour co-ordinated theme and sit at the budget end of the price scale.
The cheapest model can normally be picked up at around the £300 mark. We've seen more expensive brands with ellipticals going up to £2000 and beyond, so Reeboks are much more affordable entry-level machines, aimed at home users.
---
What is the Reebok Cross Trainer series?
If you've never checked out Reebok's range of fitness equipment before, you might be surprised by the sheer amount of variety on offer. Their cross-trainer range alone stretches across 10 separate models, with variations on the most popular giving you a lot of flexibility when it comes to what to buy. Although not all of this range are available in the UK.
Our reviews below pick out some of the best, and tell you what you might want to look out for, and why.
---
The Reebok cross trainer range are great little entry-level machines that are good for homes, garage gyms or home offices.
What can you get from training with Reebok One Cross Trainers?
Cross trainers (AKA ellipticals) are fantastic machines for building up your health and overall fitness. We're always ranting about the benefits of these often-overlooked machines.
If you're new to ellipticals, here's a super-quick summary of the main reasons you might want to hop on one of Reebok (or any other brand) machine today:
Lose the weight – Far from being an easy option, ellipticals can shred calories and, as such,  are a good machine to get in your home if you're looking to lose weight. They burn a lot of calories per hour, depending on how much you go for it, of course!
They're kind to joints – Cross trainers are also great for low-impact joint protection. Treadmills are indeed awesome, but if you're looking for something less high-impact, training on a cross trainer is the way to go. You can train harder for longer, and you'll need much less recovery the next day.
A good way to ease into exercise – If you've not been training for a while (or ever!) ellipticals like Reebok's machines might be your new best friend. Cross trainers are also great if you're older, or have an injury.
You'll work all your body – Unlike most other sources of cardio, cross trainers like Reebok's range are a fantastic full-body cardio workout. Pushing and pulling the handles works your arms, shoulders and back, your legs are worked by the stepper, and even your core is worked by having to balance against all the forces involved.
---
Getting to know Reebok's range: what do these machines generally get RIGHT?
Affordability
One of the big draws with Reebok exercise machines is the lower price tags compared to big hitters like the NordicTracks and Proform type brands. You can generally expect to pay around the £300 to £500 for ellipticals in Reebok's 2023 range.
Obviously, there are some concessions being made to get the price so much lower than the big brands, but the Reebok machines do a good job of balancing price and quality. We'll look at where Reebok's machines have made cuts and where they fall short later.
Adjustable for any family member
The most important thing you'll want to adjust is the foot pedals, depending on your stride length and your height. It's simple to do and Reebok's machines can be quickly altered to fit anyone in your household who wants to hop on and give cross training a go. And elliptical trainers are in general one of the easiest machines to jump on and do so.
Good brand
The web's packed with cheap cross trainers but they're usually brands you've never heard of. Whether or not you're a fan of Reebok's sports wear, it's reassuring to know they're a 'real' company and not some fly-by-night get up that's not going to answer emails.
General quality
Reebok are a good brand, with a solid lineage and a great name, and their exercise machines reflect that. Even the cheaper options are still solidly made from quality materials to a high standard.
Expect:
Hefty, powerful flywheels
High maximum user weight
Decent, if basic display consoles that track your stats
We're pleased to report these core features seem to be the same across their range, regardless of the price.
Reebok's Cross Trainers all have well made components
One of the good things (if there are any) about putting things together yourself is you get to have a good old nose at the quality of the product in it's separate components. The Reebok trainers 'bits' are well-made and things like the rear bearings are clearly well-machined and good quality.
Warranty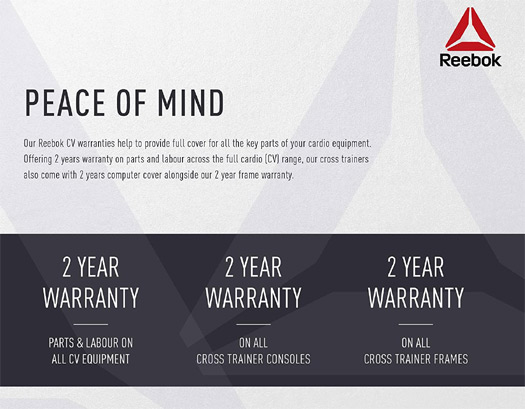 Every product in the Reebok fitness range has the same two year warranty coverage. As long as you have proof of purchase, you can return any of their cross trainers for defective problems, as well as having general two year coverage on parts and labour.
It's worth pointing out that the warranty might not cover wear and tear or other general usage damage.
Little extras – bottle holder and tablet shelf
The little thing matter and we've seen way too many cross trainers neglect the basics, such as not having a good place to put your phone, or tablet. Reebok's range thankfully have got these little things spot on. A water bottle holder is within easy reach and these machines have some of the better table holders we've seen – with a simple, wide shelf.
---
What DON'T the Reebok Ellipticals do well?
Like anything we get across our desk here, we like to let you know any shortcomings you can expect. So where do Reebok's Elliptical range fall short? There's not too much to pick fault with with Reebok's cross trainers, but a few things could have been better.
Assembly is not fun
One small issue with Reebok ellipticals is when it comes to putting them together. The initial build is tricky and can take a couple of hours. As with pretty much any fitness equipment, if you can enlist a friend to help, it will make the process much smoother.
This can be said of a lot of training gear that has lots of moving parts. Call us lazy, but the more assembly gets done before we get a package, the better. Sadly, with Reebok's trainers, you'll have to roll up your sleeves and follow the dreaded instructions.
At least they're well-written and easy enough to follow.
Pulse sensors offer limited accuracy
Like pretty much every cross trainer out there, Reebok's machines rely on the metallic strips on the static pair of handle bars to capture your heart rate. This is then displayed on the screen. As we've seen with many bits of gym gear, these can yield unreliable results.
They're best taken as a rough guide. While not inherently a problem of Reebok's machines, it's just the way these hand sensors work. You're much better off picking up a chest strap and using a third party app as Reebok's cross machines don't allow for 3rd party pulse sensors.
Cheaper models could use a backlit display
I'm definitely not a fan of unlit grey LCD displays. And it's not just cheaper fitness gear that are guilty of this (I'm looking at you, Concept Rowers). The entry level Reebok machine has a display that could really have used a little illumination on the display.
Dark grey on light grey isn't the easiest to read. If you're in the perfect lighting, fine. But there's times where you might be wishing it was easier to read.
---
What Are The Best Reebok One Cross Trainers?
Let's get down to the nitty gritty and have a look at the Reebok range of cross machines and see what each one does best. Each machine in the Reebok cross trainer range each have something slightly different to offer, along with a different price point, of course.
#1 – Reebok GX40
Best budget Reebok cross trainer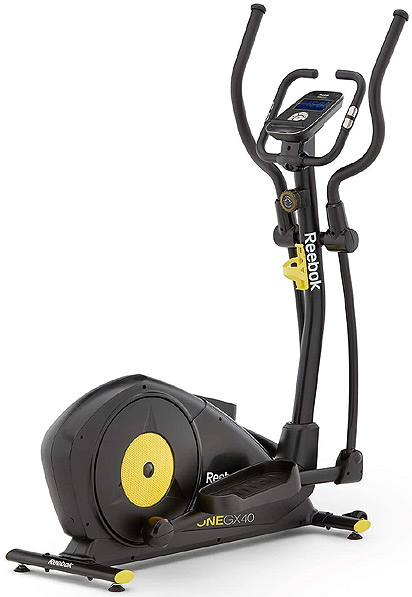 Coming in at an aggressive price point, the GX40s doesn't have all the options you see on cross-trainers that cost double what this one does, but it focuses on what matters.
First off, for such a cheap machine it's got a decent enough flywheel, at 7kg. The resistance here is manual, which is not ideal, but expected at this super-low price point. Like spin bikes, there's a large dial you adjust to increase, or easy-off on the workload.
There's 8 programs with this machine, although these are manual ones, where you'll have to adjust the resistance the old-fashioned way – by hand.
This machine is also battery powered so there's no need to place it next to a mains socket.
Who is this suited for?
Reebok's GX40 is a super-budget priced machine in this range. It's light weight means you'll be able to easily move it around and the 'no mains' feature means you can workout anywhere without worrying about the cable.
On the downside, it's a lighter flywheel and the display is pretty basic. You've also got manual programs here which aren't the best.
Battery operated – can be run anywhere
Light enough to move around
Low price
Good features for the price
Flywheel on the light side
Very basic display
Manual resistance
Check Current Amazon UK Price
---
Reebok GX50
The best overall choice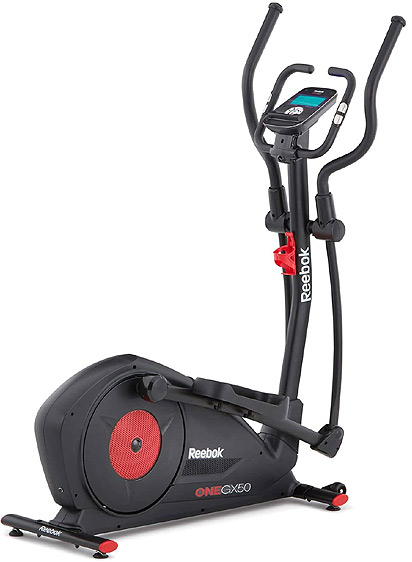 Stepping up in price from the GX40 is the more powerful bigger brother, the GX50. This cross trainer has a more weighty 9kg flywheel and a host of other improvements. Among these, a better, more detailed screen and 20 automatic programs to get in shape.
There's 32 levels of resistance here and this time it's controlled electronically in via the display panel. The cross trainer is managed with a simple collection of buttons but the display itself it detailed and easy to read. A lot of the info you need is shown on-screen at the same time.
Automatic resistance and the improved console combine and allow the machine to give 20 varied programs. This is better than the cheaper machine and will give you more variation in your workout. The fact that the machine alters the resistance rather than having to do it manually is also a huge improvement.
User weight is also larger here than the GX40 and you've got an allowance of 110kg. And you'll have to also weigh up if the extra money is worth the GX50's additional features. We'd say definitely, based on the improved display, programs and the way the resistance is adjusted.
Who is this suited for?
If you want the best in Reebok's elliptical range, you've found it. A solid frame, powerful flywheel and whole bunch of tech combines in this, resulting in an impressive machine that we can happily recommend.
Good size flywheel
Detailed backlit display
Sturdy components
Better console-controlled resistance
20 varied programs
More expensive
No bluetooth connectivity
Check Current Amazon UK Price
---
Reebok ZR8 Cross Trainer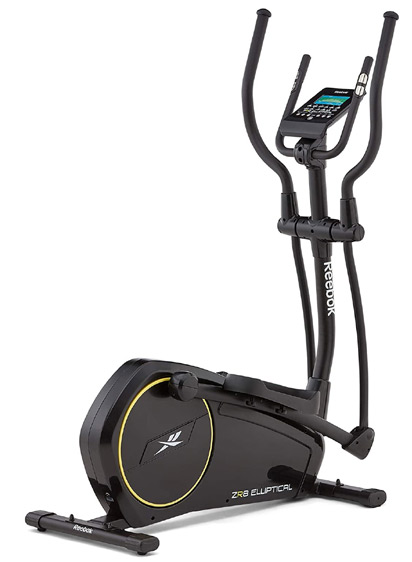 Confusingly, there's a treadmill with the same name as this cross trainer, but this machine is definitely a cross trainer! The Reebok One ZR8 is a budget-priced entry into the home elliptical market and has a decent sized flywheel, again at 9kg.
While the 5.5 inch LCD display isn't revolutionary, especially compared to some of the bigger names that run with touch screen tablets, it does precisely what you need it to do. And the controls on the ZR8 are simple and well laid out, with buttons for increasing and decreasing the electronic resistance.
Who is this suited for?
Larger, heavier users who want a top class fitness machine. Whether you're big and tall and looking to get some cardio in, or just on the larger side and looking to lose some weight safely and simply, the Reebok ZR8 provides it.
Good build quality
Simple, easy to use panel
Low budget price
Magnetic resistance
Display is a little dated looking
Check Current Amazon UK Price
---
How do these machines compare to more expensive machines?
While it's maybe a tad unfair to compare a £299 machine to a one costing 10x as much, we thought it might be interesting to see some of the differences.
With Reebok's cross trainers costing around half the price of something like the Proform fitness machines, and up to a quarter of the price of the NordicTrack machines, where have Reebok cut corners to get to the price point they're at?
Stability and weight
In general, Reebok's machines are a more light weight offering than the bigger brands offer. The machines typically weigh around the 40kg – 60kg mark and as such there's not the same stability you'd get with the higher priced machines.
It's worth noting that all the Reebok machines have a decent upper user weight limit. But there's no getting around the fact that if you're used to the gym, and plan to really go for it on your elliptical, these machines might not be able to keep up.
Display / computer console
The Reebok cross trainer displays have been scaled down from what you'd get with commercial quality machines and there's no direct connectivity with online services like iFit. You are of course free to set your tablet up with pretty much any third party fitness apps (or entertainment apps for that matter).
Inline levels
Another thing that's not present in the Reebok machines is the lack of powered (or any) incline. While this won't be an issue for most users (hands I don't normally mess with incline when I train with ellipticals) it's worth mentioning.
---
Final thoughts
The Reebok cross trainer range are great little entry-level machines that are good for homes, garage gyms or home offices. They look good and, for the price, offer a good set of features. Installation is a bit of a pain, but there's a two year warranty to cover against anything going wrong.
The simple display on this range are not going to compete with the industry heavy weights but the important info is all there, such as your calories, time and distance.
The cheaper GX40 is a simple entry level machine but it's definitely overshadowed by the slightly more expensive GX50. The latter having way better features, such as automatic resistance and the 20 exercise programs.
If you're a serious gym head and want to really get stuck in, you might want something more up market but for most home users, these machines are a good buy.
---
References & Further Reading