With their high-end Freestride trainers, Nordictrack are offering the world (well, on a screen at any rate). With the heavy integration of online classes and virtual running across some of the planet's most impressive locations, you can get in shape and get out there without having to leave your living room.
But these state of the art machines don't come cheap. In this guide we're delving into one of the more exciting fitness products for sale today, finding out who they're suited to, and if they're a journey that's worth the ticket price.
Who are NordicTrack?

NordicTrack are a powerhouse name in luxury exercise machines, constantly pushing boundaries and advancing the idea of what technology can be used for when it comes to home exercise.
While anyone into treadmills will likely have heard of them, it's surprising how many people haven't heard of this brand, or seen their gym gear before.
Originally starting in a garage somewhere back in the time of free love and bell bottoms, NordicTrack made mechanical ski training machines to order, but now offer a comprehensive list of exercise systems that are consistently up at the best on the market.
They're definitely not a budget brand and they're best known for their high quality fitness machines – especially running machines, cross trainers. NordicTrack are one of the more advanced fitness gear makers out there, and if you check out anything on their website, you'll probably be pretty blown away if you've not seen their machines before.
The events at the start of 2023 have been pretty good for them. With the closure of gyms for several months, the amount of people shifting to home fitness and building out a home gym has gone up by a crazy amount, and because NordicTrack have a such a good reputation for quality and design, they've capitalised, selling thousands more machines than usual.
---
What is the FreeStride trainer series?
The Freestride trainer series is NordicTrack's flagship range of exercise machines.
Three exercise machines in one

The biggest draw is that they can be freely switched between one of 3 different exercise systems. All three Freestride machines can be used as a treadmill, elliptical, or stepper, and quickly switched out, letting you have absolute control over your workout.
Impact free training with the FreeStride
The second big innovation is the suspension. Each FS machine is built around a revolutionary floating suspension system which uses belts instead of metal rods to eliminate almost all the impact on your body, giving you a smooth ride and reducing the impact you'll experience, in both the short and the long term, to almost zero.
---
Compare the Freestride Trainers
The Free stride range has only three models:
We'll look into what each one does in a bit more depth later on in this guide, but for now, here's a quick at-a-glance of the range and what you can expect from each one.
| | | | |
| --- | --- | --- | --- |
| | | | |
| | | This is the best FreeStride machine thanks to it's hefty 9kg flywheel and large HD screen. Perfect for new people but with the depth for seasoned gym-goers too. | |
| | | The FS7i offers a good balance of features against the cheaper price than the FS9i. Very similar to the FS9i but a bit cheaper, and if you're not interested in the decline, this is a good one to go for. | |
| | | The FS5i comes in cheaper than it's siblings but has a smaller touchscreen, that's a similar size to a smart phone. You're getting the exact same high quality experience allbeit on a slightly lighter flywheel. | |
In all three cross trainer in this family, the general features are the same. You're not getting a drastically different machine with each of NordicTrack's models. The main changes are the flywheel size, which provides all the resistance, and steadily gets bigger as you go up the range.
You also get more powerful multimedia systems (though all three are still excellent, it's mostly just screen size,) the size and weight that each one can take, and whether it has full incline and decline options.
Freestride trainer video
Get a quick flavour for what the Freestride series is all about in this video:
What can you get training with the Freestride training systems?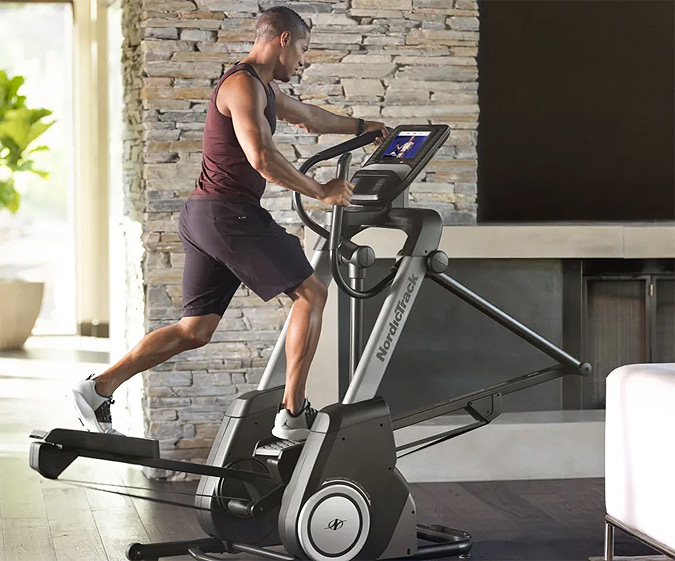 being able to mix up your workouts prevents boredom from setting in
First off, every machine in the the Freestride range all function as 3 separate exercise machines; a treadmill, an elliptical, and a stepper.
Having all these options at your fingertips is huge, both from an exercise perspective, and from a psychological one.
Each of the three exercise machines hits different muscles and is useful for different types of training. Using all three, as well as some bodyweight exercises and some light weights, you can get a powerful and effective workout in the comfort of your own home.
Plus, being able to mix up your workouts prevents boredom from setting in, and lets you vary your training days;  much more exciting than running on a treadmill for an hour every day!
Then add in the fact that you get the benefits of all these machines without any of the long term aches and pains, because of the innovative resistance and suspension systems and it's easy to see why they're so popular.
Check Latest Prices at NordicTrack
---
Zero-impact alternative to running machines
You won't be fighting against some awkward motion as is often the case with cheaper, budget machines
We've featured, tested and reviewed a lot of treadmills on Home Gym Experts and, while we love and use them ourselves, there's no getting around the fact they have a certain impact on your joints.
Treadmills are generally more cushioned and kinder on your knees than hitting the pavement, but still; there's that impact.
The Freestride machines get around this with some ridiculously complex engineering that allows you to freely run on the machines without ever making a traditional 'step'.
You're suspended just above the ground and, a little like the Octane Zero runner machine we've written about here, you get all the benefits of running and none of the impact.
The tricky part engineering this kind of impact-free running is getting one machine to work with all body types. (Leg length, distance between joints) and not giving a restricted feel to movement. NordicTracks machines manage to pull this off and, after a bit of practice, the feel is free, natural and non-restrictive.
You won't be fighting against some awkward motion as is often the case with cheaper, budget machines that try to do the impact-free thing.
Check Latest Prices at NordicTrack
FreeStride tech is awesome: the drive and resistance system
Most ellipticals use a frontal drive design. That means the working parts are housed at the front of the machine. Freestride systems instead have a centre drive elliptical design, putting the working parts directly under your feet.
This means a smaller footprint, saving space, and also gives better balance for you, along with less overall wear on the machine. The FreeStride parts don't have to work as hard over as long a distance.
At first glance, the flywheel resistance on the FS models seems low, but that's because they generate their resistance with an inertia enhanced flywheel.
As the main working part of each machine, the flywheel is the major difference between the FS9i, 7i and 5i. As you go up the range, the flywheel gets larger, meaning higher resistance levels and a tougher workout.
TIP: You can tell the size of the flywheel at a glance. It's in the name. The FS9i has a flywheel with an effective weight of 9kg, and that's the same with the FS7i and FS5i, which each have 7kg and 5kg flywheels respectively.
Check Freestride Prices at NordicTrack
The iFit program is awe-inspiring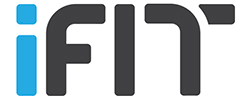 Livestreaming has revolutionised the world. Everyone you know probably has three different subscriptions to one of the hundreds of TV on demand services. Now, that same service is being used to bring the gym to you in your home.
"Oh no, not another subscription" you may cry. But please bear with us a second. The iFit system that's integrated into the Freestride trainers is just so cool.
NordicTrack's machines work alongside an online subscription to the iFit service. It's a paid membership but you get a family pass free for a month. iFit brings gym classes right to your house and if you've ever got bored with going on a treadmill or cross trainer in the past (and who wouldn't, to be fair!) then you might just love this service.
There's even a daunting list of possible classes you can attend, all without ever having leave your home.
Check out this video of iFit to get a feel for some of the far-flung places you can train on your FreeStride:
Whenever you boot up your system, you're presented with multiple options:
Live Classes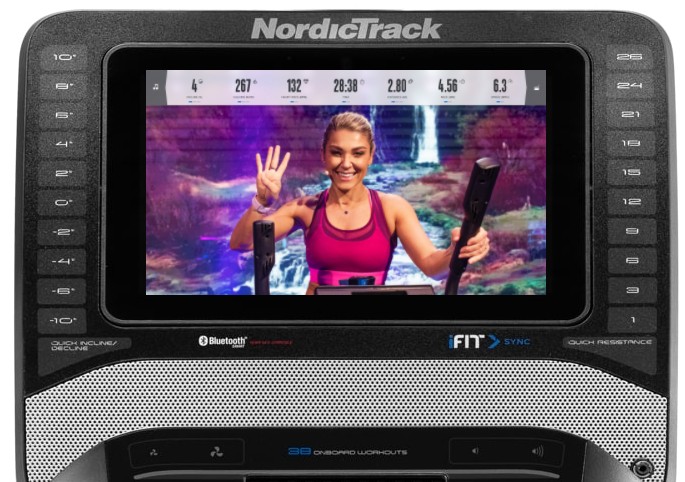 First off is iFit live classes. These are live streamed classes that you can jump into at any point. Your machine syncs iFit HQ so you're working alongside professional trainers, just like in the gym. These workouts don't just use the cardio, either, you're encouraged to jump off and work alongside with bodyweight exercises, weights and stretches, giving you a full program.
Pre-recorded Comprehensive class library
Second, the iFit library has literally hundreds of previous classes, arranged in easy to understand groups. Want a hard cardio workout today, but a heavy toning one tomorrow? You can. Just pick what you need in one touch using the touchscreen and get started.
Programmable routes
Last off, the iFit lets you program in a route based on Google Maps data. By picking a start and end point, the built in systems will create a route based around topographical data, automatically increasing and decreasing the elevation and speed, just like you're running the route itself.
---
Multimedia systems
The built in multimedia systems on all the Freestride machines are of professional quality. While the FS5i has a smaller screen that's about the size of a phone, the two larger models come with substantially sized touchscreens that are incredibly simple to use.
Most of the major things you need to control can actually be changed with one single touch, using OneTouch tech.
Plus, the whole thing is fully compatible with your phone, tablets or other devices.
There's no messing around with third party apps with NordicTrack's FreeStride machines
One of the best things about this iFit system is that it's all integrated and ready to go. Tying a machine to a fitness service is a bold move from NordicTrack but it just works so well here and is a perect fit for their machines.
At the end of the month, your FreeStride machine will work perfectly well without iFit, but in our opinion, it's one of the best parts of this package. iFit is an established service that's been around for a long time and a great addition to these machines.
---
What all Freestride systems have in common
The Freestride system
It sounds obvious, but the biggest thing every machine in the Freestride range has in common is the Freestride system that gives it the name.
All three of the Freestride machines are built around NordicTrack's resistance system. Most exercise machines use metal bars to generate resistance, but the Freestride system uses resistance bands instead of metal for the working mechanisms. What this means for you is that there's almost zero resistance when you're on the machine.
Traditional mechanic resistance methods means you basically fighting against the machine to push forwards. Every step you take sends some of the force involved back into your joints.
Because the Freestride system uses flexible bands there's almost zero resistance, which means almost zero impact on your body. Using them has been described as 'walking on air.' All this means it's more comfortable than a standard treadmill and much better for you and your joints in the short and long term.
The only real downside is that it might take some getting used to, if you're used to normal exercise machines.
What kind of warranty do you get with the Freestride machines?
All 3 machines share the same warranty. Each one is covered by a 5-year frame warranty, and 2 years on parts and labour, which is significantly better than the industry standard. So in the unlikely event that something does go wrong, your investment is covered.
Check Latest Prices at NordicTrack
---
Product overview – what's the difference between the Freestride machines?
We've covered some of the main things Nordictrack's cross trainer machines are capable of, now let's dive a bit deeper into each model and cover what each one does, and who it's best suited to.
NordicTrack Freestride FS9i
The flagship model in the Freestride range, the FS9i sets the bar high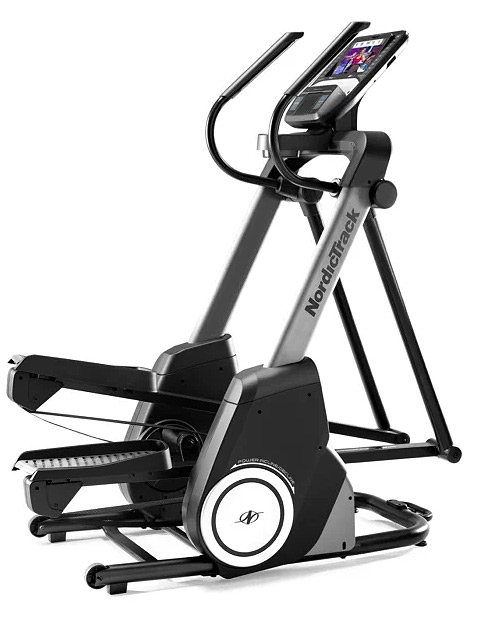 The differences here are big. Bigger than the difference between the FS7i and FS5i. First is the decline system. Unlike the two cheaper models, the FS9i has the standard 10 degree incline, but also has the option for a full inverse 10 degree decline.
At first glance, this might not sound like much, but it's actually huge. Apart from making workouts feel much more natural, it also lets you target muscles that can't be hit by other exercises.
But the best part is it lets you accurately match a real route's verticality, both up and down. This, paired with the Freestride's ability to create a route based around Google maps, means you can build a run anywhere in the world. If you've always want to run some obscure Japanese mountain town, now you can.
But the real reason this is good? It lets you program in a route that exactly follows an event run, meaning your training is as accurate as it can be without strapping on your shoes and running the actual route itself.
The tech is also updated, with a larger 10 inch HD touchscreen.
Finally, the frame and construction is heavier and more solidly built, making it much tougher and giving it an increased max user weight of 170kg, 35kg higher than the other two models.
Who is this suited for?
As the most expensive model in the range, with a full decline, the FS9i is aimed more at people with a base of fitness, who train at a higher level. Anyone can train on it and see massive benefits, but people who compete or run long distance regularly will see the most gain.
If you want the best model, this is the one to go for.
---
NordicTrack Freestride FS7i
The most popular model, the FS7i balances price against usability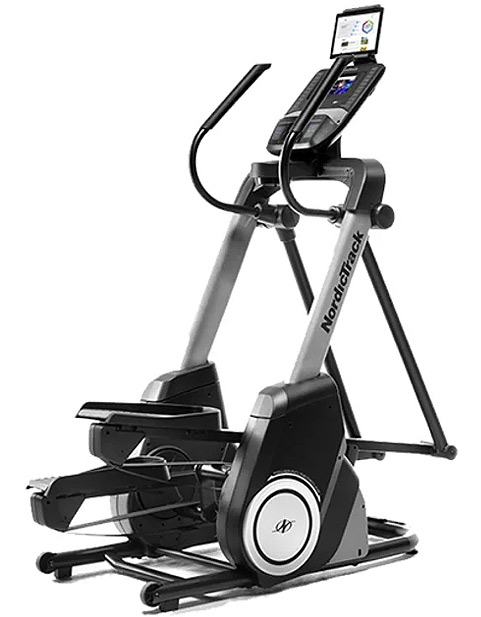 It features the standard 10 degree incline, but no decline.
It has a 7 inch web enabled touchscreen, 24 resistance levels, and a mid range 7kg flywheel.
Apart from these small differences, it's actually hard to tell the FS9i and 7i apart.
Who is this suited for?
As the mid range model, the FS7i balanced price against features. Realistically, the 7kg flywheel provides enough resistance for most training, but as the difference and price between this and the FS9i are so minor, we'd only pick the 7i if we absolutely knew that the decline option was something we would never need.
Buy Your FS7i Direct from NordicTrack
---
NordicTrack Freestride FS5i
The cheaper FS5i offers all the fantastic tech at a reduced price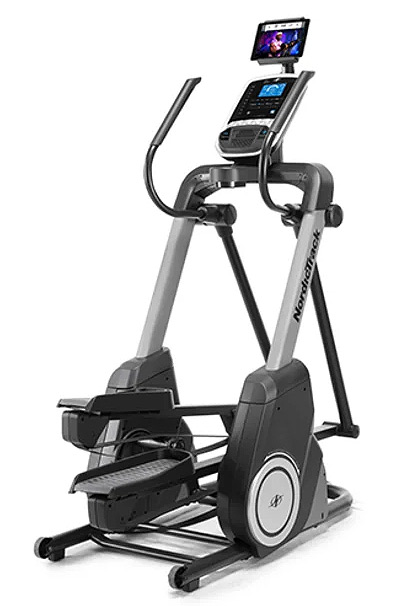 Despite being an entry level model, the FS5i has enough features that, in any other range, it would be considered high end. It's also worth pointing out that, like all Freestride models, the differences between the FS51 and the next step up are surprisingly small.
First is the smaller touchscreen, which is only 5 inches across. That's about smartphone size, so it's still easy enough to use, especially with the iFit system, it just makes it a little harder to see from longer distances.
The flywheel is the lightest of the three, at just 5kg. This also means it has the lowest number of resistance levels, 22, 2 lower than the FS7i.
Who is this suited for?
As the entry level model in the Freestride system, the FS5i is aimed more towards people starting a fitness program, or infrequent exercisers. It's still powerful enough to let you push hard, but doesn't quite have the range of features or resistance to threaten someone who trains religiously.
---
Why are Freestride training systems so much more expensive than entry level models?
There's two main reasons Freestride machines are more expensive than entry level models you might pick up from Amazon for a few hundred pounds.
They're better quality
If you've ever bought or used an old exercise bike and felt it flex and buckle under you as you got on it, you know what entry level machines are like. Compare that with the rock solid stability of a high quality system in the gym. You pay for build quality and materials.
The technology and features are light years ahead of budget machines
A basic model is just that, basic. But a Freestride has so much tech packed into its frame that it's hard not to justify the cost. The free floating suspension system, high quality multimedia station, the fact that it's three machines in one, the powered incline and decline systems, all add up to something that's more than worth the asking price.
---
Are there any downsides to the Freestride machines
A few small ones.
Every machine in the Freestride range has a couple of weird downsides. While none of these are deal breakers, they are something potential buyers should consider.
For starters, even though the 32 inch stride is pretty generous, it might not be long enough for the super tall and anyone who has longer legs.
Second, the handgrips aren't the most ergonomic. Instead, they're long and large to the point of being inconvenient and have some weirdly placed buttons. When it comes to controls, this isn't really a problem, because you'll be using the touchscreen the majority of the time
But it does make holding on at high speeds slightly less comfortable than it could otherwise be.
iFit is only free the first month
We'd also be remiss not to mention that iFit is a subscription-based service. Although you do get your first month free (a family pass, at that).
---
Are the Freestride machines worth the money?
That's an easy one. Yes.
Hyperbole aside, it's true that a Freestride is more expensive than a standard entry-level machine. But when you add up the value, it quickly becomes obvious why. You're getting far more than an entry-level machine. And a machine that will last you or your family a very long time.
There's the fact that you're getting three machines in one. So consider adding up the cost of buying a treadmill, an elliptical and a stepper. Plus, then you have to store the things, and no one's home gym is that big.
Then factor in the near-unique belt resistance system, and how it's going to impact your body longer term. Less short and long term aches and pains means harder workouts, faster weight loss, and less need for recovery.
Lastly, the iFit system is awesome. Constantly changing workouts, full body blasts, and the ability to set up your own workouts and your own routes will keep motivation high and make sure there's always something new to try. You'll visit beautiful places, and take part in fitness classes you didn't even know existed. iFit is that good.
---
Final thoughts
If you're taking your health and fitness seriously, then it's something that you need to invest in.
The Freestride systems are serious machines for serious people. Yes, you can definitely get cheaper systems that might perform almost as well, but there's very little out there right now that offers everything the Freestride does.
Bottom line, if you want one of the best complete cardio systems on the market in 2023, invest in a Freestride FS exercise machine.
It's hard to imagine anyone not sticking to a program with the Nordictrack Freestride, or not being blown away by the sheer quality of the machines in the FS series. If you're looking for a proper way to get in shape from home, and this is within your budget, you're in for an amazing experience.
Happy training!
References & Further Reading