Smith machines are a common sight in a lot of gyms, and a great addition to any home set up. Safe and comfortable to use, smith machines have a lot to recommend them for, especially over a traditional free weight set. Today we're taking a look at the Powerline Smith Machine (Available on Amazon UK).
This popular entry level machine from the good people at Body Solid looks perfect for the home gym. But is it any good, and can it compete with the big boys in this market?
What is the Powerline Smith Machine?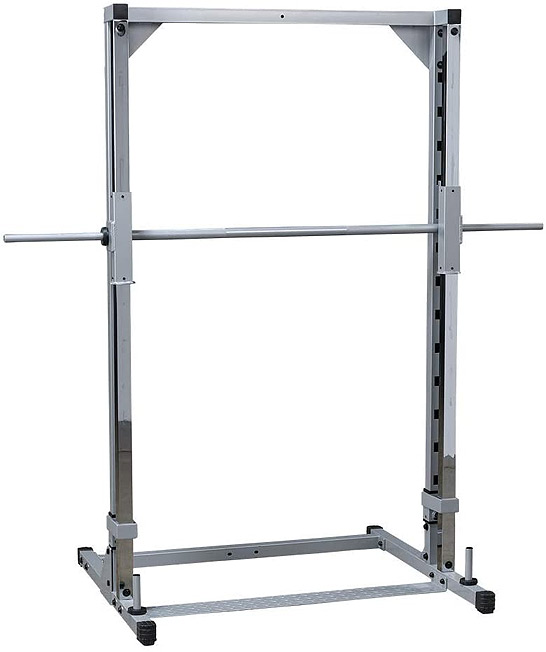 If you've never used one, a smith machine is basically a barbell built into a support frame. The reason for this is that it means the barbell is always supported, preventing you from dropping it while you lift, making the whole movement safer, and potentially allowing you to push harder than you could with free weights.
Because the bar is locked into a fixed up and down traverse, you can't can't sway backwards or forwards as you lift, making some exercises much easier and safer.
You can use a smith machine for almost any exercise you would do in a squat rack or power tower, or with a barbell, which is why they've been widely used and trusted since their inception, over 70 years ago.
The model number for this smith machine is PSM144X and it's made by Body Solid.
---
What you'll get training with the Powerline Smith Machine
A smith machine can be used on a wide range of exercises, including:
Squats
Bench press and incline press
Shoulder press
Upright rows
One arm rows
Rack pulls
Hip thrusts
Calf raises
The main advantage of the smith machine is safety. Because the bar is permanently locked down to the frame, there's little to no risk to you, even if you try for a rep that you're not sure you can lift.
Is it worth getting a smith machine in your home gym?
What's the worst that can happen with a squat cage?
You drop the weight.
With free weights, this can be catastrophic. Even in a squat rack or power tower, the weights can collapse downwards onto you, causing injury.
But with a smith machine, like Body Solid's powerline, as long as you've set it up correctly, the weights can only ever drop down as far as the safety pins have been set. This means that, unless you set it that way, you're never going to be forced beyond a natural range of motion.
This leaves you free to push harder, with complete confidence that nothing bad can ever happen, if you can't manage the rep and fail.
Because of this, smith machines are a great choice for beginners, and for people getting back into lifting due to injury or another issue. This is another reason why you might see smith machines in a lot of high level training facilities, because they're so great for rehab and controlled exercise.
Check Current Amazon UK Price
Who is Body Solid's machine best suited to?
As we've just touched on, smith machines are a decent addition to any home gym. As long as you've got the space, and will be working on strength training mainly without a partner, they're a good option for almost everyone.
While we wouldn't recommend lifting exclusively on a smith machine, because you need to learn the correct motion and also strengthen all of the stabilising muscles that go into each lift, they're a great way to max out on weight so you can build muscle, fast.
If you're a beginner, a smith machine like the Powerline one in this review lets you push yourself harder in complete safety and quickly build up a solid base of strength.
For experienced lifters, smith machines are fantastic because they let you max out the bar and push yourself beyond anything you could do on free weights and remain safe. The Powerline has a 400lb (180kg) limit on the bar, putting it at a solid weight for more advanced lifters.
Finally, there's the therapeutic use of a smith machine. If you're getting back into exercise, or if old injuries are keeping you out of the gym but you still want to scratch the lifting itch, a smith machine is a controlled and safe way of doing that.
---
Powerline Smith Machine Key Features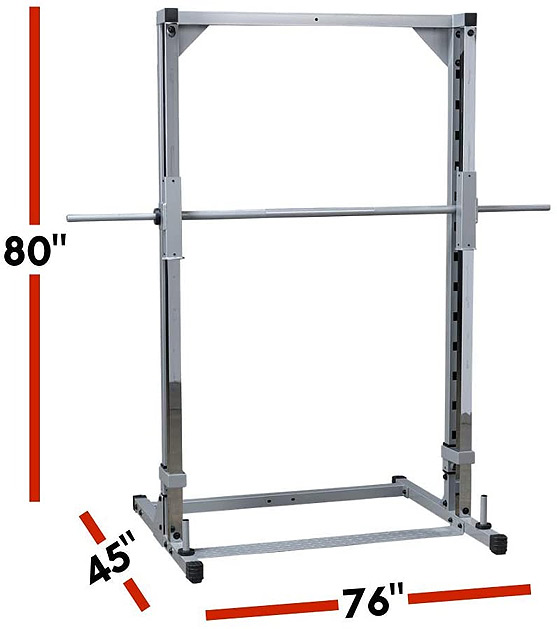 • 14 lockout positions – Lets you set the height depending on which exercise you're going for.
• 1 inch diameter bar
• 80" H x 45" L x 76" W
• 400lb / 180kg maximum weight capacity
• Deeply knurled Olympic adopter sleeve
• Extra-long twin carriages
• Super-glide nylon bushings
• Dual locking safety spotter catch
• Large pop pins
• Heavy duty 2×2 inch pillar structure
• 10 year frame warranty, 1 year part warranty
---
Review: What we like about the Powerline Smith Machine
The Powerline doesn't disappoint. It has 14 separate locking points with a maximum weight of 400lb
Safe and controlled & can take a lot of weight
If you're buying a smith machine, you're going to be concerned about the safety aspect. The Powerline doesn't disappoint. It has 14 separate locking points with a maximum weight of 400lbs on the bar. That's over 4 x 20kg plates on each side of the bar and should be ample for even fairly advanced gym-goers.
The bar locks by turning, not hooking, but unlike some models only requires a tiny turn of 15 degrees to safely lock into place, easily manageable even if you're struggling at the end of a heavy session. And the bar locks with a dual safety system, meaning that there's a second layer of defence to keep that bar up if the worst happens and you drop the weight.
Excellent smooth action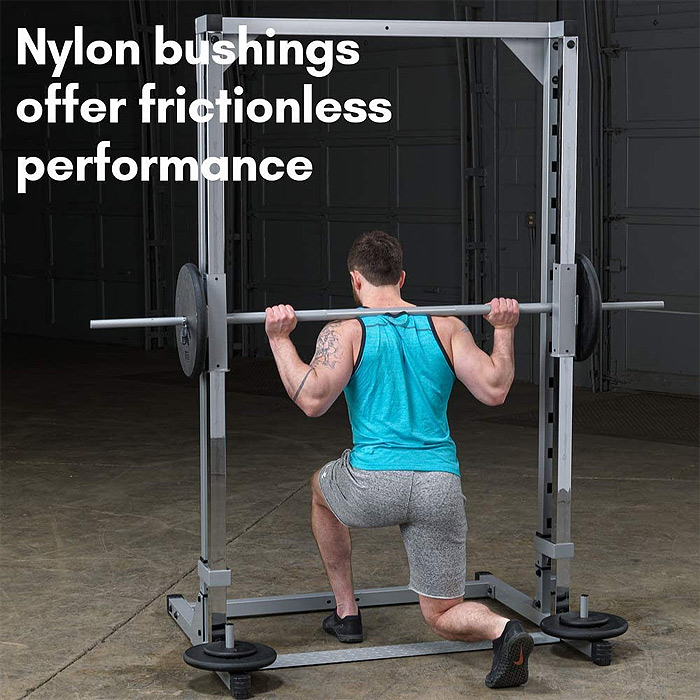 Cheaper smith machines tend to save money on the working parts, with shoddy build quality and grinding feel that's just not what you want from a smith machine. The Powerline doesn't do that.
Instead, the body is surprisingly sturdy, and the brushes that the bar moves on are made from nylon with a super-glide system that's smooth and mostly catch free, which you'll definitely appreciate on when you're going back up on bigger squats.
Easy to put together
Some exercise machines can be complicated to put together (we're looking at you, multi-gyms) but the Powerline shouldn't cause you too many problems. Realistically, it should only take a couple of hours solo, but we recommend putting it together with a friend, which will be much simpler.
There's also an option to pay extra for a home construction service if you don't have the time or inclination to do it yourself. It's relatively expensive, but gives you the security that the job's been done correctly.
Reasonably priced
Smith machines can be expensive. For the quality on offer here, the Powerline offers up some decent value for money. As a more budget friendly model, you're not going to get any of the bells and whistles you might see on more expensive systems. Having said that, this machine is no light-weight toy either. It's a solid workhorse that's well built and can take some serious punishment.
Good warranty on the frame
Powerline trust their machines, and the construction quality speaks for itself, which is why the whole thing is covered by a massive 10 year frame warranty, with a 1 year warranty on the moving parts.
Free and fast delivery
Expected delivery is 3 to 7 working days, but if you need it ASAP you can order before 3pm and pay a small fee for next working day express delivery.
Check Current Amazon UK Price
What we don't like about the Powerline Smith Machine
No extras
As we mentioned earlier, you get what you pay for, and this is a pure smith machine. You're not getting anything else, for example a bench like some other models. But what you do get is excellent quality, and you can always pick up any extras you need later. After all, a bench is a bench and some people will either already have one, or prefer to pick one that's exactly right for them.
The fixing pins aren't the best
This is a minor quibble, but the fixing pins are plastic, rather than metal, as we'd have preferred to see.
This isn't a deal breaker, and if you desperately want metal pins you can always buy your own relatively cheaply.
Conclusion: Should you buy the Powerline Smith Machine?
As an entry level smith machine the Powerline is a solid option.
It's well built, strong and safe. What really stands out is that the value has been spent where it matters.
The machine has a decently smooth operation, especially considering the price, and the tough, safe build is reliable, with a fantastic warranty.
There's a reason most smith machine lists put the Powerline near the top. If you're looking for a starter machine that's not going to break the bank and delivers quality performance, this is a really good machine to get for any home gym.
Highly Recommended
Check Current Amazon UK Price
Powerline PSM144X Full Specs
Brand
Body Power
Category
Home Smith Machine
Bushings
Super glide nylon
Mainframe style
Ladder
Model
PSM144X
Frame
1" x 2" 12 guage steel pillars
# lockout positions
14
Bar diameter
1"
Sleeves included?
Yes
Dimensions
80'' H x 45'' L x 76'' W
Assembled weight
159lb / 72.12kg
Assembly
Self assembly
Muscles targeted
Abs
Biceps
Calves
Delts
Hamstrings
Lats
Pectorals
Quads
Shoulders
Traps
Triceps
Accessories
Sleeves for Olympic plates
References & Further Reading
How to squat on the smith machine
One of the best exercises you'll likely be doing on your Smith machine is the squat! Here's a quick guide to get you started, if you've not used a machine like this before to train your legs: