Sliding into the budget end of the home multigym market is a compact machine from UK-based Fit4Home. This all-in-one promises a lot for your money, including a boxing station and dedicated bench.
This is an in-depth review of the Fit4Home Unisex Professional Home Gym (Available on Amazon UK). We'll be talking about what it is, what it does, and what buyers have to say about it.
All in all, we're looking to help you, a potential buyer, make the decision: Gym or Home gym?
---
What is the Fit4Home HG-480?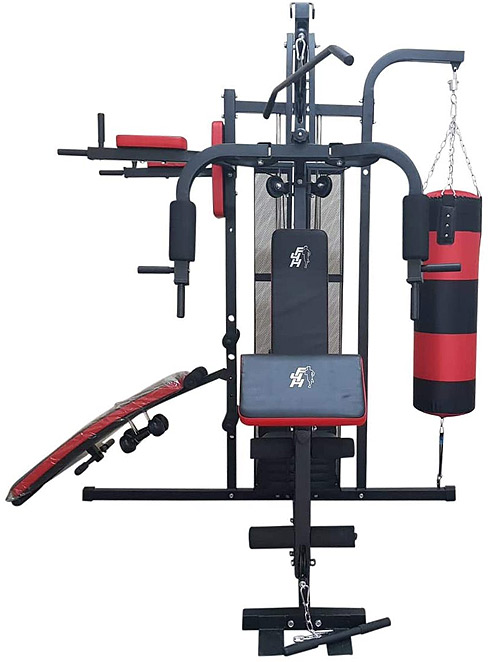 This is a multi-gym made by Fit4Home and designed for home use. It combines a number of different exercises that train each muscle group. It's a comprehensive, multi-positional, and adjustable home gym system. This equipment comprises of 4 main stations:
Boxing area – With a 20kg sand-filled punch bag for cardio and striking practice.
Dip Station and leg raise tower – Take on these two upper body strengthening exercises that use your body weight.
Sit up bench – Beneath the dip station is a fully adjustable bench which can be used for sit-ups to strengthen core muscles and work on your six-pack.
Main strength training station – This is where you'll be working on pecs, pull-down, leg extensions and more.
Many of the exercises share a central stack of weights using a series of cables and pulleys. The weight stack can be adjusted using the classic pin method, where you'll choose a weight prior to starting each set.
This home gym comes in at approximately 170kg and stands at a height of 227cm. As with all home multi-gyms, there's nothing remotely portable about this one. Once it's built, you'll have a hard time moving it around. So you'll need a garage, spare room or some other permanent home for it.
The product has a steel powder coated framework, high-density foam padded seats, and foam ankle rest. The Fit4Home home gym comes with padded seats, 1.5mm thick tubular framework.
Check Current Amazon UK Price
---
Fit4Home 480 Gym At A Glance
Here's the main features you can expect with this gym.
4-Core Workout Stations
20kg Sand-Filled Punching Bag
Multi-position Bench
Padded Leg Developer
Adjustable Sit-Up Bench
170kg Shipping Weight
Black/Red Design
Powder Coated Steel Framework
227cm Height
Foam Padded Seats, Backrests, and Ankle Rest
---
Benefits of Training With a Multigym Like the Fit4Home
Having your own home gym is awesome. If you jump on your multi-gym in your underwear and no-one is going to throw you out.
We're big fans of multigyms on Home Gym Experts. They offer a safe, beginner-friendly way to work on strength training in the comfort of your own home.
On top of that, you'll save money on gym memberships saving gym memberships (this gym would cost around 3 years worth of gym memberships).
Here's some other reasons to plump for your own multi-gym in 2023:
Stay safe from Covid-19
At the time of writing this, gyms are technically open but whether or not you'd actually want to risk it is another thing. There's zero chance of catching anything in your own, cosy home gym.
Train everything (even boxing)
This gym was made specifically for an all-body workout: upper body, lower body, core, and back. Although you might want to work in some squats, this home gym covers all the muscle groups in your body, with multiple ways to hit some groups – for example, dips are great for chest, as well as the pec-fly.
Save time
One thing I used to hate about the gym was driving there and then getting ready and then starting the workout. Having your own home gym is awesome. If you jump on your multi-gym in your underwear and no-one is going to throw you out. Gyms like the Fit4Home are a HUGE time-saver.
Take care of your cardio
You can get a good 'sweat on' with any home gym worth it's salt but the Fit4Home has an extra secret up it's sleeve, the boxing station. If you've tried any kind of bag or pad work, you'll know how incredibly hard work punching and kicking can be.
It's just the best thing for cardio. With boxing, you can burn around 350 to 500 calories in just one hour. While you might not want to jump into that long, even a few minutes will get your heart rate up, and will really work your cardio.
---
Is The Fit4Home The Right Multi Gym For You?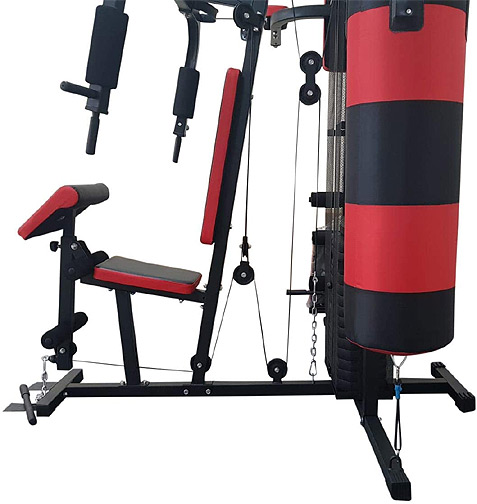 We'll get to the review of this home gym and what we thought about it in a second. If you're in a hurry and want to know if this machine is worth the time, effort and cash, this next bit is for you.
The Fit4Home Unisex Professional Home Gym is ideal for:
Beginners who are looking to get into shape
Those looking to increase strength and muscle tone
This is a good gym for seniors looking for a good way to build and maintain muscle tone
Anyone who has been away from training and wants to get back into it
If you want to buy one bit of gym gear and not have to buy anything else
You're not looking to spend a fortune
Families or homes with people of different levels of fitness
This multi-gym
might not be for you

if:
You don't have space like a garage, workshop or spare room
You're a seasoned gym goer with a few years strength training under your belt
If you're a taller person (over 6′)
You need a super-compact multi-gym
Check Current Amazon UK Price
---
Fit4Home Review: The GOOD!
Solid build quality
Fit4Home's gym uses the standard tubular steel piping we've seen on everything from power towers to weight benches. It's 1.5mm thick metal and once assembled the gym is sturdy and robust, as you'd expect from a decent home multi.
While you won't be movinmg it around in a hurry, the 170kg payload means you'll have a nice stable place to train too. This is especially handy for things like the punch bag, which are historically a nightmare to secure with stands.
Likewise, the dip station and bench also benefit from this solid hefty grounding, giving a robust feel you can work with.
The adjustable bench is a brilliant idea
Unless you've got tons of spare room to dedicate to your training gear, you might have to choose between a multi-gym and a weights bench.
That's a huge shame as both open up a world of important strength exercise options. Fit4Home's gym has a dedicated bench built on to the gym itself, which can be used for anything from bench pressing dumbbells to inclined sit-ups.
Why more multi-gyms don't come with a bench like this is a mystery as it's a brilliant combination that gives the best of both worlds. Although the bench is never going to compete with a free-standing flat bench or incline bench, it's solid here and it's fully adjustable for abs or dumbbells.
Good boxing station – that includes the punch bag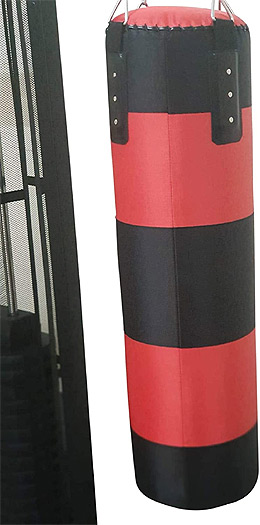 While there's not a huge number of multi-gyms that have a boxing station on them, the ones that do normally don't come with the punch bag included, or at least you'll have to fork up extra cash for it.
Fit4Home's gym does away with this expense and includes a decent-sized 20kg bag ready to go.
It's chain mounted and large enough to practice upper and lower striking. The weight of the gym makes for a stable base too, so you can give it a good bit of punishment in your garage or spare room.
The bag actually attaches at the base too, which is unusual, but this can be removed if you prefer a more free-swinging style.
And you'll definitely want to get into boxing. Whether you see yourself as a bit of a Rocky or not, boxing is one of the best ways to get in shape and absolutely shreds calories like no-ones business.
Plenty of exercises to keep you busy
While a number of multi-gyms do a respectable job of packing in different exercises into one but of gym gear, they often see you sitting in the same spot for the duration of your routine. More so on the compact all-in-ones we've seen over the years.
Fit4Home's gym is a multi-station gym which gives you three separate places to train. This is a top idea and you really feel like you're at your own private gym. It keeps things fresh and the dip station alone is bit of gym gear you can spend a lot of time and energy working with.
Here's the main exercises you can perform with the HG480 (although there are an almost infinite amount of variations, especially using the bench).
Bench press
Butterfly press
Pec dec
Arm curl
Low rowing
Triceps press
Chest press
Lat pull down
Punch Bag
Sit Ups
Ab crunches
Dip / Leg raise stand
Check Current Amazon UK Price
---
What Could Have Been Better
Setting It Up Can Be A Problem
The Fit4Home Home Gym weighs approximately 170kg and has dimensions big enough to fill an entire room. However, when you get the product, it comes in several boxes and has to be set-up.
Some users have complained that setting up takes a great deal of time and the instructions aren't that helpful. There's no getting around the fact that home gyms are one of the more complex bits of fitness gear you can be tasked with building. If you can, get a friend or family member to help. Even then, as with most of these home multi-gyms, you could be looking at a 2 hour build time.
Get the coffee ready.
Plastic Components Aren't As Hardy as the metal ones
The steel framework is, understandably, pretty robust, and strong. However, the plastic components such as the cups around the Fit4Home aren't as strong.
One customer on Amazon suggested that while the framework might be sustainable for a long time, the plastic components weren't.
Height Adjustment
The preacher pad can be adjusted in two positions. Both of these positions were made considering the target audience. However, some users have complained that the maximum height adjustment on the preacher pad was still not high enough for them.
No wall-chart
As well as looking awesome, a good wall chart – with each exercise you can do on a multy-gym is a worthy addition to this kind of fitness equipment. Sadly, there's not one included with the Fit4Home gym.
There's plenty of space for one on the actual rear casing so it's a shame they didn't include at least some form of guide on it.
The punch bag hangs very close to the frame
While the 20kg punch bag is a great addition to this home gym, the distance from the frame is relatively small. This means you'll often find it makes contact with the frame.
It's far from a deal-breaker in itself and hard to see how the could have done it differently, without increasing the modest footprint of the Fit4Home.
But the fact remains that compared to a large stand and a free-standing punch bag, there's less room to work with here on this compact frame. You might not be landing any round house kicks in a hurry.
---
Conclusion: Should you invest in the Fit4Home Unisex Professional Home Gym?
The Fit4Home HG-480 Gym is a is great find for beginners and low-active to moderately active individuals looking for a way to burn fat and gain muscle. You're getting a fantastic gym here that will work every body part and (with effort and regular use) keep each muscle in peak condition.
The downside would be the fact that the adjustability of the product can only reach so much and this might be a problem for taller users. Plus, setting the Fit4Home Unisex Professional Home Gym (170kg, 227cm tall) is going to take a while.
However this will be the ideal multi-gym for a lot of buyers.  It's durability and wide range of exercises, combined with the 3 separate training areas means you'll always have something new to train to keep things fresh.
This home gym has all the benefits of a 'real' gym, with a one-time investment and no added costs. It's good for everyone in the family.
Which leads us to the burning question: Should you buy it?
The Fit4Home HG480 is a great product to invest in. It's sleek, effective and a great set-up to work on those gains.
Highly recommended
Check Current Amazon UK Price
Fit4Home Home Gym Full Specs
Brand
Fit4Home
Category
Home multi-gym
Weight stack
45kg
Number of plates in stack
14
Floor space
3.96 square meter
Exercises
Bench press
Butterfly press
Pec dec
Arm curl
Low rowing
Triceps press
Chest press
Lat pull down
Punch Bag
Sit Ups
Ab crunches
Dip / Leg raise stand
Frame
1.5mm steel tubing, powder coated
Muscles trained
biceps, back, legs, abdominal, shoulder or buttocks
Noise level
Low
Weight system
Pulleys, cables and weight plates
Max user weight
150kg
Assembly
Self assembly
Feet
Rubber
Accessories
Sleeve, drawbar, triceps drawbar, brass drawbar and drawhandle (hand)
Cables
Long-lasting steel ropes
Boxing bag included?
Yes
Colour
Black & Red
References & further reading