In this review and guide, we're delving into a fab bit of strength training kit. The Gorilla Sports Universal Workstation (Available Amazon UK) is an interesting weight bench because it comes bundled with the weight set. This review takes a deep dive into this popular home gym gear and looks at what this bench gets right, and what it could do better.
What is the Gorilla Sports Universal Workstation?
Engineered to be an "all-in-one" style workstation, the Gorilla Sports Workstation combines traditional bench press with a rack, curl station, and plenty of weights to get started with.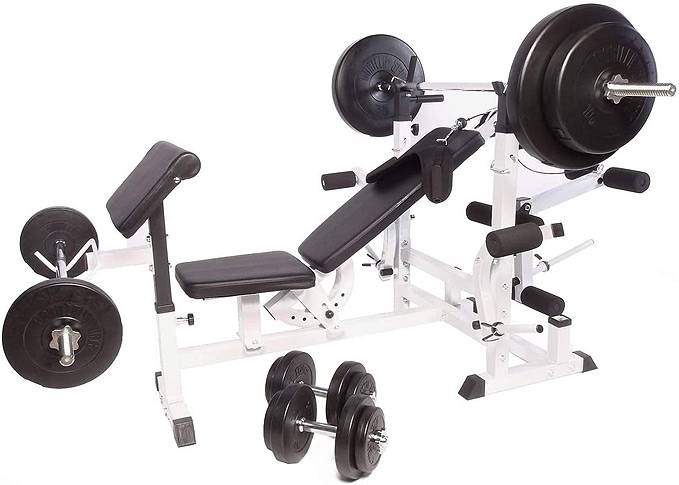 Designed not to take up a whole lot of floor space, this workstation is well optimised and obviously well-thought-out. All of the different components work in concert with one another, and you should never feel like parts of the workstation are getting in the way of specific workouts.
A good one-and-done solution
The Gorilla workbench is clearly aimed at anyone wanting to get everything they need for a home gym, without having to source separate weights. (We'll get to how well this particular bit of kit does in this department later in this review). It's far from a budget priced bit of kit (usually coming in just shy of the £600 mark, depending on where you buy yours…)
The construction materials used in this workstation are obviously high quality. As you can see from the pics, they've opted for gym-esque thick square tubular steel construction throughout.
This does make this set up a little bit on the heavy side of things. But it's nice to never have to worry about things tipping over or different components falling apart just because you are getting stronger.
Some assembly required, but it's not that bad
Some assembly is required (obviously) but honestly the process is pretty simple and straightforward. Everything can be put together inside of about 45 minutes if you are working alone and even faster if you have an extra set of hands to help.
The weights themselves are halfway decent (Olympic style plates for the most part) but nothing spectacular. They will work nice enough all on their own and will add a little extra poundage to existing collections, too.
The instruction manual, although black and white, is razor sharp and very easy to read and follow. In a sea of confusing, poorly-written assembly guides, this one is clear and simple to use.
Is it all upper body on Gorilla's bench?
As much as it looks like you'll be working upper body on this gym, this model comes with a seated leg extentsion. Lying on your front lets you use the same bit of kit to do leg curls. Although they're never comfortable on the best of machines, they're a great way to build those hard-to-reach leg muscles.
Here's an overview of some of the core exercises yo can do with this bench set
Features at a Glance
Here's the main features you'll get with this work bench:
Benchpress with adjustable rack
Includes a full set of plates
Leg press
Curl station
Fly machine
Includes a six way adjustable backrest
Barbell with locking pins
Rubberised feet for improved stability
Weighs 80 pounds (without any extra weight on it)
It also includes almost 240 pounds of cast-iron weights in various different sized plates.
Check Current Amazon UK Price
Who are Gorilla Sports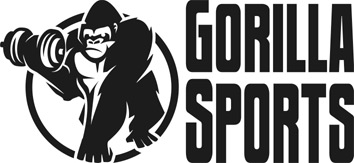 If you've not heard of Gorilla Sports, they're a well-established UK based company with a massive range of gym gear in everything from strength training equipment, up to functioanlk fitness and kettlebells.

They have good customer ratings on platforms like Trust Pilot, Bark and Amazon. Gorilla Sports have been trading from 2005 and their goal is to 'provide professional gym quality equipment at prices anyone can afford'.
From what we've seen of their products, they're doing a pretty good job.
Why buy from Gorilla Sports?
This company have a good rep and are known for low pricing, free shipping and their 30 day money back guarantee. You can also contact them on help@gorillasports.co.uk and arrange a replacement or repair of any items.
---
Weights Bench Deals For Friday 1st Dec 2023
Prices last updated: Monday 20th Mar 2023 - 02:02
Save £20.86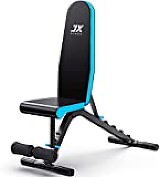 leikefitness Multifunctional Aerobic Deck with Cord Workout Platform Adjustable Dumbbell Bench Weight Bench Professional Fitness Equipment for Home Gym… (Black)
Save £10.99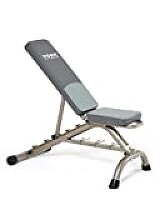 York Fitness 5 Seat Positions Bench Press - Adjustable Foldable Weight Bench Home Training Gym Weight Lifting Exercise Workout Bench - 90 Degree Incline Bench for Dumbbell Exercise
Save £4.13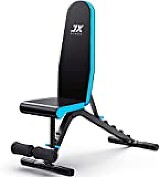 SteelBody Unisex - Adult STB-10101 Weight Bench - Brown/Black
Main Benefits of the Gorilla Sports Universal Workstation
All the "foundational" pieces of fitness equipment found in commercial gyms are built right into this all-in-one set up.
So is this a good weights bench for you? Before we get to the review part, here's some of the main plus-points to this home gym gear.
Space-saving – Takes up a lot less space than individual fitness equipment pieces would have
Includes the weights – Offers and "all-in-one" home fitness centre in a single box
Trains every muscle group – Gives enthusiasts and home gym'ers everything they need to get a full body workout without leaving the house.
Well-made – using high-end construction materials including powder coated steel
Good brand – Manufactured by a trusted name in the high-end sports and fitness industry, Gorilla Sports
Quick assembly – Relatively simple and straightforward to put together inside of less than an hour
Good range of weights for beginners upwards – Includes plenty of weight plates and barbells to get started
Includes a 12 month warranty with purchase
---
Who Will Make the Most of the Gorilla Sports Universal Workstation?
One thing we'll say for the Gorilla Sports Universal Workstation is that it has really been designed to accommodate fitness enthusiasts and athletes of all shapes and sizes as well as skill and experience levels.
Those brand-new to the world of fitness won't find the Universal Workstation too daunting to take advantage of. All the "foundational" pieces of fitness equipment found in commercial gyms are built right into this all-in-one set up.
At the same time, experienced fitness enthusiasts and elite athletes will be able to use this fitness equipment as well. There's a lot of versatility, a lot of flexibility, and a lot of adaptability engineered into this set up.
Those that will make the most of this equipment are those that want a commercial fitness centre level experience in the comfort of their own home. This all-in-one unit does take up a bit of floor space and will dominate most spare bedrooms or garages. And it certainly isn't portable or designed to pack away for easy storage, either.
You want to be sure that you have space available to fit this all-in-one fitness centre. It's not (by any means) the largest all-in-one there but it definitely is not as small as an ab roller, jump rope, and maybe a handful of dumbbells, either!
Other than that, this is a well-made piece of equipment. The warranty is nice for first timers that want to make sure their investment in a quality fitness workout station is secure, too. Those that are committed to improving their health and their fitness will feel really happy with this purchase.
---
Gorilla Sports Workstation Review: What we like most
Everything you need in one gym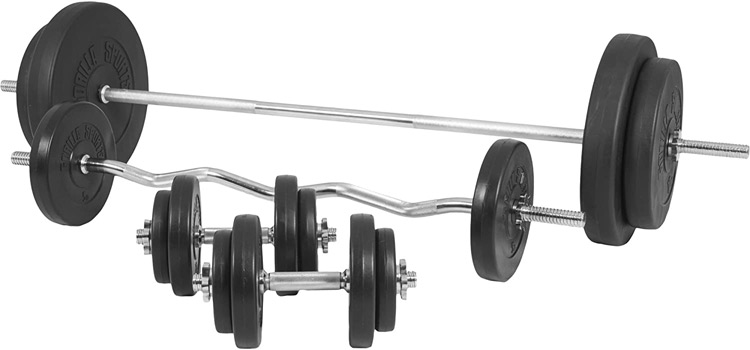 The main pull with the Universal station is that you get everything you need to kick off your home gym. Gorilla's kit has:
Dumbbells
A curl-bar
A barbell
Full set of weights
A James Bond-style weights bench that does all sorts of different exercises (more on this in a bit)
Having a full set of bars and dumbbells from the outset is incredibly valuable. Take away the weights bench and you can still train every muscle group here.
A clever bit of engineering
For starters, the intelligence of the design and engineering of this all-in-one station cannot go overlooked. The people responsible for putting this design together are clearly fitness enthusiasts themselves.
Every workout station has enough space to do everything that movement requires with freedom and no restriction, while still keeping everything in a relatively compact form factor (at least as far as all-in-one units are concerned).
Each of these distinct stations work well independently of one another. You will never feel cramped or crowded using this workout station.
Covers all the best gym exercises
It's also nice to see all of the "major movements" included in this all-in-one set up. Being able to bench, curl, and get in lower body/leg work with the freedom to do squats, military presses, and more is fantastic.
A lot of all-in-one units promise this kind of versatility but aren't able to meet these needs as well as the Gorilla Sports Universal Workstation does.
Painless setup
While the same can't be said for all fitness gear, especially multi-gyms, the Gorilla Sports Workstation gets this part right.  Set up right out-of-the-box is pretty easy. You don't need a lot of tools (and the tools you need are included with your purchase) and you don't need a lot of time to go through set up, either.
In fact, someone working alone that hasn't ever set up a workstation like this before could finish the job in about 45 minutes. Mix in a second or third set of hands and you can dramatically reduce the installation and setup time significantly.
Nice, solid construction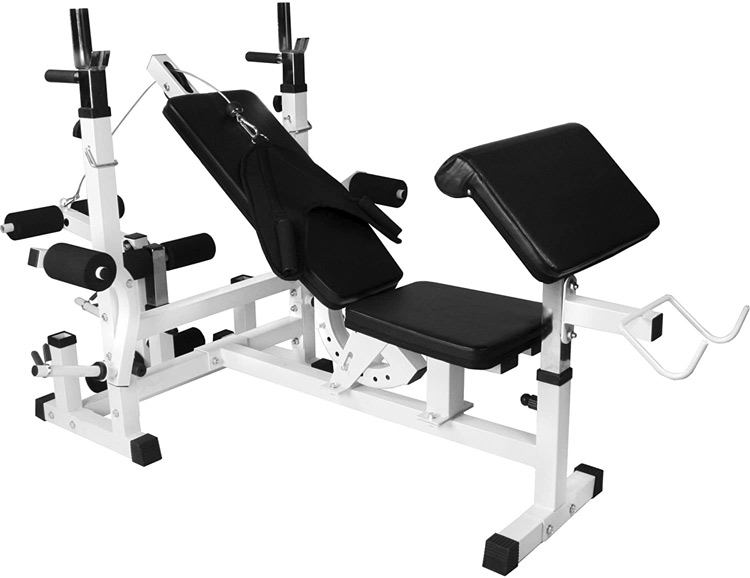 The strength of the materials used throughout this home gym is another big bonus. Tubular steel welded together and later powder coated make up the backbone of the components. Aluminium alloys and some synthetic plastic materials are used as well, but everything structural is made out of tubular steel.
It adds a little bit of weight to the overall finished product, but that only means it's going to be stronger and more stable when you are putting plates and bars on to work out.
Plenty of variation
There's always a lot more you can do with these kinds of free weight gyms and there's enough stations here to keep you busy over the course of a week, where you can alternate different exercises or muscle groups.
Of course, the same could be said for a simple pair of dumbbells, but with the Gorilla Sports Workstation, the different stations are all set out and give you plenty to choose from each session.
Check Current Amazon UK Price
What Could Have Been Better
The weight might not be enough for experienced users
As far as what could have been better is concerned, the weights that are included could have been a little more impressive – and could have added up to a little more weight in total, too. If you're used to going to the gym, or are at a decent strength level, you might need to add some additional weights in here.
Most people that purchase the Gorilla Sports Universal Workstation are going to find themselves spending money on more weight plates sooner rather than later. It's nice that they included weights at all, but honestly a couple of more (maybe 300 pounds worth) would have been much appreciated.
The bench is flat and incline only – no decline
This likely won't be a problem for most people but if you're specifically looking for a bench that does decline as well as incline and flat, you'll have to look elsewhere. The Gorilla bench here can't be declined to do abs.
The feel will take some getting used to
Secondly, the stiffness of the Universal Workstation initially is something you'll have to get used to.
Obviously, everything loosens up over time as it breaks in and you put it through its paces. But adjusting everything from the angle of the bench to the position of the leg rest or the curl system is going to fight you initially.
This is not a portable home gym!
The lack of portability and the lack of 'storability' is a bit of a disappointment but not that big of a deal, really.
Most people know that all-in-one units like this aren't going to fold up under the bed, so it's perhaps a slightly unfair criticism. More a warning that you'll need a dedicated space for this home gym in a garage or spare room.
Lets discuss the elephant in the room – vinyl plates
The included weights that you get with the Gorilla station are vinyl-covered style plates.
You're either going to love or hate 'vinyl weights' but they're not as bad as what you might imagine. This kind of weight have come a long way over the years and offer a safe, decent challenge for anyone looking to train weights at home.
Yes, cast iron, or rubber-coated plates are better. But they're also a lot more expensive. A full set costing probably as much as this bench and weights package. On the up side, they do protect surfaces and there's a good range here you can chop and change as you get stronger.
You'll have to weigh up this one for yourself. If you absolutely loath vinyl weights, then you're better off buying the bench and weights separately.
Screw on weight nuts might drive you nuts
The Gorilla Sports Workstation has interchangeable weights, which are great for starting out and finding which weight you need to use. They're also perfect for increasing your strength gradually. Hey, you might be wondering, why is this listed in the 'negative' points?
Nuts.
Screw-on nuts, to be precise.
You know the type. Those little spinning devils that hold the plates in place. You'll find them on any adjustable weight kits out there. And they're never a fun time. They're the more time-consuming version of the superior spring clips you can quicky slide on and off.
This is a bit hypocritical as I've still got sets of weights that use these and, in all fairness, you'll likely not be changing weights that frequently. But it's still worth mentioning that this weight bench set uses this style of securing the weights in place.
Get used to spinning those little 'cogs'.
---
Final Verdict: Should you buy this all-in-one bench and weight package?
When you get right down to it, there's just a lot to like when it comes to this Universal Workstation
At the end of the day, Gorilla Sports has made another quality piece of equipment for home fitness enthusiasts.
There are certainly some shortcomings with this all-in-one unit just as there are with other options on the market today. The stiffness of components and the weight set that is included are a bit of an issue, but aside from that there's really not a lot to dislike when it comes to the way this has been put together.
On the plus side of things, the overall design and approach to creating an effective all-in-one fitness centre was obviously well conceived. Some options from competing companies are poorly designed, with workout stations that do not interface nicely with one another.
Those other machines have you fighting through your workout every step of the line, turning people off, and burning through their motivation.
This won't be a problem with the Gorilla Sports Universal Workstation.
Moving from one workout component to the next is quick and easy. Different assets are reused in different ways to keep things uncluttered and to make sure that each range of motion is free and unencumbered.
The build quality is what you would expect from a company of this calibre. High quality materials are used throughout and the 12 month warranty gives customers another layer of protection they might not have had with other companies.
When you get right down to it, there's just a lot to like when it comes to this Universal Workstation – and not a lot of drawbacks.
You'll have to think about the space you have available to dedicate to an all-in-one workout station of this size. This isn't something that can share a back bedroom with a lot of furniture (at least not comfortably, anyway). The Universal Workstation is much better suited to a garage or garden shed space, for example.
Gorilla Sports as a fine reputation for making quality pieces of fitness equipment without charging astronomical prices. The Universal Workstation is a perfect example of that. You can also check out other bench and weights packages here.
Consider this piece of equipment highly recommended.
Check Current Amazon UK Price
Full weight bench specs
| Barbell | Yes |
| --- | --- |
| Dumbell | Yes |
| Curl bar | Yes |
| Included weights | 100kg |
| Weight types | Vinyl-coated steel weights |
| Plate diameter | 30mm |
| Backrest | 6-way adjustable |
| Curl station | 3-way adjustable |
| Leg press | 3-way adjustable |
| Barbell rack with locking pins | 5-way adjustable |
| Colour | Black/White |
| Weight without plates | 40KG |
| Bench dimensions | (LxWxH): 180 cm, 106 cm, 90 - 110 cm |
| Brand | Gorilla Sports |
| Maximum capacity for bar | 200kg |
| Additional weights available? | Yes |
| Foldable? | No |
| Bench type | Flat or incline |
Full list of weights that come with Gorillas universal bench
4 x 1.25KG weight plates
4 x 2.5KG weight plates
2 x 5KG weight plates
2 x 10KG weight plates
2 x 15KG weight plates
1 x 170cm barbell bar – 10KG
1 x 120cm EZ Curl bar – 8KG
2 x 2.5KG 35cm dumbbell bars
8 x Spinlock Star Collars to secure the weights
31mm hole diameter – bars not suitable for use with 1inch weight plates.
Resources & Further Reading