This guide will help you quickly find the best bench and weights package to buy in the UK. A corner stone of any home gym is often a decent weights bench and weights set.
Free weights and a simple bench is a tried and tested method to build superb upper body strength and it's one of the best purchases I made for my own home gym. Here's our current list of the better bench and weights packages we've found online.

Gorilla Sports Universal Workstation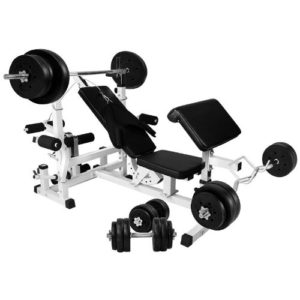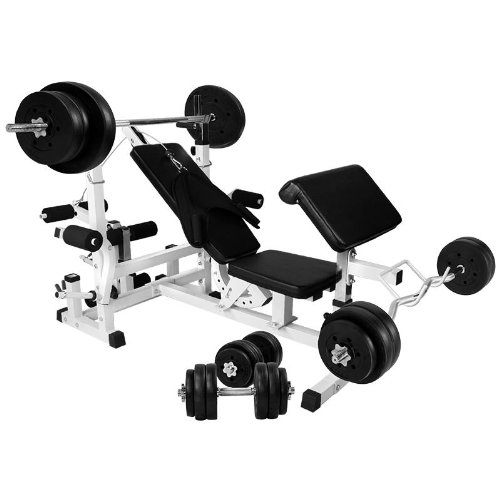 It's well worth looking at this workout station if you're looking to buy a new bench set.
The first of two kits from Gorilla Sports in our top 5, this is a multi-purpose bench and weights set combo which comes with a hefty 100kg of weights to train with and offers very good value for money.
What makes this one of the best bench and weights packages is the number of different exercises it combines in one piece of equipment. Bicep curls (with included curl bar), leg extensions and curls, flat bench press, inclined presses, dips, and much more. We can't think of much you can't do on this machine!
One possible downside is that this multipurpose bench is not portable or fold-away. The upside being the extremely solid construction. Surprising considering the price point. It's a great centre for any home gym. Assembled it's 180 cm, 106 cm, 90 – 110 cm. You'll also want to leave plenty of room around the front and rear to allow for curls.
You can also read our review of the Gorilla Sports weights bench here.
Top-notch construction in both the frame and plates
Huge range of exercises without too much adjusting
Includes curl bar
Suitable for very heavy users
Pretty good 12-page training guide
Rest for the EZ bar is too narrow
Needs your own tools
Requires a good amount of space
Check Current Amazon UK Price
---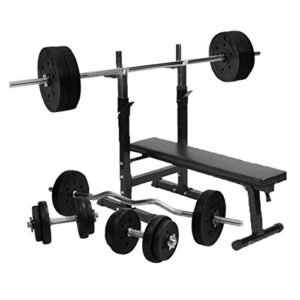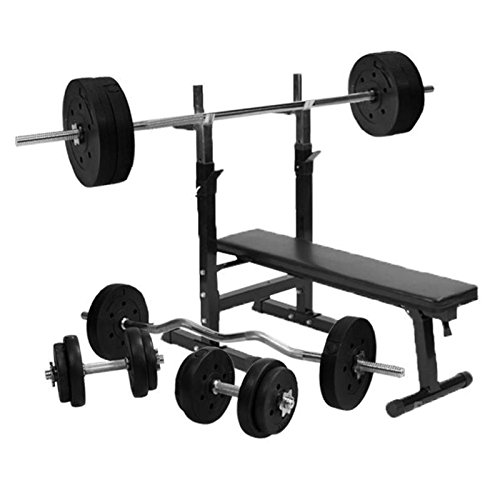 This is a superb adjustable full weights bench set from Gorilla which saves money by combining a bench and weight set.
Bought separately, this bench and barbell set would set you back around £40 more.
It includes 100kg of weights to get you into the shape you want to be. You get 2 x 15kg, 2 x 10kg, 2 x 5kg, 4 x 2.5kg and 4 x 1.25kg.
As with most of the home gym sets we're reviewing here, this one uses vinyl weights. But it's worth mentioning that the days when they used to be bulky useless things are long gone. These are filled with concrete and you'd be forgiven for thinking they were iron. We're surprised how good these look and feel. Excellent quality.
One of the things we really like about this exercise bench is that you can fold flat when you're not using it. This can save space or leave room for other exercises. This is surprising as the construction is perfectly adequate for anyone getting into lifting weights at home. A good, solid, chunky steel frame.
Another welcome addition is the curl bar, something you don't always get with a workout bench, and something that's actually very useful. Although not shown, Gorilla's all-in-one workout bench also includes the parts to do your dips with. Very much appreciated.
Really robust frame despite being a folding weights bench
High-quality weights look and feel very good
Includes excellent curl bar
Weights are all good size, no useless small ones
No tools included for construction
The bench feels quite low to the ground
Check Current Amazon UK Price
---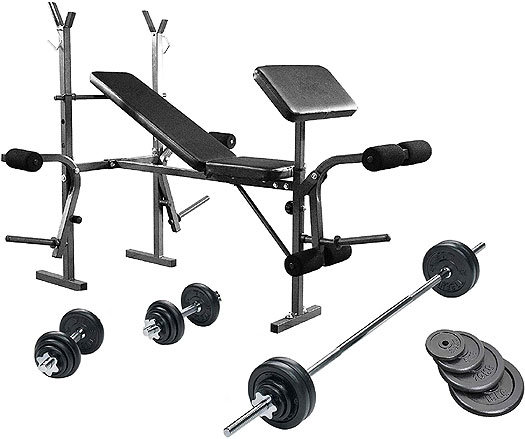 Most of the weights benches we're featuring here use vinyl weights filled with concrete. This bench from V-Fit has a really nice 50kg set of cast iron plates that make it worth looking at if you're in the market for a home gym bench set.
It's a nice looking bench that can be easily adjusted into both flat and incline positions. This lets you vary the angle you can do your chest press on. You get two dumbbell bars and a longer barbell for shoulder and chest presses.
Weights can be combined and added to form a wide range of possible weights so this set is suitable for beginners up to those who like a challenge. These are standard 1″ cast iron dumbbell plates so you can add any existing ones you have, or expand the set with time, as you need more weight.
Exercises you can do with this bench include:
Bench press (and inclined variations)
Leg extensions
Leg curls (lying face down)
Bicep curls
Pec dec
Free weights exercises
This is a good starter set which you can add to as you need to with more plates when you need to. They're not expensive and it's the kind of thing that will last a lifetime.
This is a great weights bench set for losing weight and getting an all-over body workout. It offers plenty of weight for newer users, with more experienced gym users able to add to the kit as they need to with extra cast-iron weights.
Includes cast iron weights
Folds away neatly
Can take up to 200kg user weight
Solid weight lifting bars
Spin locks are slower to take off and add on that clips
Check Current Amazon UK Price
---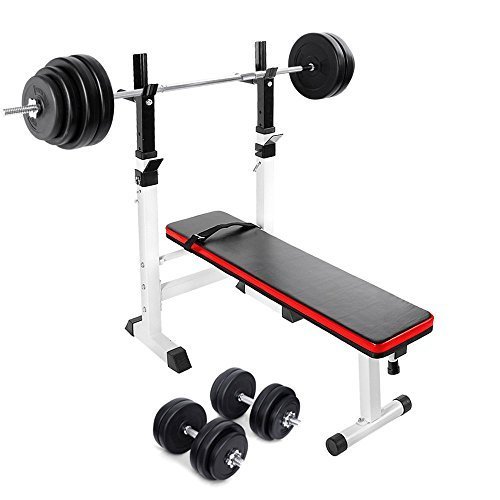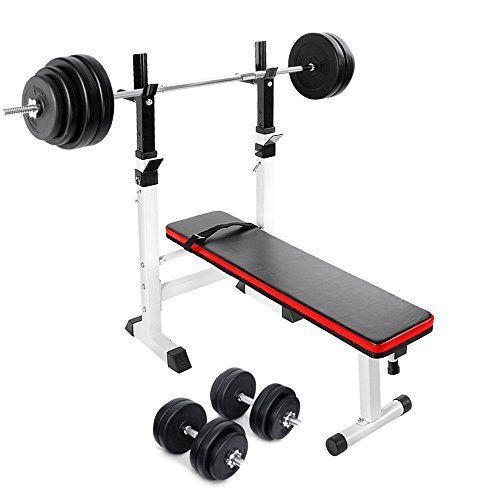 At the budget end of the weights, training benches is a really solid entry from TNP. There are none of those weak, flimsy frames you'd expect for a sub £100 bit of kit. Instead, you get a robust frame and a thick, gym type, adjustable bench. It's a strong bench and can take a user weight of over 20 stones.
Another pleasant surprise is that the weights and bars have a high-quality look and feel to them.
It comes with plenty of weights, with a 60kg beastly bar and a 30kg dumbbell set. I'm currently working with a 30kg set, after 20 plus years training and it's probably the last set I'll get. Very heavy!
One thing that might appeal if you're strapped for space is that this is a fold up workout bench that flips neatly up out of the way when you're not using it. Or you can leave it out if you've got your own space at home.
This cheap folding weights bench offers a great build and good value for money. Its ideal for anyone starting out, but has plenty of weight for more experienced people too.
Excellent value for money at under £100
Easy to put together
Sturdy and built to last
Good quality dumbbells and barbells
Pictures in instructions are too small
The seat could use more padding
Check Current Amazon UK Price
---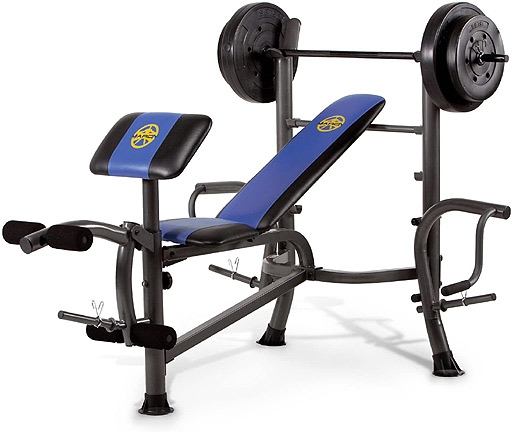 Marcy's weight bench is another sturdy product that offers good value for money. You're getting a solid fold-away bench that can be adjusted between two incline and flat positions.
With a footprint of 165 cm (65 inch) x width: 110 cm, this bench doesn't hog too much floor space. And, though you might not think to look at it, Marcy's bench folds away neatly so you don't need to leave it set up between uses.
This is also one of the easiest benches to put together so you can get stuck in without hours of assembly. Phew.
A number of exercises
Another tick in this benches score sheet is that it does a number of handy exercises:
Incline / flat bench press (chest & shoulders)
Butterfly arms (pectoral muscles)
Preacher pad (biceps)
Leh curl and extension (thigh and calves)
The bench and supports can take a total weight of up to 225kg and the support arms can hold a barbell loaded with up to 90kg total weight. So that's two 20kg plates on either side, making it a good choice for anyone new up to a mid-level of strength.
This bench set comes with a 35kg total weight split between 4 plates.
2 x 25lb (11.33kg)
2 x 15lb (6.8kg)
A greater variety of weights and some smaller plates wouldn't have gone amiss but I guess we're talking about a kit that costs under £200, so can't really complain!
The bar you get is a standard 1″ bar. We'd have prefered an Olympic bar but it's not a huge problem.
Apart from the solid frame, another really welcome addition here is the preacher bicep station at the front.
Excellent value for money at under £200
Easy to put together
Sturdy and built to last
Comes with
The barbell is shorter than we'd have liked
No dumbbell bar in the kit
Check Current Amazon UK Price