Like any expensive purchase, there's a lot of leg work in choosing the right multi-gym. There's also a hell of a lot of products out there in this space. Here's a quick guide to the real stand out multi-gyms we've found in 2023.

#1 – Sportstech Premium 50-in-1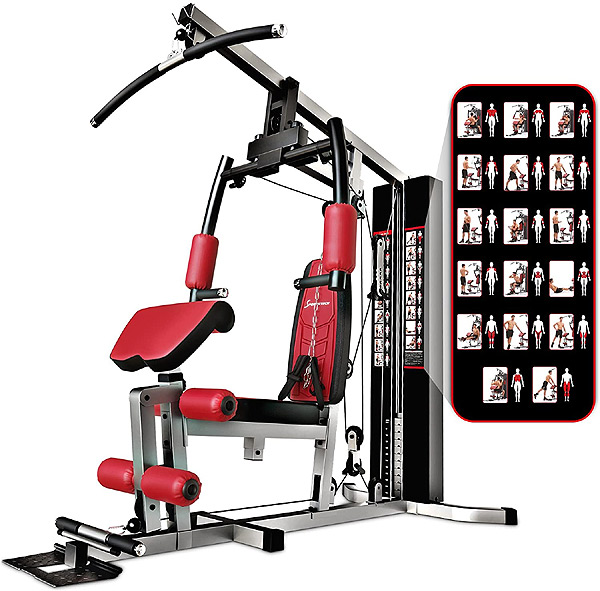 We love Sportstech gear. Everything they make is consistently near or at the top of the pack when it comes to performance, and this power tower multigym is no exception.
Covers all the main stations a gym needs
The clear illustrations on the rear of this gym make it super-easy to see what you're meant to be doing. And it's something we wish more gyms included. As for the stations themselves, the major ones: pec deck, pull downs, preacher curl and leg extensions are all implemented beautifully here.
Excellent quality throughout
Incredibly sturdy and well built, it's a solid piece of kit that's built around a 55kg weight stack, which is a decent mid-range figure. It's not in the same league as our top pick, the York Perform, but it's still more than enough.
Everything on the machine is high quality, with particular attention paid to the cables and pulleys. These are the parts that tend to give first, especially on cheaper systems, so the care and extra value spent here will pay itself back one hundred times.
In use, it's very comfortable, with all working parts heavily padded using thick EVA foam, and the station variety is impressive, with over 30 different exercise variations, including the usual lat pulls, chest station, leg station, but also a whole bunch of different cable stations that you don't see on cheaper multigyms.
Compact, narrow form
In terms of space, it's very long, but also very narrow. This gives it a profile that's surprisingly easy to fit into a home, as it can sit next to a wall without extending out into the room as far as other options might.
Finally, it's simple to put together, and Sportstech offers a whole bunch of online videos and a training booklet to give you ideas about how to use your new piece of kit, so you'll never get bored or run out of ideas.
Verdict: The quality of this home gym is up there with the best. Everything from the seat padding to the frame itself is rock-solid. A brilliant home gym.
Well built and strong
Large variety of exercise options
Long, thin shape fits into a lot of spaces
Very comfortable
Weight stack could be heavier
Check Current Amazon UK Price
---
Forget ever going to the gym again – another Marcy home gym in our top 5 for 2023 and this one is an absolute beast. If you've got a bit of extra space (at least 4 by 7 foot – ideally a dedicated garage or gym room) and a budget of just over grand, then you should seriously consider the Marcy 'Diamond Elite' MD-9010G.
Combining a free weights bench and the best of a home multi-gym, this is all you'll ever need to get seriously fit, big, ripped – or whatever your training goals are! Marcy have been making home gym equipment for over 35 years now and you can see the quality of this gym.
Exercises include (but aren't limited to) lat pull down, bench press (inclined or flat), shoulder press, leg extensions, bicep curl, seated rows, bent over rows, squats and a lot more. You can do anything you can in a regular gym on this equipment. In short, the MD-9010G offers one of the biggest variety of exercises we've found in a home gym.
We especially like how you the weight bench is independent so after you've done your bench press (or shoulder press) you can drag it out the way and work on the cable crossovers, pec dec or lower pulley.
The overall build quality here is also the best you can get and is comparable to top-notch gym standard equipment. We're talking seriously heavy-duty. And 2000lb aircraft cables and sealed bearings make for a smooth workout.
It's hard to imagine anyone not loving this multi-gym or finding something it couldn't do. One of the best we've seen.
Check Current Amazon UK Price
---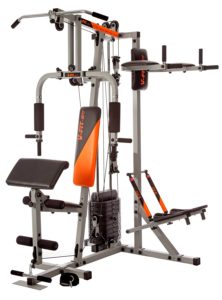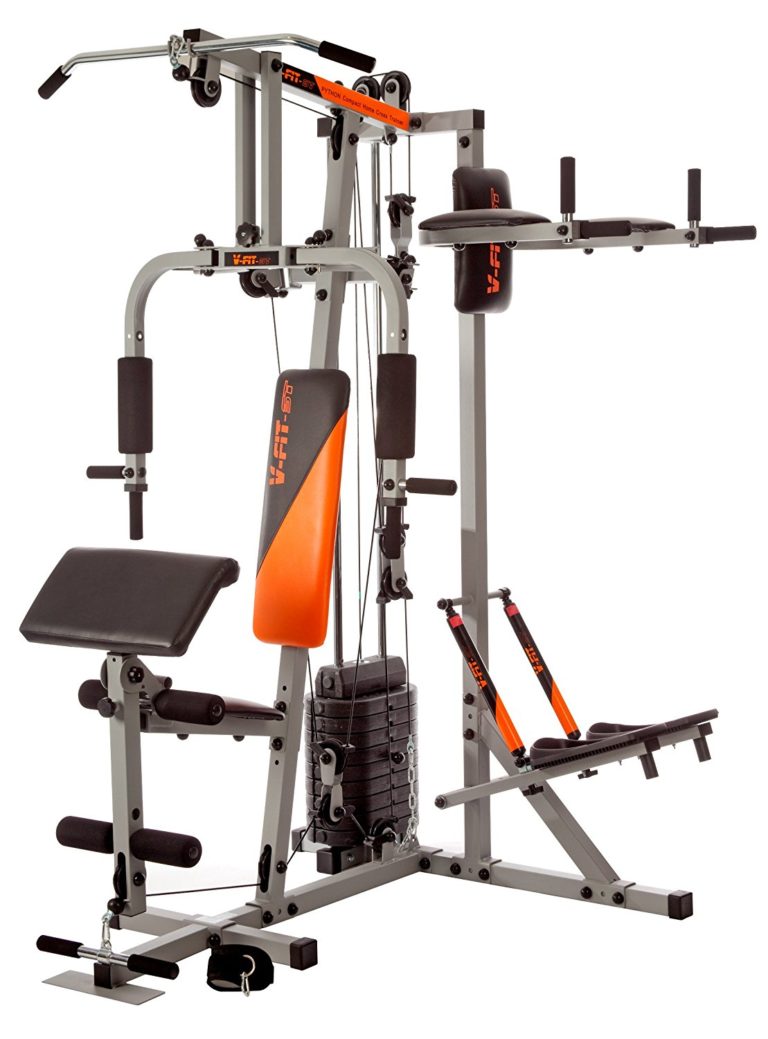 It's easy to say things are 'built to last' but we've heard of people still using this machine after 2 decades of training. That's pretty impressive.
You're getting a full-size multi-gym with a 90kg stack that can be adjusted. The V-Fit Python Gym is a sturdy as they come with an excellent tubular steel frame.
Looking at this multi-gyms size we're happy to report it fits in a limited space, like the corner of a room, and doesn't hog too much space, measuring 188 cm x 131 cm. You'll need to leave room at the front for leg extensions of course.
The 2:1 pulley means you can get a really heavy resistance if that's what you're looking for. And it's one of the best ones in the group we looked at for those used to weight and looking for some serious lifting.
After a fairly painless 2-3 hours assembly you'll be ready to do some serious training with a host of usual and interesting additions. Standard exercises like Bench press, chest press, lat pull-down, leg extension and curls are all here. Along with some welcome additions like the aerobic stepper and a dip station at a good height that doubles for leg raises.
This mutli-gym is fine for both males and females and caters for anyone up to 20 stones in weight.
An excellent compact multi-gym. We love the quality, range of exercises and the amount of weight on offer feels perfect for new or advanced gym users.
Check Current Amazon UK Price
---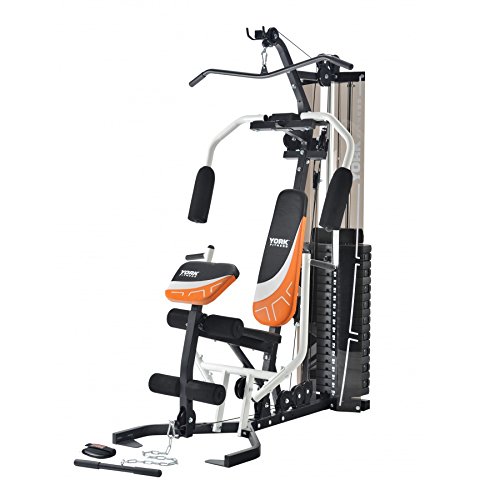 With a monster 100kg weight stack, the York Perform is about as future proof as they come. Offering more weight than most other MGs. And just shy of a £600 budget, there's a lot to like about this multi-gym,. It's got one of the smallest profiles out of all the training equipment we've seen so doesn't need to take over an entire room.
You've got a massive choice of exercises including chest press, peck deck, leg extensions, arm curl and shoulder / lat pull down.
We especially like the sealed bearings in this gym that ensure it won't be creaking like an old body builder's joints. Smooth is the key word with this gym, along with the usual robust spec you'd expect from York Fitness.
This is a solid, versatile choice for a home gym that won't hog too much space.
Check Current Amazon UK Price
---
Related Guides
---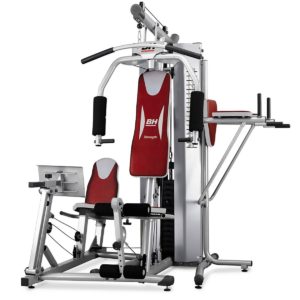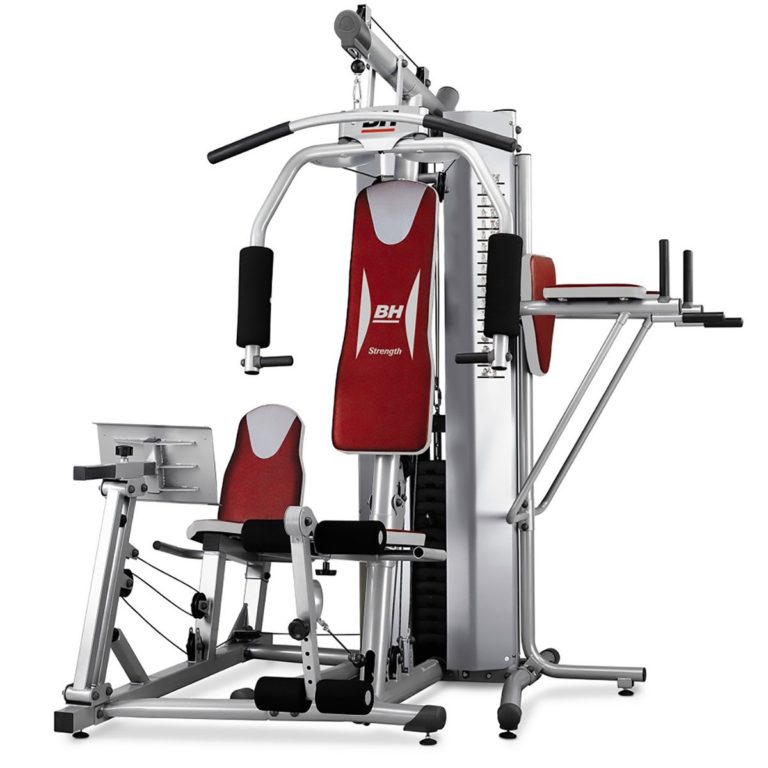 If you've got a bit more space (and cash!) then you definitely want to look at the G152X. Combining 3 'separate' stations, you've got seated leg press, dip/leg raise, high and low pulleys for leg and chest development. Even does bicep curls. This home gym doesn't just look the part, it also won't leave any muscle group out.
You're getting a complete gym for your home. The weight stack goes up to 75kg and again, a solid build here with tough, ergonomic upholstery. It's wider base also increases stability when you're training. The seat on the main station also folds away to let you do additional exercises. Adjusting cables is quick and easy for different sets.
Don't worry about the cables on the G152x – geek fact: they're the same ones used on aircrafts, so they're pretty tough.
Check Current Amazon UK Price
---
Multi Gym FAQs
Are multi-function home gyms actually any good?
The last thing I want anyone to do is to buy something that they don't use. Multi-gyms are big, heavy, expensive and not something you can easily store out the way if things don't work out between you. So are they any good?
A multi-gym is a simple way to build strength and muscle size (if that's what you're looking for, and you train it the right way). They've got a lot of plus points:
Relatively safe to use – as your movements are isolated there's less room for error compared to say dumbbells.
You can change weights quickly – Anyone who has used spinlock weight sets will appreciate this point.
Weight can be increased gradually as you get stronger – Because these gyms use a 'stack' it's super-easy to increase weight and progressively lift more. This increases your strength and your muscles over time. With something like fixed weight dumbbells, for example, you'd have to splash out on a new set.
You can get a full-body workout – with a decent multi-gym you should be able to work out each part of your body with one station.
You can train on your own easily – With something like a barbell and a rack you can still train alone but it's beneficial to have a training partner or 'spotter'. With multi-gyms, the worst that can happen if you drop the weight mid-set is a loud CLANK!
Will this multi-gym fit in my space?
Unless you've got a double garage that's managed to somehow remain free from all the household stuff they seem to accumulate, then getting the right sized gym for your space is something you'll be wanting to get right. There are a lot of compact multi-gyms on the market but it's worth grabbing a tape measure and checking your space carefully.
Check the height as well as the width and length. And make sure you'll have space to move around the gym and get to the weight stack. Another thing to look out for is leaving enough space at the front of the gym if the one you're buying has a leg extension station.
How long does an average multi-gym take to assemble
These all-in-one gyms are like a giant box of lego, except the parts hurt a lot more if you drop them on your foot. Depending on how good you are with an alan key, these machines can take around 5-6 hours to put together (less if you're a dab-hand at building things).
What are the drawbacks to buying a multi-gym?
What are the alternatives to an all-in-one machine?
So what are the other ways people train strength at home? Not everyone goes for the multi-gym route after all. Here are some of the competing ways to build your strength at home!
Dumbbells – Fixed or adjustable dumbbells have been around since the 5th century BC and are still going strong in homes and commercial gyms around the world today. They take up a fraction of the space of a multi-gym and have a lot more potential exercises you can do with them. You can use them with or without a bench.
Compared to multi gyms they definitely take more practice to use and although one pair is cheaper, you'll likely need more than one to train every part of your body. Because there are no restrictions on your movement, it's arguably easier to get injured using dumbbells. (I've yet to be injured using a multi-gym but have pulled a muscle many times picking up dumbbells improperly!)
Barbell, racks and benches – Many people go this route as it's a tried and tested route to building upper and lower body strength. Opening up major exercises such as bench press, squats, barbell curl, shoulder press and many more. If you ask on most bodybuilding reddit subs or forums, you'll likely be recommended this route over a multigym.
One of the main benefits of this approach over a multi-gym are that motion is not limited to whatever the machine sets it to with free weights like barbells and there's definitely pros to both. There's also less to assemble, and far less than can go wrong long-term.