One of the more popular home multi-gyms doing the rounds at the moment is SportsTech's HGX range, a family of multigyms in a range of sizes and prices. Today we're reviewing the compact, lower-priced HGX100. Currently, the best selling one in their range.
The 10-second review:
Overall, the HGX100 is a strong, compact home multi gym. While you might not use each of the touted 30+ exercises, the core ones on offer are really well implemented. The big ones being bench press, lat pull-down, leg-extension and bicep curl. The weight stack might on the low side for regular gym-goers (55kg), it's still a superb home gym for anyone not looking for a monster home gym.
Check the price and reviews on Amazon
---
Weighing in: What is the Sportstech HGX100?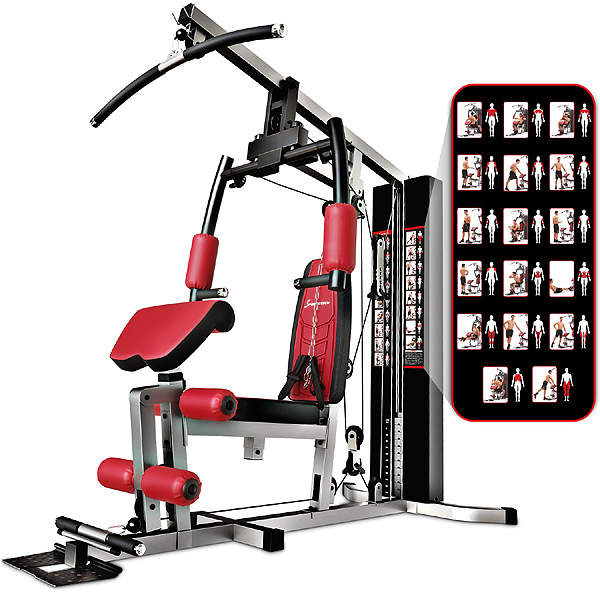 The Sportstech HGX100 is a sturdy and versatile home multigym. It offers a wide range of resistance exercises in a small amount of space. The HGX100 boasts options for over 30 different exercises targeting all your core muscle groups independently.
The HGX100 does not only provide the user with core strengthening and muscle defining weight training to create muscle definition and increase your fitness levels.
The HGX100's stylish design is made to save you space and fit into most homes. This fitness tower is easily adjustable between exercises with side pull bars, bench press, rowing, ankle cuffs, rope pull, and latissimus bar.
---
Sportstech HGX100: Main Features at a Glance
Compact design
12-plugin weights (Total 55kg)
Steel cables
Extra-wide pulleys
Pull up bar
Lat pull, bicep curl, butterfly arm, leg curlers, leg extension, bench press, weight press, curl desk, and more.
Water-repellent EVA padding
Water-repellent grips
30 different exercise options
Dimensions: 1842 x 1036 x 2023mm
---
Benefits to Training with this multigym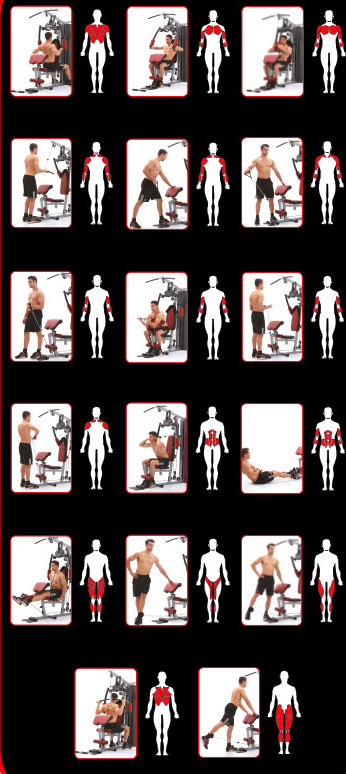 Lots of different exercises from one bit of kit
With over thirty different exercise options, there's plenty to keep you busy with this multigym. While some of these are obvious looking at the machine, others are craftily hidden away and you'll need to follow the excellent colour guide that's included on the weight stack.
You can use the HGX100 to create your own workout to suit your own body type. You have all the options to focus on individual muscle groups and used in rotation, you can bring your body to its peak performance.
The HGX100 has all the features you may need to alternate your target muscle groups for the best results.
Tone up and increase muscle size and strength
The Sportstech HGX multigym is designed to be an all-in-one tool to sculpt your body to its maximum potential. Your chest, biceps, back, glutes, thighs, arms, and abdominal muscles can all be strengthened with this multigym.
Work out in comfort
The HGX100 seats are covered with ethylene-vinyl acetate copolymer (EVA.) This means that the bench covering is sweat-resistant, and tear-proof as well as being soft and comfortable.
The evaporative foam lining is soft and breathable which allows you sweat to dry. This improves your work out and ensures that your seat covers will not wear down easily (and remain odour-free.)
The handles are also water-resistant to prevent your hands from slipping while you are working out.
German Designed for Ease of Use
The Sportstech HGX100 is German Engineered for maximum durability and precision. Long-wear steel ropes make this machine hardy and capable of standing up to repeated wear. The extra-wide rope pulleys are designed to deliver low friction to ensure that repetitive motions are seamless.
The integrated rotation mechanism allows you to easily adjust the working parts of the HGX100 to adjust to your individual dimensions.
Work Out in Safety
The intelligent design of the HGX100 ensures that the weight is evenly distributed onto widened, non-slip rubberized feet. This prevents the multi-gym from wobbling or moving while you exercise and saves your floor wear and tear as well.
Powerful but compact
Despite the array of features and weights, the HGX has compact dimensions that will make it a non-intrusive addition to your home space. The HGX has the dimensions 211.6 x 175.6 x 219.6 centimetres, which is smaller than most home gyms of its capacity.
55kg
The HGX100 has 12 plug-ins weights that collectively weigh 55 kilograms (121.254 pounds.) This means that you may work out to your own capacity or gradually increase your weight resistance over time.
Great Variety of Extras
To make the most of your muscle targeted work out, the HGX100 provides a variety of easy to connect add ons. These include:
A foot cuff
Lat bar and handle
Tie rod
Tricep strap
---
like many of the Sportstech products we've seen, there's an attention to the aesthetics here that make for an impressive-looking multi gym.
Check Current Amazon UK Price
Who is the ideal user for the HGX100?
The HGX100 is the perfect home gym for those who would rather work out at home than have to pay expensive memberships for a gym. Some people prefer to work out in the privacy of their own homes, and it has never been more pertinent now in these post-COVID-19 times.
The HGX100 is perfect for those who would like to:
Get a full-body workout
The wide variety of muscle-targeted exercise features makes the home gym an ideal place to start sculpting your better body. The easily adjustable features allow you to create a routine where you can focus on your body areas that need improvement.
Turn fat into lean muscle
With the 12 plug-in-weight system of the HGX100, you can start from scratch and build up lean muscle at your own speed. The 55-kg capacity means that you have ample scope to define and build your targeted muscles and lose fat in the process.
Train whenever you wish
Without the excuse of commuting to a busy gym, with the HGX100, you can exercise whenever you want. It's as simple as walking to the next room. In a compact form, you have access to dozens of machines that you find in the gym (and your own shower.)
What users would the HGX100 not suit?
The HGX100 is compact, and due to its at-home friendly dimensions, this machine would not be suitable for larger users. With a weight capacity of 120kgs, it is well suited to those men and women of average stature.
The 55-kg weight stack is not suitable for powerlifting and creating bulk muscles, and the manufacturer has advised that the stack weight is best left unaltered.
---
In Review: What we liked about this gym
High-quality parts, engineering and good old value for money
One of the reasons Sportstech gym gear seems to do well is they've got the quality just right. While the price tag for the HGX100 isn't exactly at the budget end of the price scale, it's not exorbitantly expensive for the quality on offer here either.
The chunky steel frame has a serious bit of weight to it – an essential for the long-term stability of any home gym. And we've zero complaints about the pulley's, cables, welding or any part of this gym's engineering or components. Simply put: this is a good quality gym for the price.
Other Amazon reviews agree with us 
Its really comfortable
There's some ugly multi-gym out there. However, like many of the Sportstech products we've seen, there's an attention to the aesthetics here that make for an impressive-looking multi gym.
The red, black, and silver are stylish, and the HGX100 give it that modern, professional look.
Good quality, supportive padding
Another area that often falls down on multi-gyms is the quality of padding.
Here, the seat/bench cover is comfortable but firm and doesn't make you feel like you are slipping when you're working out. Another plus point: the adjustments on the HGX100 are easy to adapt to your size and provides ample leg extension for average size users.
The add-ons are easy to use
After the initial confusion of parts when you think you are never going to crack it, the different features are surprisingly easy to use. The HGX100 transitioned nicely between the various exercises.
The attachment points are intuitive and provide easy mechanisms to fix them to the frame. There is also a nice variety of extras to mix up your training.
It is stable during exercise
We really liked how stable the machine felt through the various activities. There was none of that shaking about that's so annoying on home gyms. We liked the rubberized feet but we would still suggest a rubber mat to protect your floor underneath the machine, especially if the floor is wood.
It's not too noisy
Unless you're some kind of gym ninja, you're not going to be able to create zero noise on any multi gym. But Sportstech's HGX is one of the smoother, more quiet ones out there right now.
There is nothing worse than the screech of pulleys and the clunk of metal on metal when you are trying to work out. The extra-wide pulleys worked well to make the action of the weights smooth and relatively noise-free.
Compact – offers a lot for the space
One of the best things about this gym is just how little space it asks in your home. It's just over 2 metres on the longest side, which is pretty insane for a proper multi-gym.
Assembled dimensions were compact and would fit in well in an average home. Yet it is not too small to work out in a non-cramped manner.
When we assembled it in our offices, the size was not overly intrusive and looked quite neat.
Check Current Amazon UK Price
---
What could have been better?
The low weight total is not high enough to build bulk
When using the weight stack near max for extended periods, the hydraulic arms heated up a bit. We had the feeling that the HGX100 is better suited to less vigorous training sessions.
Those who seek a medium-intensity training with lower weights would benefit from the HGX100, which are perfect for women seeking increased muscle training, and men who seek medium-intensity muscle definition.
The assembly was a bit confusing
We struggled a bit to set up the HGX100, and the instruction manual was not very user friendly. There seemed to be endless pieces when setting up, and it did take a bit longer than it should have.
The instruction manual, though in English, often looks like a cherry tree with little numbers in circles instead of fruit. You'll definitely have to set aside some time (and patience) for this one. The only light at the end of the tunnel is it's a one-off job.
Packaging is heavy
Like any home gym, the Sportstech HGX has a good deal of heft to it. This could be aimed at any home multi gym, so this is more of a warning.
The package was super heavy and not easy to move around. For an average woman, this would be impossible to move without any assistance. Be aware of this fact when delivery time comes around.
If you're over 6 feet, this gym might be too cramped for you
The compact nature of the Sportstech HGX100 makes it unlikely that users with above-average dimensions would be able to use the home gym comfortably.
There's also a 120kg user weight restrictions, which will limit who can use this multi-gym. It seems this is made for an average size build user with muscle definition and maintenance goals rather than to build up large muscle structure.
---
Conclusion: should you buy the Sportstech HGX100?
The Sportstech HGX100 is a well-designed and neat home gym choice for users who wish a medium-intensity training in their home. The versatility of the HGX100 is impressive, and there's enough exercises you can rotate and never get bored.
Users have multiple options in what muscle group they wish to isolate.
The 55kg stack won't be enough for anyone who's been training hard for a long time, but it's not to be sniffed at either. And anyone over 6ft may want something more roomy.
That being said, this is a compacy gym that's got a lot going for it and is pretty good value for money.
The rope and pulley system is hardy and has low friction and noise, and the EVA set covering is soft and yet firm enough to provide support. A great choice for a starter home gym, for those who want to sculpt and maintain their shape, without needing to build extensive muscle bulk.
Recommended
Check Current Amazon UK Price
---
Sportech HGX100 specs
| Brand | Sportstech |
| --- | --- |
| Category | Compact home multi-gym |
| Weight stack | 44kg |
| # Exercises | 30+ |
| Exercises | Lat pull, biceps curl bar, butterfly arms, leg curlers, leg extension, bench press station, weight bench, curl desk and much more |
| Frame | Solid steel |
| Padding | Water-resistant EVA |
| Muscles trained | biceps, back, legs, abdominal, shoulder or buttocks |
| Noise level | Low |
| Weight system | Pulleys, cables and weight plates |
| Max user weight | 120kg |
| Assambly | Self assembly |
| Dimensions | 184cm x 103cm x 202cm |
| Feet | Rubber |
Reading and further resources