Research has shown that sitting at a desk all day isn't exactly good for your health. Humans were never 'designed' to sit in that position each day. That's bad news for the 49% of us who are working from home at the moment.
In this guide we're digging into one of the solutions for this problem and checking out some of the best desk bikes available in the UK in 2023. We'll look at the top bikes that either have a work space attached, or go underneath your office desk.
Are these exercise bikes merely gimmicks that you'll use as a clothes rack in a week's time, or a legendary way to get fit and get your work done at the same time?
Top Pick
Screen time to lean time: the #1 desk bike in 2023 is the Yo-Yo Desk Bike. It's sturdy, quiet to use and has a generous work space. It has all the benefits of a proper home gym bike combined with a comfy, solid work top.
Compare the top current desk bikes
Yo-Yo's desk bike offers a stable and comfortable way to stay in shape while you're working. The desk offers plenty of space for your laptop and other stationary and the bike itself is great quality.

Desktop Size: 50cm x 51cm

Best for: Long working sessions

This desk bike has a large work space and offers a simple folding design. There's 24 programs to keep your lower body busy while you take care of business.

Desktop Size: 59cm x 51cm

Best for: Anyone short on space

This folding bike offers a good way to get in shape during long hours of screen time, is packed with cool features, and definitely won't break the bank.

Desktop Size: 45cm x 31cm

Best for: Anyone on a budget looking for a good quality desk bike
What we look for when reviewing desk bikes
While this is still a fairly niche kind of market (sadly – as we love these machines!) there's actually a decent selection of under-desk exercise bikes creeping onto the UK market. Here's some of the things we look out for when sorting the wheat from the chaff.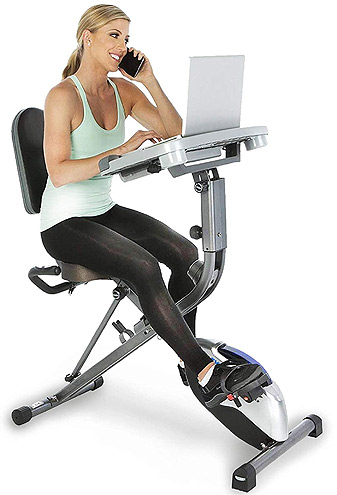 Noise output – something that's often overlooked with desk bikes (and not as important on regular exercise bikes) is how quiet – or NOISY – they are. Manufacturers tend to do a good job at keeping the decibels at a low level, which is vital for any kind of sanity in your work space, especially if it's a shared one!
Desk size – Getting in shape is all well and good, but the idea here is to have a decent-sized work space too. While most of the bikes we've seen have a compact size desk, you should aim for something around 60cm wide at least. Enough for a laptop, note pads, mouse and some of that stationary we all love so much.
Is it comfy? – Another big thing we look for with desk bikes is how ergonomic and comfortable they are, especially over a prolonged period of time. Desk bikes differ from their more fitness-oriented siblings in that you'll spend longer on them. Sore backs and sore bottoms? No thanks.
Is this some cheap, plasticky rubbish? – Nobody wants to buy a cheap-looking nasty gimmick that's not going to last. A good desk bike should be rock solid and not move around and wobble. This is more important on a work machine as you'll need stability to do your work.
User specs – User height and user weight.
---
So, what are the best bikes to get in shape at work?
Before the buyer's guide, let's go over the current top gym mirrors for 2023. Here's the ones we found were actually worth the money, starting with the top pick first.

#1 – Yo-Yo Desk Bike
Type: Combined desk and bike
Rating: Best overall product
Desktop width: 59cm
Desktop depth: 51cm
Max user height: 6′ 2″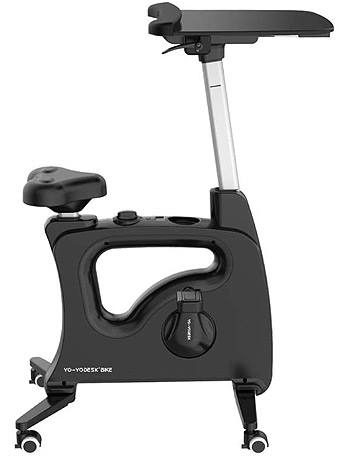 We've yet to see any exercise bike that was 100% silent, but the Yo-Yo bike actually isn't far off
A great bike to stay fit if you work from home
With more people working from home than ever, keeping in shape while getting all those hours on the computer is not easy. Yo-Yo's bike is a serious bit of kit that's designed to burn off calories and help keep in shape while you're working on your laptop.
It's sturdy and reliable
While Yo-Yo's bike might not turn heads in the design department, you're getting a solid, weighty bike here that's definitely not some fad product you'll use once or twice. The desk offers a proper way to stay in shape during however many hours of screen time you need to tackle each day.
If the Yo-Yo looks familiar, you might have seen this desk bike on Channel 4 in the UK. Yo-Yo's desk bike offers a simple, sturdy office desk that you can easily set to any height on the saddle and desk part. Although it weighs a tonne (in a good sort of way?) setup itself is mercifully brief, and should only take a few minutes.
Low noise level
If you're trying to make any kind of exercise machine that keeps the volume down, you've got to use magnetic resistance. Yo-Yo's desk bike uses just that and offers 8 levels of difficulty.
We've yet to see any exercise bike that was 100% silent, but the Yo-Yo bike actually isn't far off. It does a good job of keeping the decibels down and shouldn't distract you from your work. Likewise, if you need to make Skype or Zoom calls, they won't be able to pick up on the noise.
You can move it out of the way easily
Like any good office gear, the Yo-Yo bike comes with sturdy coasters that mean you can move it out of the way, or into a different part of the office.
Verdict: A fantastic, sturdy desk bike. Although it doesn't fold and the chunky design will be something you love or hate, the Yo-Yo bike offers a rock-solid, reliable bike that's designed to be used day in, day out. It's perfect for a home office and has a wide, roomy work space. If you're looking for something that's smooth and doesn't make any noise, this is also a really good bike to go for.
Highly Recommended!
A solid sturdy bike
Easy to move around
Can stand or sit
Smooth, silent pedalling
Highly adjustable
Fast setup
Heavy and not easy to get out of box
Not fold-able
Check Current Amazon UK Price
---
Type: Folding office desk bike
Best for: Anyone looking for a really good quality desk bike
Desktop width: 59cm
Desktop depth: 51cm
Max user height: 6′ 2″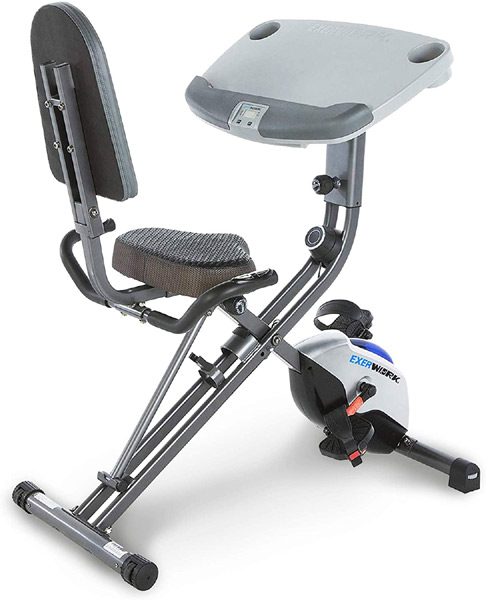 Fully adjustable … everything
Making a one-size-fits-all home desk bike is no mean feat. But Exerpeutic have had a darn good stab at it with their product. This has to be one of the most adjustable office cycles on the market. Everything from the usual seat height to the exact angle of your workspace can be tweaked just how you like it.
High quality
Another thing that shines through with this particular bike is the sheer quality. The thick, padded seat (complete with office chair style back rest) is clearly made to last and to offer up a serious solution to sitting long periods at a desk. The build quality on offer here too is really impressive.
This bike keeps the noise down
There's nothing worse than your concentration being broken by a clanking or whirring noise from your desk bike. This isn't one of those products. You're paying for a high quality machine here and Exerpeutic's bike does a top notch job of keeping noise to a minimum.
Crazy high reviews
One of the things that got our attention with this desk bike was how well received it has been out there in the wild. Check out some of the reviews for the Exerpeutic  bike on Amazon, where it's got really good feedback from users.
You can also use this bike as a standing desk, so you're not
Verdict: The thin width of this mirror makes it lighter and easier to move. It also makes it less resilient and easier to shatter. It looks great once it's mounted though and it's huge size means you'll always be able to see what you're doing without constantly shuffling around.
Simple to use
Sturdy and solid
Comfy seat with backrest
Low noise output
Desk not quite as stable as the Yo-Yo
Check Current Amazon UK Price
---
Type: Folding office desk bike
Best for: Anyone short on space!
Desktop width: 31cm
Desktop depth: 45cm
Max user weight: 120kg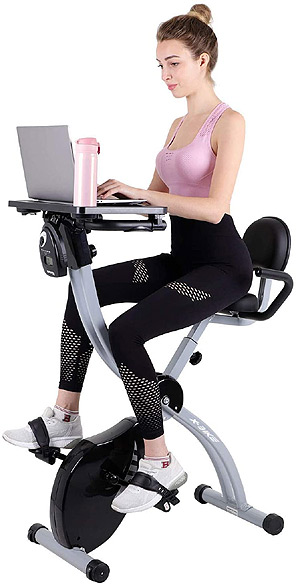 For a compact bike that's on the cheaper side, the seat you get here is worth mentioning. It's nice and wide offering something more office-chair-like than a regular exercise bike, and has a detachable back rest for a bit of added lower back support.
You can adjust everything you can on a non-desk bike such from the toe straps up to seat height so pretty much everyone should be able to get comfy and do some exercise while at work.
The desk can be removed easily
Another good thing with this desk bike is you can quickly slide the desk part off and use just the regular handle bars too. So if anyone just wants a workout in your house, without their laptop there, you can jump on and do that too.
Decent exercise bike features
The LED display monitor has lovely big chunky letters on it so it's easy to see time, distance, calories and heart rate. There's also pulse sensors to check your heart rate.
Like a lot of the other desk bikes, you're getting magnetic resistance here, which makes for a more silent cycling experience. There's 8 levels of resistance you can play around with although you'll likely want to keep it on the low side if you're planning on a longer working session.
Good folding design
Another plus with Beliwin's office bike is how well it folds up. Like other folding cycles, it has an X-shape that allows the bike to be folded somewhat flat and stores out of the way. If you're looking for a desk bike you don't have to keep out day and night, this is a good one to go for.
The desk surface could have been larger. At just over a foot deep, there's not a vast amount of room, however the 45cm width allows for a large laptop and at least a notebook and coffee too.
Verdict: Considering the budget-friendly price tag, the Beliwin desk bike offers a lot for the money. There's a solid exercise bike here, with all the features you'd expect on a decent home machine. It's surprisingly solid considering that it folds up so flat. While it looks basic, it offers a superb way to stay fit during your screen time.
Easy to assemble
Solid bike
Excellent value for money
Space-saving folding design
All the features of a proper exercise bike
Compact work space will fit laptop and few extras only
Looks a little clunky
Check Current Amazon UK Price
---

Desk cycle buyer's guide
Why would anyone want a desk bike at work?
If you're new to under-desk bikes and peaking at this guide suspiciously over your coffee, then bear with us. While this sounds like the workings of a mad inventor, under desk cycles – or even desks that are built with bikes in them – are a thing.
A thing that might change your life.
OK, that was a bit dramatic. But there's a lot of research and study around that shows that sitting at a desk all day isn't exactly what your body is designed for and, over a prolonged period, it's not good for you at all.
Fact: sitting at a desk all day is not good for you
Here's the kicker: even if you're young, in shape or work out a lot, that still won't counteract the negative effects of working hunched over your computer at a desk all day.
Thanks, Science!
That's all well and good but if you're reading this, you probably haven't got the luxury of just working an hour here and there and calling it a day. Most of us spend a long time at our desks each day.
How on earth do you cycle and work?
While it sounds like a crack-pot idea at first glance, when you think about it, having a bike built into your workspace isn't such a bad idea.
After all, if you have a think about it, about the only things your legs are actually doing is staying still or, at the most, playing footsie with that irritating monitor cable that keeps flopping forwards under your desk.
It just takes a bit of practice
Ever have a habit you couldn't get rid of? Well, not all habits are bad. And the trick to getting the most out of a bike desk setup is to get into the habit of actually pedalling while you're at work.
Once it becomes second nature, and you can stop focusing on it so much, you'll have a way to burn off calories, stay in shape and counteract the negative affects of having a desk job and sitting down so much.
The unusual world of desk bikes
Is cycling while you work the next big thing in fitness or some weird fad?
While desk bikes might not have quite made the jump into the mainstream world yet, they're far from an obscure gadget, with reviews on places like Amazon showing that the people who have bought these contraptions have found them to be a seriously useful way to stay in shape and get those reports in.
There are really two main options when you're shopping for a way to do some pedalling while you're at work:
An under-desk bike
A combined exercise bike and desk
In this quick overview, we'll dive in and look at each of these two main forms of desk bike options and weigh up the pros and cons of each.
#1 Mini under-desk pedlar
While technically you can use these nifty little mini pedlars sitting anywhere, they're ideally suited for slipping under that desk and going at some cardio while you go at that spreadsheet.
This is a self-contained little unit that consists of a flywheel of some sort and a set of pedals. That's literally it. They really do work out though, especially over a long period of time, you can shed an impressive number of extra calories.
Pros:
They're simple
The price is fairly low
You can use them with your existing desk.
They're smaller and easy to move around
Cons
They can slip around on shiny floors
You can't adjust your seat height
Your old office chair might squeak a bit
#2 – Full on DESK bikes!
Welcome to the future. Where humans can multi-task to the nth degree and exercise while working at their desk. Most people won't ever have seen a desk (or a bike?) like these machines.
They do look a but out-of-the-ordinary at first glance! It's literally an exercise bike with a desk where the handlebars would normally be. Anyone can feel at home on one of these and, if you've been on a bike at the gym, you'll have no problems adapting to this one.
The desk and the bike are built as a solid unit and any work you do will be on the attached surface of the exercise bike. While they look a bit odd, they're more comfy and natural that you might think.
Pros:
They're sturdy (no squeaky office chair business)
You can fully adjust them
They're closer to what you get on a proper exercise bike
You can also hop off and stand up
They're better for your back than a regular chair
Cons
They can cost 10x as much as an under-desk pedaller
You'll have to move to a regular desk when you're done
There's no back on some of the chairs
You'll have less desk space to work than a regular desk
---
Tell us about your desk bike story
Have you made the jump from static sitting at the office to something a bit more energetic? Got any tips that might help the other readers here? Please share in the comments and even send us some pictures of your sexy new desk bike.
Resources and further reading