While gyms have evolved and changed over the years, adding all kinds of weird and wonderful machines (we're looking at you, Skierg!) You can still walk into any gym and find racks and racks of dumbbells.
Best dumbbells for 2023
Body Revolution Hex Dumbbells

"Body Revolution's dumbbells are a joy to use. They're tough, comfy and ideal for strength training at home."

Chase
Fitness Chrome
Cast Iron Dumbbell

"This is a high quality spin-lock dumbbell set. You can make many difference dumbbells up from 1kg up to 20kg, so it's great for all levels."

High quality chrome plates

Starts light up to hefty 20kg

Hardcastle
30Kg Adjustable Dumbbell Set

"A top-notch set of adjustable weights here. Loads of plates to work with and comes with a connecting 'rod' for barbell exercises too."

20kg, 30kg & 40kg weights

"These dumbbells should last a lifetime. They're absolutely rock solid and have a great feel to them."

Range of weights available

Used in a lot of commercial gyms
This age-old training equipment has stood the test of time and they're still one of the more popular pieces of gym gear around in 2023. There are many dumbbell benefits and this humble training tool is suitable for anyone, of any age. In this guide, we're nerding out on this muscle-building staple and helping anyone new to lifting free weights pick the perfect dumbbells for them.
A full dumbbell buying guide – what you'll need and why
How to get them most out of them
Things to look out for selecting the correct weight
Lots of other tips and tricks that will save you some problems
Why dumbbells should be in any home gym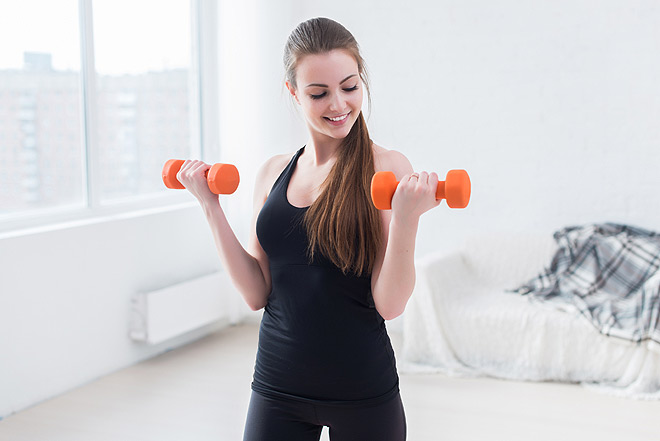 This humble bit of gym equipment is a basic tool for strength training and it constitutes a vital part of the workout routine of most fitness enthusiast's around the world.
Whether you go for a single dumbbell, a set of two (highly recommended – you'll be able to do more exercises…) or a bench and weights package, this basic strength training tool can transform your body.
The beauty is you can purchase your own dumbbells fairly cheaply and exercise with it from the comfort of your home. If you're shopping for the perfect set of dumbbells, there's a few tips and tricks that you need to know.
Dumbbells: not the poor cousin to resistance machines … by a long shot
Two words: Functional fitness.
Although you can isolate a muscle group you want to train with a dumbbell (like good old bicep curls!) It's really hard not to exercise other muscles at the same time. Which is great news! Functional fitness is all about training lots of muscle groups at the same time, getting your whole body stronger and fitter.
It's mind-blowing that a simple set of dumbbells can have so many benefits to your training and such a diverse number of uses. I'm still finding new ways to use dumbbells (thanks Youtube!)
Dumbbells: one bit of gym gear, endless training possibilities
But with dumbbells, you can perform hundreds of different movements, and this is unlike weight machines that only support two movements at best. That is one of the reasons dumbbells are a must-buy for you if you want to perform lots of movements with a single equipment. 
I'm still finding new ways to use dumbbells (thanks Youtube!) Anyone can start with dumbbells, no matter how in-shape you are. The trick is choosing the correct weight (more on that in a bit…)
Losing weight and getting in shape with dumbbells, even when you're short on time
Unless you're extremely lucky, your life might be a bit hectic at times (OK a lot?) So getting a good workout done in a short amount of time can leave time to get stuck into the other things you need to.
One of the best things you can do is get a smallish set of dumbbells and try some HIIT training! This High Intensity Interval Training can work brilliantly with a set of dumbbells, building strength, muscle and shredding calories to help lose some pounds. There's a wealth of free videos on Youtube – check out some of Joe's here.
8 reasons we love our dumbbells, and why you will too
We love our dumbbells on Home Gym Experts. Here's some of the best qualities and things to get excited about our weighty little friends:
They're beginner friendly – As long as you're careful picking up and using them, the exercises you'll be doing are simple and (technically speaking) easy to perform.
They can help lose weight – especially when used in high intensity routines HIIT. Looking good and building strength at the same time? Yes please.
Improved stamina and endurance – Whether you're training for a sporting event outside of weight lifting, or just want more health and energy in every day life, a good routine with your dumbbells can make a huge impact.
Toned muscles – With very little time you can get 'that feeling' – you know the one where your muscles are sore the next day. It's a great feeling. It means your dumbbells are making you bigger and stronger.
They're portable…ish. If you're not ready or able to take the leap and go for a full-on home gym, then you need training gear you can pull out and just as easily put away. You can grab your dumbbells and take them in the living room, use them in your spare room, or even the kitchen.
You don't need much space – Unlike skipping, running machines, or pretty much any other exercise, you just don't need that much space when it comes to dumbbells. It's not like you're going to be flailing them around… right?
Another reason we love dumbbells is they're quiet. You can get up any time and not disturb the rest of the house doing your routine (as long as you're not throwing them down on the floor, or yelling "ONE MORE REP! to yourself.
You'll never get bored of them – Well, you could – if you're doing the exact same exercise day after day, year after year! Branch out. Look on youtube for some awesome new ways to use your dumbbells. Try a new book – there's always fresh ideas that will work different muscles, or the same muscles in different ways.
Related: Adjustable Dumbbells For Women
---
HELP! There's too many dumbbells to choose from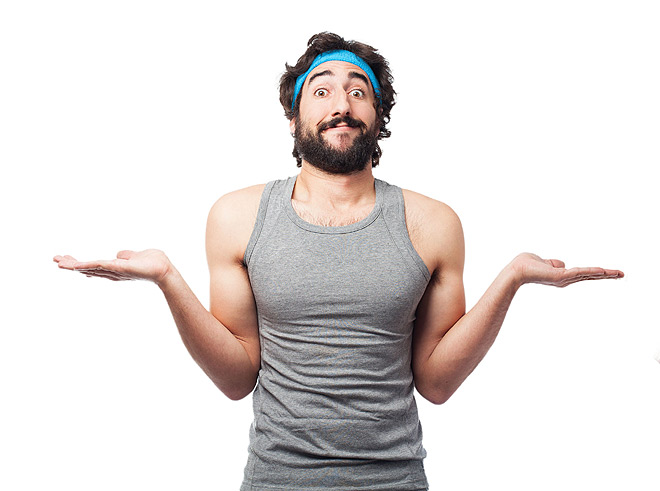 If you're new to dumbbells, you might be struck by the sheer number of shapes, styles, colours and types (for example HEX dumbbells) there are out there. There's a lot of choice, and each kind has a slightly different market and use. What you'll need for your home gym can be different from what is used in a commercial facility.
In the next section of this dumbbell buying guide – we'll save you some time and simplify the process for you. We'll cover every important factor to consider before choosing any type of dumbbell.
Types of dumbbell and which one is best for you
First, lets get familiar with the different types of dumbbells available in the market (Yep, there's a lot in 2023!)  Though they all do a very similar job, the subtle differences in shape, material and design are best suited for different things.
1) Fixed Dumbbells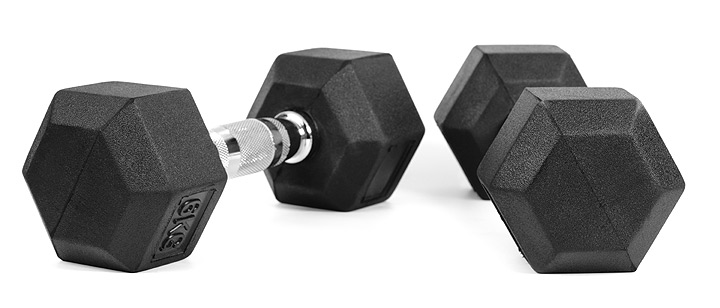 This is the most common type of weight you will find in a commercial gym. It's often placed in a horizontal or upright rack and they usually come in pairs. They can weigh anything from 1kg to a monstrous 100kg each. 
As the name suggests, these dumbbells have fixed parts and, unlike most gym gear, you don't need any assembly. You cannot modify the weight to suit you.
Fixed dumbbells can be made from a combination of materials or cast out of the same material completely. 
This kind of dumbbell are durable and can take a lot of pressure since it is extremely difficult to detach the disc. It's extremely rare that this kind of weight can break. 
Grab and go – no messing around changing weights
You can do things like push-ups with the weights in your hands
They're normally coated in safe rubber
You're stuck with one weight
You'll eventually need more than one set
2) Adjustable Dumbbells
Adjustable dumbbells are hugely popular in home gyms because you can have multiple weights from single pair. You can adjust the weight on both sides by reducing or adding discs on both sides. This is normally done by screwing a large bolt on or off and changing the weight.
Good value for money
The great thing with a set of this kind of dumbbells is you can effectively have many sets of dumbbells just from one purchase. Even though I've got a good range of fixed weights, I still have a pair of adjustable weights for those times you need that perfect weight. Check out our full guide on the best adjustable dumbbells here.
A bit of a pain to adjust
Spinning the side nuts on and off to change the weights seems to take forever. Although it does give you a sneaky extra breather if you're in need of a rest.
There are some brilliant adjustable dumbells you can get that use a different system though. You can simply place your handle into the rack, select your desired weight by turning a dial, and then lift the handle off the rack. Your desired plates are attached, so you don't have to stress yourself before starting your exercise.
Not all adjustable dumbbells are this advanced though, with most types requiring you to change the plates manually and tighten them down to prevent the plates from falling off when you're lifting.
A good choice if you're starting out, or not sure what weight dumbbell weight to go for
The plates for adjustable dumbbell sets start at a tiny 1.25 kg on each side, so they're a great option if you're new and not sure what weight to go for. The down side being that there's a limit to the number of plates you can fit on, and the upper weight you can get to with each set.
If you're looking for some heavy dumbbells, fixed are a much more practical way to go.
Great value for money
Like having a full rack of fixed dumbbells
Ideal for anyone new to the world of dumbbells
Compact, and don't take up much space
Screwing and un-screwing the nut is tedious
Not ideal if you need a heavier weight
The nut frequently needs tightening
Can get a bit noisy!
---
Related Hand Weight Guides
---
Which kind of materials are the best?
I've got a decent collection of weights in my home gym and I love and use them all regularly.
In 2023, there's several kinds of common materials dumbbells can be made from. Let's quickly go over each one and look at their strengths.
Solid Metal Dumbbells
Metal dumbbells are very common. You'll find them in pretty much any UK gym. They usually have a silver metallic handle and black disc(s). These weight's aren't colour-coded according to weight, instead relying on the weight being stamped on the ends, or embossed somewhere in the metal.
One good thing about solid metal dumbbells is that they are easier to hold than vinyl coated ones when your hands get sweaty. But if the metal dumbbell is textured for better grip, it can be damaging to your hands when it is wet.
Also, these dumbbells can cause huge damage if you accidentally drop them on the floor. Hence, you need to be extremely careful with them.
Vinyl-coated Dumbbells
This type of dumbbell is often made of cast iron with a tough vinyl coating. You can find them in multiple colors, making it easier for you to identify different dumbbells according to their weight. This is helpful if you have a growing collection in your home gym.
You'll learn that the blue weights are the ten-pound weights while the pink weight are the five-pound weights. So grabbing the perfect weight for your next set is quick and easy.  There's also less damage if you happen to drop one of these and they're typically kinder to your body if you bump up against them.
They are slightly harder to hold if your hands are a bit sweaty and you might find it hard to maintain a grip on them.
More so, if you have an aesthetic taste for your home gym, it is better to avoid buying cheap painted dumbbells because once the paint chip off because of sweat, you will only have ugly-looking dumbbells around you.
---
Rubber Dumbbells
These weights have rubber coatings over their plates or discs, making them last longer. The rubber material protects the metal plates from getting exposed to moisture, thereby preventing rust.
Another good feature of the rubber dumbbells is that they have reduced pressure impact on the floor, and this is attributed to the rubber material. So, when you drop these dumbbells on the floor, they prevent your floor from getting ugly scratches.
The only disadvantage of using the rubber dumbbells is that you cannot avoid the pungent smell of rubber, especially when you're just starting out using these dumbbells. Although it does disappear with time! They're also rarely cheap.
Rubber dumbbells are our #1 recommendation. They're incredible to use and last forever.
Urethane Dumbbells
Another popular commercial dumbbell option. Urethane (polyurethane or PU) look somewhat similar to rubber dumbbells when you look at them physically, but it has numerous performance benefits that makes it a bit higher in price.
In terms of strength, urethane products are way stronger than rubber. They have a tougher outer layer which makes them harder to have cosmetic damages. These outer layers are resistant to scratches, marks, and chips that are common on rubber weights products.
Apart from the hard outer layer, PU weights are non-marking, which is a big issue when rubber dumbbells are dropped on a new vinyl or wooden floor. Besides, they don't produce the signature odor that is characteristic of rubber dumbbells.
---
Shape and Grip of Dumbbells
Some dumbbells come with rounded ends, while some are hexagonal or square. If the last thing you want to do is chase weights around the room, then the hexagonal shaped dumbbells are perfect for you.
More so, the grip is also an important factor because that's how you handle your dumbbell. If it grip slips out of your hand, you might damage something, and if it hurts your hands, you won't want to work out with it.
The best way is to experiment with a few weights in the market to know the grip that suits you perfectly. However, take note that apart from the material, the grip is also made from the circumference. So, if it is too wide, you may risk injuring your wrist or perhaps drop the weight.
---
Hex Dumbbells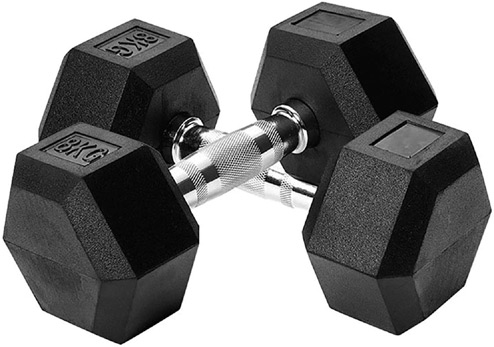 These dumbbells are named after their unique shape. They have many facets that prevents rolling once you keep them on the floor. This is highly useful if you are switching between exercises or weights and you're constantly dropping and picking them up.
More so, due to their added stability, the hex dumbbells are great for floor-based circuits, such as dumbbell push-ups. Besides, you can store them easily, even if you happen to miss a rack.
The best part is that the hex dumbbells are way cheaper than the urethane or rubber dumbbells, making it a budget-friendly option.
Check out our 2023 Hex Dumbbell Guide for more info on these awesome weights.
---
Useful Tips When Buying Dumbbells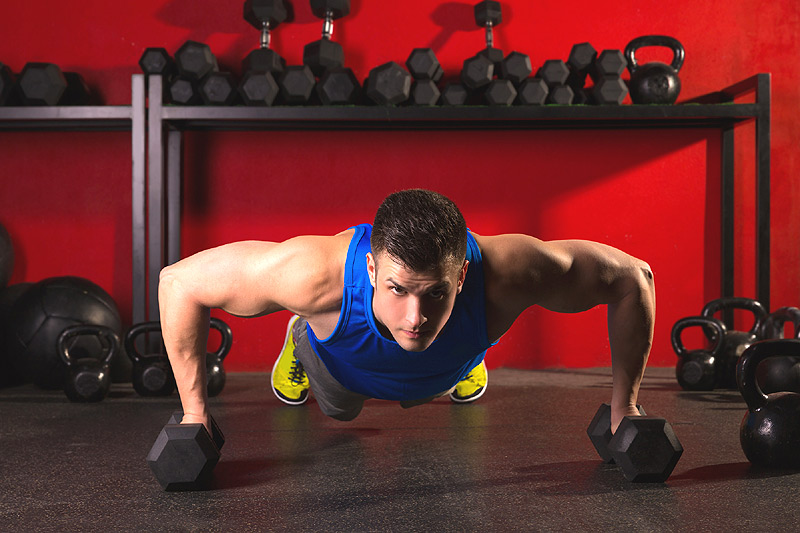 Looking at the different types of dumbbell options mentioned above, coupled with their good sides and bad sides, you may become confused making the right choice. But the varieties are to your benefit. Here are some useful tips to find the dumbbell setup that best suit you:
What size dumbbell should I start with?
This is very important before opting for a dumbbell in the market. You need to ask yourself, "How much weight do I want to gain?" The reason is simple- you don't need a 50-pound dumbbell if you just want to increase your arm strength. You can achieve a great result for quite some time if you start with a set of 5-pound dumbbells.
If you intend to do a full-body workout with your dumbbells, then you may need the heavier weights to work your lower back.
So, here's the point- Determine whether you want to use your dumbbells for isolated movement, like a curl, for upper body strength, or for whole body strength. 
Then, you need to know the maximum weight you can carry if you're going to use the dumbbell to curl. How much can you squat if you intend to do full body workouts with your dumbbell? What can you deadlift? These two lifts are the heaviest a body can do.
So, once you know your maximum weight, you can purchase at least one level beyond your maximum. For example, if you can do only 15 curls, then you can try purchase dumbbells that support up to at least 30 pounds.
Ideally, you should be lifting according to your body weight, that is get a dumbbell according a certain percentage of your own weight. While this isn't a fixed rule, it is always the best way to go about it. Below is what is advised:
For a beginner start with dumbbell of between 10 to 15 percent of your body weight.
For an expert go with dumbbell of between 20 to 25 percent of your body weight.
While for someone who's in between the above categories, you should go with dumbbell of between 15 to 20 percent of your body weight or could try out different dumbbells to see what works for you.
Consider your available space
How much space do you have in your home? This is very important when deciding on the best dumbbell to purchase.  Some dumbbell kits can take up much space, for example, the fixed weights. If you know you don't have enough space, you can opt for the adjustable weights.
But if you have enough space in your home gym, basement, or garage, then you can move through a workout quickly without removing or adding weight with each transition. You can try the adjustable set up if your weights will stay in your living room.
Keep your budget in mind
Sometime, we spend our money on things that won't work for us, and this can eat into our budget. Hence, it is advisable that you keep your budget in mind as you look for available options. This way, you won't have to spend too much and regret later due to overspending.
Besides, when you keep a budget, it helps you choose dumbbells that offers the best value for your money.
Other useful tips include:
You can get essential accessories like gloves, bench, mat, and storage rack
You may decide to add kettlebells and barbells depending on your goal and fitness program.
Dumbell Buying Guide: Final thoughts
There's no getting around the fact that dumbbells certainly aren't cheap. Unless you're shopping for a tiny weight, you're going to rack up the ££ digits as quick as a pro body builder racks Olympic plates. The good news is that it's a hell of a good investment.
You won't ever out-grow your weights either.
There'll be times when you want to drop down in weight when your body needs a bit of a breather, or you might find a new HIIT routine that requires a lighter dumbbell. I've got a decent collection of weights in my home gym and I love and use them all regularly.
That's the end of our dumbbell buying guide. Take your time and consider each type of dumbbell and make your choice based on your fitness goal, space, budget, and other important criteria listed above. Happy shopping and here's hoping you buy the perfect dumbbells that last a lifetime!
---
Resources and further reading