Hey everyone! Today it's time to dig into one of the best bits of kit you'll ever invest in for your home gym. In fact, I think if you get one pair, you'll end up getting more of these gorgeous hunks of metal and rubber.
Rubber Hex Dumbbells!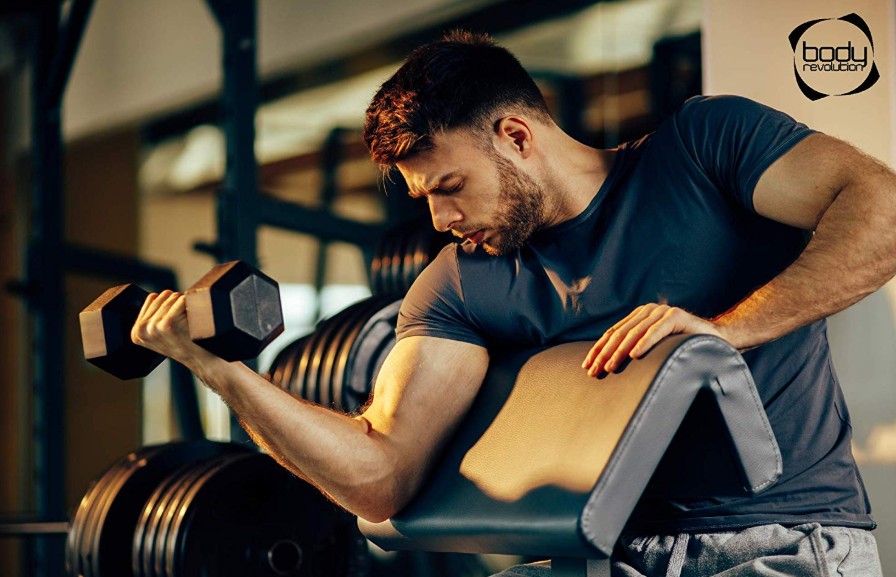 The other day I was in my little gym enjoying some serious training in blissful solitude when I realised I haven't given enough credit to one of the best parts of pretty much every training session I do.
These guys are just awesome. Solid, chunky, heavy and so versatile.
A stable regular at any gym worth it's salt. You'll find racks of them at any modern gym.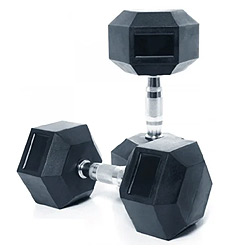 Long lasting rubber hex weights – IN STOCK
JTX has a huge selection of hard-to-find dumbbells at affordable prices. Quickly find ones in your size from 2kg up to 20kg. These are top-quality dumbbells that are perfect for modern home gyms and will take a lot of punishment.
Fancy something special for your home gym
If you want to do the job properly, take a look at this absolute monster rack of hex dumbbells.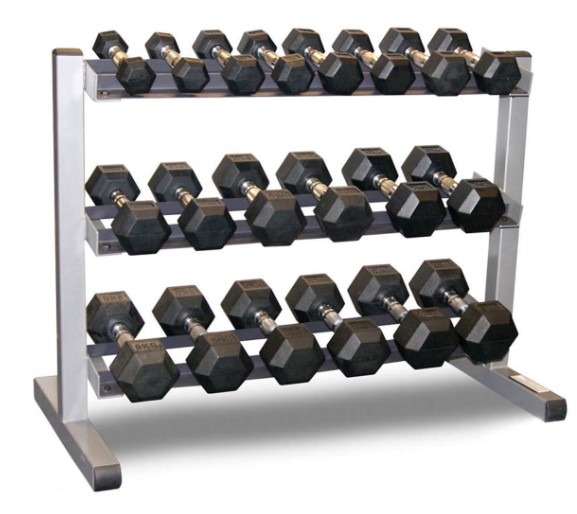 What's so awesome about these rubbery hex dumbbells?
They're actually really comfortable to work with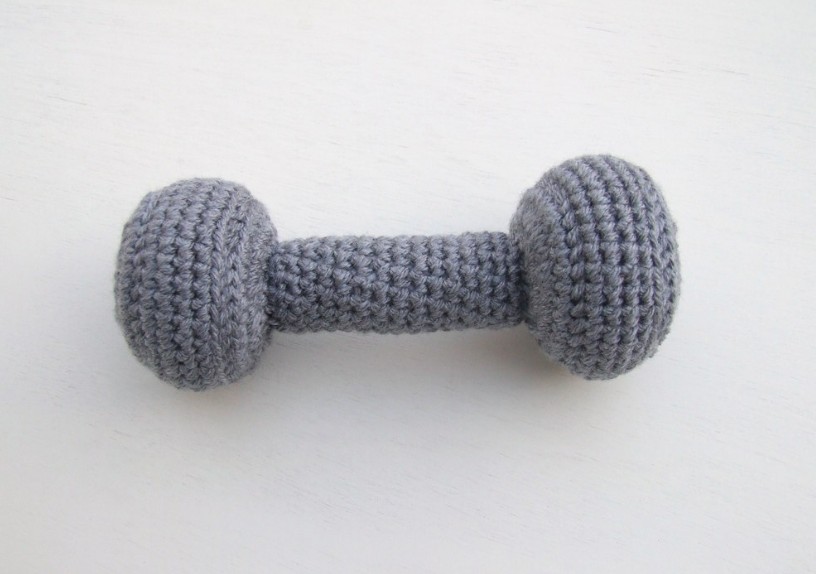 Hex dumbbells have a gorgeous chunky kind of grip that's heavily textured and also curved to fit your hand. While the muscles you're working on won't thank you, it's nice to have equipment that feels comfortable and won't hurt your hands.
I'm not over keen on that twisting feeling your wrist gets on some weights and these seem to stop that. No more aching hands.
Well, unless your grip needs some work buddy.
They're fixed!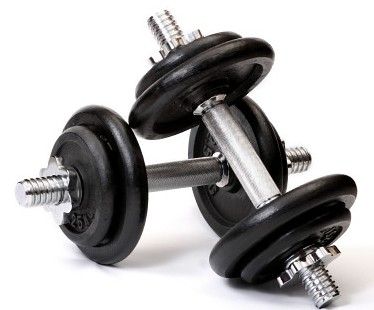 It's SO nice not having to change the plates around and waste time doing that in between exercises. It doesn't take too long but it's a pain.
There's no wobbling
If you've ever had the adjustable weights that have those twist-on screws, they can be a pain in the butt to keep tightening up between sets. You can have a lot of confidence with rubber hex dumbbells because there's no way anything it coming lost with them. If you do want some variable weights, see your best adjustable dumbbells guide.
You can chuck 'em around
I mean not advisable if you're in an upstairs flat. Your neighbours might not be too keen on some 25kg weights dropping on their ceiling every few minutes…
But you get a bit of leeway with rubber weights where you don't feel like you're smashing up your garage floor or trashing your new gym mats.
You can do s*** loads of cool stuff with them!
OK, so you could say that about any dumbbells. I mean you could only buy a set of dumbbells and train for the rest of your life with them. A visit to YouTube will let you see a zillion ways to use your new hex dumbbells.
But take it easy…
Don't get a new injury with your new hex dumbbells.
(like I did…)
They look like you could drop them out of a plane and they'd be like 'whatever!'
They don't roll off
Yeah they don't just look all edgy and cool, those hex sides mean you can do things like push ups and then pull the weights up and a lot more, without worrying about them skidding off somewhere.
They'll last you forever
I use mine almost daily and I can't see any wear and tear at all. Not that I'm doing anything crazy with them (I put them down rather than drop from a great height). I think this is something you'll have around FOREVER.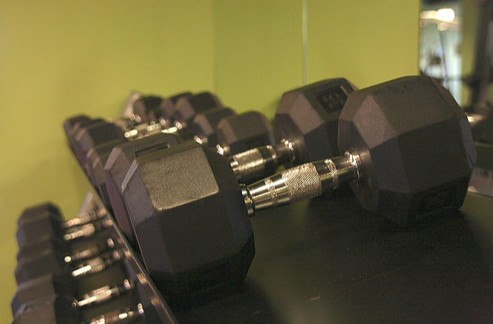 They're so tough.
They look like you could drop them out of a plane and they'd be like 'whatever!'
And they're strictly for bad-asses…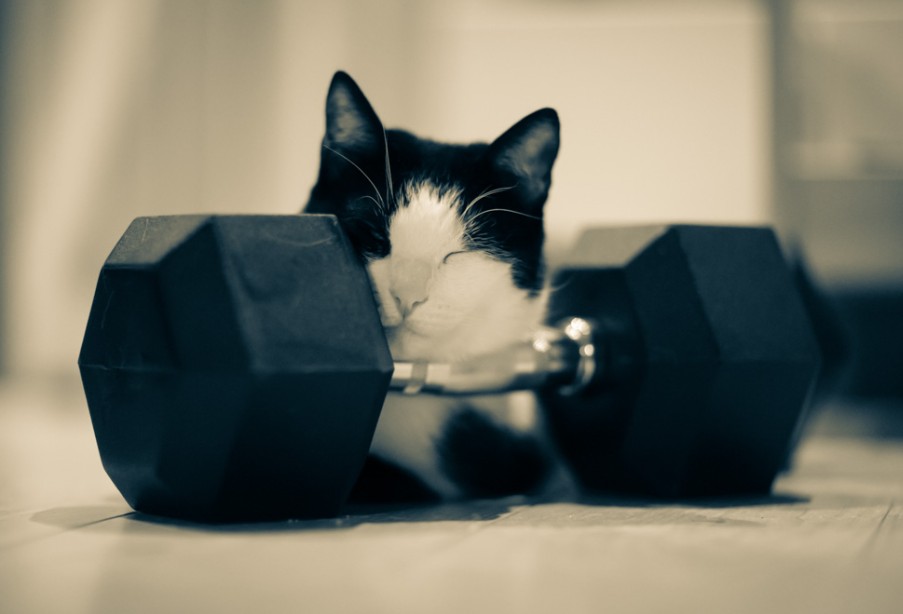 … mostly.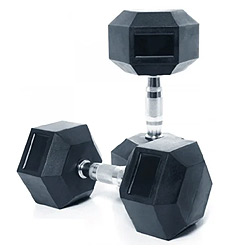 Long lasting rubber hex weights – IN STOCK
JTX has a huge selection of hard-to-find dumbbells at affordable prices. Quickly find ones in your size from 2kg up to 20kg. These are top-quality dumbbells that are perfect for modern home gyms and will take a lot of punishment.
---
More home gym guides
---
They're so expensive though!
Yeah, a decent pair of dumbbells can set you back a fair chunk of change. Don't do what I did and get excited when you see some for £20. Then you click on the 25kg pair and the price shoots up.
THEN you've got to buy TWO…
(Well there's actually LOADS of good exercises you can do with one).
Realistically though, most people are going to buy a pair, which doubles the price. It's up to you to figure out if that price is worth it but I'm kind of a scrooge and I'm really pleased with the pairs I've bought.
They're really good quality and will last forever. I've given mine a fair bit of punishment and they still look new.
A stupid mistake I made when I was looking for the best rubber hex weights
Hey, I thought. I'll get something REALLY meaty. You know, being all macho. I think my first set was 2 x 30kg rubber dumbbell weights.
Absolute beasts.
But there's not much I can do with them… yet! Some chest work.
Lesson learned.
You'll always find a use for lighter weights in your training but on the other end of the scale, you'll have to be careful if they're too heavy and there might not be a whole bunch you can do. So pick the right weight.
The world's quickest ever buyer's guide to rubber hex dumbells!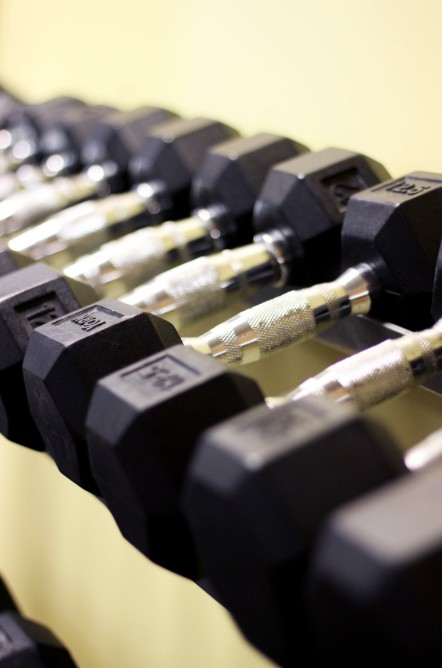 I say quick because it's not exactly rocket science. And there's no moving parts and things to consider like when you're picking a rowing machine out.
I can only say which ones I really like but here's some quick 'n' dirty things to look out for when you're in the market for a kick-ass set of new rubber hexers.
What are they actually made from?
'Hex Dumbbells' are normally cast iron weights that are coated in an extremely toughened rubber. Not like your normal rubber.
Think Batman's armor and you'll be getting close.
The handles are normally chrome plated to give them an ultra shiny look but also a nice smooth surface that feels very comfortable in your hand.
Check if you're buying a
pair
Strange as it sounds, it's not always clear if you're buying one or two hex dumbbells. I know that sounds kind of strange, but you'll see what I mean. It's so easy to hit buy online these days but it's worth taking an extra glance to check whether it's a set or not.
Might save your delivery driver's back as well as some time sending the extra pair back.
First up – check out the handle
I mean your muscles are going to get sore enough without any extra dis-comfort. Most of them have the curvy handles that swell out towards the middle of the grip. Definitely think about getting some of those.
Get the proper ones with the 'metal' handles
Picking the best rubber hex dumbbells is TOUGH
OK that's a bit melodramatic but compared to those adjustable sets (which I also still use and love) there's the added pressure of getting the right weight. After all, they're one of not-that-many purchases that you'll have for a lifetime.
Picking the right weight
You definitely don't want to get something that's going to be super-cumbersome and that you'll struggle with.
They'll definitely come in handy at some point in the future.
If all else fails, you can always send them back and get a smaller size…
Do you need a bench?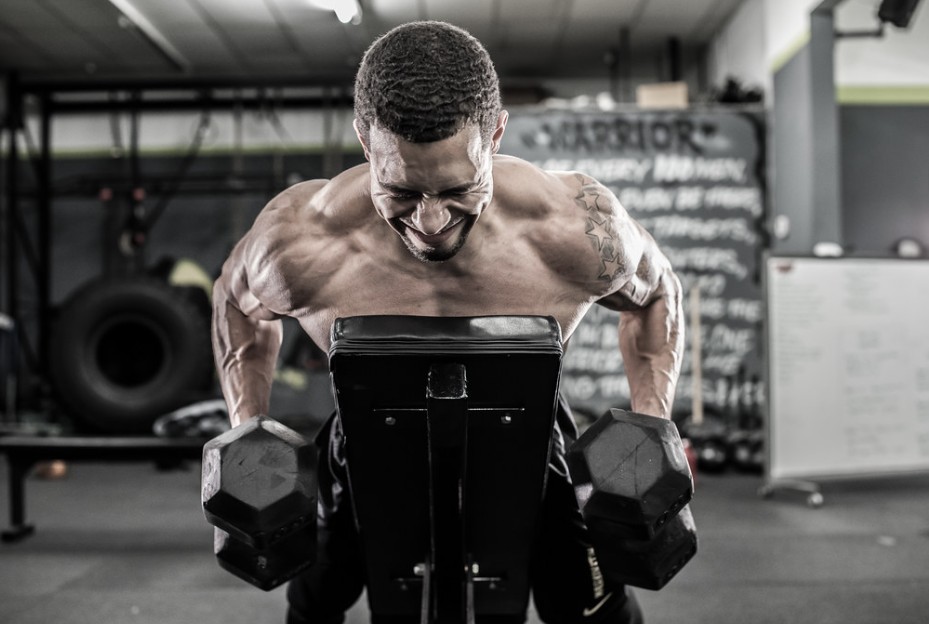 I use my hex dumbbells both with and without my bench. The only difference is there's more stuff you can do with them like:
Chest rows
Bench press
Focusing on shoulder press
Inclined shoulder press… and so on
There's loads of great exercises you can perform without a bench so don't sweat it if you've not got one yet. Check out our guide on good cheap benches if you're in the market for one).
What SUCKS about Hex dumbbells?
OK I confess I'm more than a little obsessed with my hex dumbbells. Did I just say that out loud? I just think they're such a good addition to any home gym. But what might you NOT like about them?
They are fixed
Aside from losing the flexibility to swap your weights to suit your routine on the fly, you'll probably also end up buying more than one pair.
They're not as cheap as other weights
They're not the cheapest weights on the market but I can't emphasize enough how much better they are than say a plastic weight filled with god-knows-what. These are the real deal.
Rubber dumbbells can have a… rubber smell to them!
If you've got a sensitive nose, then it might not thank you for buying yourself a set of hex dumbells. A lot of the time, and this depends on the manufacturer, they can have a certain weighty rubbery smell about them, for want of a better turn of phrase.
I forgot about this and I'm happy to report that it's definitely worn off mine. But it's something to consider if you're keeping them in your bedroom.
The weight is sometimes not perfect
It wasn't until I researched this but some people actually weigh their dumbbells when they get 'em. I'm not sure if it's thorough or something to worry about, but it's something people do.
While I haven't bothered to do this with the pairs I've bought, its not something I've experienced problems with. It's also common in all kinds of weights that they won't be 100% perfectly say 20kg.
Silly Reason: They get bloody cold in my garage gym in the winter months
I'm not ashamed to admit that I have a pair of dodgy looking finger-less 80s gloves that I use in the winter. These weights get so cold!
How about a storage rack?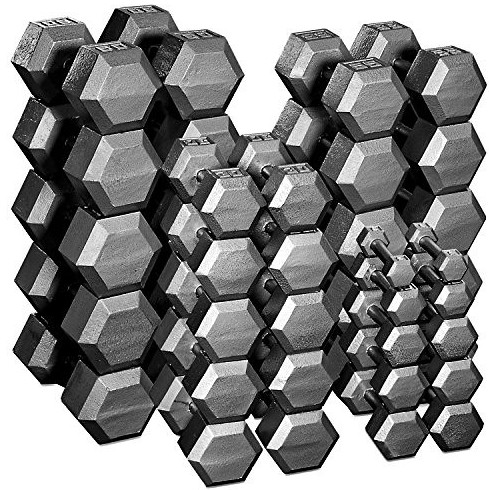 There's nothing looks more aesthetically pleasing than orderly rows of pristine dumbbells, all lined up and ready to go.
Not sure how I dare write that was mine are strewn all over the place as I write this.
You can buy the metal racks separately for you home gym in the future if you get a few pairs of hex weights and want a cool way to show them off. There's some fantastic racks available that will make any home gym look extra inviting. And it's better than bending down to pick them up all the time.
If you want the true gym experience, print a poster of reminding everyone to put the weights back on the rack.
TRUE STORY – I used to go to a gym and they spelt WEIGHTS wrong on such a poster. Imagine that.
But yeah, racks are sexy. And they keep the place organized.
Adjustable weights vs rubber hex ones
I really like aspects of adjustable weights. You can obviously swap the weight to match your current level, or wind it back if you're recovering from illness or injury. So why bother with hex or other rubber 'fixed' weights at all?
My number one favourite exercise with ONE dumbbell is…
So there's a zillion things you can do with your new hex dumbbells. One that I've really taken to is the goblet squat. You only need one for this, and I use either a 25kg or a 20kg. A nice heavy one!
Hold the weight just under one of the ends and perform your squat. It's really good for anyone getting into leg work because they're pretty back-friendly.
Head over to Youtube for loads of good help on how to tackle this one:
Wear and tear – how TOUGH ARE THEY?!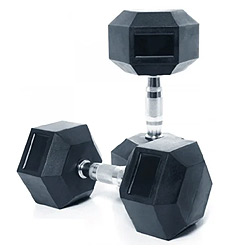 Long lasting rubber hex weights – IN STOCK
JTX has a huge selection of hard-to-find dumbbells at affordable prices. Quickly find ones in your size from 2kg up to 20kg. These are top-quality dumbbells that are perfect for modern home gyms and will take a lot of punishment.

I've had a lot of experience hoisting these weights around, as well as seeing the state of them in various gyms in the UK, where they invariably get dropped, chucked on the floor or thrown back on the rack without much care.
The good news is these dumbbells are SUPER TOUGH.
Mine literally look new, even the ones I've had years. And it's not because of lack of use.
The ones in the gyms I've seen fare just as well.
With one exception…
It's not usually the rubber that goes – unless it's in a seriously rough gym, and after year's of use. The chrome plating on the handles can become tarnished with years of use. It goes like a brown, scruffy look and doesn't feel as nice to hold.
But I'd stress this in commercial gyms. I'd be amazed if any home user has experienced this.
But let me know in the comments how your's fare!
Where's the best place to buy rubber hex dumbbells online?
There's a healthy selection of these nifty weights online. There's several different makes too. Some of the best ones are…
York
BBB
bodymax hex dumbbells
I'd definitely check out some of these ones on Amazon.
And also Fitness Superstore have a really good selection of… pretty much everything, but especially good on the rubber dumbbell front. They often have sales on too, and some competitive prices.
And if you're still not able to grab any that take your fancy, check out Powerhouse Fitness.
What about used hex dumbbells?
If you're looking for some used ones, there's a decent selection to be found on eBay. It's one option if you're looking for some really cheap hex dumbbells. As I mentioned above, they're super-tough so it might be a good way to get some cheap weights.
Just give them a good clean.
Or you could save some money like this…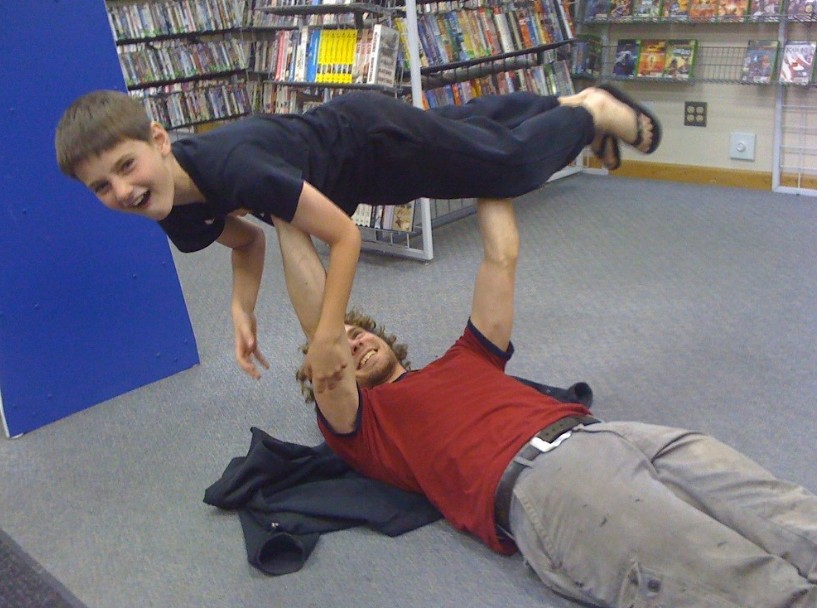 On that note!
Happy training. PLEASE let me know in the comments any questions or anything I can help on. And let us know if you end up buying some, or you love your rubber hex dumbbells as much as I do.
Happy training.
Tom ^"^