Welcome to our JTX Strider X7 Review. If you're looking for a real opinion on whether this mid-priced cross trainer (elliptical) is worth your time and money, we hope this guide will answer all your questions. As always, this guide will cover both the good and bad points. By the end of this article, you'll know if this is the right machine for your home.
Check The JTX Strider-X7 Price Here
The JTX Strider at a glance
A high-quality machine for home use
Currently, the company's most popular cross trainer
Works nearly all major muscle groups at the same time
Improves overall fitness
Burns off calories
No impact on joints
Tones up muscles
Strengthens heart and lungs
Super easy to get into
A good machine if you're looking for something to improve your health
This is a good machine to get if you need to improve your overall health and fitness. The X7 model also a good choice if you want something that the whole family can use. It's easy enough for beginners, or people who are a bit out of practice with exercise but sturdy enough to give a serious work out to fitness fanatics too.
It's a really cool machine with lots of built-in things to help get to your fitness goals.
Who are JTX Fitness?
JTX, the makers of the X7 design and make some of the better bits of training equipment. Their prices aren't the cheapest out there but the products are not budget end. You'll enjoy great design, robust products that are made to last and good customer care.
If you have any problems, they'll send engineers out to your home to fix it quickly.
There's plenty more pics of the X7 here.
This company have engineers who will come out to your home (in the first 2 years) to fix any problems. One thing that you'll read a lot about, if you research into JTX, is how good their support is.
What is the Strider X7?
This is a high quality home cross trainer which is a lot like the ones you'd expect to find in a high-end fitness gym or health studio. It's not a budget priced cross trainer (although it's frequently on sale). But it does boast a lot of impressive features and an extremely top-end design.
The Strider is ideal for anyone looking for a reliable machine that they can use regularly at home to get in shape. It works your fitness as well as toning and improving muscles.
Benefits to training with a cross trainer like the Strider
Improves your cardio vascular strength
Suitable for any age
Currently on sale (see best price section)
Sturdy & well built
Works lots of muscle groups at once
2 year warranty
Easy to assemble
Saves having to go out to the gym
21 training programs
Watch the video below for a good overview of the cross trainer and all the features, including tips on how to use.
 What are the reviews like for this exercise bike?
---
How does this elliptical compare to other ones in the JTX range?
At the time of writing this, JTX has 2 other cross-trainers in their range. Here's a comparison of the differences between them.
---
JTX Strider-X7: Magnetic Cross Trainer Review
There are some very good reviews on Trust Pilot for the Strider where it currently has a 4.6 / 5 star rating.

It's quite hard finding impartial reviews of the Strider but there's a good selection of confirmed buyer reviews on the product page at JTX. Users there rate the bike at 4.7 stars. While at Amazon UK there are a higher number of reviews but the score is very high. Here's some comments from buyers:
"Fantastic machine. I really dithered over whether to get it but I am really glad I did. I" 
"This is a fantastic machine, very easy to use and quiet!" 
"Nice piece of kit. Stable, strong and easy to use. I now do 60 minutes a day in front of tele (no longer a couch potato!)" 
Strider X7 Amazon UK Buyer
---
Why is this machine a higher price than say a budget cross trainer?
If you've done any research into cross trainers, you'll notice there's a huge difference in prices and a ton of different machines on the market. You might be wondering what's the point in paying more for the Strider?
You're basically paying for quality and the features.
Taking the display screen is large, colour and is packed with information you'll need. If you look at the budget models, you're normally getting a plain monochrome screen with basic info.
The 21 programs are also another big advantage. If you're going to be using your cross trainer regularly, it's extremely useful to have different programs you can use to keep things fresh, and not get bored!
What are the programs on this cross trainer like?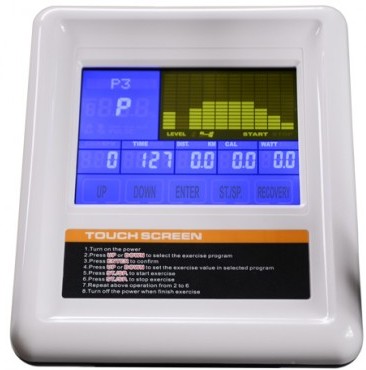 If you want to jump straight on and get a workout, you can do that! But  has some really good programs built in that you can dive into when you're ready.
As well as showing you all the important stats on your workout, there's a lot of depth to what you can do here.
There are 21 programs in all, catering for everything from fat burning, high intensity to toning and overall fitness. You can also go a step further and work with the 4 programmable personal workout programs.
This isn't as hard as it sounds!
Meanwhile, the screen is large, detailed and really cool looking, like the rest of the X7 cross trainer.
Where can you get the best price for the X7 Cross Trainer?
This product is available online at a number of different retailers. To be honest, the best bet is to head over to the company website and buy direct. They actually have a better price than anywhere else and you'll be getting a great warranty too.
---
What kind of warranty do you get when you buy the Strider?
Spending a lot of money on an exercise machine is a daunting prospect. They're not exactly easy to send back once you've assembled them!
The good news is that JTX offer a 2 year in-home servicing and repair warranty with the Strider X-7. They'll actually send out an engineer to fix any problems you have and that includes parts and labour too.
Phew!
As for returns, there's a 28 day money-back guarantee so you can send it back if you find it's not what you need. And the frame has a 5 year warranty.
Full JTX Strider 7 Specs
| Resistance | Infinity resistance |
| --- | --- |
| Computer Console | Track your workout length, speed, distance, calories and pulse |
| Heart Rate Training | Yes. Via hand sensors |
| Pedal Options | Toe clips as standard. Compatible with JTX Dual Pedal System: Studio Edition |
| Seat Adjustment | Quadri-Set™ adjustment system: both handlebars and seat adjust vertically and horizontally for the perfect set up |
| Flywheel | 22kg belt-driven flywheel |
| Safety Features | Simple activation emergency stop button |
| Crank | 3 Piece crank |
| Transport Wheels | Yes |
| Dimensions | 131cm(l) x 65cm(w) x 126cm(h) |
| Boxed Dimensions | 108.5cm(l) x 25.5cm(w) x 90.5cm(h) |
| Maximum User Weight | 160kg |
| Machine Weight | 64kg |
| Free Accessories | Water bottle |
What are some negatives with this cross trainer?
The reviews of this cross trainer are very positive across the board. It's hard to find any problems that people are having. Even if something isn't right, JTX is famous for it's customer service in getting the problem fixed.
Minor niggles include:
Instructions on how to use the product are translated from another language and some users found them a little hard to follow.
You can't sync / connect your mobile phone
References and sources