In this guide we're checking out a rowing machine called the Ignite Air. It's made by JTX Fitness and uses air for resistance. We'll be digging deep into what's this machine has to offer, and whether or not it's worth your money.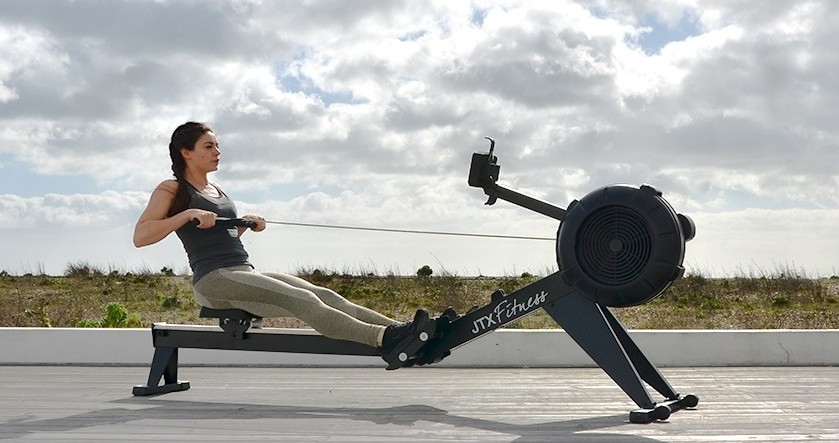 JTX Ignite Air Best price & full guide
The JTX Ignite Air at a glance
A quick overview of what this rowing machine's features
Home Rowing Machine
Gym-grade rower for home use
5 star rating on Trust Pilot
Air-based resistance
Wide, comfortable padded seat
Fully adjustable in all areas
8 built-in workout programs
Sturdy design
Smooth, natural rowing action
Separates into 2 pieces for storage
Wheels to help move around
No power cables or plug – self-powered
---
A good rowing machine to improve health, strength and fitness
Here's the quick rundown on the Ignite Air: It's a home-based rowing machine that will build up overall body strength, cardio fitness and strength. It's a good choice for new rowers but, if you're already into rowing, this is a machine that will give you a serious challenge. This isn't a light-weight toy machine. This is a proper rower with some bite!
The rest of this guide will dive into some more depth about JTX's Ignite Air and help you decide if it's for you… or not!
What is the Ignite Air?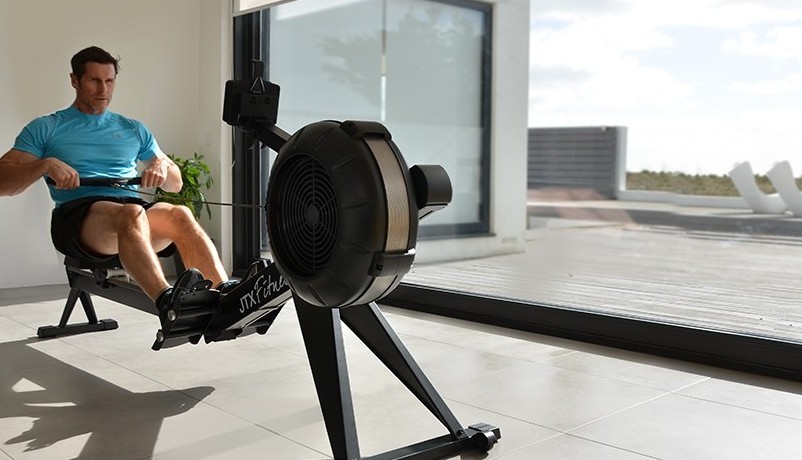 The Ignite Air is a rower that uses Air resistance as opposed to magnetic, water or flywheel resistance. The reason you might want to pick a rowing machine that uses air over other kinds of resistance is that it scales well with different abilities. The harder you work, the more resistance you'll get back. They're an ideal rower for anyone starting, whilst offering serious challenge to experienced rowers.
It's a really cool machine with lots of built-in things to help get to your fitness goals.
---
Who are JTX Fitness?

The JTX Ignite Air is a machine from fitness company JTX Fitness. Not familiar with JTX? They design and build high quality commercial standard fitness equipment such as rowers, running machines and cross-trainers. They're known for their customer service and machines with high-quality components, build quality and aesthetics.
If you have any problems with your Ignite Air, or any of their machines, they send engineers out to your home to fix it quickly, which is very rare and something we love.
You can find out more about the JTX Ignite Air, and different rowers on the JTX website.
One thing that you'll read a lot about, if you research into JTX, is how good their support is.
High intensity beast mode, or a gentle row up the river? You choose.
---
5 things you might just love about this rowing machine
Smooth rowing action feels great – Although JTX machines cost a bit more than the budget rowers you'll find out there, you definitely get more quality for your money here. The Ignite has the same smooth, sturdy action the other machine's we've seen from them have.
This thing is sturdy – Another really good thing about the Ignite machine is how solid and sturdy it is. The thick, robust metal frame means you're not constantly wobbling around, as you are on some other machines. And you won't need to buy another one in a few years. You could put this in a gym and it would stand the test of time.
It will fit your body shape perfectly – Whatever shape or size you are, the Ignite can be tweaked, adjusted or tilted to suit you. Everything here is ergonomically designed, from the padded seat (your butt will thank you) – to the curved handle bars. You can adjust the foot rests something like 7 different ways. And the display tilts to match your eye-line. You'll be as comfortable as can be while you're working out.
It's suitable for pros or rowing newbies – It's nice seeing a rowing machine that's a good fit for new users or rowers who have had a lot of experience. The Ignite rower is friendly to new rowers but can beast you if you're looking for a challenge. There's programs for all levels and the air resistance will hit back as hard as you want! High intensity monster workout, or a gentle row up the river? You choose.
It can be stored easily – Maybe you've got somewhere to keep this rowing machine set up. Great – it looks incredible. For anyone a bit short on space, this rower is one of the easiest machines we've seen to store. Just lift the middle up and it separates into two parts, complete with transport wheels, that can be stored away in a corner until next session.
---
What makes this rower different from the others?
I've had the pleasure of reviewing good number of rowing machines for Home Gym Experts. There's a huge number of these things out there. But what makes this one different from the others?
The main thing you're getting here is quality. This is a high quality home rowing machine which is a lot like the ones you'd expect to find in a high end fitness gym or health studio. It's not a budget-priced machine (although you can often find it on sale). But it does boast a lot of impressive features and an extremely high quality design.
It's comparable to something like the awesome Concept 2 rower – favourite of commercial UK gyms and health clubs. You can see how these two rowers compare in our JTX Ignite Air vs Concept 2 guide here.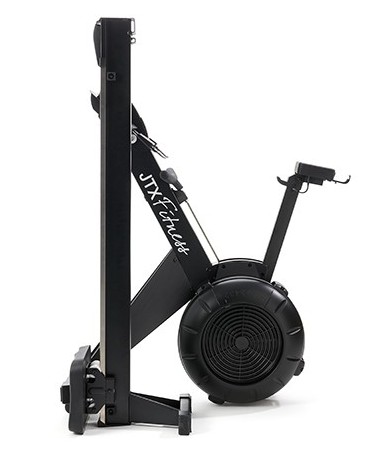 Benefits to training with a rowing machine like the Ignite
Build cardiovascular strength
Suitable for any age
Sturdy & well built
Works everything from core strength, legs, arms and upper body
3-year warranty
Easy to assemble
Gym quality rowing without going to the gym
Good variation in programs to keep you motivated
Watch the video below for a good overview of the Ignite machine and all the features.
---
Reception of this rower
What are the reviews like for the JTX Ignite Air?
One of the 3rd party independent sources for reviews on the Air rower is Trust Pilot. The Ingite currently sits at 5 stars. At the time of writing, there's not a ton of reviews as this rower is still new to market. You can read more reviews of the Ignite machine here.

Here are some opinions from users of this rowing machine:
"Excellent, well pleased with the rowing machine. Good quality works well and gives me a great workout" 
Andrew Porter
---
"Amazingly smooth and great build" 
Apostolos Makris
---
"Not had this long but can tell was the best decision I've made – cancelled gym membership will pay for this in about a year anyway." 
Paul Waterman
---
Why is this machine a higher price than say a budget rowing machine?
If you've spent any time looking at rowing machines on the web, or in stores, you'll know there's a bewildering number of machines, all claiming to be the best choice to get you in shape. You can get rowing machines starting at under £100 – so why is the JTX Ignite more expensive?
Better build quality
One big difference between JTX's products in general and the other budget-priced fitness machines out there is the way they are built. You're not getting some lightweight, flimsy machine that won't last long. If you visit one of the JTX stores you can see these are very solid machines that are built to last. There's no wobbling, creaking or poorly welded joints here. All components are the best quality.
Better display and programs
One of the major shortcomings we see on cheaper rowing machines on Home Gym Experts is the quality of the display. It's often a very basic LCD affair with limited information on calories, distance and stroke count. With the JTX Ignite, you're getting a full-sized display that shows a lot of information and has some seriously good programs you can use (more on that below!)
Completely different moving parts
Another thing that's worth splash out a bit extra for is the internal workings. The Ignite rower is engineered to give a smooth rowing experience and has things like a high-quality chain-driven mechanism.
---
What are the programs on the JTX Ignite Air like?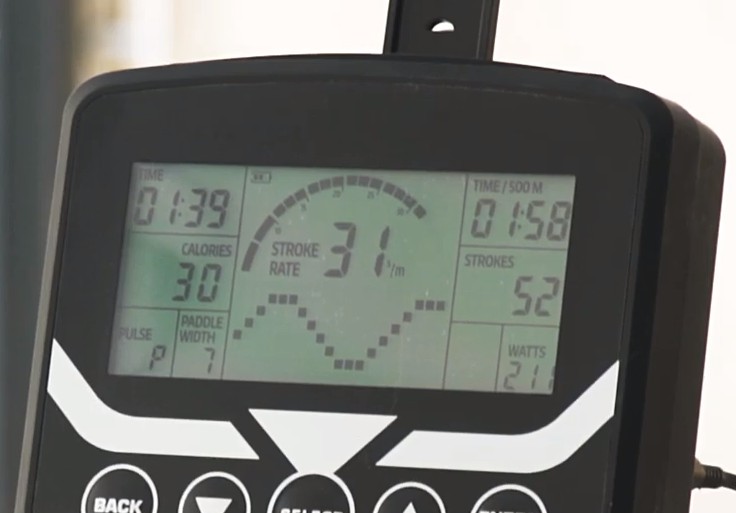 If you want to jump on and just start rowing on your Ignite Air, you can absolutely do that. But this machine has a number of built-in workout programs that are designed to get the most of your training time. If you want to give them a go (there's 8 in total) they can be customized to give your muscles more of a varied challenge.
Varying your workout intensity and intervals
Rowing at the exact same pace over a period of time is not the best way to maximize your training. One thing you'll want to check out is interval training. The Ignite Air has programs that will vary the difficulty of your session on the fly so your body will have to adjust. You'll get more fitness gains, and but more calories using this method.
The Ignite's programs are easy-to-use and have a lot of depth
The Ignite's display is definitely one of the better ones we've seen, with everything from basics like calories, time and distance but includes a lot of important specs you don't get on many rowers. These include stroke rate, paddle width and pulse (using the free chest heart rate monitor).
The programs can be customized with things like start and end time very simply using the buttons on the front. While you could use the Ignite Air and never need to touch these advanced features, they're definitely something that will boost your training.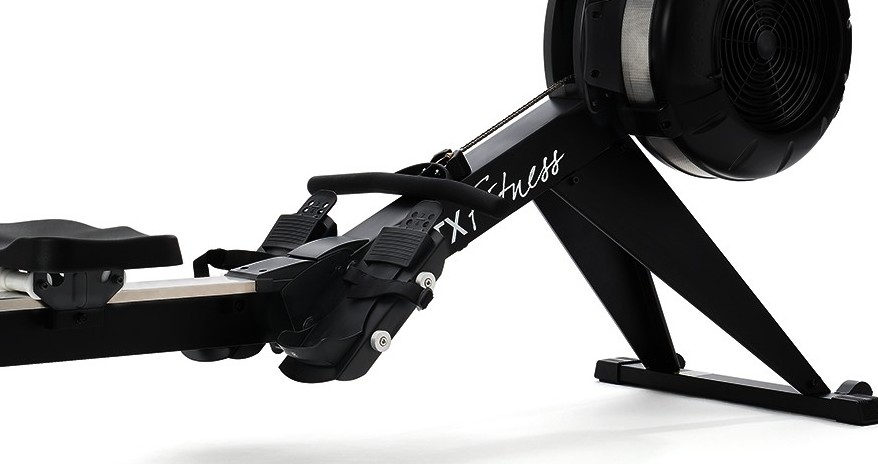 ---
Other little things you might love about the JTX Ignite Machine
Here's a quick rundown of some of the other things you might appreciate with JTX's home rower. Hey, sometimes the little things make all the difference.
Somewhere to put your phone – Ever been at the gym and you have to dump your expensive phone on the floor? Well, the Ignite has a thoughtfully designed special place to put your phone.
Free heart rate monitor – Keeping track of your pulse is essential if you're looking to get the most out of your rowing. And it's a bit different on a rowing machine, where you can't have static contact points, like on an exercise bike. Thankfully, the JTX Ignite has a super-handy free chest strap monitor to do the job for you.
It's easy to move around and store – As much as you'll enjoy looking at the sexy design of the JTX rower, you might have to store it away somewhere. Sound like a pain? You'd be surprised – this rower comes straight into two part and can be easily stored away. No weird pins to pull out, or anything to unscrew. Nice.
3 year warranty – One of the things we love about JTX is they look after their customers. When you buy the JTX Ignite rower, you're automatically registered for a warranty of 3 years. That includes home service. They've also got top-notch customer service available when you need them. Unlike a lot of other companies.
Next day delivery – You're excited to get started. To get ripped. To get in the shape of your life. Well, the good news is you can get started tomorrow. Another thing we like about JTX is the free next day delivery.
28 day money back guarantee – If you're interested in rowing and looking for a good machine to get started, it's hard to imagine anyone not loving the JTX Ignite machine. But, sometimes things don't work out. You get a 28 day money-back guarantee on all JTX machines, in case you need a refund.
---
Where can you get the best price for the JTX Ignite Air?
This product is available online at a number of different retailers. To be honest, the best bet is to head over to the company website and buy direct. They actually have a better price than anywhere else and the Ignite is frequently on sale.
How to use your JTX Ignite Air!
There's a brilliant video here on how to use a rowing machine, the best posture and pretty much everything else you'll need to get the most out of your new rower.
What kind of warranty do you get when you buy the JTX Ignite Air?
Spending a lot of money on a new rowing machine is a daunting prospect. They're not exactly easy to send back once you've assembled them!
The good news is that JTX offer a 3 year in-home servicing and repair warranty with the Ignite Air. They'll actually send out an engineer to fix any problems you have and that includes parts and labor too.
As for returns, there's a 28 day money back guarantee so you can send it back if you find it's not what you need.
Full JTX Ignite Air Specs
| | |
| --- | --- |
| Resistance | Air resistance |
| Resistance levels | 9 settings change how much resistance you feel |
| Control display | LCD, backlit |
| Number of programs | 8 |
| Programs control | Distance, calories, time and intervals |
| Heart rate training | Yes, uses included heart rate monitor strap |
| Seat type | Wide, padded seat |
| Dimensions | 240cm (l) x 62cm (w) x 107cm (h) |
| Maximum User Weight | 150kg |
| Foot adjustments | 7 possible foot rest positions |
| Length of monorail | 137 cm |
| Seat height | 39cm |
| Is Ignite Air foldable? | Yes, into two parts that can be stored. |
| Ignite construction materials | Reinforced aluminium frame |
| Chain type | Nickle-plated steel chain |
| Transport wheels | yes |
References and sources
The official JTX Youtube channel is packed with high quality videos of their products, if you'd like to check out other rowing and fitness machines.
Contact JTX on their website, or using the email info@jtxfitness.com
You can also contact them for help or any other queries on the JTX Ignite Air on 01273 453855
How good is JTX's customer service? Check out their Trust Pilot company reviews here. Spoiler alert: 4.5 / 5 stars.
Are you up to it? Check out the Live well website on NHS before you dive into your new rowing machine