Today we're diving into some of the best home multi-gyms you can get for a smaller space. This guide will cover some of the better options available in 2023 and compare the features of each one.
Imagine having an entire gym in your house, at your beck and call. Being able to pack in a full workout without having to compromise, hit the weights for a full-body, effective exercise regime that's going to get you to your goals, quickly and efficiently.
"York's home gym is a sturdy work horse with a big weight stack and a compact foot print."

"Proving that there are some home gyms that don't cost the earth, HomCom's machine is space-efficient and well made."

High and low pulley system

"SportsTech's home gym offers a huge number of exercises and is extremely well made. Pulldown, chest and legs are all covered here."

Massive choice of exercises

Simple-to-follow instructions

"A great space-saving home multigym from a reliable brand. Compact and cheap!"

165cm x 105cm x 210cm (H)

"Teeny foot print and a decent weight stack combined with a solid build make this one of the better and more affordable home multi's out there."
What we look for when reviewing compact multi-gyms
Things we're looking at in this price range: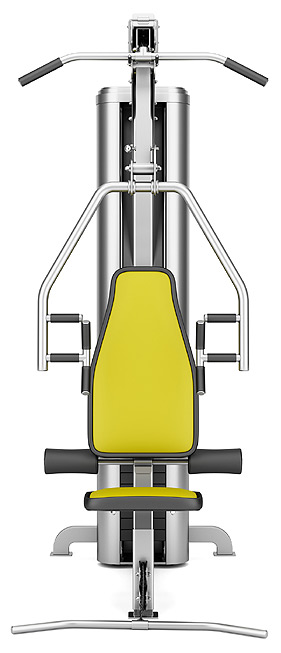 Weight stack – While not everyone needs a weight stack that would make an Olympic lifter blush, picking a home gym that has enough oomph to challenge you now, and as you get stronger is definitely one of the most important specs we look at.
Build quality – As with any gym gear, it's a free-for-all when it comes to how well put together these machines are. We've seen some absolutely shoddy home gyms that creaked and wobbled all over the place. A superior quality steel frame and a good wide base is a must and near the top of the list of 'must-haves'.
Footprint – A no-brainer when picking a decent home gym for reduced floor space. You're normally looking at a one-seat machine, with a plate-based weight stack and pec deck and lat pull down. There's actually a lot you can do with a smaller space, so don't worry if you've only got a small corner of the garage or spare room to work with.
Cushion quality & other padding – One thing that's hard to assess looking at all those doctored pictures is what the seat is made of, and the quality of the padding on the leg raises and hand grips. It should be long-lasting and sweat resistant (yewww!) And not that god-awful cheap stuff from years ago that cheap multigyms still use.
Max user weight– Another incredibly important feature is user weight. We've seen some gyms with a really low max user weight which suggests a less-than-stellar build quality. Just because it's a gym for a smaller space, doesn't mean manufacturers should skimp on this spec.
Number of possible exercises – While some gyms promise up to 100 exercises, it doesn't mean they get the basics right. Give us a decent pull down for shoulders, a pec fly and at least a decent leg extension over a zillion half-arsed exercises please. A good home gym should offer a complete body workout, and at least a couple of variations on each muscle group.
How hard is it to set up? – Sadly, multi-gyms (compact or full scale) are at the higher end of the difficulty scale when it comes to setting them up. But we always check the actual level of pain involved. You know, just so you can be prepared for what's in store. On the upside, it's a one-off afternoon job then done.
---
So, what are the best gyms for compact spaces?
Before the buyer's guide, let's go over the current top gym mirrors for 2020. Here are the ones we found were actually worth the money, starting with the top pick first.

#1 – York Perform Multigym
Weight stack: 100kg
Max user weight: 125kg
Dimensions: 115cm x 141cm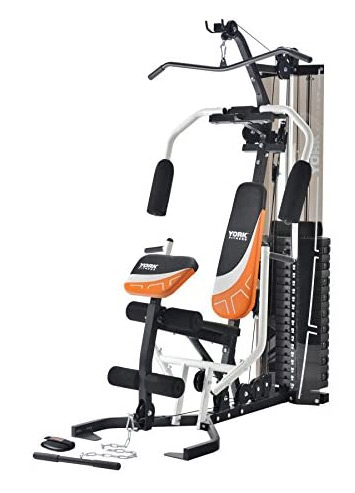 One of the more popular compact all-in-one gyms
A strong start from industry staples York, the Perform Multi Gym embodies everything you could look for in a multigym.
Built around a heavy weight stack of 100kg (220lb,) which is one of the heaviest weight options on the market right now, the Perform is versatile, with enough weight to push even experienced fitness fanatics.
Six proper stations
6 different stations give you a wide range of options, including pec deck, lat pulldowns, curls and more for your upper body, and a whole range of leg exercises for your lower body.
A tiny footprint
Compared to most multi gyms, it's deceptively small, with a 45 x 55-inch footprint (17 square feet total) and it will fit comfortably in spare rooms, garages, in the corner of a dining room, anywhere that you have space. Bear in mind that it is quite tall, at just under 6 and a half feet, which means that despite its compact space, the Perform is still a great option for larger people.
Finally, there's a two-year warranty, covering you just in case anything goes wrong.
Verdict: This is one of the more popular home gyms for a good reason. York has packed quality and stability into a relatively small frame and a really nice 100kg weight stack. It covers all the main exercises, working every muscle group you need. Perfect!
Heavy 100kg weight stack
Decent variance in exercises
Easy to set up and use
Doesn't have every exercise station
Check Current Amazon UK Price
---
Weight stack: 40kg
Max user weight: 120kg
Dimensions: 156cm x 113cm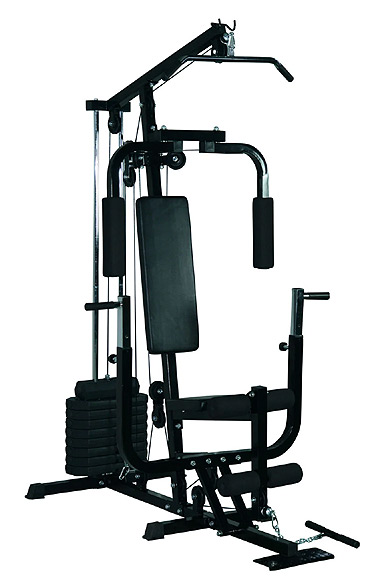 The best budget option on our list, this multigym by Homcom is a great starting point for fitness.
Strong build, especially for the price
Made from strong tubular steel, it's well built and tough, despite being half the cost of a lot of other models out there. The construction might look basic, but the focus is where it needs to be. The frame is strong and hard-wearing, everything is simple to set up and easy to use, and most importantly, it's surprisingly comfortable, with a large padded seat and well-cushioned pads.
It's worth pointing out that the weight deck on this multigym is quite low in total weight compared to other options, with a total weight of 40kg. That's a shame, because experienced lifters will easily blast past that on most exercises, and even newbies could progress to the point that it's not enough after a few months.
But the rest of the equipment is well made enough that this really doesn't matter. For the cost, you're getting an effective piece of kit that's equipped with all the stations you need to work out from home, for half the price of some of the big names.
Verdict: Although the weight stack is slightly on the lower side, don't overlook this budget-priced home gym from HomCom. It's cheap, well made and will suit anyone who's looking to build strength at home in a very limited space.
Strong construction
Comfortable and safe
Good workout options
Weight deck is only 40kg
Occasionally ships without a couple of nuts or screws
---
Weight stack: 55kg
Dimensions: 184cm x 103cm x 202cm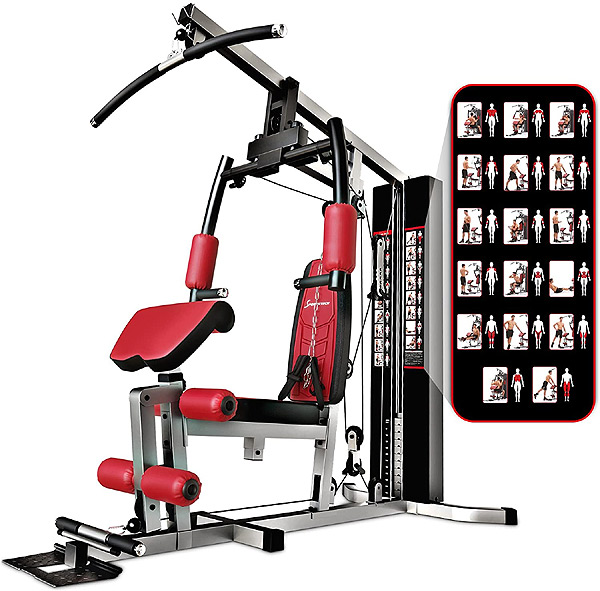 We love Sportstech gear. Everything they make is consistently near or at the top of the pack when it comes to performance, and this power tower multigym is no exception.
Excellent quality throughout
Incredibly sturdy and well built, it's a solid piece of kit that's built around a 55kg weight stack, which is a decent mid-range figure. It's not in the same league as our top pick, the York Perform, but it's still more than enough. Everything on the machine is high quality, with particular attention paid to the cables and pulleys. These are the parts that tend to give first, especially on cheaper systems, so the care and extra value spent here will pay itself back one hundred times.
In use, it's very comfortable, with all working parts heavily padded using thick EVA foam, and the station variety is impressive, with over 30 different exercise variations, including the usual lat pulls, chest station, leg station, but also a whole bunch of different cable stations that you don't see on cheaper multigyms.
Compact, narrow form
In terms of space, it's very long, but also very narrow. This gives it a profile that's surprisingly easy to fit into a home, as it can sit next to a wall without extending out into the room as far as other options might.
Finally, it's simple to put together, and Sportstech offers a whole bunch of online videos and a training booklet to give you ideas about how to use your new piece of kit, so you'll never get bored or run out of ideas.
Verdict: The quality of this home gym is up there with the best. Everything from the seat padding to the frame itself is rock-solid. A brilliant home gym.
Well built and strong
Large variety of exercise options
Long, thin shape fits into a lot of spaces
Very comfortable
Weight stack could be heavier
Check Current Amazon UK Price
---
Weight stack: 80kg
Max user weight: 150kg
Dimensions: 165cm x 105cm x 210cm (H)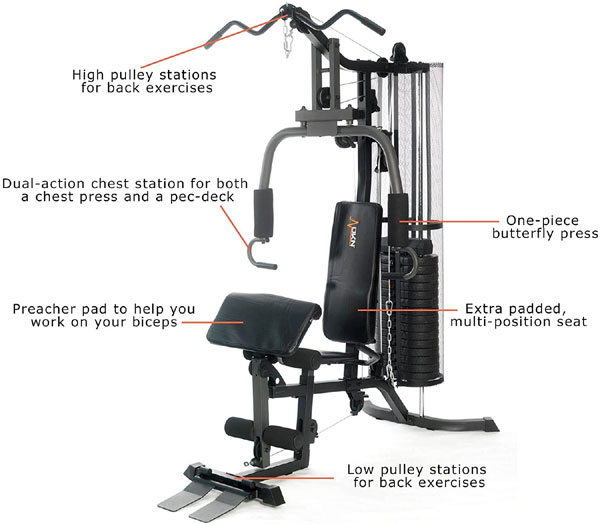 The DKN Studio 7400 is a good brand, is well made and fits plenty of key strength exercises into one nifty bit of gym gear. If lack of space has been your reason for not getting a multigym, this one might be for you.
All our favourites are here including peg fly, lat pull-down, bench press and preacher bar for bicep curls and a low pulley to do some back work. There's a hefty 80kg stack to keep you busy too.
The tubular steel is thicker than we'd expect on a more budget-friendly machine and there's plenty of stability here with a max user weight of up to 150kg.
Verdict: For the size and the price, there's a lot we like about DKN's home gym. It's compact, sturdy and fairly cheap for what you get.
Variety of workout options
Sturdy and reliable
Budget price
Fewer stations than our top pick, and not as solid
Check Current Amazon UK Price
---
Weight stack: 81kg
Max user weight: 120kg
Dimensions: 150cm x 103cm x 199cm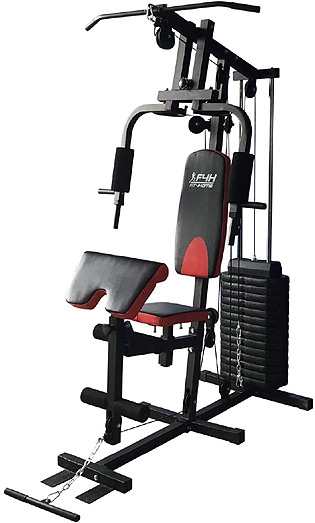 The last option on our list, the Fit4Home multigym is another multi-station pick that's a little smaller, so might be a little easier to work around for a lot of people.
Designed around two simple stations
Designed around a pair of stations, there's a lot of variation on offer here. The multigym set up offers all of the standard exercises, including chest deck, cable pulls, a leg station and a curl station, all of which works off of the large 81kg weight stack.
Attached to the side of the kit is a second station for dips, pull-ups, leg raises and sit-ups. One thing we loved was that it also has a pair of dumbbells attached for supplementary exercises, which are stored in a cute little hanging cage under one of the benches.
It's also very well designed, made from tough steel, with everything smartly placed and easy to access, even if it's stationed in a corner. But this also exemplifies one of the issues with this multigym. Assembly. It's hard to put together, and we've heard reports that sometimes it's missing the occasional screw or even a set of Allen keys.
But once it's built, you've got a solid and dependable piece of kit that's going to last for a long time and heavy enough that it's going to keep pushing you. And for the price, that's impressive.
Verdict: A cracking little home gym that's got a surprising amount of weight on the stack. The only downside being the max user weight allowed is a little on the low side at 100kg. If you're under that, this is a good gym for the price.
Great variety of workout stations
Big 81kg weight stack
Max user weight is quite low, at 100kg
Hard to set up
Check Current Amazon UK Price
---
Compact Multigym Buyer's Guide
There's plenty of great reasons to own your own home gym, as opposed to going out to a commercial gym. And in this section, we'll look at some tips and help for anyone looking to set up in a smaller space.
With simple weight benches from under £100, there's gym gear to suit even the most modest of areas.
Don't forget this tip when measuring up
If you're buying gym gear for a compact space, you'll likely have already measured up the space you have for your lovely new home gym. But just remember you'll need clearance around the machine too.
Check the gym you're buying and give extra room for things like leg curls, where parts of the machine will extend beyond the dimensions quoted on the product's page.
For a full guide on multigyms, see this post.
Un-packing and enlisting help
Let's get one thing straight – putting a multigym together is long, hard work. Be prepared when you open the box(es) that you'll be confronted with a smorgasbord of metal arms, cables, bearings and screws.
It's not a pretty job. But take your time and you'll be fine. It can take several hours to put together some of the multi-gyms we've seen and compact ones are no different. Some of the build process can be made a lot easier if you have a friend or family member who can pitch in.
Stay organised
It's as boring as hell, but very helpful before you start assembly to lay out all the parts of your gym and obviously build it in the room where it will live.
Tips on picking your multi-gym
Designed around the needs of the modern fitness buff, a multigym is designed to give you the maximum number of workout options in the least amount of space, for a really reasonable price.
Most multigyms are divided into a number of different stations, that all normally work off of the same weight stack.
Each station normally functions like one of the weight machines you'd see at a commercial gym, and depending on the multigym, in particular, each one might have just a handful of options or a dizzying range of different exercises.
The best multi gyms will have enough different exercise options to target your whole body, letting you create effective and powerful workouts and replacing the need for a set of free weights and a bench. Some home gyms even come with a boxing station.
Thanks for reading our guide on home multigyms. We do everything we can to keep our guides up to date, but if we've missed anything, or you have any recommendations on these or any other products, make sure to let us and our readers know in the comments!
References and further reading