Today we're pitching two popular adjustable dumbbells against each other: the Bowflex 552 and the Powerblock 24. We'll cover all aspects of each and figure out which pair is the best one to go for.
Adjustable Dumbbells are just a gimmick, right?
These slightly unusual bits of gym gear might just surprise you. A pair of adjustable dumbbells make for the perfect option for working out from home, for a whole bunch of reasons.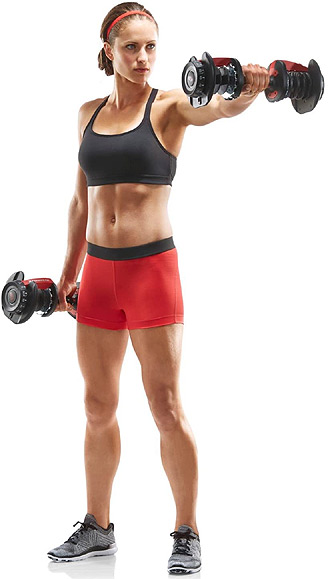 They take up almost no space, so they're perfect for homes that are lacking a little in room.
They're easily adjustable, from small, low weights up to heavy weights that are suitable for heavy workouts.
And, unlike conventional weight sets, you can change the weights on an adjustable dumbbell in seconds once you get the hang of it.
If you've read our adjustable dumbbell guide then you know that there are some serious differences between the different adjustable dumbbells available on the market.
So let's pit the two main contenders in this market against each other – the Bowflex 552i vs the Powerblock Sport 24, directly comparing both so you know which one you should buy.
---
Quick compare table
---
Weight
We'll start by comparing the most important parts of these dumbbells. The weights.
The Bowflex 552i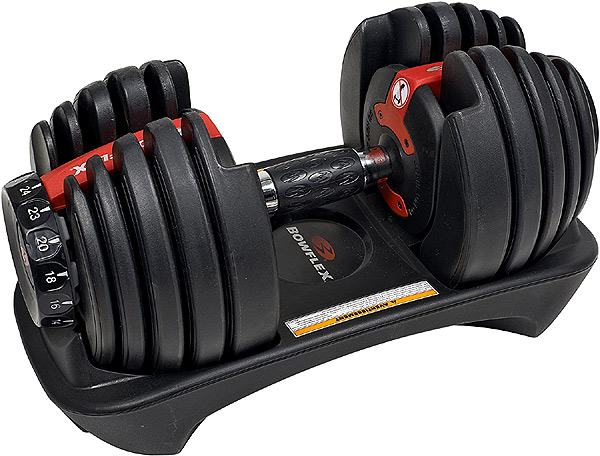 The Bowflex has a solid 15 different weight options, that run from 2 to 24kg, or 5 to 52.5lbs.
The weights adjust in 1kg increments from 2kg up to 11, then jump in 2kg increments from 14 to 24kg. This is a great range of weights, but focuses more on the lower end of the range, making the Bowflex more suited towards lighter exercises with higher volume, and more upper body work.
Powerblock Sport 24
Compared to the Bowflex, the Sport has a much lower total weight, at 2 to 11kg (3 to 24lbs,) but a much smoother progression. It adjusts in 3lb steps, from 3 to 24, with a total of 8 weight options.
This makes the Sport 24 a dumbbell aimed at low to medium weight exercises, which it's great at, and not really suited to heavier lifts.
---
Dumbbell Size
One of the major advantages of an adjustable dumbbell is the fact that they take up almost no space and definitely less space than a conventional dumbbell set.
Even though all adjustable dumbbells are smaller than any equivalent non-adjustable weights, each one has its own quirks. Here's what you need to know about the size.
The Bowflex 552i
The 552i has a total footprint of less than 1 sq.ft. Dimensions are 40cm by 20cm across, with a height of just 23cm.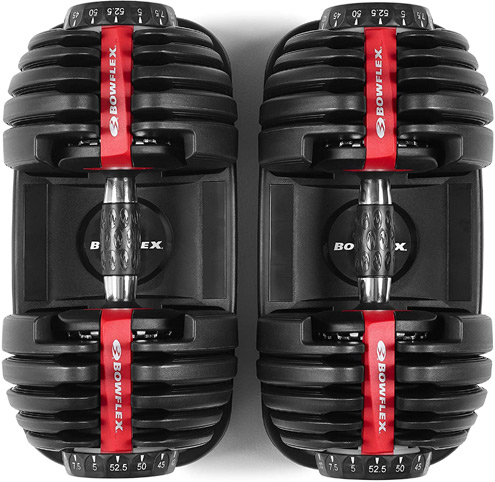 This allows the Bowflex to fit almost anywhere, as it's about the length and width of a shoebox, and around twice as high.
Powerblock Sport 24
Even compared to a lot of other adjustable dumbbells, the Sport 24 is tiny. Its dimensions are 26cm by 13cm, with a height of just 12cm. That's ridiculously small, and means you can fit this literally anywhere.
---
Related Dumbbell Guides
---
How they're used
There's no point in buying an adjustable dumbbell if it takes more time and effort than a standard dumbbell to use.
This section covers how to add and remove weights from each dumbbell, how easy they are to adjust, and how they feel in use.
The Bowflex 552i
The Bowflex is relatively simple to use, with a standard dial system that's easy to adjust and drop in weights that can be changed in less than a minute.
The handle is aluminium, with a knurled handle that increases grip, and it sits comfortably on the base plate. Overall, you're getting what you expect from a brand like Bowflex, which is a comfortable and well put together dumbbell that feels great.
Powerblock Sport 24
The Powerblock uses a system that's going to be familiar to anyone who's ever been to a commercial gym. Rather than having the standard ring weights that slot onto the outside of a handle, Powerblock dumbbells lock into each other using a pin system that's incredibly similar to a weight machine.
The handle is built into the smallest weight, and each weight slots into the next largest, building up in a series of increments that can be swapped in actual seconds. This system is so simple anyone could use it, but the only downside is that, as the weights are oblong, they can be slightly unwieldy compared to standard weights.
Still, for ease of use, the Powerblock Sport 24 definitely has the edge.
Extras
The Bowflex 552i
Bowflex is an established name in the sports tech sphere. They know what they're doing, and it shows. Every part of the 552i is well designed and well made, with few complaints.
When you buy a 552i, you gain access to Bowflex's exercise app, which comes pre-loaded with 30 exercises that can be performed with the dumbbell, as well as a whole bunch of variations, bringing the total amount of exercises up to 80.
This makes using the 552i much simpler, as you can grab a handful of exercises and put together an effective workout with ease.
Powerblock Sport 24
In terms of extras, you get very little on top of the dumbbells. However, the fact that you get a pair of dumbbells for the price is quite extra by itself.
Price
At first glance, both dumbbells sit at roughly the same price point. However, what you're getting for the money is completely different.
Purchasing the Bowflex 552i gives you a fantastic dumbbell, but it comes as a single. The Powerblock Sport 24 instead comes as a pair, for around the same initial outlay.
This gives potential buyers a choice. Which one you buy depends on your needs, and what you're looking for out of your purchase.
Check the price of the Powerblock 24 and the Bowflex hand weights on Amazon.
---
The Bottom Line: Which one should you buy?
Both the Bowflex 552i and the Powerblock Sport 24 are fantastic adjustable dumbbells, but they're designed for different things.
As a lighter pair, the Sport 24 are far better suited for people who are starting a workout program, or people looking to use their dumbbells as part of a balanced workout or for maintenance and flexibility.
However, the 552i is almost twice as heavy, making it much more suitable for heavier lifts, weightlifting, powerlifting, or other more intense exercises.
Realistically though, both are fantastic dumbbells that we happily recommend, and anyone buying either won't be disappointed. Both are robust, easy to use, and guaranteed to last a long time, making them a fantastic addition to any home gym.
What are some other adjustable dumbbells?
Powerblock and Bowflex aren't the only game in town. Check out our full guide on the best adjustable dumbbells for sale in the UK today.
---
References and further reading