Having trained with kettlebells for many years now (lost track of how many…) I can say they're one of the best finds I made in my training. Offering a completely unique form of exercise that differs completely from other free weights like dumbbells.
One downside I found was they these lumps of iron take up a hell of a lot of space in your home or gym. And that's a problem as it's really useful to have at least a few different weights to cover all the exercises you should be doing.
Enter the variable weight kettlebell.
Far from being a late night shopping channel gimmick, this nifty fitness gadget offers a relatively cheap way to have a range of bells at home, without having to get a rack or trade valuable floor space. You'll have a wider choice and pay less than buying separate weights too.
In this guide we've combined the best adjustable kettlebells we've reviewed into one quick guide.
Picking The Best Adjustables  (so far!) in 2023
"Bowflex's adjustable kettlebell is easy to use and comes with a great selection of weights."

Isogym
Adjustable
Kettlebell

"This clever bit of kit looks and feels like a real kettlebell and is quick and easy to swap between weights."

Simple twist to set weight

StrengthTools Plate Kettlebell

"This kettlebell takes standard olympic plates and can be loaded up to 135kg. It's designed for seriously heavy lifting."

"Put your own 1" plates on this nifty budget-priced kettlebell handle. It's secure, comfortable and a lot of fun to use."

"Simple, cheap and easy to use. Add your own 1" platsonto this ergonomic handle and you can make pretty much any kettlebell up to 80kg!"
Here's a more in-depth look at some of the best adjustables on the market today.
What we look for when picking our 'top' adjustable kettlebell
Some things to look out for when picking your new weight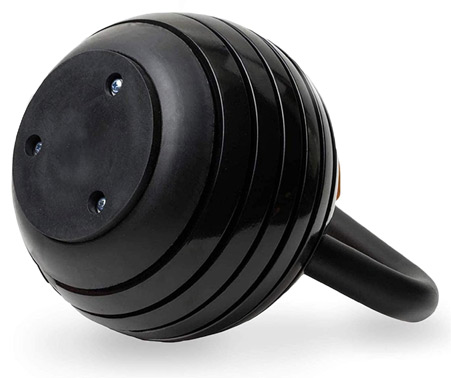 Lower and upper weights – It's really hard picking a weight for someone because everyone can be at different levels. Generally speaking, a good adjustable should start at a lower 3kg(ish) but also have enough upper weight 20kg(ish) to challenge more experienced users.
Number of possible weights? – There's not much point getting a multi-weight kettlebell if you've only got a few possible weights. A decent one should give 6 or more possible combinations, with small steps up in between each level.
Mechanism – You know when something has a 'knack', and you have to practice to use it? That's not good. The better adjustables we've seen are quick, painless and easy to swap between weights!
Design and aesthetics – While how cool something looks isn't exactly necessary for a good kettlebell (the fixed ones aren't exactly works of art) the overall design of adjustables really varies a lot from one product to the next. Some are clunky, awkward beasts. Others, you can see they've taken time to do a proper job.
Price – As always, we'll try to include some good cheaper budget options – and there are some out there. Like everything, you get what you pay for, but there are some good, cheaper products in this list too.
Safety and comfort – While the original kettlebells aren't exactly the safest things – there's only so safe a huge chunk of metal flying around your head can be – there's some well-designed adjustable weights with nice smooth edges, wide, supportive handles and extremely secure weights. Then there's some that are just waiting to clink you on the ankle. Ouch!
Good brand name – This one is last on the list as we do constantly find examples of good gym gear from companies we've never heard of. Having said that, a decent brand behind your product never hurts. As long as you're not just paying for a name, we'll take a Bowflex, or an IsoGym over an unknown brand most days.
---

#1 Choice: Bowflex SelectTech Adjustable Dumbbell System
# Weights: 6
Weight settings: Folding
Size: 12″
Mechanism: Change weights using a dial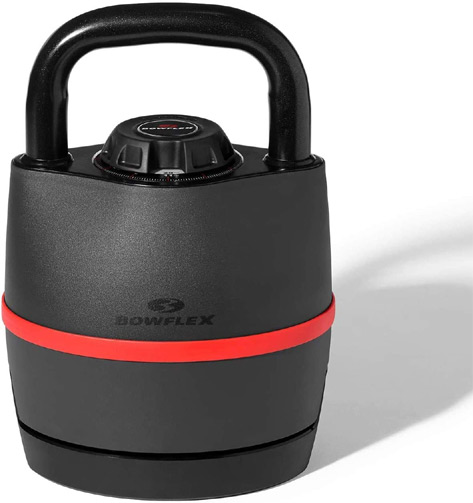 First up, we've got an awesome adjustable kettlebell set from Bowflex (the people behind the adjustable dumbbell). This adjustable can be set to any one of 6 different kettlebells and is one of the most straight forward ones to use.
Good selection of weights
This is a unisex kettlebell but it's great for people who are getting into this kind of training too. Weight start at a fairly easy-going 3kg and ramp up to a hefty 18kg. Want to practice form on a new exercise? Drop the weight down. Swapping weights is one of the fastest systems too.
A good choice if there's more than one user going to be using the kettlebell at home.
Swapping plates is a quick and easy business, a simple numbered dial makes it easy to see what kind of weight you'll be lifting, swinging or whatever else you like to do. Price-wise, this isn't the cheapest set out there but the quality is top-notch.
Unused weights are stored neatly
Un-used weights are stored in the base but the kettlebell, which is way better than the other systems which leave you tripping over them on your floor. The Bowflex also looks the same whatever weight you pick.
The design they've gone for with this kettlebell is much better thought out than the other ones we've seen, where they can be a bit clunky to use. It's is simple, easy-to-use and feels great to swing about.
Verdict: If you're new to kettlebells and looking for an easy start, with plenty of room to grow, you can do a lot worse than this brill starter kit from Bowflex.
Fab quality bit of kit
Simple dial to change weights
Safe, 'smooth' design
Handy training videos
Fast to swap between weights
Not the cheapest adjustable
Check Current Amazon UK Price
---
# Weights: 7
Weight settings: 3.4kg, 5.5kg, 10.7kg, 13.4kg, 15.9kg and 18kg
Size: 12″
Mechanism: Lift and twist handle, then remove plates.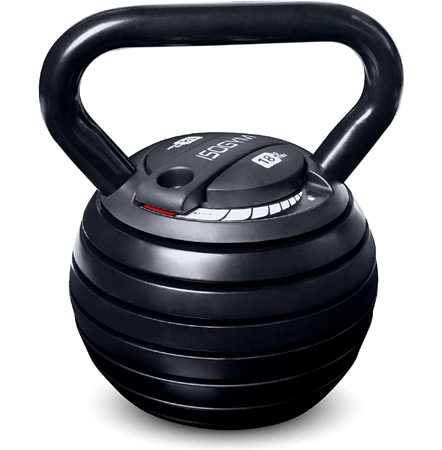 With a lovely rounded design, the 7-in-one adjustable kettlebell set is one of the better looking ones in our roundup here. But enough about looks. What's it like? Well, you're getting a set of mini plates that let you knock together a bell from (a peculiar) 3.4kg up to 18kg.
Perfectly simulates the feel of a fixed kettlebell
It's awesome being able to perform different exercises with just one kettlebell and it's relatively painless to change between weights with this set, although not as simple or quick as the Bowflex system. It has the feel of lifting a 'real' kettlebell thanks to it's nifty weight distribution.
The handle is a lot wider than conventional kettlebells – which is a good thing; you can grab it easily with two hands and it won't give you cramp doing swings. There's also a chunky rubber base to protect your floors. Very thoughtful.
Verdict: With an extremely nifty design, the Isogym Adjustable Kettlebell is a great quality product. It's as close as you're going to get to a real kettlebell while offering the convenience of having one size fits all.
Feels exactly like a 'real' kettlebell
Smooth, round and safe
Weights lock in securely and stay there
Good range of possible weights
Odd .4, .9 weights overcomplicate things
Doesn't look as good once you start to take weights away
Not as fast to change as the Bowflex.
Check Current Amazon UK Price
---
# Weights: Olympic plates
Weight settings: Over 135kg
Size: 42cm tall
Mechanism: Remove pin and slacken clamp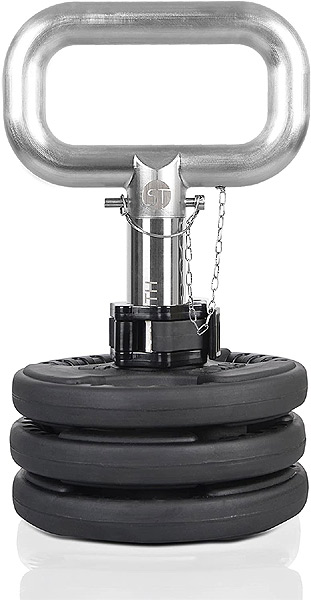 The 'add-your-own' platest style kettle bell is another popular one in gyms and this one from StrengthTools will take as many standard 2″ olympic plates as you want to add. It will take up to 135kg, which, unless you've got a red cape in your cupboard, will likely be way more than you'll need.
Clearly this kettle bell is aimed at anyone looking to do some seriously heavy swings and other exercises.
It's quite a size – bigger than your average kettlebell, at over 40 cm tall but the handle is extremely comfortable to grab with one hand or two. And the build quality is as tough a bit of kit as you'd find. You won't need to replace this a few years down the line.
Adding the weights isn't a one-click job but after a bit of practice, it's fairly straight forwards. Pull the pin, remove the 'clamp' that holds the weights in place, and slide on your plates.
It's likely you'll find a lot of uses for this bit of gym gear outside of the obvious swings, but regardless, it does a great job of filling a niche for a heavy weight adjustable kettle bell system.
Verdict: Looking to go heavy? This adjustable is the one to go for. It's seriously chunky (in a good way) and can take a lot of weight. It's comfortable to use and, once you've done it a few times, swapping plates out is a doddle. It's a beast.
Crazy-high upper weight limit
Put as many or as few plates as you want
Smooth, comfy handle
Well designed and very sturdy
Way larger than regular kettlebells
You'll need to buy olympic plates if you don't have any
Check Current Amazon UK Price
---
Related Dumbbell Guides
---
# Weights: 1″ plates
Weight settings: 4 – 5
Size: 12.2″
Mechanism: Spin lock system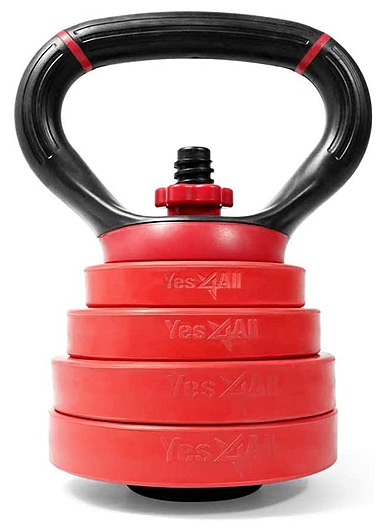 An other kettlebell handle here and this one comes in at a decent low price too. While the weights aren't included, you can slot on any 1″ plates you have (come, on we've all got those lying around…)
And you've got a highly adjustable kettlebell. The curvy handle simulates a fixed style kettlebell and is smooth and comfy to hold. Although there's no clamp so you'll need to add at least a couple of plates to stop the weights shaking around.
Depending on what style plates you add, you can add up to around 4/5 plates and up to 45kg  total weight. That's a decent amount by any standards. The good thing about this is you can go up in increments of tiny weights – as in 1.5kg at a time. Ideal for gradually increasing your weights.
Verdict: This simple kettlebell handle will be ideal for anyone who's already got a set of 1″ weights. It's comfy to use and can hold a decent amount of weights. 
Cheap!
Easy to use
Handle feels good
Good upper weight limit
Many different possible weights
No clamp on weight column
You'll need some 1″ plates
Spin lock system isn't the fastest
Check Current Amazon UK Price
---
# Weights: 1″ plates
Weight settings: 80kg
Size: 14.7″
Mechanism: Spin lock system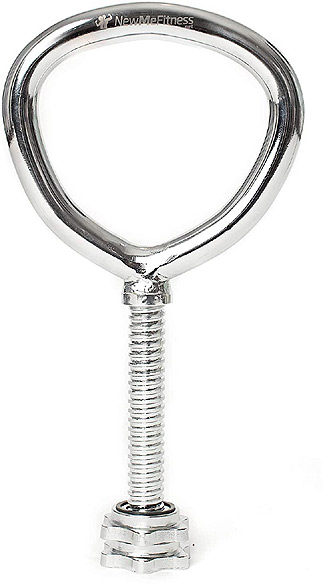 This is a great idea, and a very cost-effective way to get into training with kettlebells. The Gorilla Sports adjustable weight kettlebell doesn't come with any weights, instead it uses any existing plates you have.
It takes 30mm hole weights and you simple slide them on as you would a dumbbell. You're able to get up to 80kg (4 x 20kg plates) on here, which is a pretty substantial weight for a kettle bell. The upper nut screws down to keep however many plates you have in place.
The only downside is that you need those 1″ hole weights. So check to make sure you've got the right ones, or can get them.
Verdict: So long as you have, or can get, the correct weights here, this is a good solution that's a lot cheaper than the other adjustable kettlebells we've seen.
Simple to use
Put as much weight as you can fit in there
Clamps down – can use 1 weight if you like
Doesn't include weights
Spin lock
Check Current Amazon UK Price
---
Variable Weight Kettle Bell Buyer's Guide
What are the highlights of adjustable kettlebells?
One thing I didn't know when I started kettlebell training was that you could get a range of adjustable weight kettlebells, which mean you save a lot of money once you start to move up weight.
I've shed a few of these chunky iron balls along the way which now only prove useful at keeping my gym door open.
To help you decide if you should buy an adjustable, or go for the original kind, here's some of the plus points we've found to using them:
They're good for beginners – If you're new to kettlebells, even a lower weight can be a challenge. More so than using say a dumbbell. But you'll quickly get the hang of things and be ready to step up in weight.
You don't have to stress about which weight to pick – If this is your first kettlebell, it's often really hard to decide which weight you need, unless you've had a go at the gym and have a good idea. These adjustable bells take some of that pressure off by giving you a range to work from.
You can vary your weight on days when you're not feeling like the Hulk – On those days where you're more tired or recovering from an injury it's really useful to be able to drop down in weight and press something lighter. This variable style of kettlebell is ideal for this.
They're also ideal for anyone short on space, taking up the space of one while offering up to 13 different weight combinations.
Why won't you like adjustable kettlebells?
Is this kind of weight for you? We've been singing the praises and benefits to this kind of gear but where do they fall short? Here's some of the negatives to variable weight KBs.
They don't look as good – Completely subjective and although a lot of adjustable bells have a decent design, it's hard to compete with the iconic polished look of a regular kettlebell.
Issues with feel and balance – Again, comparing adjustable to a regular kettlebell, they're never going to quite match the feel you'll get. The balance and overall feel of an adjustable is slightly different to the OG kind too. The handles can also be a lot different to regular style bells too.
They can be a bit clanky – Not all of the adjustable's we've seen have this problem with some, the weights move around when lifting them and don't have that 'solid' feel.
There's more that can go wrong – with more moving parts comes more complexity and more that can go wrong. You could leave a regular kettlebell in your garden for 1- years and come back and start using it. We love adjustable kettlebells but there's more things that can go awry with them over time too.
Thanks for reading this guide on the world of adjustable kettlebells. I hope you can find something here that fits with your training. As always, let me know in the comments if there's an adjustable set you've bought and love.
Tom, HGE