I think I'm in love. And it's a set of adjustable steel dumbbells that have stolen my heart, of all things. Vital Gym's set of hand weights are bordering on art they're so well made, with quality oozing out of every plate. This guide will cover everything you need to know about these luxury hand weights.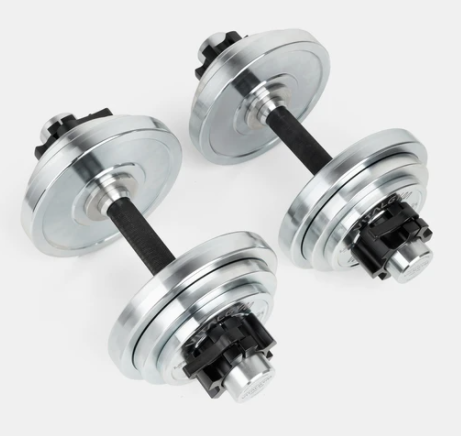 Quick features
I'll get to what makes these weights something you'll want in your home gym in a second. First, here's the basic info on them:
Stainless steel – Made from the highest grade of steel
Olympic plates – standard 2″ (50mm) width
bar weight: 6kg
Metal grip – with a knurled texture
Zinc coated – keeps the rust and bay
Made in the UK – Made and designed by VitalGym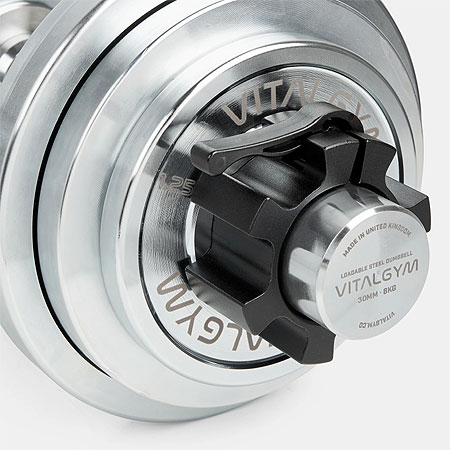 What weights do you get with it?
The set comes with a pair of dumbbell bars, 4 Olympic clamps and a good selection of weights. You can expand your collection with the same plates later, but here's what it comes with:
4 x 5kg
4 x 2.5kg
4 x 1.25
Some fun facts:
You can make a monster single dumbbell of 35kg
The biggest pair of dumbbells you can create is 2 x 17.5kg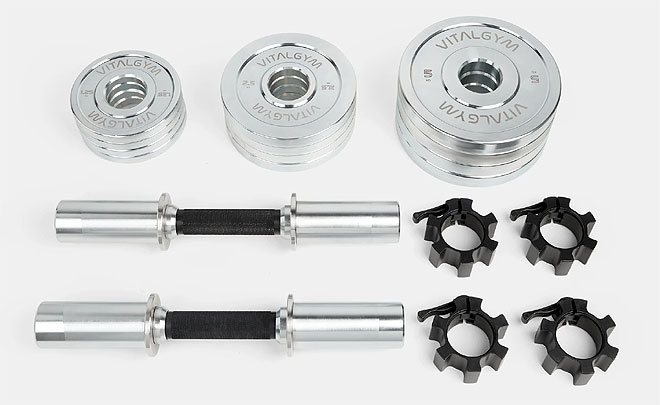 One of the real beauties with this set of weights is the way the clamp works. You can literally flick this thing on and off in a split second, so these are actually adjustable weights. Unlike spin-lock ones where it can take minutes to swap the weights around. If you're interested in weights you can swap around quickly, don't miss our best adjustable dumbbells guide.
Having a proper way to set the weight to your set quickly is a huge space-saver too. You don't need a set of lighter dumbbells to do your front raises, or a different set to do your chest. And this is from someone who loves their hex dumbbells too.
Related: Adjustable Dumbbells For Women
Why these wipe the floor with spin lock sets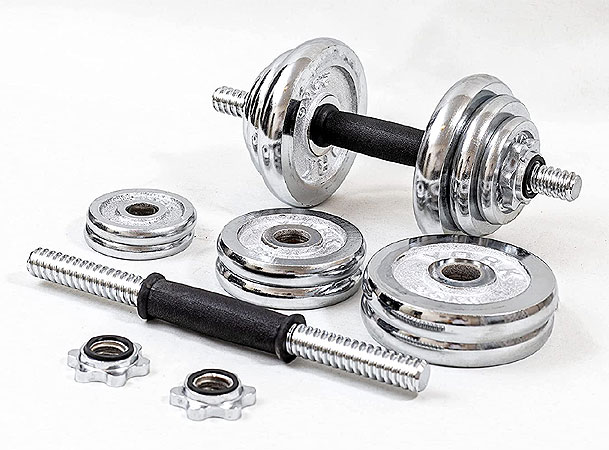 They don't come loose – Those spinny nuts are a pain in the butt when you're lifting weights – especially on anything where you're curling the weight, forcing it to rotate. I've seen a lot of these and they don't stay put. The locking system on these weights is completely different. It clamps down and doesn't budge.
They look fantastic – I know, it's the last thing we need in a good set of adjustable weights but these look so much nicer than my older set of spin-locks. There's no awful welds, seams or general ugliness here. You'll want to leave these lying around.
They take Olympic plates – This was a real surprise and I love the way these weights can handle your Olympic plates. It makes sense too; why have two different sets of weights? Of course, if you've got a 1″ diameter set, it's not an issue. but the way these take 'proper' plates is incredibly cool.
It's fast to change the plates – If I could have all that time back I've spend spinning nuts onto weights, I'd have… well a few spare hours anyway. The point is, there are better things to do than spin nuts on and off just to change weight. With Vital Gym's steel weights you simply flip the clamp, slide the brace off and alter the weights.
They're steel, not just chrome-plated – Another real benefit to this set of sleek-n-sexy weights is that the shiny won't chip off the first time you clink them together. The cheaper chrome-plated ones might look the part, but they're not as robust and won't age well.
High-degree of weight accuracy – One thing that's surprising is when you take a bit of gym gear – be it a dumbbell or a kettlebell and put it on the scales. You might be shocked how 'out' some weights actually are. While it's not going to ruin your training if you're a few grams out here and there, it's better to keep it to a minimum. Thankfully, these steel adjustable's are 99% accurate.
No more clanking – What you can't tell from the pics is how snuggly the plates sit together when they're clamped in place. They're incredibly solid. If you've ever used a cheaper set of changeable weights, you'll know the familiar clanking they make, when they work loose. That's not an issue here.
---
Related Dumbbell Guides
---
What's not so amazing about this set of adjustable steel dumbbells?
They're more expensive than spin-locks and fixed weights
The only criticism I can level at this set of dumbbells is to do with the price. There's no getting around the fact that these metal dumbbells are not the cheapest on the market. And, technically they'll do the same job as any old set of spin-lock weights. Having said that, the quality on offer here arguably makes them good value as they should last a lifetime.
Where can you buy these weights?
These adjustable hand-helds are made in the UK by VitalGym and you can't get these bad boys on Amazon. You can buy them direct from Vital Gym on their website here.
You can expand the plates when you need to
While you can stick any plates on these dumbbells, as long as they're Olympic ones, if you want to keep with the design here, you can order more of the same kinds of plates. They're also available from Vital Gym and they come in pairs. You can get the following sizes:
---
Final Thoughts: Are they worth the cash?
VitalGym gets the award for the best looking and best feeling dumbbells we've seen to date.
For the price of a pair of these weights you can get a couple of pairs of hex dumbbells if you shop around, or for a lot less, a cheaper set of adjustable weights. To be honest, these dumbbells are in a class of their own, however. The craftsmanship and level of quality and comfort are off the charts.
At their core, they're a great set of dumbbells to use at home, or in a home gym. They're super-fast to adjust, designed to last a long time and have a great selection of weights you can add to later if you need to.
VitalGym gets the award for the best looking and best feeling dumbbells we've seen to date.
Highly recommended!
---
Silver Adjustable Dumbbell Plate Specs
5kg Plate Dimensions:
Plate Diameter: 19.5cm
Thickness: 2.5cm
Hole size Olympic 50mm/2"
10kg Plate Dimensions:
Plate Diameter: 24.5cm
Thickness: 3cm
Hole size Olympic 50mm/2"
15kg Plate Dimensions:
Plate Diameter: 29.5cm
Thickness: 3cm
Hole size Olympic 50mm/2"
20kg Plate Dimensions:
Plate Diameter: 33.5cm
Thickness: 3.3cm
Hole size Olympic 50mm/2"
---
References & Further Reading