Looking to bring some variation to your routine? This guide is for you. In this article, we're covering some of the best adjustable dumbbells up for grabs in the UK today. What are they? Are they any good? Which ones are worth a buy?
Space-saving, reasonably cheap, and incredibly flexible in the workouts that can be done with them, a set of hand weights could easily be considered the core part of any exercise routine. But there are a lot of brands out there, and making the choice is difficult.
---
What we look for picking the top multi-weight dumbbells
The main 6 things we look at when it comes to adjustable free weights: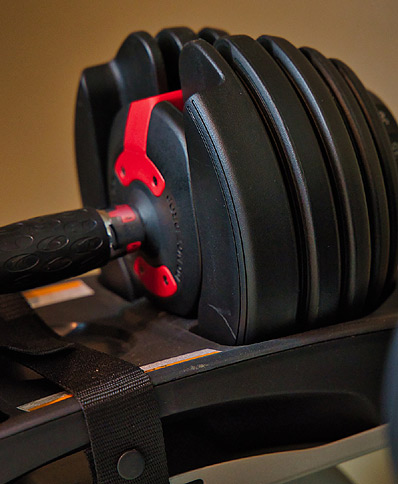 Are they easy to use? – It seems funny listing how easy a dumbbell is to use, but some are definitely easier to swap weights than others.
How fast they are to adjust? One thing that, oddly enough, varies a great deal in the dumbbells we've seen is how each mechanism works. Some are definitely faster than others and less 'faffy'.
Is the mechanism robust? – One thing you definitely want to look out for with any adjustable hand weight is whether it's going to last, and whether it can take the punishment it will inevitably receive in a home gym.
How much weight do you get? – An obvious thing to check out is how much weight you're getting for your money. This varies wildly from one set to the next and will of course be a different requirement for each sex, age etc.
Number of steps – The whole point of an adjustable weight is so that you have a lot of different possible 'dumbbells' with one set. More is always better so that's one major thing we look at when reviewing adjustable free weights.
Getting to grips with it – As with regular dumbbells, the size, shape, quality and general 'grippiness' of the handle of selectorised and spin-lock free weights is critical. Unless you've got chalk at home (no, neither have we) your hands can and will get sweaty! And it's essential that your weight won't slip and do damage to you or, worse still, your poor phone.
---
"Currently the best quick-change adjustable weight, if you want our opinion. It's easy to use and built to last."

Less than 1 square foot size

Brilliant quick-change dial system

"A superior quality set of adjustable weights that come as a pair. Easy to use, and offer a hige variety of possible weights."

Simple quick-change system

York Fitness Cast Chrome Dumbbells

"A classic set of adjustable dumbbbell weights. Includes two handles so you get a pair of weights here."

Musclesquad 32.5kg Adjustable Dumbbell

"This selecorised adjustable dumbbell has a high upper weight and a solid, sturdy build quality. "

"This set of weights includes the barbell and a pair of dumbbells."

Barbell, and pair of dumbbells
Top UK adjustable dumbbells in 2023
Before the buyer's guide, let's go over the current top adjustable hand held weights for 2023. Here are the ones we found were actually worth the money, starting with the top pick first.

#1 – Best Overall Adjustable Dumbbell: Bowflex 552i
Type: Selectorised
Total Weight: 24kg
# Possible weights: 15
How easy: You just turn a dial to the weight you want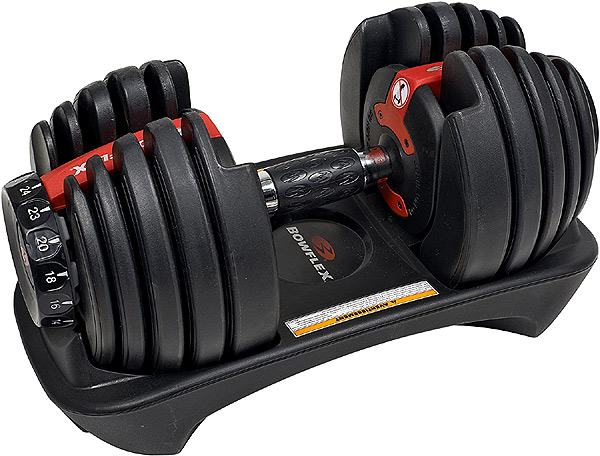 Packing 15 different weight options into one dumbbell, from 2 to 24kg (5 to 52.5lbs) the Bowflex 552i (available on Amazon UK) offers the most out of all the adjustable dumbbells we've seen.
The sheer amount of weight variance is impressive, doubly so when you realise that each dumbbell has a footprint of less than a square foot when stored on their carrying case.
Bowflex has also addressed an issue seen with a lot of selectorised dumbbells. Unlike a lot of these type, the 552i are made to be incredibly durable, with hard wearing moulding around the plates that keeps everything safe and protected, as well as making everything flow smoother.
Bowflex also offer an app that gives you 30 different exercises you can do with your new purchase, with 80 variations, so you're always going to have something new to try.
Wide range of weight options
Strong and durable
Incredibly easy to switch, with a simple dial system
Verdict: If the price doesn't put you off, this is an absolutely incredible adjustable dumbbell. Even if you go for one, there's a world of training possibilities here. This weight looks, feels and performs extremely well. It's safe, secure and super-speedy to swap between all the different variations.
Check Current Amazon UK Price
Or check out our full review of the Bowflex 552 here.
---
Best Budget Adjustable Set: York Fitness Cast Chrome Dumbbells
Type: Spin-lock
Total Weight: 20kg
Pair? Yes
How easy: Easy enough to change weights, but time-consuming!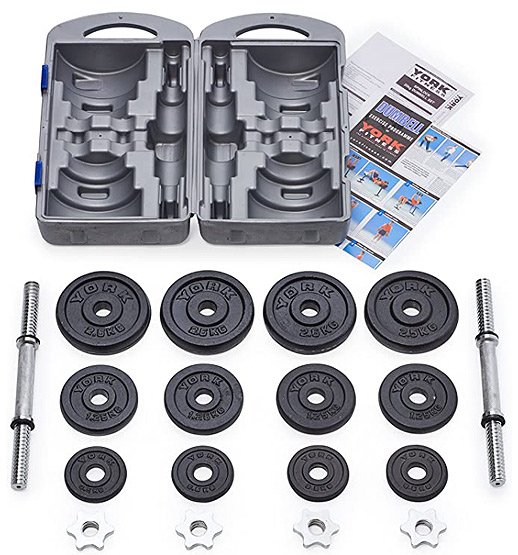 A traditional set of weights by an industry staple, these dumbbells are simple, hard wearing, and cheap.
With a total combined weight of 20kg, there's a lot to work towards here, and if you need bigger weights, it's simple to order more weights from York and slap them onto the bar.
Despite the budget price, you're not getting a cheaply made product. Both bars and spinner locks are chromed, so they're unlikely to rust or corrode, and the weights are solidly made cast iron.
The whole thing also comes with a carry case, meaning that they're easy to store at home, and also incredibly easy to transport, just in case you're a trainer. Or like working out in the park.
Verdict: York fitness usual quality on display here in a classic set of adjustable weights. They're far cheaper than the modern locking variety but the spinning on and off can get a bit repetitive. Still, an excellent space-saving adjustable dumbbell set and it does include a paid of dumbbell bars.
Great product for a budget price
Simple to use in your training
Solidly built and strong
Swapping weights takes a little time
Cast iron, so they'll destroy anything they're dropped on
Check Current Amazon UK Price
---
Related Dumbbell Guides
---
Heaviest adjustable dumbbell: MuscleSquad 32.5kg swappable dumbbell
Type: Selectorised
Total Weight: 32.5kg
# Possible weights: 12
How easy: Super simple. Just change the dial and grab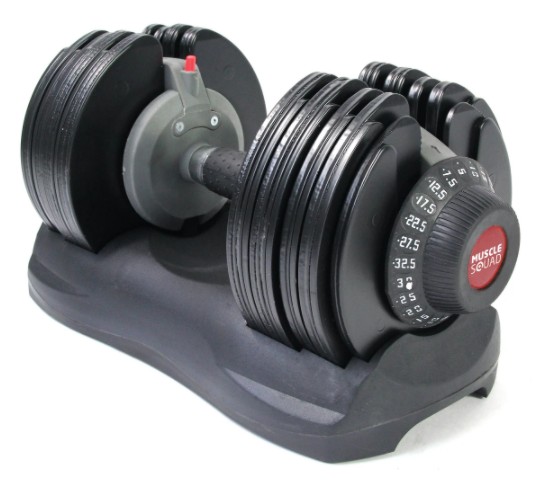 If you're looking for dumbbells that let you lift heavy, it can be hard to find a set of selectorised weights, because of the limitations in design. But MuscleSquad have your back, with a weight set that runs from 5kg up to a heavy 32.5kg (11 to 71lbs.)
Made from steel, with chrome plated handles, each dumbbell is well designed, and easy to hold, important when you're lifting heavy. Weight adjustment is incredibly simple, using the same dial style lock that you also find on our top choice.
At the maximum weight, they're heavy enough to use on full body exercises like squats and leg lifts, as well as a lot of presses. If you want a selectorised weight set that can be used for complete workouts, and need something heavier than the norm, this is the best choice we found.
Huge total weight
Durable and well built
Easy to hold, with a well designed handle
Weight increments are quite large
Verdict: A lovely, chunky adjustable dumbbell here that goes up to a whopping 32.5kg. They're made from top quality material and they're easy to adjust. If you're looking for something that can grow with you, this is a brilliant weight to go for.
Check Current Amazon UK Price
Related: Adjustable Dumbbells For Women
---
Best adjustable barbell kit: Hardcastle 30kg set
Type: Spin lock
Total Weight: 30kg
Set includes: 2 x dumbells, 1 x barbell
How easy: Spin-lock system – slow but straightforward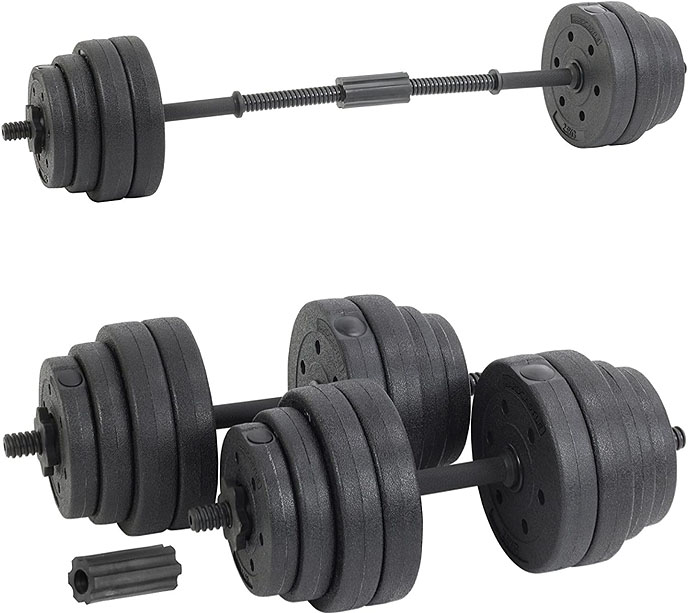 A set of dumbbells you can change the weight on, with an innovative central connector, this set by Hardcastle is a great piece of gear if you're looking for something to get you started working out, and you have to exercise wholly inside your home.
That's because, for one, it can be used as dumbbells and a barbell, saving you massive amounts of space and cash on expensive and space stealing kit. It does this by using a connector to link both dumbbells together, forming them into a single longer bar.
Second, the weights are covered by a solid vinyl coating, that massively reduces the impact and helps to prevent dents in your floor.
Lastly, it's surprisingly budget-friendly, especially considering what you're getting. The only issue is the total included weight is quite low. 30kg, 15kg per dumbbell, so if you need something a little more intensive, we recommend something else on our list.
Functions as a set of dumbbells and a barbell
Vinyl coated weights are floor-friendly
Incredibly easy to use
Check Current Amazon UK Price
---
Best luxury adjustable dumbbell pick: Power Block Pro
Type: Selectorised, comes in a pair
Total Weight: 22.7kg
# weight combinations: 19
How easy: Quick and easy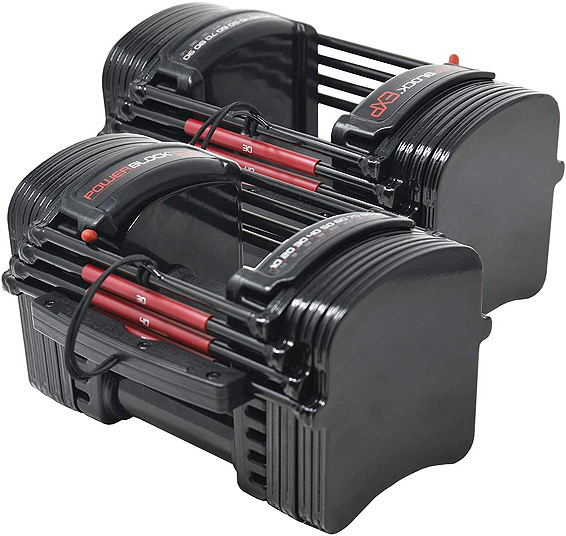 Looking completely different to everything else on the list, the Power Block is a smartly designed and easy to use piece of kit that's utterly unique. The design is patented, so you're not going to find anything else like these.
Each dumbbell can be adjusted from 2 to 22kg (5 to 50lbs) in 2.5lb increments, giving you a massive 20 weight range to work with. It's also incredibly simple to adjust, using a pin system similar to what you'd find on most gym machines, and the weight just lifts off from the base, making it incredibly simple to change and use.
The plates are plastic coated, so they move smoothly across each other, and they're less likely to damage anything if dropped, and each weight takes up just over half a square foot of floor space. They're ridiculously small!
Overall, these are a fantastic pair of dumbbells that are simple to use, with a lot to offer, but you do pay a premium for it.
Good range of weights, in small increments
Tiny and easy to move and store
Simple to use
Verdict: Smaller than they look, and built to last. It's also nice to see some selectorised weights come in a pair. It's quick and simple to swap between weights and you get 19 possible increments. The upper weight of 22kg should keep most home gym'ers very happy and the overall build quality is excellent. Not cheap, but a good set of adjustables here.
Check Current Amazon UK Price
---
Adjustable dumbbell buyer's guide
Buying adjustable dumbbells is slightly more tricky than your regular variety free weights. But fear not! Have a quick look of our guide to everything you need to know about picking the perfect set of dumbbells with changeable weights!
How do adjustable weights work?
There are two kinds of adjustable dumbbells, and we'll cover each one in more depth.
Adjustable weights all differ slightly in their mechanism, but the principle is the same from one free weight to the next. You get a handgrip, and a base unit that contains a variety of weights. You insert the grip into this 'stack' of weights, select the weight you want and then lift up the barbell.
Do you need to buy a pair to get the best out of training with them?
Spinlock style weights will generally come with two bars and a selection of weights. The more sophisticated selectorised weights, however, almost always come separately.
With these weights, if you're looking for a pair, yes – you'll have to effectively buy two of the same item. Having said that, there's a WORLD of exercise you can do with one dumbbell.
Have a look at this awesome video to see a full body workout you can do with an adjustable (or other) dumbbell!
Why are adjustable weights so expensive
There's no getting around the fact that selectorised adjustable weights aren't cheap. They're far more expensive (often more than twice to three times as much as the tried and tested spinning lock weights). So why is this? The main reason is that they employ a far more elaborate mechanism, requiring a highly specialized tooling setup, costing a lot more money to make.
But look on the bright side. They might make a dint in your wallet but they'll pay dividends in all the time they save.
Are selectorised weights safe?
Selectorised weights have a 'fool proof' locking mechanism that involved turning to lock the plates into position. It doesn't matter how hard you try, there's no way to remove those plates unless you return the weight to it's dock. These weights are safe as dumbbells.
Having said all that – you do of course have to take precautions lifting any weights.
Why use adjustable dumbbells
The mundane dumbbell is one of the most flexible and efficient pieces of exercise equipment you can own.
Whether you're using them for joint isolation exercises like curls (so many curls,) raises and flies, or you're performing full-body lifts or squats, a good set of dumbbells can carry an entire workout.
But most people don't have the space for a full set of dumbbells of various different weights inside their house. Which leads us to an adjustable set.
Adjustable dumbbells all share one thing in common, a set of weight plates that can be changed, to give you various different weights to workout with.
The types of weights
There are two types of adjustable dumbbells:
Traditional adjustable weights
Selectorised free weights
Traditional dumbbells
A set of traditional dumbbells are probably what most people think of when they hear the name.
Dumbbells like these have been around forever, and run the entire gauntlet when it comes to prices, features, weight ranges, and more.
Standard dumbbells like these normally come with a set of two bars, weight plates in various sizes, and spin-locks to hold the weights in place.
Simple and effective, but it can be a pain to keep changing weights. If you're going to be changing weights often, you're going to be doing a LOT of twisting on and off of those weights. While they're cheaper, these weights are best used for when you're not going to be swapping the kg around too often.
Selectorised hand weights
Designed to make the process of changing weights much faster, so you can shift through sets and different exercises in seconds, selectorised dumbbells are becoming much more popular. The speed you can jump between different weights makes them one of the top adjustable dumbbells if you're a fan of online classes.
Rather than holding a set of plates on with screw fixings, most selectorised dumbbells have simpler drop-in weight systems that can be locked in one movement, so you can change the total weight incredibly quickly.
Space efficient and much nicer to use, selectorised dumbbells are the better product, but you have to be careful, as they're more vulnerable to damage if dropped, and might take a little while to get used to.
Which adjustable do you think are the best?
Thanks for reading our guide. We do everything we can to keep our guides up to date with all the new gear and developments, but if we've missed anything, or you've got your own recommendations, make sure you let us know in the comments!
Also, please let us know if you've bought any of the weights we've been talking about today, how you find them, or if you've got another incredible set you want to shout about.
Are adjustable dumbbells better than other weights?
What are some drawbacks to these weights?
We've covered some of the recommended adjustable dumbbells on the market and talked about why they are so good. But what are some of the drawbacks? Why might you not want to invest in a pair of these? Here's some of the drawbacks we've experienced reviewing these weights over the years:
The initial outlay can be expensive – Adjustables can cost a lot more initially than a pair of hex dumbbells. A lot more in some cases. Sure, you're getting more weights you can lift but the initial price is definitely going to put people of buying these.
They can be a (even more) clunky compared to regular weights – Dumbbells aren't known for being the most graceful bit of gym gear you can use. By their nature, they're a weighty, bulky bit of equipment. But most adjustable add extra size to the weight you're lifting, making some moves a little more awkward and you'll definitely feel them more on your skin.
You might not use all those weights – One of the best things about adjustable hand weights is you can pick from a huge number of weights. But, realistically, you might never need that many. Moreso if you've got a decent strength built up. Those lower weights could be a waste of time.
There's more that can go wrong – While the hard rubber can peel off a rubber dumbbell, there's not exactly a lot that can go wrong. Realistically, you'll have them for the rest of your life. Those clever locking mechanisms on adjustable weights come at a price. With more moving parts, adjustable weights can break over time or parts can wear out.