Whether You're 16 or 60, it's the perfect time to start jogging
When social restrictions first came into place, there was a sudden shift in the nation's relationship with jogging. Once seen as an activity for the early risers, the marathon trainers and the young and sporty, this image changed when a jog in the park became one of the few permitted reasons to leave the house.
Suddenly, people were grabbing their running shoes and heading for their first jog in ages – perhaps ever!
Were you part of this first wave of jogging fever? Or did you shy away from the activity, believing yourself too old to start running? In this post, we're going to discuss why jogging is an exercise without age limits and encourage you to give it a go.
How does jogging improve your health?
Running has many proven benefits to your health – whatever age you are
For people in their 60s, jogging has many health benefits, proven many times in controlled studies. The benefits for seniors are both physical and mental. It's an effective form of cardio which, when engaged in regularly has the following health benefits:
Strengthens the heart
Protects against illnesses such as heart disease
Helps prevent strokes
Can help prevent heart attacks.
A study in the British Medical Journal found that:
 Increased rates of participation in running, regardless of its dose, would probably lead to substantial improvements in population health and longevity.
Jogging does this by promoting efficient blood flow, thus lowering blood pressure and improving circulation.
---
Treadmills For Seniors Deals For Thursday 30th Nov 2023
Prices last updated: Monday 20th Mar 2023 - 02:01
Save £16.63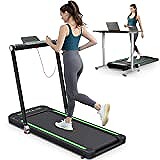 Sunny Health & Fitness T7643 Heavy Duty Walking Treadmill with 350 lb High Weight Capacity, Wide Walking Area and Folding for Storage

Get Deal
Is running good for your heart?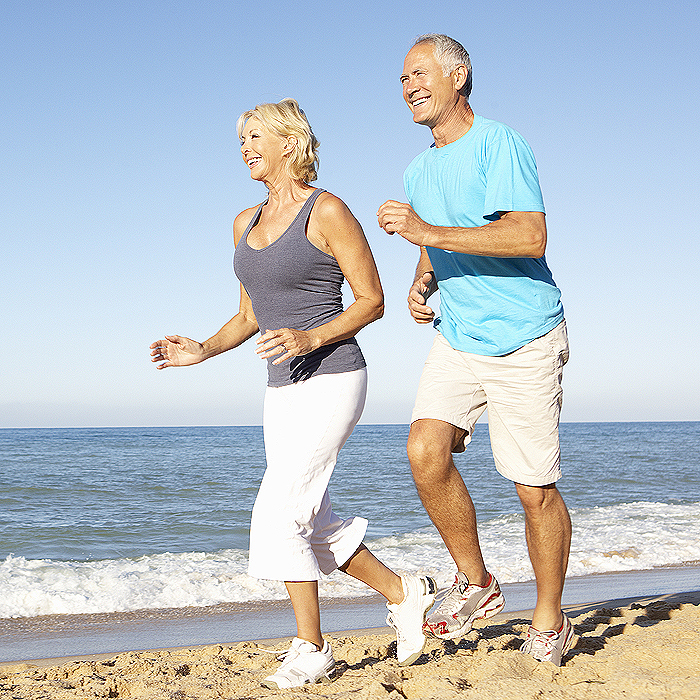 Yes. Medical research on the benefits of cardio exercise to heart health has also drawn a connection between regularly exercising and lower cholesterol. It is thought to both increase the healthy HDL cholesterol and decreases the harmful LDL cholesterol.
---
Related guides
---
Does running improve your mental health?
In addition to these physical benefits, jogging also helps to support mental health and wellbeing. It has been shown to reduce stress by stimulating the production of mood-enhancing hormones. While this is clearly beneficial for all people, it's especially good for sufferers of mild depression who want to treat their condition without using medication.
People report that jogging also carves out some time in their day to concentrate on themselves, that they process their emotions by 'jogging through' them, and that jogging allows them to let go of the stress of the day.
It's no wonder then that jogging is linked with long-lasting mental health.
He started running aged 60 and is still enjoying it 19 years later
Take a look at the story of Dewayne Morris for some inspiration. This runner started when he hit sixty and has been running ever since, nearly 20 years later.
Is running bad for knees if you are older?
'But…my knees!'
There are plenty of health benefits to be gained by putting on your running shoes, so why are some older people hesitant? Commonly cited reasons include having bad knees, a general tendency for aches and pains, and being unfit. On the issue of bad knees, while there is no age limit on jogging, age-related deterioration of the knee joints can be a barrier to this form of exercise.
However, sufferers of painful knees shouldn't give up on exercise because this will make the condition worse. Instead, try weight-supporting exercises, such as swimming or cycling, to keep the joints limber and to maintain a healthy weight (being overweight worsens knee pain). Recumbent bikes are also a fantastic way to get in shape if you have knee problems.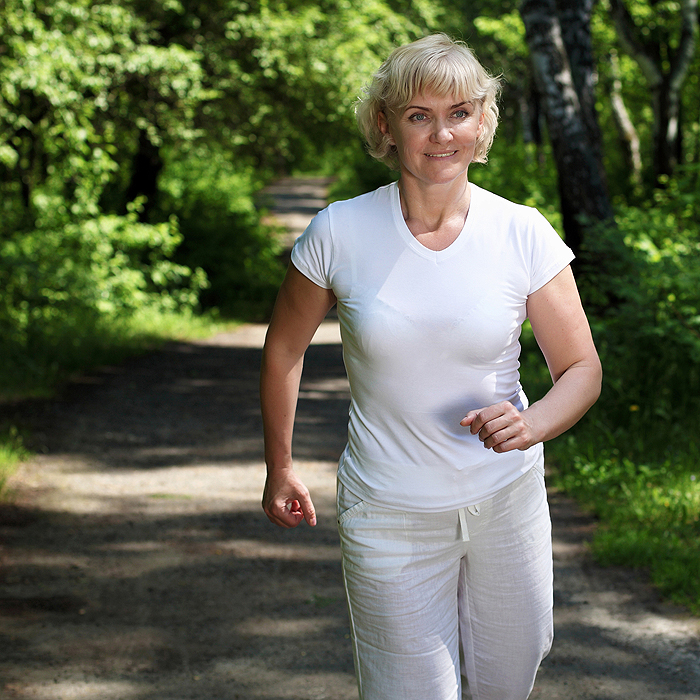 For those who have a tendency for aches and pains, however, jogging may still be suitable. As we age, our bodies become less efficient at repairing damage and building strength. This begins much sooner than most people realise – early decline can begin at 30.
Rather than it being a signal to slow down, it's actually an impetus to remain active or become active. Older people stand to gain the most from taking up exercise because it directly affects their ability to enjoy life and retain (or regain) a full range of motion.
Therefore, a tendency for aches and pains should be taken as a warning sign that the body needs more exercise. We'll discuss some practical tips for how to manage this in the next section.
---
Are treadmills good for over 60s?
There are several things that make treadmills a really good option to get into running if you're over sixty:
They're indoors – If you're in the UK, for example, you might not always get the weather for an outdoor run.
Treadmills are kinder to joints – Running of any kind carries some impact along with all those health benefits. Treadmills have a cushioned, more bouncy surface than most outdoor surfaces.
Track your progress easier – If you're getting into running later in life, it's super-helpful to be able to track time, distance and especially heart rate.
There are plenty of other gym machines more mature adults can use to get in shape too. See our best exercise machines for the elderly guide here.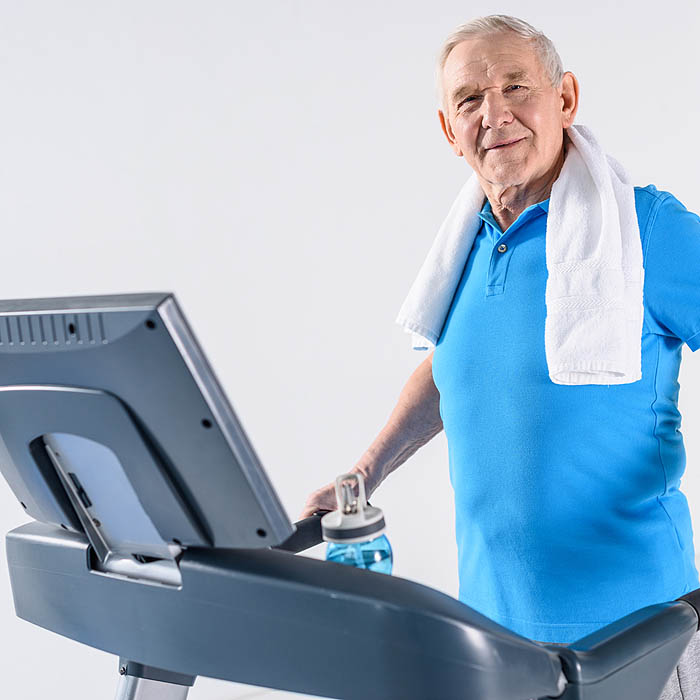 ---
How to start jogging if you're unfit
The final reason some older people give for not jogging is being unfit, although clearly it's not one that is confined to the over 60s!
It's understandable that after a lifetime of not engaging in regular physical activity you might think that it's too late in the game to start now and that your body wouldn't be able to cope.
This is not true. The advice for people who are new to exercise greatly overlaps with that for people who suffer from general aches and pains: start slowly and take a long-term approach to reach your running goals.
How should seniors warm-up for a run?
Alternating between jogging and walking, trying to add an extra minute of jogging to each session until you've built up stamina, is the most sensible and manageable way to structure your jogging.
Make sure to properly stretch before and after your jog too, as this will help to prevent cramps and muscle injuries. Invest in a good pair of running shoes as these will act as a shock absorber and lessen the strain put on your ankles and knees. You can also get knee supports, which compress and support the knees.
Knee supports protect against injury and help to relieve pain caused by existing conditions.
---
Can I really start running at 60?
If you're interested in taking up jogging but still reserved about whether it'll be suitable for you, have a chat with your doctor. They will be able to examine you, identify any areas of concern, and also tell you how much your health could improve by if you began running.
Moreover, if you get your blood pressure and cholesterol taken by your doctor, you can revisit them 3 months later and see how much of a difference your effort is making.
Changes in these numbers will not make you feel different, but they are significant risk factors in a multitude of health conditions and are therefore very important. Blood pressure and cholesterol measurements are also available at large pharmacies.
Final tips if you're starting running in your sixties
You can start running later in life.
You don't have to run for miles.
Start out slow and gentle.
Begin with short runs, and gradually make them longer.
Get some comfy running shoes and running socks – your feet will thank you!
Little and often is better than a huge run every now and then.
You are never too old to start running and the health benefits are huge.
References & Further Reading