In this review, we're taking a look at an interesting bit of kit; a single kettlebell offering a number of possible bells from one bit of equipment. The IsoGym Adjustable Kettlebell (Amazon UK) looks a bit like a regular cannonball with a handle style weight, but is it a gimmick? Does it do as good a job as having a complete set of these weights?
What is the ISOGYM Kettlebell?
As with the number of changeable weight dumbbells and barbells on the market, IsoGym's kettle bell is an adjustable weight kettlebell. You'll be able to pick between a number of weights starting around 3kg and going up to just over 18kg.
How's it work?
At first glance, it might look complicated, but it's really simple; it's a handle onto which you can slot plates. The mechanism at the top simply locks the plates you've added snuggly in place. And boy is that important. Unlike dumbbells, where the motions are normally slow and precise, you'll likely be swinging this bad boy like there's no tomorrow.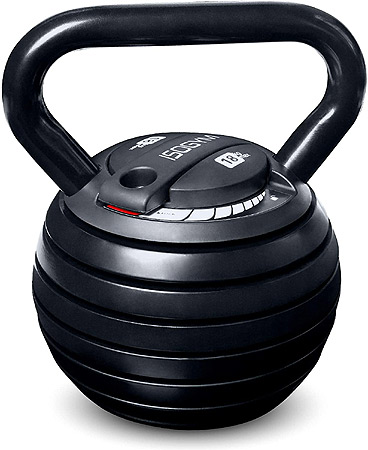 Where'd this obsession with kettlebells come from?
Russia is famous for a few things. Mostly vodka, bears, and athletes. The brutal training plans they put their professional athletes and potential Olympians through work, and the country's gold medal record speaks for that.
Ironically, that's good for us, because when the Russians have finished ironing out the kinks in their crazy training programs, the benefits inevitably trickle down and escape outwards into the standard fitness world.
That happened a few years back when the effectiveness of kettlebell for strength, endurance and cardiovascular health was discovered, and quickly spread throughout the fitness world.
But for a lot of people, space is at a premium in their home gym, and having a full set of kettlebells in a variety of weights takes up a lot of space.
Which is why manufacturers have started producing adjustable kettlebells that have the option to shift weights up and down a full scale, like this model by ISOGYM.
Check Current Amazon UK Price
---
What benefits will you get from training with a kettlebell like the IsoGym one?
Kettlebells can be used in a wide variety of exercises. Almost anything that you can do with free weights, you can do with a kettlebell.

Want a range of kettlebells without the hassle of storing 'em? That's what this bit of kit is all about. Despite their simplicity, kettlebells are a ridiculously versatile and effective training tool that can be used by almost everyone, no matter their current level of fitness, goals, or previous fitness standards.
Kettlebells can be used in a wide variety of exercises. Almost anything that you can do with free weights, you can do with a kettlebell.
On top of this, the unique size, shape and dimensions of a kettlebell make them suited for particular exercises and can bring you a huge amount of benefits in terms of core strength and flexibility, because of the asymmetric weight and handle.
You can use a kettlebell for weightlifting and strength training, cardiovascular fitness, flexibility, core strength, and more.
No matter what you're looking for, and what your goals are, there's a way to achieve it with a kettlebell, if you're creative and hard-working enough.
---
5 reasons you might love Isogym's kettlebell
1 – It grows with you
Unless you're incredibly creative, a single kettlebell isn't enough for a complete workout, and after a few sessions, you should be getting stronger, so you'll need to step up the weight that's being used. Because of that, a flexible, variable weight kettlebell like this is a fantastic tool for almost anyone. Adding weights as you go, or 'micro loading is one of the main plus-points with this bell.
2 – It's an easy starting point if you're new to kettlebells
The range of weights starts low, so you'll be able to exercise effectively no matter your current level of fitness, and it scales to a respectably high total weight. Get a kettlebell youtube video on your phone, take off all the plates and just get a good feel for the form and motion. It's always a bugger to pick the perfect weight kettlebell and it's good how this bit of kit takes that stress away.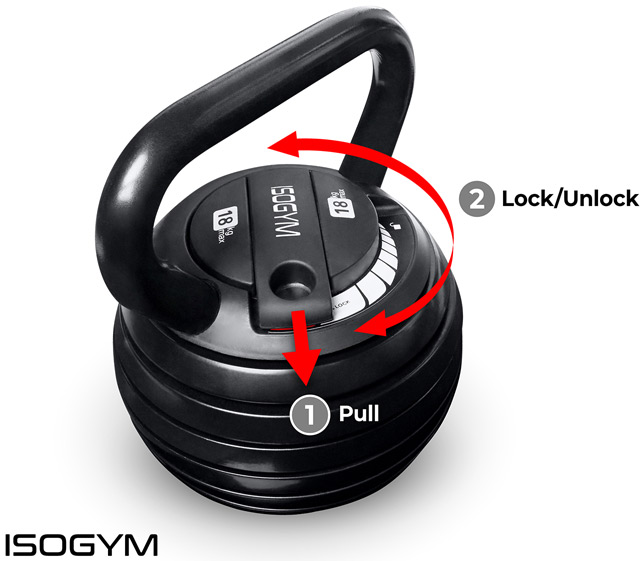 3 – It won't hog all your gym  space
Whether you're getting this for the garage gym, or your bedroom, one of the obvious best-bits here is its conservative use of space. A set of kettlebells can be hard to store and take up a lot of space, especially if there are one or two weights that you barely use (and there inevitably always is.) An adjustable kettlebell like this saves a lot of space, and they're fast to set up and switch weights.
4 – It could save you some cash
Finally, even though an adjustable kettlebell isn't the cheapest item, it will save you money long term, especially if you would have bought a full set eventually anyway. While the IsoGym is, arguably, never going to be as good as owning a complete set, it's definitely cheaper.
5 – It's safe and comfy (and a bit of a looker)
Despite if you're a kettlebell newb, or you're a long-term fan of the iron ball, you'll enjoy the feel you get from this bit of gear. The handle especially will likely bring a smile to your face if you've every experienced the cramp you get from one that's just too small. It's actually ideal for both single hand or double-grip exercises. We've seen some severely ugly adjustable monsters too. This isn't one of them.
---
Main features overview
Traditional, solid kettlebell design
7 weight selections, from 3 to 18kg
Simple, easy to use weight adjustment
Safety lock for secure weights
Rubber protective sole
Check Current Amazon UK Price
---
Related guides
---
Our Review: What we like about the ISOGYM Kettlebell
A decent selection of weights
The ISOGYM adjustable kettlebell has 7 total weight selections, including 3.4, 5.5, 10.7, 13.4, 15.9, and 18kg. This gives you a huge amount of weights to work with, from light weights for flexibility and warm-ups, as well as base fitness, to heavier weights for serious strength gains.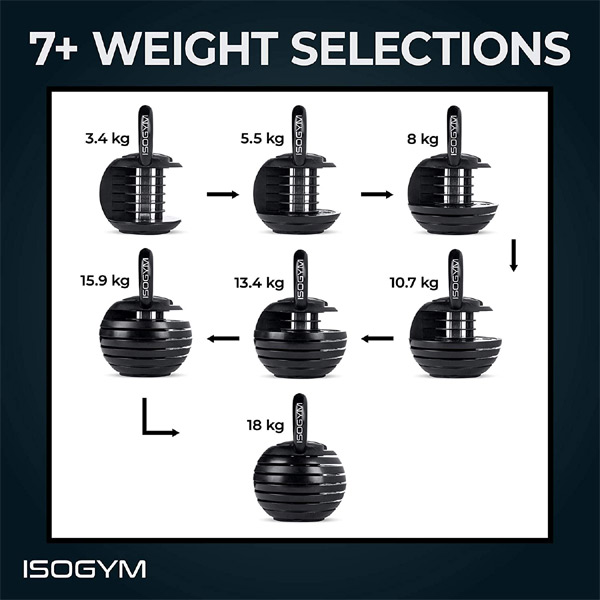 The weights themselves come as 6 disc plates, with the base plate itself making up the extra weight. Adding or removing weights is very simple. Unlock the locking mechanism, then you can lift out any weight plates you want to remove or slide plates back into the base to add extra weight.
Adding or removing weights doesn't take long, and everything is very secure and strong, including all of the weights themselves, which lock into place with a satisfying click and stay in place once locked.
It's got that solid sort of feel about it
This is definitely a well-designed and executed bit of gym gear. Each weight plate is solid cast iron, and so is the base plate itself. A rubber sole keeps your floor, even if you accidentally slam this down. (But we still recommend a good gym floor set up.)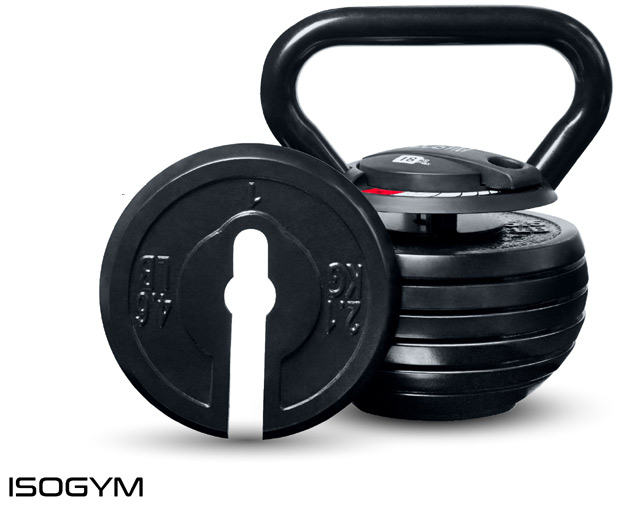 The handle is a large 10 inches across, it's easy to grip, and fits very well in the hand. One thing to be careful of is overhead movements when it's not fully loaded with weights, as the edges of the base plate can be sharp, and could dig into your arms. But apart from that small niggle, everything about this is solid and impressive and feels very safe.
It actually feels and looks like a kettlebell
One thing we really like about this piece of equipment is how it actually looks and feels like a kettlebell. If you already use kettlebells, this is going to make transitioning across simple, and if you're brand new, everything is very easy to understand and well placed. There's a number of solutions for adjustable kettlebells out there but the way this one closely mimics an actual kettle bell is commendable.
(Although once you start taking the plates out, it looks less like it's fixed-weight sibling).
The IsoGym is fairly cheap for what you're getting
In terms of price, the ISOGYM adjustable kettlebell sits somewhere in the middle of the pack. It's not the cheapest we've seen, but that's probably a good thing, as we wouldn't trust a budget adjustable weight.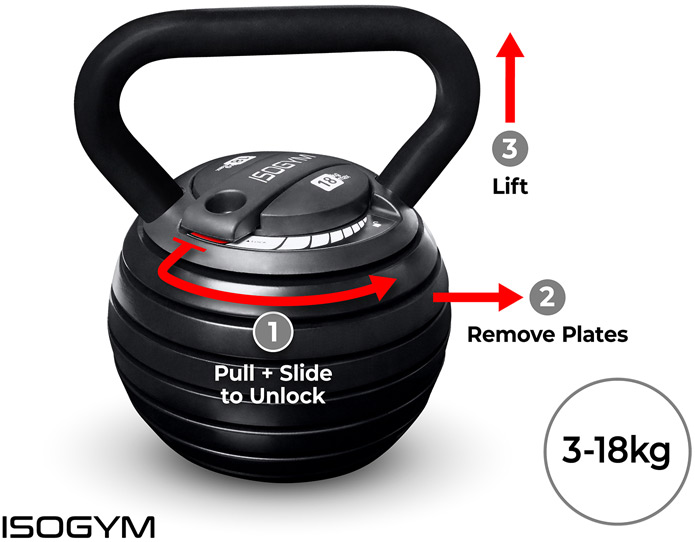 When you break the price down, you're looking at less than £30 per weight. That's far cheaper than what a full set of kettlebells would cost, and they don't come with any of the benefits of an adjustable set, including space-saving.
Check Current Amazon UK Price
---
What doesn't this kettlebell get right?
The weight lock can be hard to shift
While the weight lock is secure and holds all of the weights in place even when you're hoisting it above your head, the locking mechanism itself can be hard to twist.
Most people should be able to lock and unlock it with no issues, and you can consider it another form of training, in this case, your grip. Though it can be annoying to struggle for 30 seconds in between sets with the lock so you can change your weight.
Once you take out some plates, you might feel the frame rub on your arm
If you're doing something like a kettlebell press, where the kettlebell presses against your arm, it can feel uncomfortable when the shelves of the frame press into your arm. Even with a fully-fledged bell, this can be uncomfortable. Here, it's definitely more so. This won't be an issue for everyone, and it is down to certain exercises but it's worth mentioning.
---
Final thoughts: Is this kettlebell actually any good?
Kind on space. Great to work with. If you're only looking to buy one kettlebell, you'll likely love what this bit of kit has to offer.
The IsoGym is an incredibly simple adjustable kettlebell that does precisely what you want it to do.
There's a lot to love here, with a great selection of weights that are simple to use and easy to understand, as well as a well-made frame and comfortable handle.
While a full set of kettlebells is always going to trump a single adjustable one, it's hard to find the same performance for the price you're paying here. As a stand-alone piece of equipment, the IsoGym adjustable kettlebell consistently impresses.
Kind on space. Great to work with. If you're only looking to buy one kettlebell, you'll likely love what this bit of kit has to offer.
Highly Recommended
Check Current Amazon UK Price
---
Full specs
Brand
IsoGym
Equipment
Adjustable kettlebell
Weight range
3kg - 18kg
# plates
6
# weight selectors
7
Weights
3.4kg
5.5kg
8kg
15.9kg
13.4kg
10.7kg
18kg
Material
Cast iron
Coating
Powder coated
Handle size
5.25cm
Locking mechanism
Slide Pull & Lift
Base
Thick rubber disk
Handle width
23cm
Dimensions
Width: 20cm
Height: 27cm
---
References & Further Reading