Review Summary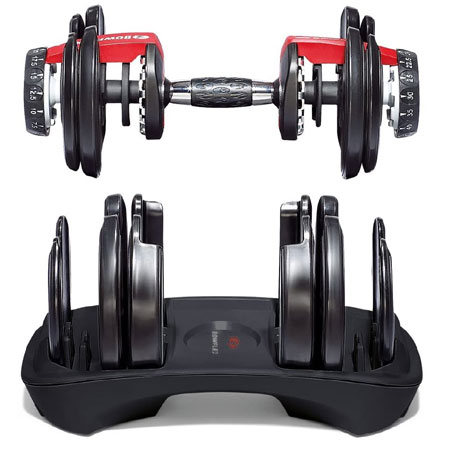 Bowflex 552
High-quality product
Easy to change between weights
Save loads of storage space
Wide range of weights
Initial outlay more expensive than fixed weights
"Bowflex's adjustable weights have a great look and feel to them. They're also incredibly practical and easy to use."
I've been wanting to check out these adjustable dumbbells since I saw them and in this review, we're going to go over everything there is to know about the sci-fi style weights, the Bowflex 552 dumbbells (up for grabs on Amazon UK). We'll cover everything they do, what they're good for and who might not want a pair.
Let's dive in…
What the heck is a Bowflex 552 dumbbell exactly?
On the surface, these weights sound like a crazy idea you might see on late night shopping channels. But don't change channels just yet, there's some serious training gear here.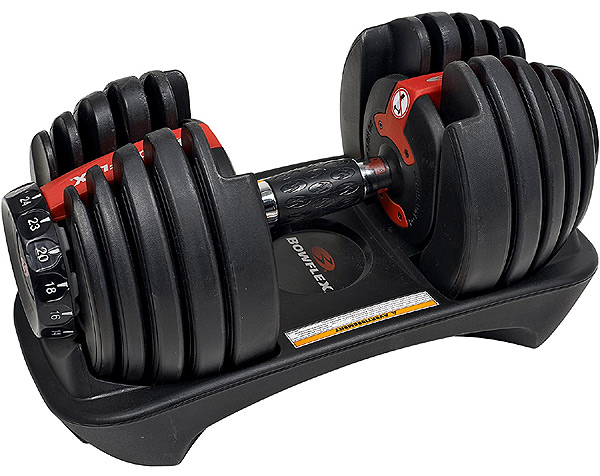 The idea is simple: It's an adjustable dumbbell that lets you create any one of 15 possible dumbbells on the fly as you need them. It's a bit like the old kind of adjustables – without the annoying spinning nut at each end.
With the 552 weights, you have a handle which inserts into a frame. You turn the dial to the weight you want and then pick up the dumbbell.
How many different combinations of weight are there?
The Bowflex adjustable dumbbells take the place of 15 sets of weights from 2-24kgs (5-52.5lbs) with a large, simple dial that a child could use. Not that you'd want a child anywhere near these of course.
There are some major benefits for home gyms here like not having a huge range of fixed weight hand weights to get the job done. (Even a couple of dumbbells will take great pleasure in tripping you up if left lying around, let alone 15).
The 552's eliminate the need for multiple training weights that clutter your workout space, replacing all those weights with one that's fairly easy to store.
Adjusting weight takes a few seconds at most
You may adjust your resistance easily between exercises and smoothly progress as your strength increases.
With the Bowflex's weight range, you may mix up your exercises, easily moving from shrugs and lunges to curls and raises with ease. The neatly slotted weight system fits securely into the dumbbell without any annoying sounds of metal hitting metal commonly associated with dumbbell exercises.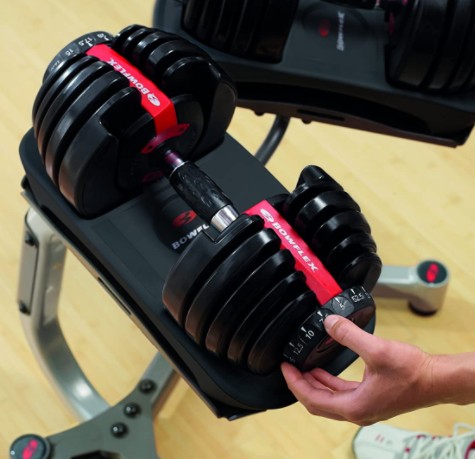 Bowflex's weights can be used to effectively strengthen and define your back, chest, biceps, shoulders, abs, and leg muscles. Versatile workout for your legs, back, chest, abs, shoulders, and arms, just as any sort of dumbbells can.
They're not perfect, by any stretch of the imagination – more on that later – but that's the basics of what they're designed to do.
Check Current Amazon UK Price
---
Bowflex 522i Features at a Glance
Weights: 2-24kg range
Adjustable dial for seamless weight changes
Compact and easy to store
Secure and silent lifting motion
Superior grip system
Dimensions: 40cm x 20cm  x 23cm
Weight Settings: 15
Grip: Solid Rubber
Material: aluminium/plastic
Warranty: 2 years on all parts
---
Related Dumbbell Guides
---
What you'll get from training with the  Bowflex 522 weights
Increase Your Muscle Size
By two systems of overload, dumbbells provide both muscle mass and increased strength. Mechanical overload with heavy weights causes your muscle fibres to tear and reform in the repair process, leading to increased muscle mass.
Metabolic overload with medium intensity weights causes your body to increase its glycogen stores in your muscles, which adds to muscular growth.
Proper compound strength exercises
We love our gym machines here on Home Gym Experts. It's how I got started in the gym. But while machines usually focus on a single muscle group, dumbbells are versatile because of their mobility and may be used for compound motions.
They can adapt to a variety of movement-based exercises that are not limited by sizable heavy-based equipment. This versatility allows users to make use of a variety of movement patterns to develop movement-specific strength.
Dumbbells can Help You Lose Weight
Incorporating weight into your training increases your calorie consumption considerably. Weight training even allows the body to continue to consume calories after the exercise has been completed and increases metabolism post workout.
Check Current Amazon UK Price
---
Who will love the Bowflex 522i Dumbbells?
If you're short on space
Unless you've got a garage spare, or a spare room you can turn into your home gym, chances are you'll have a temporary space to train in. Nothing wrong with that. So gym gear you can get out and move easily saves a lot of time and hassle. The Bowflex dumbbell is up there with the best compact gym gear if you're looking to get fit and save space.
The dumbbells are compact and easy to store and are versatile for a variety of targeted muscle groups. The 522i ideally suits users who seek a home exercise option that is affordable and fits neatly into a small dwelling.
New users up to moderate lifters
Because the weight has a 24kg limit, they suit users with moderate weight training activity and seek to sculpt and enhance their muscles without excessive muscle bulk. Having said that, 24kg will feel heavy to most users and isn't to be sniffed at.
My favourite pair of dumbbells is only 14kg although I've got larger ones ranging up to 30kg 'beasts'. In all honesty, I can't see anyone finding these dumbells 'too light' – unless you're looking to do some serious strength training with mega heavy weights.
Meanwhile, the low 2kg starting weight is something anyone should be able to start lifting and using.
Great for sharing: the 552 is unisex
Both men and women can benefit from the 522i by taking advantage of full-body exercises such as lateral hops, goblet squats, and half-kneeling one-arm press. This is one bit of gym gear that you can share with your other half.
Incorporating motion into your routines such as lunges and squats, reduce fat, increases muscle, and improves cardiovascular health. Training with weights is one of the only exercises that burn calories after you have exercised.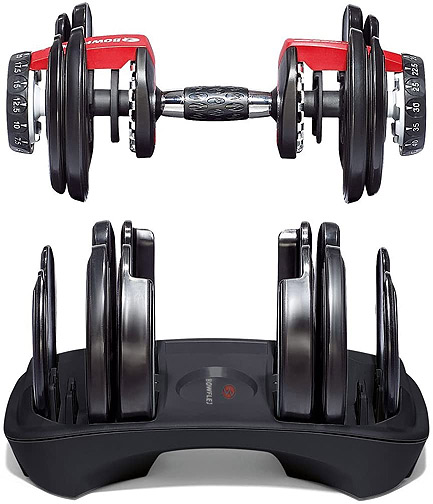 Healthline states that you burn more calories after weight training than cardio and may elevate your metabolism for hours after your workout. The Bowflex is also compatible with the Bowflex SelecTech app for guided training and workouts.
---
What We Liked About the Bowflex 522i Dumbell
They're easy to adjust
I wish I could get back the time I've spent in my home gym screwing and un-screwing those nuts from dumbbells and barbells. They take forever – especially the barbells. So it's hard to not appreciate how fast it is to use these weights.
There's no trick, no 'knack' to it. You plonk the handle in, set the weight and 'boom', as the kids say. You're good to go.
You can tweak the nifty dial feature of the 522 in seconds, which allows you to transition between exercises without the fuss or to take off and secure individual weight.
The grip is firm and comfortable, and the noiseless action is perfectly suited for those who share their home environments with significant others.
I can't over-state how easy they are to store
Unless you go the full hog and get a good dumbbell rack (they do look good, though…) you're going to do what the rest of us do – have to constantly move them around and/or go flying over them or stub your toes. So I really appreciate the idea of having one dumbbell you can stash out of the way.
The Bowtex 522i can store neatly behind furniture and under your bed without becoming a problem in small spaces. It is amazing to think that one item has such versatility in its use and can be used for almost every muscle in the body.
The portability and ease of storage make this home exercise option the best for those who share a living space or have cramped city accommodation. Obviously, if you've got a home gym space, this is less of a factor.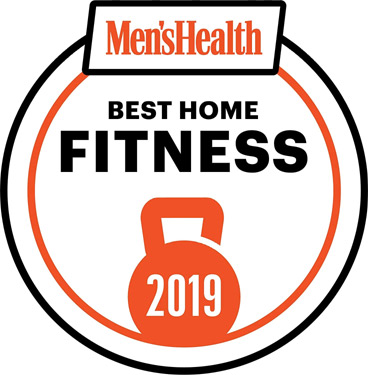 Good for strong days and weaker ones
Another real plus over these, or any adjustable weights really, is how you can adapt them from workout to workout. Feeling sore, a bit under-the-weather? Knock a couple of kg off and do your same workout.
These weights will also grow with you, which is great. One thing I constantly have problems with my rubber hex's is when to upgrade them and by how much. That's obviously not a problem here. Tracked with a proper weights program, I can see the 552s being extremely useful and increasing and building strength over time.
Unlike stationary bikes, ellipticals, and rowers, one can incorporate the dumbbell into various movement-based exercises. Bowflex SportsTech is a great app to give you ideas on using the dumbbell for abs, legs, arms, chest, and back exercises for a full-body workout with not space-hogging and expensive machinery.
Build quality
The Bowflex 522i is substantial in feel with an aluminium base that is lightweight but strong. The design lends itself well to the variety of exercises to promote endurance and muscle definition. Although the weight is only 24kgs, my colleague found some activities that gave him enough 'burn' to feel satisfied that the weights weren't just for ladies.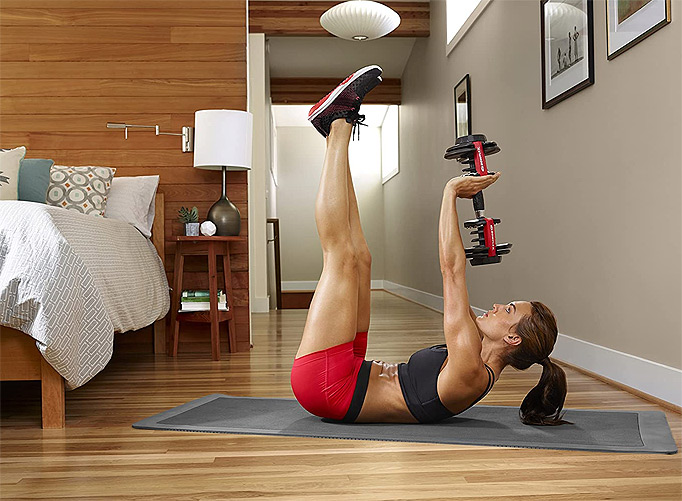 An unusual benefit… they're quiet!
Having trained with all kinds of weights over the years, I can attest to the 'clang' factor as extremely annoying to those who share a smaller space. The 522 weights slot neatly and securely into the frame without the metal weights knocking against each other, and eliminating training noise.
The material and casing, in general, lends itself to quieter workouts and you'll likely find you're doing less clanging but still getting the same workout.
The grip is fantastic
One strike I'll concede against my beloved free weights is the handles are always a bit meh, for want of a better word. You don't realise how 'meh' until you have a grab of the 552s. Your hand is greeted by a gorgeous curved, perfect textured grip. Ever feel your hand was hurting more than your bicep? Bowflex has solved that here – it's a pleasure to hold.
Check Current Amazon UK Price
---
What Could Have Been Better
So, like any good proposition, there's always a 'but', right? While the points above make the 552s sound like a replacement for traditional weights, and the second coming in the fitness world, let's not get too far ahead. This next bit I'll cover some of the things I think might be a problem with these weights.
They're larger and a bit clunkier than fixed weight dumbbells
The biggest drawback to the 522 is the same issue you'll get with pretty much any adjustable weight. They're definitely larger than normal handheld free weights and this can take some getting used to. Even if you're lifting the 2kg weight, you're still lifting the same physical size as the heavier dumbbells.
Moving them around your body takes a bit of practice if you're used to regular fixed weights like the popular hex dumbbells. The mechanism, frame and takes up space and you'll have to be aware at first not to either whack them off your bench or against each other.
This is especially obvious for ladies, where typically they'll use a lower weight which would be far smaller in a fixed weight size. Even the screw-on adjustable sets reduce their size on lighter weights.
They're REALLY expensive
This is really the main draw-back I'd set against the Bowflex 552's. Sure, you can counter that by saying they replace X amount of dumbbells but we're talking a lot of money for a pair. (And for dumbbells, yes, there's loads you can do with a single dumbbell but really you're going to want two).
I also rarely see these on sale so it's likely you'll be paying full whack for these weights for the foreseeable future.
There's a lot of plastic components
While I've never had problems with this, I've read reviews from a few customers had to replace the dial system after a year or so. The only thing I'd say is that although the parts are made to last, you've still got to look after them and don't smack the dial off anything hard, too often.
You're capped at 24kg
I like to think I'm pretty fit and strong, and there's a lot of dumbbell workouts I can use these bad boys for. Having said that, I do like to go over the 24kg on offer here. So it kind of defeats the object if I have to then reach for my 25 or 30kg dumbbells. (If I'm being pedantic).
If you're in good shape and know you're pushing past that level, think seriously about how you'll use these in your training. There are heavier sets available, although not from Bowflex, and not with this system. Not a negative point, as such, but think whether or not these are a good fit for you if you're super-strong.
---
Conclusion: Are the Bowflex 552's worth getting?
Bowflex has created something awesome here and when you see them in action, you'll appreciate why they cost as much as they do. There are cheaper knock-offs available, but these are the real deal, as it were. If the price doesn't make you turn white and pass out, you'll find a compact, sturdy and definitely innovative way to train at home.
The Bowflex 522i is a versatile and easy to store alternative to costly gym set-ups at home. The dial system makes transitions smooth, and the product is durable and has a quiet training action.
The 522i suits those looking for full-body training and moderate-intensity weight alternatives to sculpt and define muscles without sacrificing space.
This is a top-level home gym product and definitely worth a buy, if you're in the market for a good quality set of adjustable weights.
Check Current Amazon UK Price
---
552 Full Specs
| Brand | Bowflex |
| --- | --- |
| Manufacturer | Nautilus Inc. |
| Type | Adjustable dumbbells |
| Range | 2 - 24kg (5 - 52.5 lbs) |
| Pair or separate? | Single |
| Mechanism | Dial changes weight |
| App compatible? | Uses Bowflex SelectTech App |
| Supported devices | iOS and Android |
| Possible weights | 15 |
| Dimensions | 40 x 20 x 23 cm (Each) |
| Weight settings | 2, 3, 4, 5, 7, 8, 9, 10, 12, 14, 16, 18, 20, 23, 24 kg |
| Colour | Black/Grey/Red |
| Construction | Aluminium, Plastic |
| Model number | 8000864 |
Resources and further reading