Thanks for checking out our NordicTrack C5.5 review – a comprehensive overview of this popular elliptical cross trainer. As always we'll cover everything you need to know about this elliptical – including our opinion on what it does right and where it falls short.
What is the NordicTrack C5.5?
The NordicTrack C5.5 is a front-drive commercial-grade elliptical machine that's designed to be used at home. You're looking at a footprint of around 169cm x 63cm (66.5″ x 24.8″). The C5.5 is made for user comfort with an 18″ adjustable stride with a 7kg inertia-enhanced flywheel capable of delivering a good range of resistance.
The digital silent magnetic resistance can be adjusted to any one of twenty levels and there are five positions of powered inline to choose from, adding a bit of variety to your workout.
The C5.5 also has 22 pre-set workouts and an EKG Grip Pulse monitor to get the most from your training.
Like a lot of NordicTrack's ellipticals, such as the Freestride series, this one works with the iFit service (1-month free membership included) and provide users with access to daily workouts and various google map-based virtual trails. The C5.5 is iPod compatible and provides two speakers to play your favourite tracks while working out.
You get a high contrast 5″ display and an integrated tablet holder, water bottle holder, and wheels to let you move your elliptical easily around your home. (You'll need to supply your own tablet if you want to use iFit).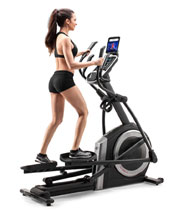 The NordicTrack c5.5 offers a superb quality cross trainer that offers excellent online training facilities.
NordicTrack C5.5 Features at a Glance
5″ easy to read backlit display
Bluetooth enabled and iFit compatible with a 1-month free membership
Integrated tablet holder
Two high quality 2″ speakers built into the elliptical
18″ manually adjustable stride
7kg flywheel
5 adjustable position ramp with manual controls
Front-mounted transport wheels
Pulse Grip heart rate monitor
20 level of digital resistance
20 workout apps
Dimensions 169cmL x 63cmW x 169cmH
Maximum user weight 125kg
Warranty – 5-Year Frame Warranty, 2-Year Parts, and Labour Warranty.
---
Who are NordicTrack?

NordicTrack is a long-running luxury exercise machine brand, known for pushing boundaries and advancing the idea of what technology can be used for when it comes to home exercise.
While anyone into treadmills will likely have heard of them, you'd be forgiven for not knowing Nordic have a line of rowers (and other gym gear) on the market.
---
Benefits of the NordicTrack C5.5
Great Cardio Exercise
Unlike stationary bikes, which focus on the lower half of your body, ellipticals engage your training's upper body to give a full-body workout. Ellipticals engage users triceps, biceps, back, and core while delivering maximum workout to your lower body.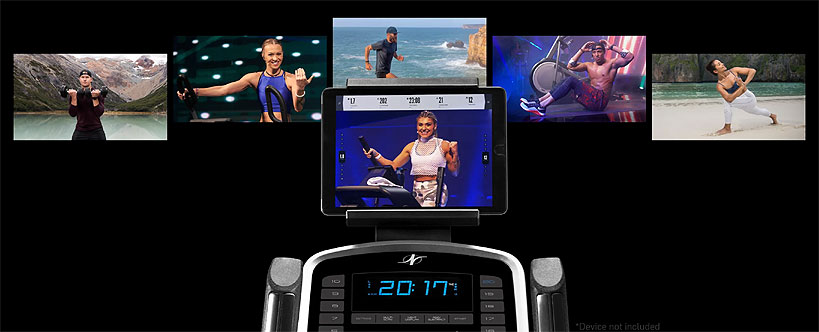 Cardio is essential for a balanced workout routine and has excellent physical benefits for your heart, lungs, and muscles. While ellipticals are one of the easiest machines to hop onto and start working out, don't underestimate how tough they can be. They're a great form of cardio.
Burn Calories Fast and Lose Weight
Ellipticals such as the NordicTrack C5.5 provide a great fat burning workout and consume up to 400 calories per half hour depending on your weight and training intensity. If you burn more calories than you take in, you are guaranteed to lower your body weight through excess fat.
Provides Low Impact Exercise
Treadmills are a popular at-home exercise choice, but they are high impact equipment regardless of how many layers they place on their track. Runners' heel strikes bear substantial force and may impact joints and knees over time.
Ellipticals such as the NordicTrack C5.5 provide calorie-burning exercise without the impact of stress, which is kinder on your body.
Versatile
Ellipticals are suitable for users of all fitness levels, from beginners to experts, and have a range of magnetic resistance to suit all needs. Multiple households can benefit from the wide range of low impact levels of the NordicTrack C5.5, each according to their particular needs.
---
Who is the NordicTrack C5.5 Aimed at?
Users Who Wish To increase Their Health and Fitness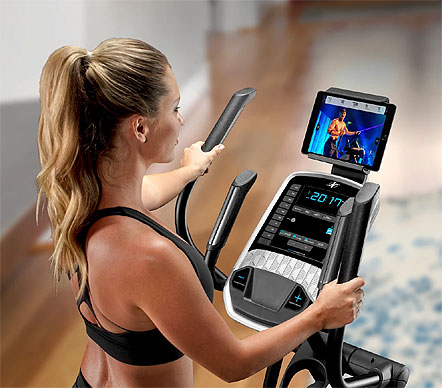 Regular exercise is essential to maintain one's physical health, and experts suggest that one should do either:
30 minutes of moderate-intensity cardio at least five days a week or 150 minutes
25 minutes of vigorous aerobic activity three times a week (75 minutes/week.)
The C5.5 provides excellent cardio and health benefits without having to leave your home or pay for costly gym memberships.
Anyone looking to tone up
Ellipticals provide a full-body workout, but the elliptical action prevents the high impact force of running on treadmills or outdoors and is friendly on the knees and joints. With 20 levels of magnetic resistance, users at any level of fitness can take advantage of various training intensities while keeping their knees and joints from injury.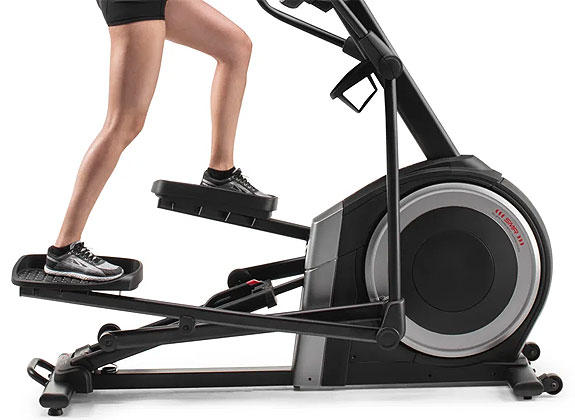 The C5.5 will not suit users heavier than 125kg (275lbs) due to the manufacturer's weight specifications. Those who seek high-intensity training should consider the 7kg flywheel weight, and the C5.5 would suit those seeking low to moderate exercise intensity.
Anyone who gets bored easily, or finds it hard to stick to a program
If there's one thing that iFit does really well, it makes you forget you're doing something really repetitive and difficult! With its range of classes, from normal instructors to following someone on a run along a glamorous beach, there's always some eye candy to keep your mind engaged while your body puts in the work. It's motivating, interesting and keeps you coming back.
Check The Latest Price at NordicTrack
---
What We Liked About the NordicTrack C5.5
The Five Position Incline System
We really liked that you may adjust the incline on the C5.5 to vary your workout and engage different muscles for full-body training. Unfortunately, it is a manual system, and although it is relatively simple to adjust, we didn't like having to get off the machine to adjust the incline while working out.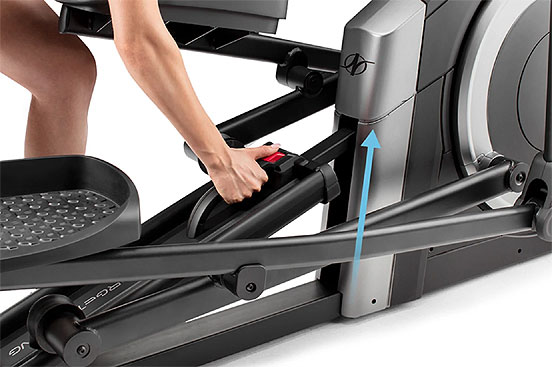 However, not many entry-level ellipticals offer the function, so the adjustability stands in the C5.5's favour and extends the elliptical range. Motorized incline functions would put the elliptical into a higher price range, so we liked the adjustability even though it is manual.
iFit Membership Benefits
The C5.5 integrates well with the iFit app, and we enjoyed the virtual tails provided by Google maps. The C5.45 comes with one-month iFit membership, which would save buyers cash in the long run.
There is a wide selection of on-demand trainer-led exercises on the bike and other activities that boost the exercise experience and add a sense of connection to the solitary pursuit of one's fitness goals.
Quiet and Smooth Action
The c5.5 runs quietly; although one wouldn't class it as whisper-quiet, it is silent enough to fit in with multiple person households without being annoying. The 18″ adjustable stride is handy and accommodates my 5'4 stride and my colleague's 6 foot plus well.
The oversized pedals are easy to secure to various fits, and the groups and seats are comfortable (without being luxurious.)
Provides a Good Range of Resistance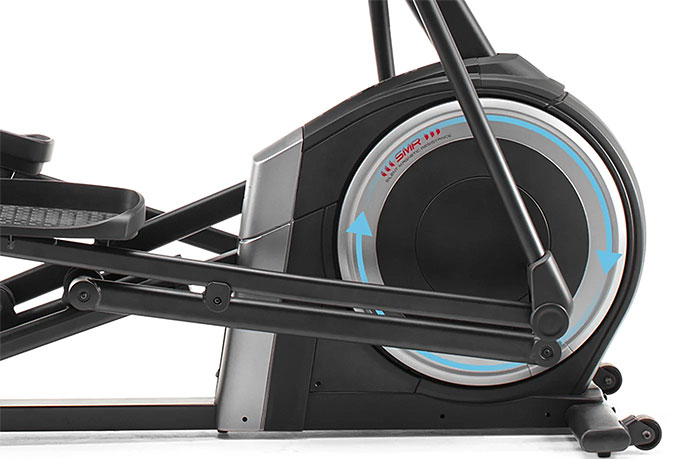 Although the C5.5 has a flywheel of 7kgs, we were surprised at the intensity that it delivers on the maximum settings. Far from being the strongest on the market, it is more than enough for a person of average fitness level such as me to feel a substantial burn. Combined with an adjustable incline, users will find plenty of scope for intensity in the C5.5.
Compact Dimensions
Although the C5.5 is quite heavy at 79kgs (174lbs), the front wheels make it possible for smaller framed persons such as myself to move the unit without too much difficulty. The unit fits well in a home environment and has a sleek and professional profile with black and silver detail.
Check The Latest Price at NordicTrack
---
What Could Have Been Better
The display could have been better
The continuous scroll 5″ display is a bit rudimentary, but it's not a deal-breaker as the integrated tablet holder works well. The stats are clear and easy to track and include calories, calories per hour, distance, pace, pulse, resistance, RPM, speed, and time.
One has to Change the Incline Manually
Buyers should be aware that they will have to change their incline by getting off the machine and changing the incline manually, but it is easy to set your desired gradient before starting your training.
---
Conclusion: Should you buy the C5.5?
NordicTrack's C5.5 is packed with the quality we've come to expect from the company and is a good entry-level machine for anyone looking for a good quality home elliptical.
It has all the features you need to get training, and the month's iFit membership adds to the value of the C5.5. The elliptical performs well and delivers enough burn to make it a great home exercise option for those seeking low to moderate low impact training.
Check The Latest Price at NordicTrack
C5.5 Full Specs
| | |
| --- | --- |
| Brand | NordicTrack |
| Model | C5.5 |
| Resistance | Magnetic |
| Flywheel weight | 7kg |
| Display | 5" High Contrast Display |
| Manual Adjustments | 5 |
| Live training | iFit |
| Resistance levels | 20 |
| Dimensions | 169L x 63W x 169H cm |
| Heart rate monitor | EKG Pulse Grip Heart Rate Monitor |
| Water Bottle Holder | Yes |
| Transport wheels | Front-mounted Transport Wheels |
| Bluetooth | Yes |
| Multimedia | Two 2" Speakers |
| App | Yes, uses the + app |
| Membership included | 12 months, single user |
| Tablet holder | Yes |
| Pedals | Oversized, Cushioned Pedals |
| Warranty | 5-Year Frame Warranty, 2-Year Parts and Labour Warranty, subject to registration within 28 days of purchase. |
| Max user weight | 125kg |
References and further reading