Do you treat your treadmill like a chore? As something you have to do, not something you want to do? Or maybe you have fallen out of love with your treadmill altogether and have left it to gather dust somewhere in your home.
Do not worry, there is no judgement here! It is perfectly normal to get fed with an exercise machine, however, we think it is time you rekindle your relationship with the treadmill.
In this post, we will give you our top tips for overcoming boredom. Hopefully, after reading these treadmill border busters, you'll hate running and find a way to enjoy your time with this bit of gym gear!
5 Tips to beat treadmill boredom
The treadmill is one of the most popular workout machines. It is the first piece of gym equipment most of us ever use and a lot of people use it out of habit more than anything else. They tell themselves to run for a set period and then hop off without giving it much thought. If this is you, no wonder you are bored!
---
Tip #1 – Avoid boredom by setting goals
One of the biggest pitfalls of using a treadmill is doing so without any specific goals in mind. Motivation is the key to success. It requires you to be working towards something, not endlessly jogging on the spot.
To reignite your passion, design a training programme that will see you push yourself, chase new time and endurance goals, and give you something to strive towards. Areas you can work on are total distance covered, distance covered in a specific interval (sprinting), reaching a top speed, and maintaining a challenging speed for a set period (and then doubling it!).
Concentrating on the total time you spend on the treadmill comes from a chore mindset and it is largely irrelevant. Slogging away for 45 minutes is a dull routine, something to be checked off the to-do list; hitting specific targets in a set timeframe is a workout.
---
Related Guides For Runners
---
Tip #2 – Get iFit
If your running machine supports iFit (see the NordicTrack and Pro-Form range) you shouldn't have any issues keeping boredom at bay when running on your treadmill. The system uses some high-quality video via a display to stream workout content live to your home.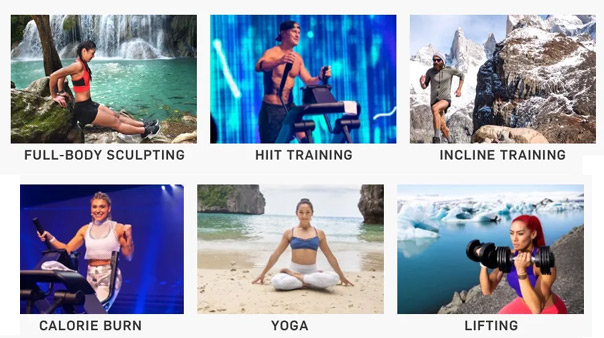 iFit is a reluctant runner's dream come true. This service will allow you to any of the following:
Take live classes
Go on runs across some of the world's most exotic locations
Pick from thousands of pre-recorded training sessions.
Follow a number of engaging runners along a route.
The cool part is that, if you've got the right hardware, the action on-screen will coincide with the gradient of your treadmill too, making for an endless variety of workouts.
The Nordictrack X32i Review offers a superb quality treadmill that combines a powerful 4.5HP motor, a 40% incline and offers excellent online training facilities.
The downside is you have to pay monthly for it, a bit like Netflix. It's a subscription service and you might already have enough of those. And you'll need a compatible treadmill, which are normally expensive.
---
Tip #3 – Track progress to keep your interest up
We are advocates of the interval training approach and would highly recommend that you spend some time planning out your treadmill session before pressing start. To aid this, keep a workout diary. This involves much more than scribbling down some exercises and checking them off as you go along.
A workout diary is something you spend time with – planning your workout and keeping it to hand while you exercise, then recording how you felt after the session and even the next day.
Keeping a log will help you to keep an eye on your progress and allow you to spot areas of improvement. It is useful as a touchstone of information for when you next hit a plateau or are struggling with new training goals because you can study your records and look for patterns.
For example, knowing exactly how long your last plateau lasted and looking for clues in your recorded exercises on how you broke through it is invaluable to future training progress.
---
"JTX's machine is packed with great features and has a large running track plus a powerful motor."

145cm x 51cm running track

"Proform's machine offers a large, really well built machine that's lots of fun to use with iFit.

46 x 127 cm running track

"This is an incredible bit of kit for way less than £1000. It's solid, has plenty of power and is a good choice for low to medium intensity."

51 x 140 cm running track

"At just under £1000, you're getting a superb home treadmill that has stability, a large running surface and plenty of power too."

140cm x 48cm running track

5 Year frame and motor warranty

"The F10 is a great little machine for anyone looking for light weight running and walking."

"This unusual-looking machine is perfect for anyone who really wants to save space."

Perfect for walking or running
Tip #4 – Using an app or fitness tracker to keep engaged
If you have worked on designing an interesting and engaging workout programme but still find running boring, then you probably need to spice up the activity through some other means. If you have a fitness tracker you can use the corresponding app to connect with other users across the world. Most of the leading brands allow for friendly competition through step challenges.
These can be done on a 24-hour period, a working week, a weekend, or users can race through a virtual trek. Having a leader board and feeling the heat can be very motivating if you are someone who struggles to find the will to climb on the treadmill.
Do not worry about having to coerce your friends into entering challenges with you, there are plenty of online community groups full of people who want to do them. What is more, you will be able to find people that perfectly match your fitness level and ability, rather than easily beating one friend and not standing a chance against another.
Try searching for your fitness tracker brand on Facebook and join a relevant group.
---
Tip #5 – Feed your mind and running won't seem like a chore
So far, we have talked about using the treadmill as a workout machine and advocated concentrating on the quality of your performance, not the duration. However, if you are using the treadmill to train for a specific event, such as a marathon, then long periods on the treadmill running at roughly the same speed will be essential. In this case, you need to find ways to busy your mind while your legs work.
We recommend discovering new podcasts as a way of engaging your brain and keeping your attention. Alternatively, you might prefer to watch a tv show (or even a movie). Keeping your eyes on a tablet can be difficult while in motion. Installing a tv at roughly eye height to your treadmill is an excellent boredom buster – if you want proof, just look at all the high-end gyms that use this trick.
Final thoughts – How to make running on a treadmill fun
There are many reasons why we can become bored while running, it is now up to you to think about your own situation and to reach for the right solution. Good luck and let us know any of your own tips if you have them!
---
References & further reading