In this review, we're raking a look at Sportstech's high-end indoor bike, the SX600 – available on Amazon UK. We'll cover everything there is to know about this bike, including our opinion on what it gets right and where it goes astray.

What is the Sportstech SX600?
The SX600 is a high-end home exercise bike that has a built-in colour screen. It's aimed at professional-level cyclists and lets you take part in online races using apps like Kinomap.
The Android-based console offers track simulation and competition mode and a host of virtual tracks and on-demand coaching and training.
The 7'' high-resolution display allows users to track their stats and monitor their heart rate through the included chest strap for peak performance. With the Bluetooth quick start-up option, you can play your favourite tracks via the integrated USB port.
The bike is strong enough to accommodate the most energetic users seeking high-intensity training and those starting their fitness journey. Despite its powerful resistance, the Sportstech SX600 is compact with the dimension of W:61cm, L: 165cm, H: 151cm, which fits into a home environment neatly.
The silent magnetic resistance ensures that multiple person households may exercise without disturbing their housemates. The broad resistance scope also means the cycle may be shared between multiple users with differing fitness levels.
Check Current Amazon UK Price
---
Sportstech SX600 Features at a Glance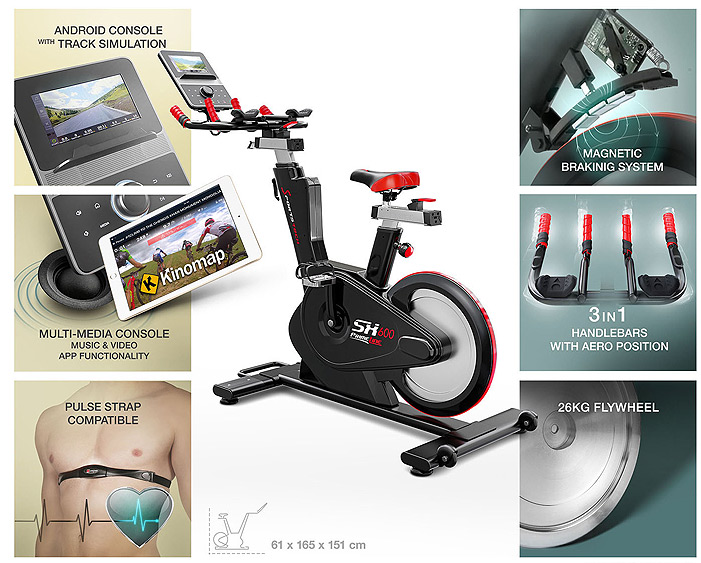 Powerful 26kg Flywheel
32 levels of silent magnetic resistance
Bluetooth enabled and compatible with Kinomap and Fitshow
Max. user weight up to 180kg
Dimensions W:61cm, L: 165cm, H: 151cm
Android console with route simulation, competition mode, and HRC mode
7'' high-resolution multimedia console
Pre-programmed ergometer training programs
Accommodates users up to 180kgs (396lbs)
Comes with chest strap included to monitor heart rates
Integrated tablet holder
Transport castors for quick movement
---
Who are Sportstech and are they a good brand?

While not as well known as your NordicTracks, Reeboks or Marcys of the fitness world, Berlin-based Sportstech is a big sports brand and seem to have really increased their gym gear over recent years and make a name for themselves.
Sportstech has a wide range of fitness machines, to suit different budgets. And their treadmills, bikes and rowers are good quality, and they seem to be more focused on more futuristic tech like online connectivity, built-in.
We've seen products from them such as rowing machines, exercise bikes and of course, treadmills. They tend to review well, have good customer service, and get around 4 – 5 star review, on average.
---
Benefits to Training with the Sportstech SX600
Lose Weight and Burn Calories
According to Healthline, 185lbs users can burn up to 622 calories an hour, which is a great way to get fit and tone your body. A clinical study showed that indoor cycling, combined with a low-calorie diet, is an excellent weight loss technique and lowers bad cholesterol levels in the study participants.
A Low Impact Exercise Alternative
The smooth cycling action of the Sportstech SX600 delivers a low-impact high calorie-burning mode of exercise. Without the jarring impact so often found in treadmills and outdoor running, the stationary bike strengthens bones and muscles without placing strain on a user's joints.
The SPD-Klick pedals offer a secure grip for training that is kind to your joints but still provides excellent health benefits.
Boosts Cardio Health
Indoor cycling is a great way to boost your cardiovascular health by strengthening your heart, lungs, and muscles. Exercise such as cycling improves your blood flow and oxygen transfer throughout the body and lessens your heart disease risk.
Cardio workouts such as stationary bicycles also lower blood pressure and bad cholesterol levels in the blood. Cycling strengthens your immunity and your overall health and energy levels.
Access to On-Demand Coaching and Virtual Trails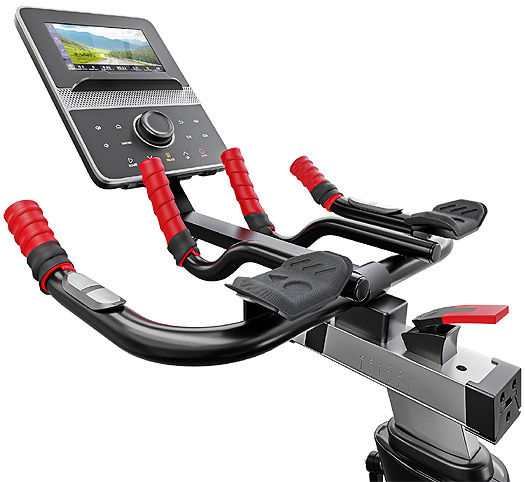 Many people struggle to maintain their fitness regime because indoor home exercise can be tedious and isolating. The SX600 offers excellent integrations with Kinomap and Fitshow, from which you may engage with other users, compete, and explore virtual trail settings around the world through Google Maps.
Engaging with the Kinomap community makes exercise not only fun but exciting and increases your motivation to keep fit. The SX600 provides an integrated tablet holder to enhance your training experience, and you can play your favourite tracks through the designated USB slot.
Strengthens Your Muscles and Shapes Your Body
The SX600 offers a wide choice of silent magnetic resistance from the impressive 26kg flywheel. The cycling action builds up muscles in your:
Calves
Hamstrings
Quadriceps
Core
Back
Glutes
Check Current Amazon UK Price
---
Who Is the Sportstech SX600 Aimed At?
The powerful 26kg flywheel with 32 magnetic resistance levels means that this bike delivers exceptional scope for low to high-intensity training requirements. Users won't find themselves peaking and needing to find a more powerful bike to up their fitness.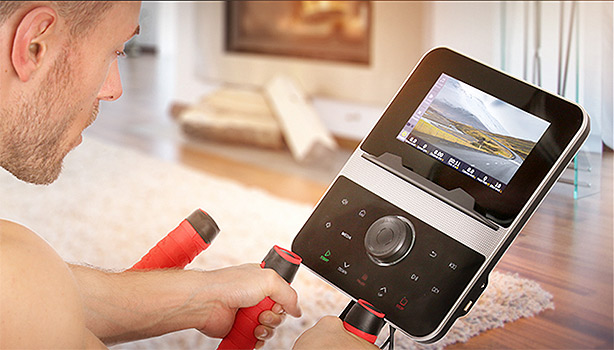 This resistance range means that the bike would suit households where members have different exercise intensity needs. The quiet belt-driven operation serves users who share their accommodation and ensure that they exercise whenever it suits them.
The SX600 is an excellent option for those who seek a compact and powerful home exercise tool to increase their fitness and improve their general health. With robust calorie consumption, users can protect their joints or recover from injury with a smooth and secure cycling action.
The SX600 has a user weight limit of 185kgs (396lbs), which precludes users over these weight restrictions from using the bike. Those who seek a full-body workout would need to incorporate weights into their cycling to integrate their upper bodies into their training.
---
Our Review: What We Liked About the Sportstech SX600
It's sturdy and it's heavy
While some people will argue that the SX600's 66kg makes it bulky and hard to move around, we'll take that over a flimsy frame that wobbles. This frame will take up to 180kg users and offers a serious level of stability. This bike is foremost a solid, stable riding experience.
Having said that, you'll need help carrying the box into a flat or upstairs.
Powerful Magnetic Resistance
For its size, the SX600 is a beast when it comes to its robust resistance levels. I couldn't even get close to the highest resistance range, and I like to think of myself as reasonably fit.
This machine has the scope to keep pushing yourself to new heights of endurance and fitness. The 26kg flywheel compares to the more expensive stationary bikes on the market and comes out as a winner.
Quiet and Smooth Operation
The belt drive system delivers a smooth and quiet operation that is up there with the top tier indoor bikes. Even at high resistance levels, the secure click-in pedals are comfortable and secure and deliver low vibration and low noise.
Great Touchscreen Console
After testing so many bikes with those awful LCD screens, we were impressed by the SX600's high res full-colour Android-based display. The Bluetooth wireless has an open API to connect your tablet or smartphone easily to access the host of interactive and virtual training options on Kinomap and Fitshow applications.
Great App Integrations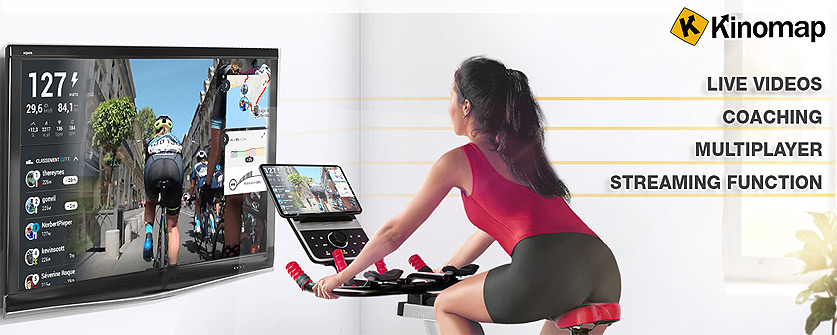 Because we find Kinomap less frequently on stationary bikes, we gave the app a whirl. The app integrates well with the SX600 with great streaming and no glitches. The trail workouts are of high quality and make exercise fun and social even from your home.
If you use Kinomap, it has the feature where the bike's resistance will adjust to whatever is happening on screen. It makes for a seriously good (and difficult!) workout and you're never bored of doing the same thing over and over. Really good, simple Kinomap setup.
Easily Adjusts Between Users
The SX600 is easy to switch between users of varying dimensions both vertically at the post and horizontally on the seat setting. We really liked the slide system, Whether you're of shorter stature, or a larger 6-and-a-half-footer, this bike will adjust to you perfectly.
Check Current Amazon UK Price
---
What Could Have Been Better
The Built-in Speakers Are not Great
The speakers' built-in speakers are not very good and deliver quite a 'tinny' sound when playing tracks. This issue is not a deal-breaker, though; it would just have been the cherry on top of a well-designed machine.
The Touchscreen Could Be More Responsive
We found that the touchscreen can be a tad iffy when you are working out in that you have to ensure that you press the specific areas quite firmly to get a response. As you can imagine, this gets more tricky if your hands are sweaty.
The weight will be an issue for some
The 76kg weight can be a bit of a challenge for smaller folk. Even though it has wheels, it is quite heavy for me to move independently without assistance. However, the extra weight delivers power, so you can't have your cake and eat it.
Perhaps not the best bike for novices
This machine is definitely not designed or aimed at anyone looking to get into exercising on a bike at home. You could save money and buy something with a lighter flywheel and fewer pro features. The SX600 is for those who are really into cycling and want a proper bike for their home.
---
Conclusion: Is The SX600 worth a buy?
The Sportstech SX600 ticks all the boxes and has all the bells and whistles as well. Exceptionally powerful and well designed, the SX600 stood out for us from many bikes in the same price range. If you are looking for a stationary bike with connectivity and plenty of scope for high-intensity workouts, this is the one to choose.
Check Current Amazon UK Price
---
SX600 Full Specification
Resistance
Magnetic Brake System
Flywheel
26kg
Max user weight
180kg
Adjustments
Seat and Handlebars
TV Streaming
Yes
Colour
Black and red
Compatible devices
iPad, iPhone, Android
Tablet / phone stand?
Yes
Pulse sensors?
Yes
Transport wheels
Yes
Display
LED
Stats tracked
Time
Speed
Distance
Calories
Heart rate
Scan Mode
Frame
tubular steel
Instruction manual
English
Kinomap Compatible
Yes
Dimensions assembled
165cm x 61cm
Drive system
Belt
Extras
free eBook, assembly tools
Handlebars
Multi-position 3-in-1 sports handlebars
Pedals
SPD click pedals
# resistance levels
32
Display
7" colour Android screen
Brand
Sportstech
Model
SX600
---
References & Further Reading