Plyometric boxes have found their way into just about every modern commercial gym. This relatively inexpensive bit of kit opens up a lot of training options for your body. In this guide, we're looking at some of the best home-based plyo boxes you can buy online today.
Vigorum
Wooden
3-in-1 Plyo Box

"Equally tough and well made. A superb quality plyo box."

Functional
Fitness
Soft Plyo Boxes

"With a starting height of 6 inches, these tough boxes can be combined to suit users of any level."

"This low-cost, space-saving jump box is adjustable to 3 heights and is a great choice if you're looking to save space in your home gym."

"This simple plyo-box is super-high quality and is made from very thick plywood."

"Teeny foot print and a decent weight stack combined with a solid build make this one of the better and more affordable home multi's out there."
What we look for when reviewing plyo boxes
Things we're looking at when picking the perfect jump-box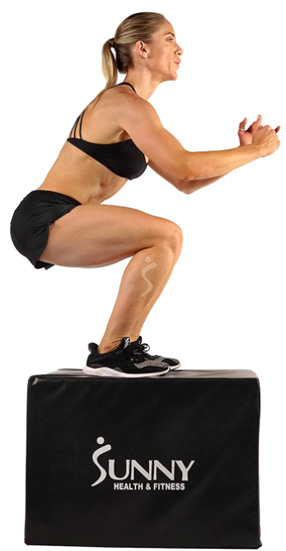 How tough are you? – The main thing with any plyo box is how well it's made. Whatever it's built from, it needs to be able to take some serious punishment and a good user weight. With modern jump boxes being able to take up to 250 kg, there's no excuse.
Is it sturdy? – Super important is how much stability you'll get when you jump up on your box. And something that caries a great deal between products. The last thing you want is a box you have to worry whether or not it's going to tip over. This is always at the top of the checklist when we're reviewing these bits of gym gear.
Construction – Some of the better boxes use physics to their advantage and have tough, interlocking edges, or an internal skeletal frame. Better yet, both of these. Things like the thickness of the plywood used are also super important.
Handling and comfort – Sometimes it's the little things that make a huge difference. One of the things we look at is how smooth and refined the surface of the plyo box is, and whether or not they've rounded off the corners. Boxes that are kind to miss-timed jumps are always appreciated!
Versatility – There's one thing for sure – these boxes take up a lot of space. Sure, you can stack 'em, but you're going to be giving up a fair chunk of your home gym space to storing them. As such, the more one box does, the better. Normally one box will have at least 3 different heights. And some frame-style jump boxes will allow stacking.
Is it easy to put together – Most plyo boxes do require some assembly and, while we're not talking the realms of multi-gym assembly hell, some are definitely more tricky than others. So we always make note of how painful or easy putting your box together will be. The main thing you'll face on the wooden boxes is the sheer amount of screws.
Is it a pain in the butt to move around– Unless you've got a massive gym, you're going to have to get your plyo box out and put it away when you're done. We've seen a few problems with some boxes that make them harder to move about than we'd have liked. We always check things like handles, how comfortable they are, weight and size.
Labelling – Some boxes do this better than others. If you're new to these exercise boxes, they normally have (or should have!) markings on each side to show the height you'll be jumping up to.
---
So, what are the best Plyo Boxes?
Before the buyer's guide, let's go over the current top plyo boxes for 2020. Here are the ones we found were actually worth the money, starting with the top pick first.

#1 – Vigorum Wooden Plyo Box 3 in 1
Heights: 75cm / 60cm / 50cm
Finish: 18mm birch plywood
Max User Weight: 200kg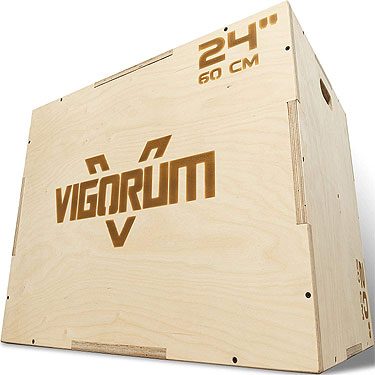 While it looks simple enough, there's a lot going on behind the scenes with this plyometric box that makes it our favourite one we've seen so far. You're getting a meaty, tough box here that's going to last a long time and take a serious beating. There's 3 different heights: 75cm, 60cm and 50cm.
Proving how much of a rugged, tough box this is, the max weight is a whopping 250 kg.
Interlocking edges add to the stability and an internal skeletal frame means you can jump on this thing as hard as you like and it's not going to break. Don't judge it by the pics though; this box is actually extremely refined.
The rounded corners make for a pleasant and safe experience and it feels like a quality product thanks to its sexy smooth-sanded surface. It's easy to work with as it has some nice wide handles you can grab hold of quickly.
Verdict: Vigorum's box is an absolute beast who also has a more refined, smooth side. It's insanely tough and the 3 heights make it ideal for anyone getting started as well as those who are looking to leap to new heights.
3 different heights
Huge max user weight
Easy to assemble
Extremely tough
Rounded edges
Not the most exciting of designs
Check Current Amazon UK Price
---
Heights: 6″ / 12″ / 18″ / 24″
Finish: PVC
Max User Weight: 150kg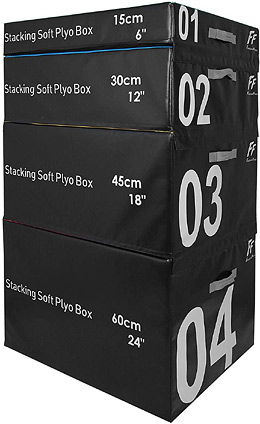 Probably the most versatile set of plyo boxes we've found, this set from FunctionalFitness offers pretty much everything that someone could want.
A huge number of possible heights
It comes as a set of four differently sized boxes, from the smallest 6-inch step box, up to a decently sized 24 inches, with 12 and 18 in between. All of them are stackable, in any combination, giving you 10 different combinations up to a ridiculous 60-inch maximum height.
Made from high-quality foam, they're soft enough to absorb some of the impact, taking the strain out of repeat exercise on your joints, but tough enough to last. It's covered with commercial-grade PVC, which is designed to be non-slip on every surface, so it's safe to use at home no matter your flooring, and can safely be taken outside.
Another bonus of PVC is how easy it is to clean. You can literally just wipe it down, and it's not going to pick up stains or dirt easily, so this is also great for gym use, or taking to classes if you teach.
Finally, they're surprisingly cheap, sitting at a competitive price with a lot of other plyo boxes that offer a lot less. All in all, there's a huge amount to recommend here, and almost no downsides. If you're looking for plyo boxes, we'd seriously consider always looking at these first.
Verdict: These boxes offer a wide range of heights and anyone should be able to find a combination that's right for their level. Jumping onto any combination provides a satisfyingly-sturdy landing and they seem like they're built to last.
4 boxes of different heights offer a huge variety
Low starting height for beginners
Cushioned and protective
Hard-wearing and easy to clean
Take up quite a lot of space
Issue finding stock
Check Current Amazon UK Price
---
Heights: 12″/ 16″ / 20″
Finish: Steel tube frame
Max User Weight: 150kg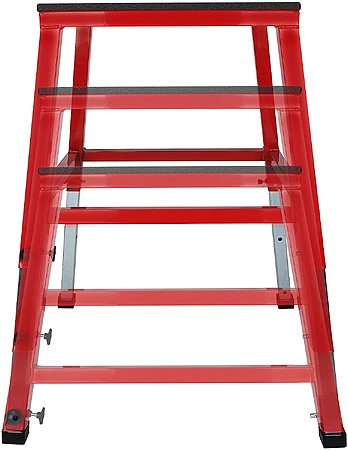 If you're lacking for space and need something functional and effective that can be tucked away after use, this adjustable plyo box from Jfit is a solid addition to any home gym.
A stool design rather than a standard box, this comes fully assembled and ready to use. It's adjustable through a simple step pin system, with added screw pins for stability. It can be set between three different heights, and unlike a lot of single boxes, can be extended up to a decent 30-inch height.
As a solid metal stool, it's tough, and sure to last a long time even with heavy use. Plus, when you're not jumping on it, it can serve admirable double duty as a rest stool to take a drink and check your phone on. Not that we're recommending buying this for that reason, of course.
Verdict: With no assembly to speak of, you can get right to the action with this adjustable 'box'. It's sturdy, easy to move and doesn't take up too much of your home gym.
Solid and dependable
Easy to adjust, with three settings
No assembly
Collapses down small, and easy to store
Reasonably pricey for a single box
Check Current Amazon UK Price
---
Heights: 30″ / 24″ / 20″
Finish: Strong 18mm plywood
Max User Weight: 150kg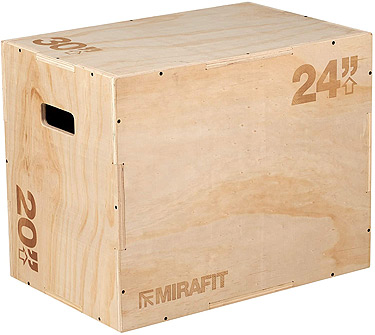 Very similar in look and feel to our top choice, for good reason, this single box from Mirafit is a good option if you need a variety of heights, but don't have the space to store a full set of four boxes.
One tough box
Built from high-density foam, it's soft on joints but still tough enough to take rough impacts and long workout sessions. The foam core is covered by hard-wearing and easy to clean PVC, that's suitable for use on any surface without slipping and wipes clean from stains easily.
It's incredibly simple to use, and can be used at three separate heights, from 20, 24 and 30 inches, just by flipping the box over, as all three of its paired sides are different lengths.
Expensive
The only downside is the price. This is a classy piece of kit, and everything about the construction is high quality. It even looks great. But you're paying for it. Still, if you need a well made and easy to store single plyo box, there aren't really any better options.
Verdict: If you're looking for a really good quality single box, and don't mind paying a bit extra, this is such a good box. It's really well made, feels great to use and is one of the more sturdy boxes we've seen.
Three different heights, simply turn the box over
Well made and tough
Great looking
Solid and sturdy to train with
Check Current Amazon UK Price
---
Heights: 12″ / 18″ / 24″ / 30″
Finish: Weld iron frame, red power coating
Max User Weight: 150kg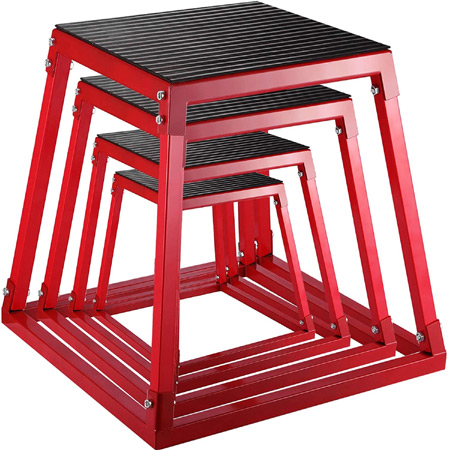 A good choice if you're on a budget
A cheap and cheerful 3 box set, if you're working on a budget but need the options that having a set of plyo boxes brings, this could be the right choice.
Firstly, the options. There are three sizes, ranging from 12 inches up to 24 inches, which can all be purchased separately, or for significantly cheaper as a set. The set nests together, making storage incredibly simple, and the whole thing is made from solid metal with a grip coating on top.
Weather-resistant, they're safe to use outside and solid enough to use without worry. However, it is worth pointing out that the bolts might need occasional tightening after a heavy session.
But for the price, considering you can get a single box for half the price of less than you could anything else on the list if you don't mind performing a little routine maintenance every so often, these might just be worth the asking price.
Verdict: Proving you don't have to spend a fortune to get a decent set of Plyo boxes, this is a good buy for anyone looking for a bargain.
Cheap and cheerful
Lots of available options
Stable and relatively sturdy
Bolts occasionally need re-tightening
Check Current Amazon UK Price
---
Heights: 60 cm / 50.5 cm / 75.5cm
Finish: High-quality plywood
Max User Weight: 200kg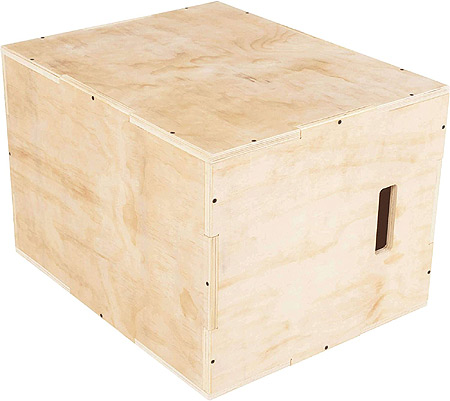 Big and beefy, this plyo box makes the roster because it's a solid piece of kit that's rated up to extremely heavy weights.
Made from double-layered plywood, with an external pine for flexibility and internal poplar for strength, it's safely rated up to 200kg (440lbs) making this a ridiculously stable and strong platform for exercise.
Weighing in at 24kgs itself, it's easy to move around using the built-in handholds, and each of the three paired faces is at a different height, from 20 to 30 inches.
Compared to the other choices on our list, there are a couple of small downsides, but nothing that would put us off buying this if we needed the strongest plyo box possible. One, it's not decorated at all, and while this is minor, it's nice to be working out with good looking gear.
Two, it's not cushioned, so make sure that you're wearing the right footwear when you're working out. Footwear is important anyway, so this is another relatively minor issue but it's still worth pointing out.
But apart from that, this is a heavily robust and strong box that's built to last, and if you need something that can take a beating from a heavier weight, if you're particularly large, or tall, then this is the right choice.
Verdict: Although plain-looking, and missing some important info about the height you'll be jumping to, we can forgive this box because it's just so well made. With an upper user limit of 200kg, it offers a lot of stability for the price.
High maximum weight capacity
Three different heights
Very stable
Check Current Amazon UK Price
---
Plyo Box Buyer's Guide
Plyo boxes are a simple way to train hard using a completely natural movement. If you've been to a gym recently, especially one that heavily features Crossfit, you've probably seen people leaping up on top of precariously stacked boxes.
You might have wondered why they're doing this, or what the benefits are.
Welcome to the wonderful world of plyometric exercise.
What's the point of a plyo box?
Plyo boxes are one of the most popular forms of plyometric exercise, which are exercises where you're looking to train explosive strength and power, by putting out the most force in the shortest time possible.
The most common exercise done with a plyo box are box jumps, which are a relatively simple exercise in operation:
You stand in front of the box. You jump on top of the box. You jump off of the box. Repeat.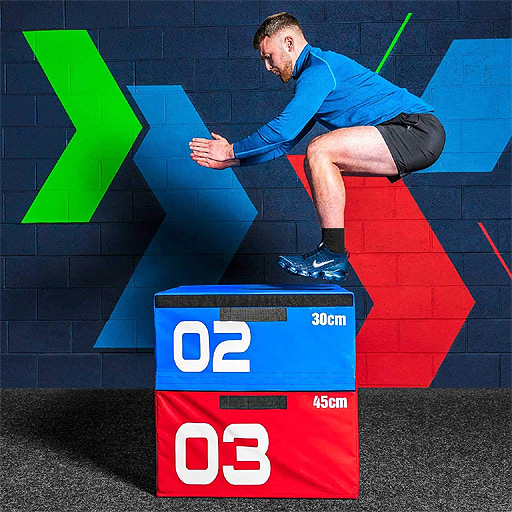 But even though this seems overly specific, and perhaps a little bit silly, there's a huge amount of benefits that come from training with a plyo box.
What is the point in a plyo box?
First off, plyometric exercise is great for training overall athletic strength and explosive power. Almost every sport uses jumps, and even if you're not specifically leaping as high as possible, training plyometric jumps is a fantastic way to increase lower body strength and power.
Second, your lower half contains the largest muscle groups in the entire body. It's massively important to train your legs and glutes, because they're used in almost every movement you do throughout the day. Plus, the intensity of box jumps also helps to train the rest of your body, especially your core and lower back.
Types of plyometric boxes
#1 – Plain wood boxes
One of the more common plyo boxes is the regular wooden box. Typically each side will be a different height, allowing for 3 different jump distances depending on which side it's resting on. They're easy to use, you only need one box and they're extremely stable.
#2 – Stackable boxes
Another variation is a collection of boxes at a different height. Combining the boxes can give you a huge range of possible sizes to leap up. And the other main advantage here is the starting height is often tiny – often 6 inches – so it's a great way to build up to the more challenging heights.
#3 – Metal frame boxes
These super-sturdy frames are another popular option for those looking for some gym equipment that's safe to jump on to.
#4 – Adjustable plyo boxes
Lastly, the other kind of box you'll find is often the metal adjustable boxes. Using a pin or screw of some kind, you slide the upper part up and down to get a certain height. These are great because they take up less space and let you gradually increase the height.
Are jump boxes just a fad?
Finally, even though plyometric boxes seem like a simple piece of gear, they're not. You can perform a lot more exercises than simple box jumps on a plyo box, including:
Step-ups
Split lunges
Elevated push-up
Calf raises
Dips
Burpee jumps
Knee tucks
Single leg exercises, and more
Box squats
Hopefully, now you're at the end of our guide you've got a better idea about the differences between plyo boxes and know what product you're going to buy.
Screw this
One problem you might hit with assembling your new plyo box is that there's an overwhelming amount of screws. If you haven't got an electronic screwdriver, and you're getting a wooden ply box, borrow one from somewhere. Your wrists will thank you for it.
Have we missed anything? Do you have experience with plyometric exercises or any of the boxes on our list? Make sure to leave us a comment and share that knowledge with us and our readers!
Plyo Boxes FAQs
Got questions about these fitness blocks? Good! Here's some frequently asked questions that might help you.
Can't you just build these boxes yourself?
If you're like me, the idea of hammering together a Plyo box might give you nightmares. For the more DIY savvy, you can absolutely save some money and build your own box rather than buying one. If you've got the tools and a bit of know-how, you can make a plyometric box from a single sheet of plywood.
Check out this simple guide if you're up for the challenge. The sheet of wood should cost no more than £30. You can get a decent plyo box for under £60 on places like Amazon. Is it worth it to make your own? It depends. At least you can tell you're mates 'I made this bad boy!'
Should I get a foam one, or a plain wood one?
If you're stuck picking between a wooden jump box and a padded one, here's some things to think about.
If you're new, padded boxes give you a bit more confidence – Those hard edges on the wood boxes are unforgiving to shins. Although you'll likely never hurt yourself on a plyo box, the padded ones are a good safety net in case you trip or don't make that jump.
Foam boxes can cost more – Depending on which brand of jump box you go for, the padded ones tend to be more pricey. A good bit more in some cases.
Wood jump boxes are a bit louder – While jumping up onto any hollow box isn't exactly the most stealthy of training activities, the cushioned boxes are normally way quieter than the plain wood ones. Something to think about if you're in a house with other people or want to keep the noise down on your crossfit.
Foam ones can be easier to flip over – while both kinds of boxes are structurally sound, it's easier to flip a foam one towards you if you land closer to the edge on one of your leaps. This can happen more often when you're tired. A good way around this is to place the box closer to a wall, or in the corner.
Either way, both are equally sturdy and you'll be able to use them for your home crossfit jumping routines easily. Chris Fish has a great Youtube video on some of the key differences between the two kinds of boxes along with some great tips.
---
References & Further Reading