Review Summary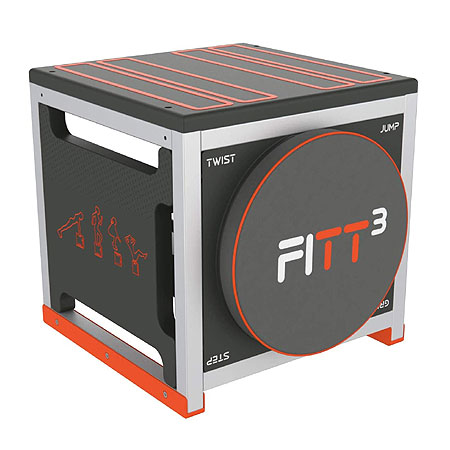 Fitt Cube
Ingenious design
Good manual and workout app
Decent mix of strength and cardio exercises
Doesn't take up much space
Could use more grip on carpets
"Far from a gimmick, there's actually a good workout to be had here. For the price and space it takes up, the FIIT Cube is well worth a look for home gym fans."
We couldn't wait to get our hands on the Fitt Cube at HomeGymExperts. Mainly because it just looked so different from just about everything else we've reviewed so far.
In this guide we'll cover absolutely everything you need to know about this interesting cube fitness gadget; what it does, who it's best for and whether it's just a fad, or something genuinely useful.
Total Fitness … in a cube? What is a Fitt Cube, and why you should care
Every year, a thousand fitness trends come and go, but one thing that's never going to go out of fashion is bodyweight sets.
Effective, able to be done literally anywhere, and, dare we say it, fun, bodyweight exercises can be a staple of any fitness regime. You can use your own bodyweight to burn fat, increase your cardiovascular health, and hit almost any fitness goal.
But like any form of exercise, having the right tools makes it much easier to get fitter, faster, especially when you're working from home.
Enter the Fitt Cube *
That's not a spelling mistake. And it's taken us a while to stop saying 'FIT cube'!
Check Current Amazon UK Price
What is the Fitt Cube?
It also feels great, made from rock-solid steel, with a comfortably high weight limit, and a lot of exercise options.
At first glance, the Fitt Cube doesn't seem particularly impressive. It's a small (less than 45cm, or 18 inches, to a side) and brightly coloured cube that kind of resembles the sort of thing you'd see on late-night TV.
But that small frame hides a lot of well-thought-out tech.
The FittCube is designed specifically to let you perform high-intensity interval training (HIIT) workouts from inside your own home, the Fitt Cube is a tiny little piece of kit that can literally help you revolutionise your workouts.
This is because inside the tiny little box is 10 different pieces of exercise equipment that let you perform over 100 different exercises. That's a lot of options, especially for something so small.
It also feels great, made from rock-solid steel, with a comfortably high weight limit, and a lot of exercise options. But is it actually as good as it sounds, and can you really get fit using just a small box? Let's find out.
Goodies inside and out
You can tell a lot of thought went into this box with a bunch of designers thinking 'how the hell can we use a box and get 10 different exercises out of it?' One of the key things they've done is use both the inside and the outside of the cube design.
On the outside, you've got a jump box on one side. Flip it over and there's a set of push-up bars. On the other side, you've got a rotating platform you can do some really intense core exercises with. They've definitely made a lot out of a 43cm box.
What can you gain from exercising with the Fitt Cube?
First things first, as long as you put in the time, the Fitt Cube actually works.
That's important to point out because, a lot of time, exercise equipment that seems cute and kind of gimmicky, (and we're not going to lie, this does) makes promises that you can work out for 10 minutes a day and somehow become an Olympic athlete.
We all know that's not true, but it's a pleasing lie, so people just keep buying into it.
But as long as you put the time in you can expect the Fitt Cube to:
Genuinely burn fat
Build muscle
Increase your health and fitness
Improve your grip strength (mine needs serious work…)
The types of HIIT workouts used by the Fitt Cube can be intense, and working through cycles of bodyweight exercises are already a solid way to build up a base of fitness.
If you're regular and committed to using your Fitt Cube, expect to get much fitter and healthier, which can be a great transition or supplement to weightlifting, running, sports, or just a happier, healthier life.
Fitt Cube Key features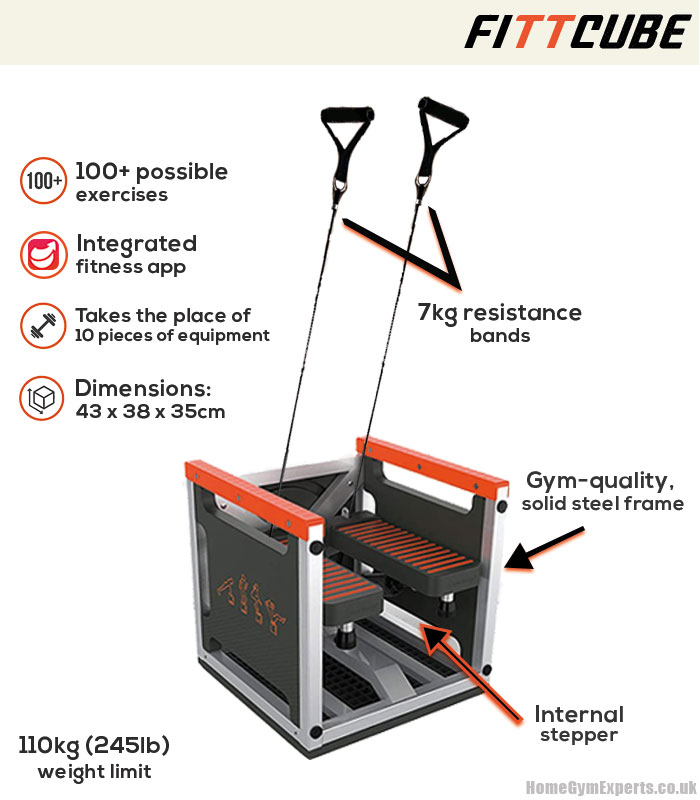 Gym-quality, solid steel frame
 Takes the place of 10 pieces of equipment
Over 100 possible exercises
Internal stepper
7kg resistance bands
Integrated fitness app
8 trainer-led workouts
Dimensions: 43 x 38 x 35cm
110kg (245lb) weight limit
Check Current Amazon UK Price
---
What do you actually do with the Fit Cube?
With something like an exercise bike or a treadmill, it's obvious what you're meant to be doing.
That definitely can't be said with the Fitt Cube.
So, what exactly will you be doing? In the manual, there are 20 exercises you can work into your own training and at the end, you're also encouraged to explore your own. There are, apparently, 100 exercises you could do with this thing, all said and done.
Let's go over ten example exercises this bit of kit will be putting you through.
The stepper – inside the box is hidden a compact stepper. There's not much to cover here; it's basically stomping up and down on the spot. It's great for your glutes and all your other leg muscles.
Biceps (or biceps with the stepper) – Inside the cube, there are also two resistance bands you can curl while stepping, or stationary. You get the resistance bands here (7kg) but can use your own set if you have them.
Front raise steps – Same as above except you're raising your arms up in front of you. This will target your deltoids and your forearms, as well as your back and core muscles.
Hand step – A clever re-use of the stepper. Drop into a push-up position and walk your hands up and down on the stepper. It's harder than it sounds and you can definitely feel it on your upper body.
Press-up bars – You can of course do these without a fancy fitness gadget but using the bars on one side of the box gives a different feel as you're doing push-ups at an incline. Upper body and core strength here.
Reverse dips – You can do these on the edge of your weights bench, or even a chair if you're careful but it's done way better here. The push-up bars make for a great rear dip station as there's nothing blocking your back on the way down. Great for back and triceps.
Bent over row – Why not use the box itself as a weight? If you've not got dumbbells handy you can get in on this top notch back exercise by rowing using the grips mentioned above.
Twisting! The padded seat on the Fitt Cube lets you work your abs and core muscles by sitting on it, grabbing the handles and twisting from side to side. Sounds easy? You might be surprised.
Russian Twists – a variation on the above where you keep your hands off the sides of the box.
Burpee Box Jump – Last, but actually one of the best is jumping up onto the box. This little thing is really stable and if you're not doing these in your workout yet, you should give them a try. You'll develop pretty much all of your leg muscles and if you follow the burpee box jumps here, you'll do your upper body and core at the same time.
---
Who is this best suited for?
Before we get into the review and our opinion on the Cube, let's cover who this bit of gym gear is best suited to.
Anyone with a general level of fitness will find something here to enjoy *
The great thing about bodyweight exercises is that they can be done by almost anyone, at pretty much any health and fitness level. In fact, there are exercises specifically for beginners that your gran could do, up to more advanced stuff you'll see younger ones doing in the gym.
* as much as you can enjoy something that's designed to make you sweat, and grimace.
If you're looking for something new to keep you motivated
The sheer range of exercises on offer here also promise to keep things fresh, and when you combine the costs of what this replaces, if you're big on body weight, it makes a lot of sense as a purchase.
We'd recommend the FittCube for anyone who is looking for a simple way to tone up and get fitter and healthier from home, anyone looking for a fun and exciting way to work out, for a very reasonable price, and finally, anyone who has a deep and enduring love for bodyweight exercises, and wants a new way to try them.
If you're short on space
Add this little box of fitness goodness to the list of gym gear you can use if you've not got a garage or spare room. It's pretty easy to store and it ticks all the boxes we want when looking for a bit of gym gear you can use and then shove out the way. The fact it has 10 exercises in one is pretty good in that respect.
Check Current Amazon UK Price
Related Guides
---
Review Time: What we love about the FittCube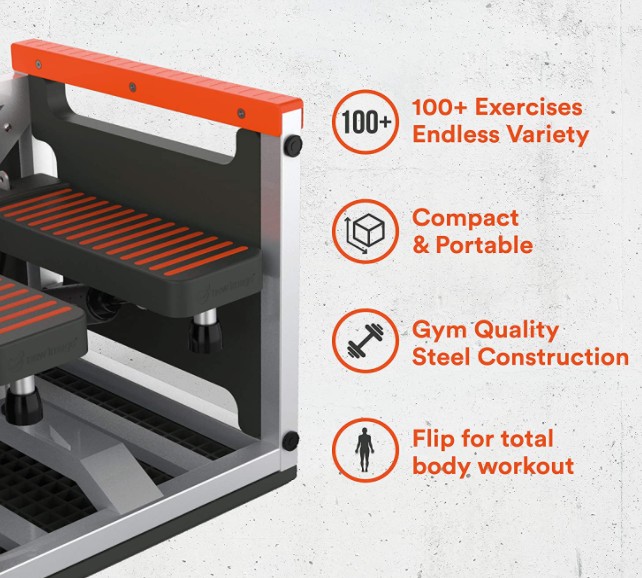 The manual is awesome
Bear with us. That's not the most exciting thing to start with. But the manual you get with the FittCube is bloody brilliant.
There are full-colour images of what each functional fitness exercise does and a lengthy description to go with it. It's very clearly laid out and it's definitely worth reading through as some of the exercises are more advanced and you'll benefit from getting the form right.
It's fun
There's a lot to be said about enjoying your exercise time. One of the biggest reasons people stop exercising is simply because they stop enjoying it.
Whether it's finding it hard to hit a goal, or the monotony of doing the same exercises over and over again, people quit doing things they aren't enjoying.
By design, the FittCube fights against that. There are just so many different ways to use it, and different variations of the exercise, that's it's almost impossible to get bored.
On top of this, you can find a trainer-led workout using the app, which is a great help, especially if you don't know what you're doing that day. Finally, it's just fun throwing the thing around, jumping, twisting and pushing.
It's like being a big kid again!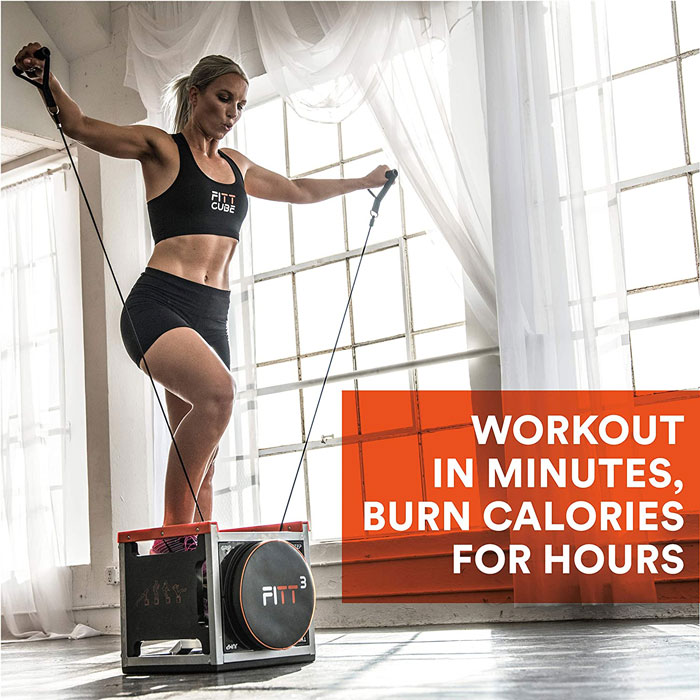 It's effective
As fun as it is, there's no point in exercising if it's not going to help you achieve your goals, whatever they are.
Thankfully, the FittCube has been designed from top to bottom with effectiveness in mind. The exercises on offer let you target every part of your body, focusing on the major muscle groups.
Each exercise station lets you hit a different major muscle group, and used correctly, the FittCube can be an extremely intense workout, especially if you use it as a HIIT tool.
Interval training is one of the single most effective ways to burn fat and boost your cardiovascular health. The FittCube gives you that option at your fingertips, whenever you need it, in a smart, compact package.
There's a lot on offer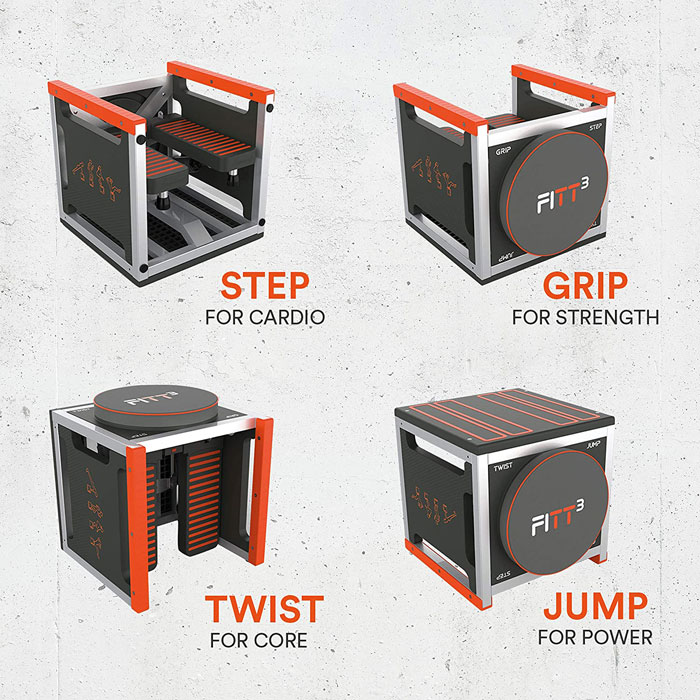 We've already touched on just how much you can do with the FittCube, but it's worth pointing out exactly what you're getting here. The FittCube combines:
An internal stepper
Hand grips for elevated exercises like press-ups and dips
A plyo box for box jumping and similar exercises
A twist station for core exercises
Resistance bands
Overall, the FittCube replaces over 10 pieces of gym gear and can be used for over 100 different exercises. Combining that with trainer-led workouts, and you're never going to struggle to have anything to do next.
The fitness app is great
Alongside the cube itself, the price includes access to their dedicated app, downloadable from Google Play or the Apple store.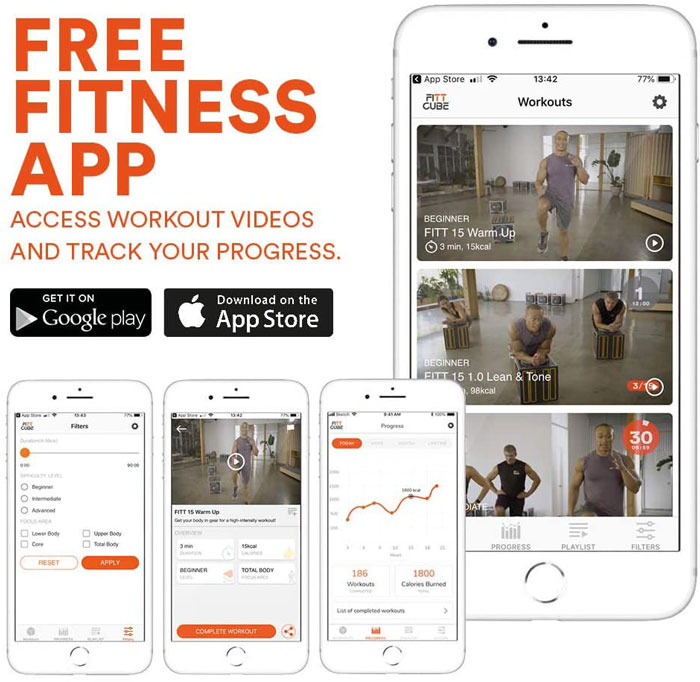 It combines a workout and stats tracker with built-in fitness plans, and trainer-led video workouts, helping you exercise using your cube and making the entire process that much simpler.
Each of the 8 workouts on offer is led by Jordan Nevels, a high-level personal fitness coach, and can guide you through quick and easy warm-ups, up to high-intensity full body blasts.
It can be used by everyone
The FittCube is fully unisex and great for people of all ages and fitness levels. Because you're working with your own body weight, there's very little risk in terms of health and injury, so no matter where you are in your fitness journey, the FittCube will work with what you have.
This makes the FittCube great for older people, people with injuries, as well as easy enough and fun enough for kids and teens to use.
It also puts the entire process entirely within your control. You can work as hard and as fast as you want, change up your exercises as and when you want, and basically just have fun with it.
Simplicity
Finally, it's worth pointing out just how easy the FittCube makes exercising. It's simple to pull this out of its storage space and get started, whether you know what you're doing or not.
On top of that, it can be stored almost anywhere (you could even tuck it away in the corner of your room and use it as a stool or something) and it comes out of the box fully assembled and ready to go.
It's a good price for what's on offer
There's no denying that this is a quality bit of kit for the money. There are not many bits of gym gear we've seen at this price point that do as much in one package. The Fitt Cube is definitely good value for money and fairly cheap.
Check Current Amazon UK Price
---
What we don't like about the Fitt Cube
A few design choices need work
While overall, the Fitt Cube is a really well-made piece of gear, especially the frame, which is made from rock-solid steel bars, there are a couple of things we'd like to see changed when the next edition hits the shelves.
First off, it would be nice to have a little more grip on the outside surfaces. Not for your hands, because that's perfectly fine. But the Cube tends to slip when it's put on certain kinds of carpet, hardwood or tile.
You can fight against this by putting the Cube up against something, like a wall, but a few larger rubber pads would eliminate the issue.
Also, the orange edging feels a little flimsy and might start to peel away with heavy use. It would have been nice to see this being thicker and stronger.
---
Final thoughts
Is the Fitt Cube going to revolutionise your fitness lifestyle and give you the physique of a Greek God?
Not really, no.
But what it does do is give you an enjoyable way to exercise from the comfort of your own home, an easy way to mix up bodyweight exercises, and a laundry list of different workouts to choose from.
All in a cute little package that can be stored almost anywhere, and doesn't cost too much either.
Even those with a home gym shouldn't pass over this one. There's likely some exercises the Fitt Cube can bring to your routine that you're not able to do with the gear you've got.
If this is something that sounds good to you, and you're already working out from home, or thinking about starting, the Fitt Cube is probably a fantastic choice.
An interesting and clever gadget that will appeal to anyone short on space, time or just looking to expand their home gym.
Check Current Amazon UK Price
---
Fitt Cube Tech Specs
| Brand | ‎New Image |
| --- | --- |
| Model | FITT Cube |
| Size | ‎Cube |
| Material type | Steel |
| Included components | Nutrition guide, Wall Chart, 2x resistance bands, User guide, FITT Cube |
| Batteries included? | Yes |
| Department | Unisex |
| Product Dimensions | 43.51 x 38 x 38.51 cm |
| Item weight | 14.4kg |
| User weight limit | 110kg |
---
REFERENCES & FURTHER READING