It's a sad state of reality that we don't always have the space we want. Especially if you live in the city, home space is an absolute premium, so you might not always have the room for full size pieces of exercise equipment. In this guide we're diving into 2023's best home gym equipment for small spaces. What workout gear can you get that will give you a cardio, full-body or whatever exercise your' looking for?
Small spaces might sound like a limitation, but it doesn't have to be. With some smart purchases, you can easily set up an effective home gym that will let you hit your goals, no matter what they might be.
Best space saving gym gear 2023
If you want to jump to the products we think will make the most of your available home gym space, here's the latest list:
"This folding treadmill balances a compact size, with a great quality motor and belt"

"A compact home gym that doesn't compromise on quality or the weight stack"

Fusion Motion Portable Gym

"A home gym that literally fits into a bag. Don't laugh - this space-saver is actually very practical!"

Doesn't need any permanent space

Over 200 proper exercises

"Proving you don't need a chin up station to get into one of the best exercises for your upper body!"

Uses existing doorway to save space

Latest design - secure and reliable

No screws or installation

Isogym Adjustable Kettlebell

"This single kettlebell has a brilliant adjustable design that lets you go from 3kg up to 18kg with a single weight."

3.4kg, 5.5kg, 10.7kg, 13.4kg, 15.9kg and 18kg

Fast to swap between weights

Rubber sole to protect floors

"This folding treadmill balances a compact size, with a great quality motor and belt"

Between 90 and 131 cm height adjustment
---
Making the most of your available training space
When designing a smaller home gym, there are several things you need to consider, including:
How much space do you have?
Issue number one is space. Most pieces of gym gear take up a lot of room, especially when we're talking things like multigyms and treadmills.
Manufacturers know this, which is why there are always options that are built smaller or with portability in mind.
What fitness goals do you have?
There's no point buying a treadmill if you want to get jacked, and purchasing a full weight set when you want mobility and cardiovascular health isn't smart.
Start your home gym by buying one or two core purchases that can help you hit your primary goals. Then slowly build on that over time, when you've laid out your gym and know how much space and budget you have to work with.
What's your budget?
We're not going to lie, most gym equipment is expensive. At least, it seems to be. But one, it's hard to put a price on your health, and two, when you compare the price of a quality piece of kit against a yearly gym membership, setting up a home gym can pay for itself within a year or two.
The best gym equipment for small spaces
So here it is. The very best gym gear to make the most of those spare corners, temporary spaces and previous square inches in your home or flat. Here's some of the best mini training equipment your money can buy in 2023.
Best Treadmill: Nero Pro Folding Treadmill
This compact treadmill is strong, and folds seriously flat
Measurements: 126cm x 60cm x 120cm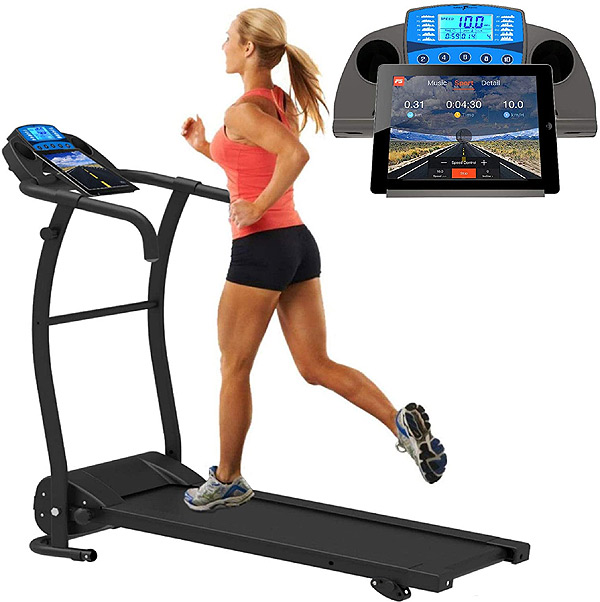 The Nero Folding Treadmill (Amazon UK) hits a rare balance of a machine that folds down to a respectably flat size, while not compromising on power. Perfect for anyone looking for a decent cardio machine for a small space, this compact running machine has some awesome features for it's teeny footprint.
One of the biggest issues with treadmills and other home gym equipment is the space they take up. Standard treadmills have an enormous footprint that can completely dominate a small room.
Which is why, for smaller homes, you need a treadmill like this, which folds up when not in use, reducing its footprint to almost nothing, letting you tuck it away inside cupboards or push it up against a wall.
But that doesn't mean you lose performance. Even though this is a folding model, it has three different levels of incline, 5 different speeds up to 7mph, Bluetooth linking to any Apple or Android phone or tablet, and heart rate sensors.
12 fitness programs give you a wide range of exercise plans, and even better, it arrives almost completely assembled, which means you can be up and running in minutes the day this is delivered.
Foldable design saves space
12 built in fitness plans
Bluetooth app function
5 speeds and 3 incline options
Lower power motor than bigger heaver machines
Check Current Amazon UK Price
---
Best Multigym: York Perform Multigym Compact Gym
York's multi-gym offers a proper gym experience in a small space
Measurements: 196cm x 115cm x 141cm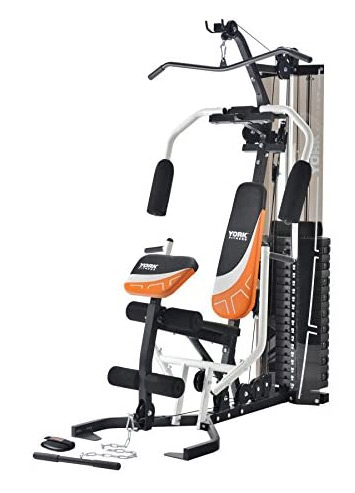 Finding a decent quality multigym that doesn't hog half your home is no mean feat. Also finding one that's actually got a decent weight stack and good build quality is even tougher. But the York Perform Multi Gym (Amazon UK) is a fantastic home gym that has a whopping 100kg weight stack and a monstrously strong frame.
When most people think of a home gym, weights are definitely an important part of that. But free weights realistically need a rack for safety when you're lifting heavy, which means a weight machine is one of the best options for most home gyms.
But multigyms can take up a lot of room. Which is why, when space is a concern, a multigym like the York Perform Multi Gym is the best choice. Its tiny footprint and maximum height mean that it will fit into most home gyms without issue, without compromising on features.
As an all-in-one machine, there are stations here for every part of your body, including high and low pulleys, a chest station, preacher curl station, butterfly press arms and a leg curl station. The total weight is a respectable 100kg, which is easily enough for most people.
In terms of space, it's just under two meters long, and 1.15 meters wide. The whole thing is covered by a two year warranty.
Compact but powerful
Good brand
Large 100kg weight stack
All the major exercises
Hefty 100kg stack
2 year warranty
Set up can be difficult
Not the cheapest home gym
Check Current Amazon UK Price
---
Best Portable Option: Fusion Motion Portable Gym
A gym you could fit in your bag? Is this a joke?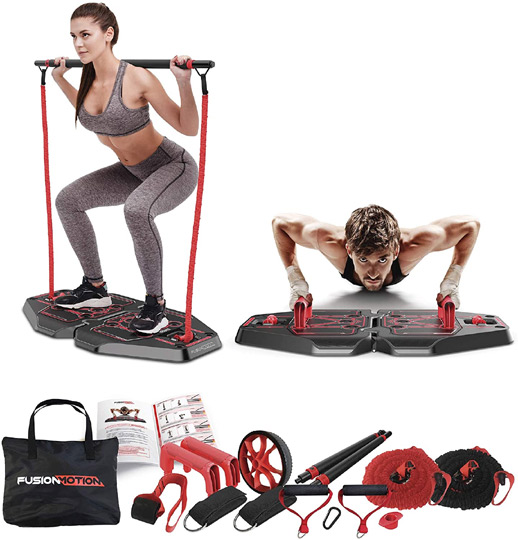 Designed for absolute flexibility, the Fusion Motion Portable Gym (Amazon UK) literally folds up into its own average sized bag, which can be tucked away almost anywhere. Don't scroll down just yet, because behind the whacky idea is a brilliantly-simple solution to anyone short on training space at home.
When you unfurl it, everything locks solidly into the polyethylene base, which is steel reinforced for strength. Each of the 8 accessories snaps onto it in seconds, letting you perform a whole bunch of different exercises.
Everything you need to train in a limited space
Included are a pair of resistance bands, normal and strong, which are much easier to use than normal bands when they're linked into the base. Dynamic handles and a full bar let you perform standard exercises like squats and presses, and there's also a core wheel and press up handles.
The training guide that comes with it gives you a list of 200 separate exercises that can be performed on the equipment, and the fact that it can be packed away into its own bag at the end of every session makes it perfect for the smallest home gyms.
Durable and tough
8 different attachments
200 different exercise options
Packs away into its own bag
Incredibly portable
Relatively low maximum resistance
Can take some getting used to!
---
Best Pull Up Bar: Magnoos Matador Pull Up Bar
This modern take on the doorframe pull-up bar is a must-have for anyone short on space and their upper body at home
The advantages of a simple pull up bar can't be overstated. There's a reason that pull ups are seen as one of the benchmarks of fitness.
Home pull up bars have been a staple in most home gyms for years, with doorway chin-up bars like this being the premium choice. And they're a great way to save space! Hooking into and over almost any standard door frame, the Matador Bar (Available Amazon UK) can be set up or taken down in literal seconds. Once it's hooked in place, the bar spreads your bodyweight across the structure of the frame, allowing it to safely take a weight of up to 290lbs (130kg.)
Youtube is littered with clips of pull-up bars coming away from doorframes. You might have had experiences with them in the past. This isn't one of those. The bar secures firmly and you won't be making your own you've been framed style clip anytime soon.
This pull up equipment is sturdy and reliable
What sets the Matador apart from competing products is the structure of the bar. Unlike most pull up bars, the handholds are set high, at a near vertical angle. This puts you 8 inches higher than most equivalent bars, giving you a much higher range of motion and making each rep that much more effective.
The Matador is slightly more expensive than comparable products, but bars like these are so cheap that it's basically irrelevant to most gym set ups. And the whole thing is covered by a 60 day money back guarantee anyway, so if you don't like it, you can always send it back.
Simple to use, simple to install
High lock position for better range of motion
Incredibly study, no sway or flex
Removes instantly, and tucks away anyway
290lb (130kg) max weight
More expensive than similar bars
Check Current Amazon UK Price
---
There's no need for a rack of kettlebells with this space-saving fitness gadget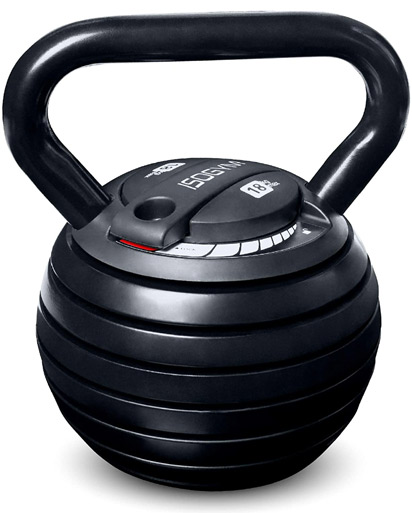 Related: Adjustable Dumbbells For Women
A few years back, kettlebells took over the fitness world, and it was easy to see why. The sheer amount of exercises that can be done with a cannonball on a handle is ridiculous, and the shape and offset weight means that your core and stabiliser muscles are hit much harder, as anyone who's ever worked out with one of these things and felt the burn can attest to.
The biggest issue with most kettlebells is a lack of adjustability. A kettlebell is a big lump of metal, and so the weight is fixed. But the Isogym Adjustable Kettlebell (Amazon) fixes that issue with an innovative locking mechanism that lets you slide different weights onto the frame, letting you choose from 7 different weight selections between 3 and 18kg.
Rubber footed so it won't scratch your floor, and with a tiny footprint, a kettlebell can be stored literally anywhere, and be used for a full workout, making this the perfect choice if you're absolutely starved for space, but still need to lift weights.
If you prefer traditional dumbbells, we would recommend a standard set like these 20kg dumbbells from York Fitness.
Highly effective workout method
Adjustable weights
Protective base is kind on your floors
Tiny and easy to store
Fast delivery
Limited to kettlebell style exercises
Reasonably expensive
Check Current Amazon UK Price
---
Best squat rack: DZKU Adjustable Barbell Rack
You don't have to miss out on the most important weight training exercises just because you're short on space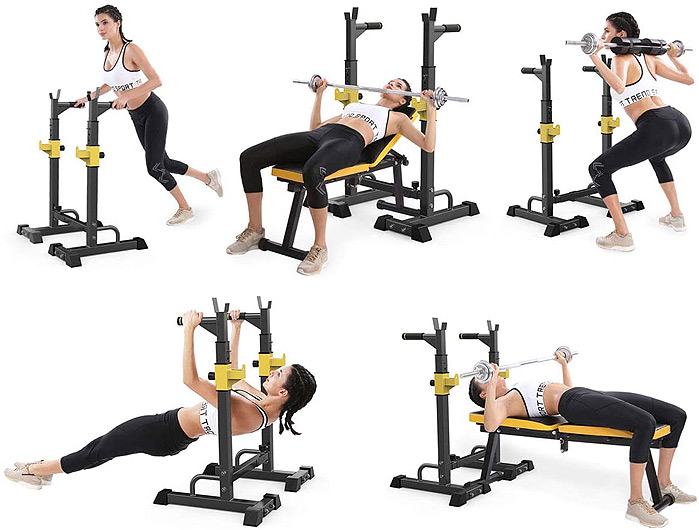 When you're lifting heavy, especially when squatting, you need support, as well as somewhere to put your weights when they're not in use. The DZKU Adjustable Barbell rack, Amazon UK, allows you to do serious bench press, squats and much more with a limited space at home.
Full size squat racks and power cages are far too big for most homes. But a barbell stand is the best of both worlds. They're small enough to fit almost anywhere, and with a bench can be used to perform almost any powerlifting exercise.
This rack can hold a maximum of 550lbs (250kg), and also serves double duty with the built-in set of dip handles and J-hooks for bench presses. Fully adjustable, it's incredibly stable, and made of solid steel.
Squat racks like these aren't as safe as a full cage, and it's recommended to also put down padded floor covering when you're using one of these. But for weightlifting indoors, there is not better option.
Compact and manoeuvrable
Holds a huge amount of weight
Easy to set up
Built-in dip handles
Not as versatile as a full-size squat cage
Check Current Amazon UK Price
---
Tips for Making the most of smaller workout spaces
Fold-flat is your friend
Just about every bit of gym gear will say that it will fold, or has transport wheels to help save you some space. And that's true. But if you're short on space, and every spare inch counts, a slightly reduced footprint of a big treadmill isn't going to cut it. There are some true 'fold flat' bits of gym gear out there.
You don't need a permanent spot
While those wooden water machines are as sexy as any bit of furniture in a modern home, and people like to leave them lying around to show off their sleek aesthetic, not all gym gear demands a permanent place in your home. There are treadmills that really do fold flat, weights benches that slide under beds, and exercise bikes that fold up like an ironing board.
Dumbbells might be the way to go
If you're super-short on space and there's just no way to fit even the most compact of treadmills or benches into your home, then you'll need something super-portable you can bring out and then put away. Dumbbells might be exactly what you need
The smallest gym gear in the world
What if I said there's a big of gym gear you can fit in your hand, it costs under £20, should last for years, and will give you a fantastic complete body workout? Madness! you ay cry, and rightly so. But the humble skipping rope wants to say hello!
HIIT training requires hardly any space
Think you need loads of space to get a proper 'sweat on'? As long as you have a few square feet of room in your home or apartment (or even hotel room!) there's a world of cardiovascular HIIT goodness just waiting for you. Check out some of the free videos on Youtube to get some ideas, or even train along with them on your phone. Sound easy? Some of these workouts are tough! They're also great if you're short on time.
Final thoughts – big results from small spaces
A lack of space doesn't have to limit your fitness gains. Smart purchases and willpower will count for far more than having a room full of fitness equipment that's never used.
There's some amazing home gym gear for anyone struggling with space, whatever your goals are. There's fitness equipment for strength training to cardio that doesn't need masses of free space to give you a great workout.
We'll continue to update this post as better tools come out, so make sure you bookmark this page and check back occasionally.
Resources & Further Reading