Welcome to our review of the compact motorized treadmill, the JTX Sprint 3. This lightest, cheapest of the Sprint treadmill family promises to deliver a gym-style workout without taking up all the space you have available. But is it any good?
In this review we'll cover the GOOD and the bad with the Sprint and help you decide if it's your new running partner, or if you should jog on past this one.
What is the JTX Sprint 3?
The JTX Sprint 3 is a foldable, motorised treadmill manufactured and designed by JTX Fitness to offer a range of workout programmes and speed functions.
It is an optimal work out tool for people of varying fitness levels. It is sturdy and powerful enough for both experienced trainers as well as for beginners to work out and exercise on.
Sprint 3 Video: See this treadmill in action
JTX Sprint 3 Best price & full guide
---
Other models in this range are:
---
The JTX Sprint 3 at a glance
A quick overview of what this running machine's features
Dimensions:  160(L) x 72(W) x 149(h) cm
Machine weight: – 62.7Kg
40 Workout Programs
Accessible Tablet Holder
Advanced computer console to track and display stats
8 point shock system
0-12%, 12 levels of Incline
Maximum Speed 16KHP
Running Area 129cm x 46 cm
Cushionstep™ Deck
Equipped with Transportable wheels and Speakers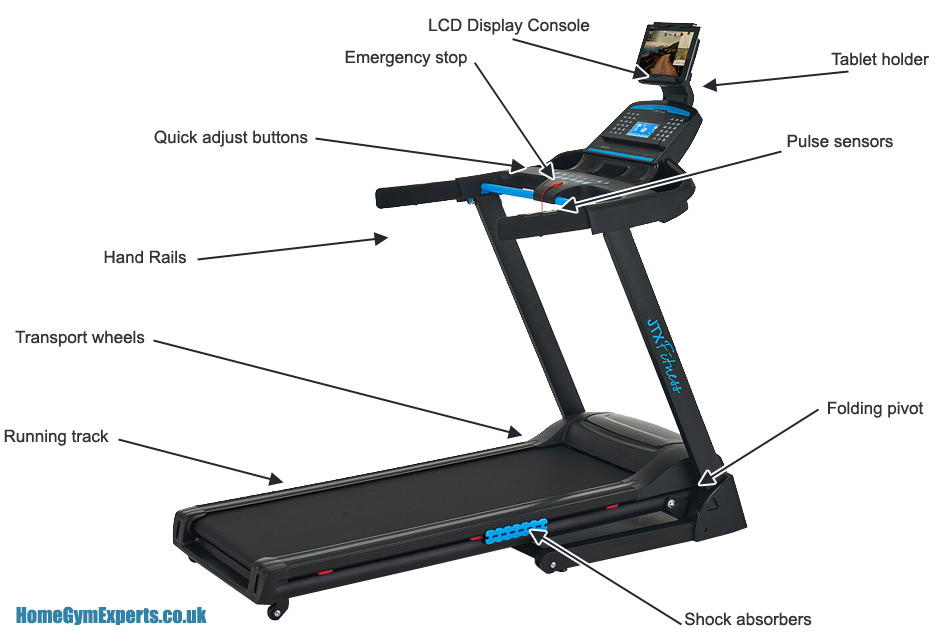 Easy-to-set-up and easy-to-use, the JTX Sprint 3 comes with a sturdy and robust, reinforced steel frame. It also has a built-in fan-that does not rumble or get noisy-to cool the treadmill down and prevent it from overheating during your workout session.
---
Who are JTX Fitness?

The Sprint 3 is a machine from fitness company JTX Fitness. Not familiar with JTX? They design and build high quality commercial standard fitness equipment such as rowers, running machines and cross-trainers. They're known for their customer service and machines with high quality components, build quality and aesthetics.
If you have any problems with your Sprint, or any of their machines, they send engineers out to your home to fix it quickly, which is very rare and something we love.
You can find out more about the JTX Sprint 3, and different rowers on the JTX website.
One thing that you'll read a lot about, if you research into JTX, is how good their support is.
---
Benefits to this treadmill, compared to similar ones
The JTX Sprint 3 has been designed to pack performance, power and advanced functionality in one machine and comes with varying levels of speed, workout programs and inclines, to help you make the best use of your cardio workout.
The incline levels are targeted to increase the intensity of your workout, without applying undue pressure or stress on your joints.
The different speed settings help you maintain your form, and help pace yourself to not just maintain your form, but to improve it over time.
 A full workout session on the JTX Sprint 3 will get your heart rate up, boost your metabolism, help you get in shape and gives you your daily dose of cardio, all without negatively affecting or straining your knees, joints and muscles.
---
What makes this rower different from the others?
Who is this product for?
If you're in the market for a lighter treadmill, you might consider the JTX Slim-Line, which is great for small spaces and light exercise.  If, however, you're looking for an extremely intense workout and for a treadmill that delivers high- powered performance, the JTX Sprint 5 or 7 are perhaps what you can consider.
The JTX Sprint 3 is about quality and durability. So if you're looking to buy a reasonably priced, and a well rounded treadmill, for everyday exercising and cardio workouts, the JTX Sprint 3 is good choice.
---
Reception of this running machine
What are the reviews like for the JTX Sprint 3?
One of the 3rd party independent sources for reviews on this foldable running machine is Trust Pilot. The Sprint 3 currently sits at 4.6 out of 5 stars. At the time of writing, there's not a ton of reviews as this rower is still new to market. You can read more reviews of the Sprint machine here.

Here's some opinions from users of this rowing machine:
"Excellent product, very sturdy, it was easy to set up and use instantly, very happy with purchase" 
Sam
---
"Very surprised at such good quality for a relatively low price. Good solid item, easy to use and the 'fold up' facility useful in my confined space." 
Ian I
---
"Although it's made in China, it's a sturdy treadmill. A little retro looking but super easy to set up. Has a decent incline. Needs a good deal of oiling before which is annoyingly fiddly to do with the connector pipe. I don't run fast so can't comment on top speeds. Good length for my husband who is tall. " 
Daniah Shariff
---
Review: What we like about the JTX Sprint 3
Easy to set up, easy to use and easy to fold
The JTX Sprint 3 comes with a built-in folding design and soft drop technology that allows for easy dismantling and portability. Just wheel the device to your location of choice and then, the hydraulic assist-deck lowers gently and safely to the ground.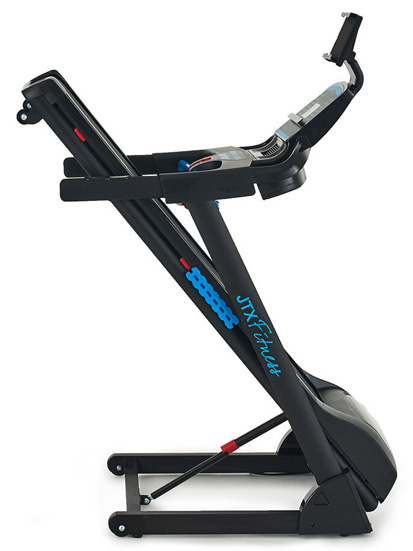 Once you're done with your workout, the running deck is easily foldable, and you can store it till you're ready to use it again for your next workout.
Preset Workout Programs
With 40, preset 30-minute workout programs, this treadmill offers a diverse range of interesting sessions, each one designed to meet different requirement of fitness, speed and training.
Built in Speakers and tablet holder
There are also MP3 sockets, speakers, and an ergonomically placed tablet holder attached, all to enhance the quality of your exercise, keeping you entertained while you workout. You can listen to music, watch a movie, or an episode or two of a TV show, and even stream exercise tutorials to keep you motivated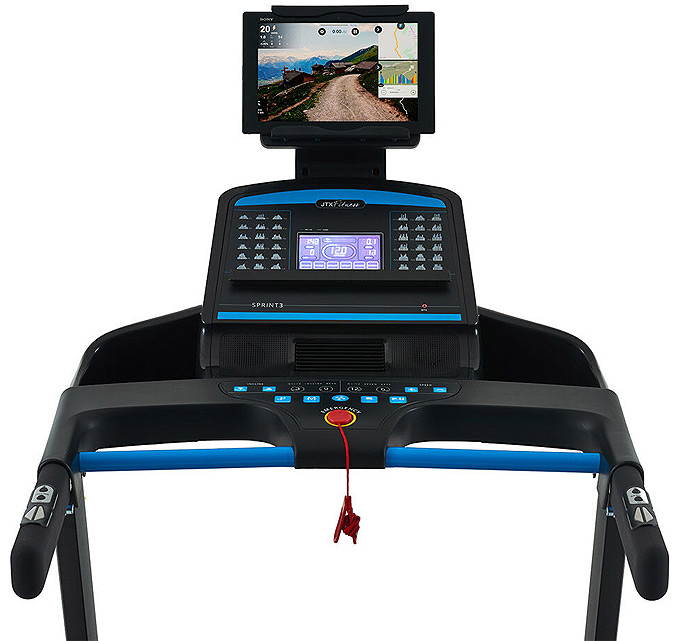 Great display to monitor your workout
Compact and well built, the JTX Sprint 3 also comes fitted with a heart-rate sensor, with a built in detector in the handles on either side.
The 5inch LCD display screen is clear, legible and uncluttered, and includes your speed, time elapsed as well as time remaining, distance covered, calories burned and heart rate.
Warranty and Guarantee
The JTX Sprint 3 was built to be durable and sturdy. It comes with a 2 year warranty that covers all the parts and the labour involved. If you are facing any issues, customer care at JTX Fitness deals with complaints and helps you with your queries.
You also receive free two-man delivery , subsequent help assembling your machine, and a no-questions-asked 28 day money back guarantee, with JTX picking up your machine.
What we didn't like about the JTX Sprint 3
Heavy
While the JTX does come with easy-to-set-up and fold technology, and wheels that make it easy to move and store, it is a treadmill that is on the heavier side. You need to get used to lugging it around, but once you get the hang of it, you should be good to go.
Further Expenses
While the JTX Sprint 3 is 99% assembled and has a ton of features and programs, you will have to buy a foot pad separately for any interactive running experience.
There is also an unpredictability in the availability of stock that customers have reported to have faced, but, understandably so, under the current global circumstances.
---
The Verdict: Is the Sprint 3 treadmill worth it?
Here is a condensed list of the pro and cons we just discussed for you to review, to keep in mind.
Powerful and compact
 Easy to set up and subsequently store.
Wheels allow for increased portability.
Durable and sturdy.
Nifty workout programs and in-built technology.
Warranty and free delivery.
Relatively heavy.
Unpredictable availability.
Overall, the JTX Sprint 3 is a well-rounded and dependable treadmill for anyone looking to get their daily cardio workout session. While it is not on the high end of the spectrum when it comes to the high-end technology that it offers, it is still a good bargain, and promises a good and safe run.
Where can you get the best price for the Sprint machine?
This product is available online at a number of different retailers. To be honest, the best bet is to head over to the company website and buy direct. They actually have a better price than anywhere else and the Sprite 3 is frequently on sale.
---
Full JTX Sprint 3 Specs
Brand
JTX
Color
Dark gray / Silver / Light blue
Treadmill weight
Model
Sprint 3
Motor
2HP
Incline type
Automatic powered incline
# Preset programs
40
Incline angle range
0 to 12%
# Incline levels
12
Running belt
Black diamond running belt
Console functions
Time
Speed
Distance
Calories
Scan Mode
Incline
Pulse sensors
Yes
Speed Range
Up to 16kph
Max user weight
120kg
Frame material
Steel
Deck cushioning
8 Point shock system
Machine weight
62.7kg
Warranty
2 years
Tablet holder
Yes
Transport Wheels
Yes
Integrated speakers
Yes
Polar chest strap compatible
Yes
Dimensions
160(l) x72(w) x149(h)cm
References and sources
The official JTX Youtube channel is packed with high quality videos of their products, if you'd like to check out other rowing and fitness machines.
Contact JTX on their website, or using the email info@jtxfitness.com
You can also contact them for help or any other queries on the JTX Sprint 3 on 01273 453855
How good is JTX's customer service? Check out their Trust Pilot company reviews here. Spoiler alert: 4.5 / 5 stars.
Are you up to it? Check out the Live well website on NHS before you dive into your new running machine