Welcome to our review of the absolute beast of a running machine – the JTX Club Max. In this guide we're going over everything you need to know about this machine, and giving out opinion on what's good, and what's not-so-hot with this commercial grade treadmill.


Treadmills are the most common form of cardio for a reason. Simple, easy and effective, it's hard to go wrong when buying a treadmill for your home gym. But not all running machine are created equal. There's a big difference between a budget model, and a high-end gym-quality machine.
Today's review is the JTX Club-Max, which is firmly placed on the luxury end of the spectrum. But is it worth it? Here's what you need to know.
---
JTX Club-Max Best price & full guide
---
What is the JTX Club-Max
The JTX Club-Max is the elite model in JTX's treadmill range. A professional, gym level machine with a commensurate price tag, it's built around a massively powerful motor and one of the largest running decks we've ever seen.
Compared to similar treadmills, the surrounding options might seem a little more limited, but that's because the Club-Max focuses on doing one thing exceptionally well. It's up to you whether that's worth it.
---
Overview of this running machine's features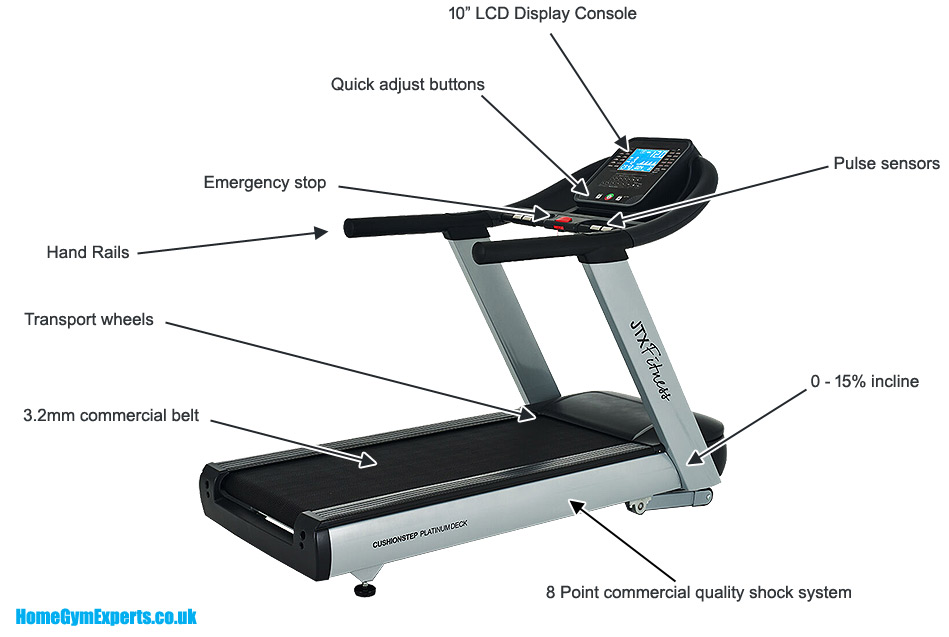 6HP motor
25kph maximum speed (15mph)
154 x 58cm running deck
4.6 star rating on Trust Pilot
8 point cushionstep-pro deck
10 inch LCD screen
180kg max user weight (400lbs)
236kg weight (520lbs)
Emergency stop safety key
Polar receiver for heart monitor
Built-in transport wheels
3 year in-house home warranties
What do you get from training on the JTX Club-Max
Treadmills are the most familiar form of cardio exercise for most people. They're suitable for everyone, from people who might be relatively unfit and looking to get back into exercise, up to high-level athletes training for events and competition.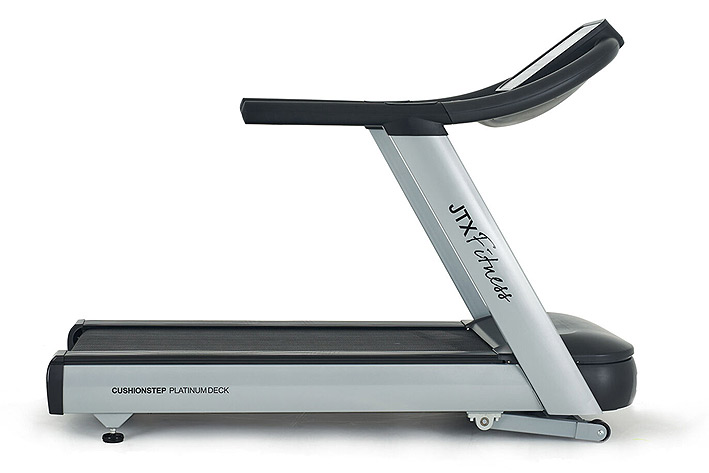 The benefits of treadmills are massive, and include:
Heart health
Weight loss
Cardio fitness
Increased motivation
Safety
Flexibility
The JTX Club-Max is a professional level training system, with all the benefits that suggests. The large running deck and solid set of options means that, no matter what level you're at, your training sessions with this treadmill will be effective.
Whereas other treadmills trade off things like power, speed and running deck size for a lower price, this is about the best quality and size treadmill you can get. The thing is 230kg so that gives you an idea of how sturdy the Club Max is. (An average weight of most treadmills is under a third of that).
---
Who is the treadmill best suited for?
Pro athletes and serious runners
The price investment and perceived lack of features aims this at one group of people. High-level athletes. Everything the about the JTX Club-Max, and everything it does, is aimed at making it a stable and effective training platform at speeds that most people simply cannot train at.
Health clubs, gyms and high-end home gyms
The treadmill itself is beautiful. Solidly built to an ultra high standard, sleek and gorgeous, as well as ridiculously powerful. But it's missing key features that we like to see on home treadmills, like app-based training plans.
If you need something built to last
If you're looking for a treadmill that's purely the best machine on the market, the Club-Max is a monstrosity that can compete with almost anything on the market.
If you need a higher weight capacity
The Club-Max is also a really good option for people who are overweight and looking for something to consistently train on, as it's got a massive maximum weight limit of around 160kg , and the wide deck is roomy and comfortable to walk or run on.
Is this machine overkill for you?
Unless you're in the higher weight category, or are used to some seriously intense running, you might be able to get away with a lesser machine (and save some money).  Many runners and home gym'ers just don't need the sheer power this brings, and could probably get away with something a little less intense.
---
Who are JTX Fitness?

The Club-Max is a machine from fitness company JTX Fitness. Not familiar with JTX? They design and build high quality commercial standard fitness equipment such as rowers, running machines and cross-trainers. They're known for their customer service and machines with high quality components, build quality and aesthetics.
If you have any problems with your Club-Max treadmill, or any of their machines, they send engineers out to your home to fix it quickly, which is very rare and something we love.
You can find out more about the Club-Max, and different rowers on the JTX website.
One thing that you'll read a lot about, if you research into JTX, is how good their support is.
High intensity beast mode, or a gentle row up the river? You choose.
---
What we like about the JTX Club-Max
The motor offers plenty of power
The Club-Max delivers on the max in the name when you look at the motor. It really is maximum power, with a hugely powerful 6 horsepower motor that lets the treadmill get up to a ridiculous 25kph maximum speed. That's 15mph, or to put it in perspective, a consistent 4 minute mile pace.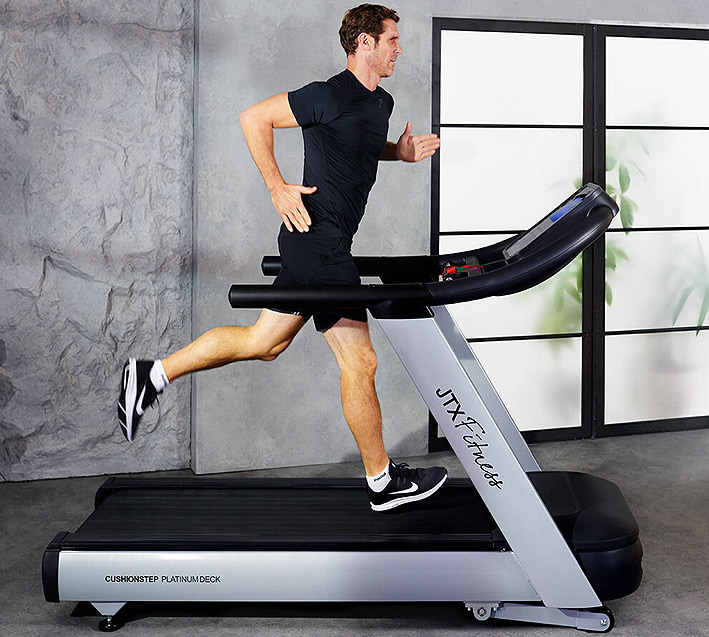 Realistically, that means that, no matter how fit you are, you're not going to outpace this treadmill, making it the perfect choice for high level training. You'll also be glad to hear that there's a safety key that cuts this dead if you trip or fall, which is going to be a necessity at these speeds.
Huge deck lets you stretch your legs
Considering it's the working part of a treadmill that you're going to spend all the time on, a bigger deck is significantly better, especially at high speeds.
At 154 by 58 cm, the deck on this treadmill is one of the largest we've seen, with a stride that's long enough for even the tallest user. Maximum weight is a colossal 180kg (400lbs) and the deck has an 8 point cushioning system for added support, taking some of the strain out of training.
If you've ever felt cramped on a treadmill and wished it had a bit more room, you'll likely really enjoy running on this machine.
High incline adds to the challenge
Most treadmills have incline options built-in now, but that doesn't mean that seeing it in action on something this big and fast isn't impressive.
The incline function goes from 0 to 15 degrees, which is an excellent range, and more than enough for most training programs. Smooth and powerful, it can controlled automatically, or set yourself with one touch buttons.
The training programs
Despite the lack of active training programs, the Club-Max does come with 24 built-in training schemes, giving users a decent range of training options.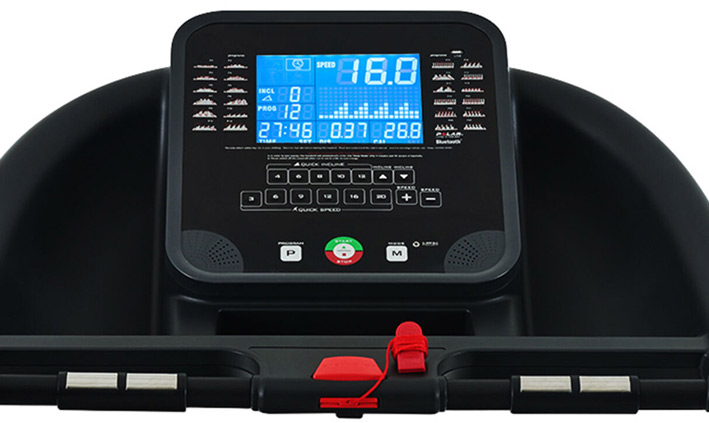 One thing that impresses us is the heart rate training program, which links into the heart monitor and can be set to automatically adjust pace and incline to keep you at a certain heart rate.
This is exceptional if you're training for specific reasons, whether that's fat burning, cardiovascular fitness, or heart health, because it takes all the guesswork out of the equation and does all the difficult parts for you.
It's built like a tank
As you'd expect at this level, overall build is amazing through and through.
This is what we've come to expect from JTX but with this treadmill, the robust built is on another level.
We've already mentioned how good the running deck is, but the frame is also rock solid, lending the whole treadmill a comforting solidity. It's a big piece of kit, we won't lie, and even though it's got transport wheels, we'd recommend finding a space for this and then leaving it there, as regularly moving the 230kg weight from place to place isn't a good idea.
Controls are well laid out and very simple to use, and even though there's no touch screen or interactive apps, the 10 inch LCD screen does everything you need it to do. Even better, the whole thing is covered by a fantastic warranty.
Good warranty gives you peace of mind
The JTX Club-Max warranty is second to none. The treadmill comes fully supported by a 3 year warranty that covers everything, including all parts and labour, with a further 15 year motor warranty and a lifetime frame warranty. That's better than any other system that we've seen, at any price point.
On top of this, every Club-Max also has two home services included as part of the price, where JTX engineers will come to your home to make sure that everything on your treadmill is running perfectly.
---
What we don't like about the JTX Club-Max
A warning: this treadmill is a real space hog
The fact that the Club-Max is so well built is also a detriment. It's big. Monstrously so. To the point that it dominates most rooms.
Over two meters long, one and a half wide, and weighing in at almost one quarter of a ton, this machine is a monster. This isn't a treadmill that can be safely folded up and tucked away in the corner of a room when it's not in use. It's going to demand it's own floor space, room to work around it, and probably it's own seat at the dinner table, too.
This isn't a bad thing as such, just be prepared that this machine demands it's own space and will take up a fair chunk of many home gyms.
It's not cheap
There's no getting around the price tag. The JTX Club-Max isn't cheap. The performance is there, and the service surrounding the product is second to none, but it's still a big investment for a single machine.
It's unlikely you'll ever need another treadmill, the way this thing is built, so you can balance that against the near £4000 price tag. If you're looking for a budget machine, you'll need to look elsewhere. Check out our guide on the best running machines under £500 here.
No app based training
Here's where the Club-Max disappointed us. Size can be worked around, and the price makes sense. This is a luxury treadmill, built to exacting standards.
Which is why it should have its own multimedia training programs, like NordicTrack's iFit or the Peloton App. The fact that this doesn't have a built in touchscreen and online app access seems like a missed opportunity, and one that would make this far more appealing for your average user.
---
Final thoughts: Is The Club Max Worth A Buy?
JTX's Club Max is the biggest, toughest, most impressive treadmill we've seen in a long time. The two huge caveats – price and size also bring with them huge leaps in quality and comfort. This is clearly a machine aimed at those looking for a high-end 'best you can get' running machine.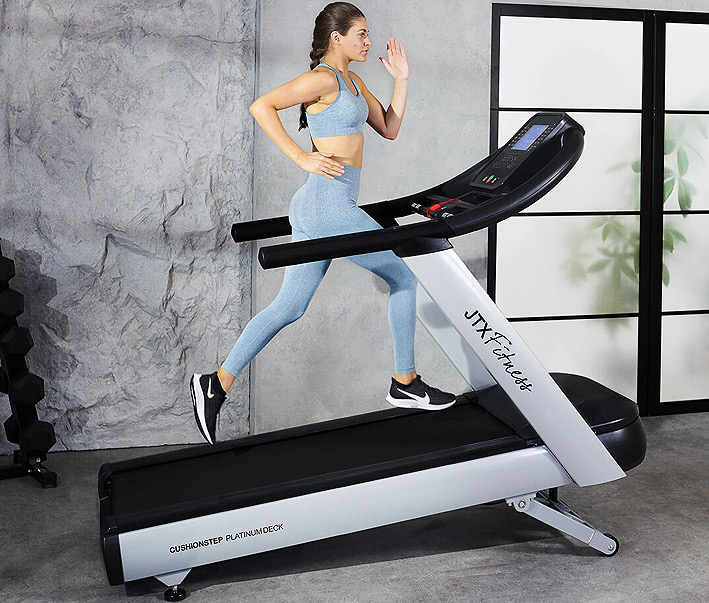 The time to buy this is when you're already at an incredibly high echelon of fitness and looking to continue training from home at that same level.
If you're a professional runner, regularly run marathons or compete in triathlons, or anything similar, then the Club-Max's beastly top speed and huge running deck could be exactly what you're looking for.
The lack of colour touchscreen or online app integration is disappointing but they're obviously going for a more serious market. If you're looking for a large, true commercial gym quality machine, this is the one to go for in 2023.
Recommended
Check The Latest Price
---
Where can you get the best price for the JTX Club-Max?
This product is available online at a number of different retailers. To be honest, the best bet is to head over to the company website and buy direct. They actually have a better price than anywhere else and the Ignite is frequently on sale.
JTX Club-Max Detailed Specs
Brand
JTX
Color
Dark grey / Silver / Light blue
Top speed
25kph
Incline type
Automatic
# incline levels
15
Incline range
0 - 15%
Treadmill weight
236kg
Model
Club Max
Motor
6 HP
AC motor
# Preset programs
24
Screen
10" LCD display
Standard
Commercial
Console functions
Time
Pulse
Speed
Distance
Calories
Scan Mode
Incline
Pulse sensors
Yes
Max user weight
180kg
Frame material
Steel
Deck cushioning
8 Point commercial shock system
Running track size
154(l) x 58cm(w)
Warranty
3 year in-home warranty
28 day money back guarantee (includes collection)
Tablet holder
No
Transport Wheels
Yes
Connectivity
Polar heart rate receiver built in
Integrated speakers
Yes
Dimensions
93 (w) x 212 (l) x 150 (h) cm
Floor to Deck Height
32cm
Folding / Fixed
Fixed
References and sources
The official JTX Youtube channel is packed with high quality videos of the Club Max and JTX's other products
Need advice getting started running? The NHS running for beginners has you covered.
Contact JTX on their website, or using the email info@jtxfitness.com
You can also contact them for help or any other queries on the Club Max treadmill on 01273 453855
How good is JTX's customer service? Check out their Trust Pilot company reviews here. Spoiler alert: 4.5 / 5 stars.
Are you up to it? Check out the Live well website on NHS before you dive into your new running machine.