Having reviewed a lot of recumbent bikes and elliptical cross trainer type machines, I haven't come across many training machines like the Teeter FreeStep (Available on Amazon) – a kind of hybrid between the two.
Welcome to our FreeStep LT1 Review. In this guide I'll cover absolutely everything there is to know about this machine, and also give my opinion on what it does well and where it falls short. It's an interesting bit of kit, no doubt, but there's a few things to watch out for.
Let's get started!
---
What is The Teeter FreeStep Recumbent Cross Trainer?
The Teeter FreeStep is essentially a home-based seated exercise. It smashed together two popular machines: the recumbent bike and the elliptical trainer.
What you're getting is a recumbent exercise bike with zero-impact cardio and strength-enhancing workout. The unit combines the best features of an elliptical and recumbent bike in one compact frame.  Skeeter uses patented technology that is licensed from a top-tier commercial physiotherapy equipment manufacturer. The physiotherapy influenced design offers a gentle and effective motion that eliminates joint and back stress.
What's the difference between the FreeStep LT1 and LT2 models?
The FreeStep comes in two very similar versions – the LT1 and LT2. The latter costs around £200 more. So what's the difference? The LT2 comes with several enhancements which mainly focus on improved pedals, seat, handlebars and UltraGlide bearings. Beyond that, both models have exactly the same frame, and are the same size.
The fluid stride motion protects the knees and joints and provides a near-silent operation. The patented dual motion works out both your upper and lower body and allows users to isolate legs or arms for peak training intensity. Teeter's compact size and competitive price make it an excellent option for a home exercise machine.
Who are Teeter?

Teeter are a family run business that started in 1981. They are mainly associated with the popular inversion tables, which allow anyone with back problems to downwards, or even hang upside-down and get some back relief. They have a niche range of fitness equipment including rowers, inversion tables and the FreeStep recumbent bike.
Their products review extremely well with users on places like Amazon, and they offer an extremely good level of customer support.
---
Teeter FreeStep Recumbent Cross Trainer Features at a Glance
Total Body Workout. The bi-directional design of the Freestep allows you to integrate both upper and lower body workout in one compact machine. By engaging all the key muscle groups, the Freestep increases your calorie consumption and improves your strength and endurance.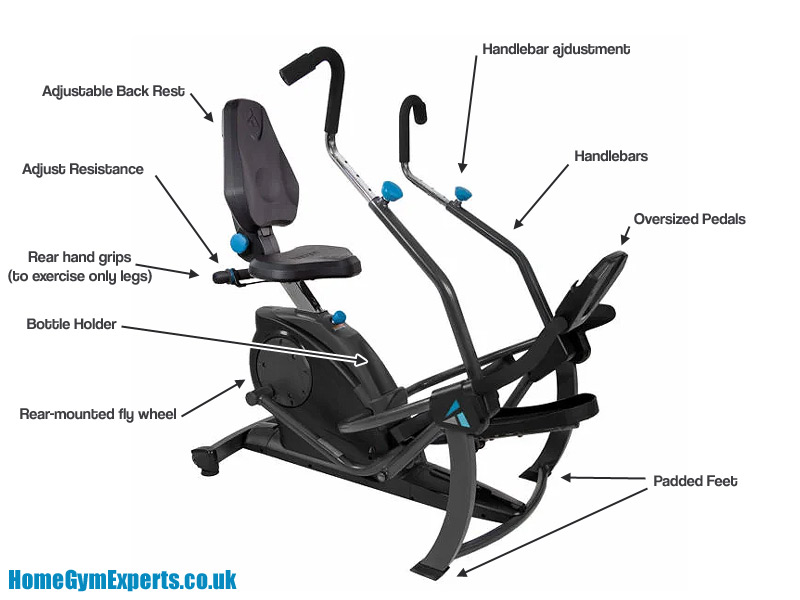 Fluid stride Technology. – The FreeStep offers a smooth-striding motion that protects your knees and joints in near-silent motion. The variable magnetic resistance can be varied with one dedicated dial for increased scope as your fitness improves.
Adjustable Workout Options to Target Specific Muscles. – The FreeStep allows users to isolate arms or legs and shift in between to reduce repetitive muscle fatigue and increases exercise duration.
Digital Display. With the digital display, you can track your time, distance, speed, and calories.
Zero Impact training. The Skeeter FreeStep is licensed by commercial manufacturers of dedicated physiotherapy equipment to provide safe and strain-free training. Your back, knees, ankles, and hips are protected from the impact of traditional exercise machines that may cause pain and injury during training.
Adjustable Design. The FreeStep adjusts to suit your dimensions and exercise requirements, making it ideal for multiple-user homes. The Skeeter accommodates users up to 300 pounds, so it suits a wide variety of users' dimensions and weights.
Unique linkage System. The FreeStep has unique ccommercial-gradeengineering to provide a friction-free linkage system with a low profile adapted to home use.
Compact and portable. The FreeStep has compact dimensions of only 137.16 x 73.66 x 133.35 cms and weighs in at only  49.89 Kilograms, making it portable without taking up valuable space in your home.
Reduced muscle fatigue. Because you can isolate upper and lower body muscle targets, the FreeStep reduces muscle fatigue caused by the repetitive action found in traditional stationary exercise equipment.
Added Features. The FreeStep has a tablet stand that is secure and does not affect the visibility of the console. They also offer a water bottle holder, which is handy for high-intensity training.
Check Current Amazon UK Price
---
Benefits of training on The Skeeter FreeStep Recumbent Cross Trainer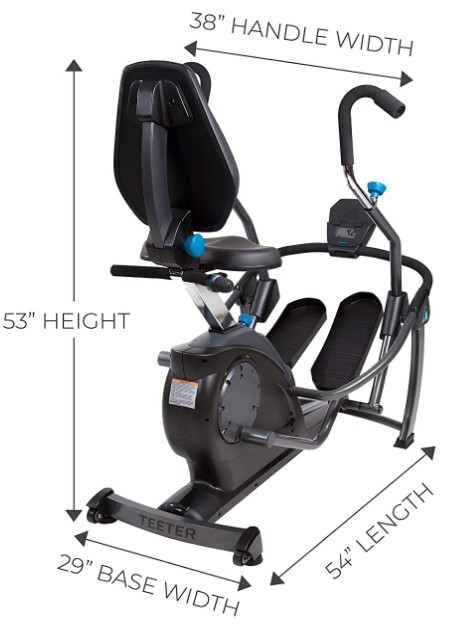 The hybrid nature of the FreeStep ensures that you get the best of both the elliptical benefits as well as the safe and smooth action of a recumbent bike. These benefits include:
Smooth action Prevents Joint Stress
Conventional upright bikes and ellipticals may place stress on the knees and back with the constant pedal motion and lack of lumbar support. The FreesStep allows users to maximize calorie consumption without sacrificing dedicated back support. The trainer eliminates saddle soreness or back and knee strain by keeping stable and seated comfortably.
Maximum Workout With Variety
The dual-action technology allows users to target critical areas according to their needs by isolating muscle groups during training. You may work specific muscles while resting others to increase your workout duration and improve your fitness.
Lose Fat and Build Health
The dual nature of the FreeStep allows users to improve their cardiovascular functioning, burn calories, and increase muscle mass in both the upper and lower body. The PT engineered zero-impact motion increases endurance and provides health benefits such as improved heart function, lung capacity, and lowers stress levels to improve sleep.
---
More Elliptical Guides & Reviews
---
Who Would Benefit From the Skeeter FreeStep?
The Skeeter FreeStep suits those seeking low to mid-impact training from home and want to incorporate upper and lower body training in one machine. The PT engineered system has a host of benefits for those who suffer from back or sports injuries or seek a safe exercise option while recovering from injury.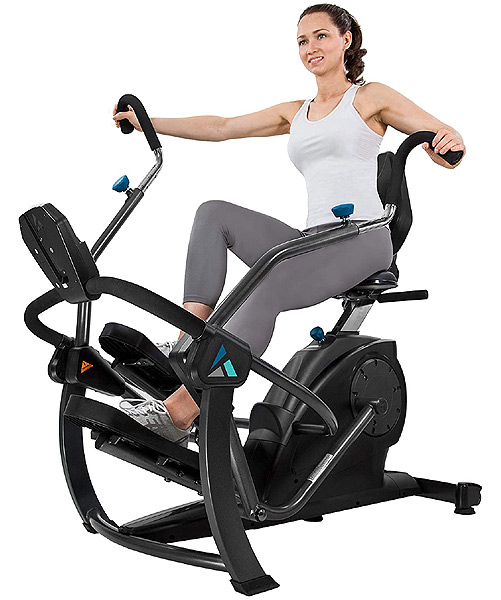 The adjustable and compact nature of the Skeeter FreeStep ensures that multiple users may share the machine in the home and accommodates users of up to 300lbs.
This machine is perfect for beginners or mid-level users who would like to lose weight and improve their health without costly gym memberships. The FreeStep would not suit users who seek maximum intensity training or weigh more than 300lbs.
---
FreeStep Review: What We Liked About The Skeeter FreeStep
The Freestep has plenty to offer those seeking a home exercise machine for a competitive price. We liked the FreeStep mainly due to the following features.
Customer service was fast and friendly
When I contacted their service I got a reply within 2 hours which was friendly and answered both of the questions I had. No complaints at all with the support I received.
Built to last
While just about every recumbent bike, or cross trainer is made form more or less the same materials – hollow steel piping, there's a simply massive difference in the quality of the FreeStep that you also find in Teeter's inversion tables.
They've obviously taken the same engineering principles and used that same methodology here. The result is a boke that not only feels sturdy to use, there's no awful wobbling, creaking or instability you find on budget machines.
Teeter have nailed the quality here and although we didn't get to try the LT2, the LT1 has such a solid feel to it. And the reviews on Amazon also pick up on this. While it's in no way portable, you're getting a product here that's robust and will last a long time.
Quiet and Comfortable Training
The whisper-quiet technology and fluid-step action really make a difference when you are training. The smooth action functions on the various magnetic resistance levels, provide a shake-free and superior pedaling action. The reclined position allows plenty of back support on a comfortable seat structure, increasing your length of training.
Whole Body Integration
We liked the physicality of having both the upper and lower body engaged in the workout. One often feels unbalanced when using stationary upright bikes, and the upper arm activity ensures that your training is full body. You also have the option to chose between upper and body workouts, which means you can leg days and arm days if you so choose.
Compact and Portable
The FreeStep is compact and surprisingly powerful for its dimensions of 137.16 x 73.66 x 133.35 cm. The unit fits neatly into the dimensions of a home and does not take up too much space, which can be problematic in smaller city dwellings. With a weight of under 50kgs, you won't struggle to move the unit from room to room should the need arise.
Easy to Assemble
The unit comes with great directions, which is often overlooked by other exercise equipment manufacturers. The main structure is pre-assembled to a handy level to make fitting the parts easier. The pins and bolts fit easily and snug into the frame, and full assembly shouldn't take you more than an hour or two.
The company also provides users with an Allen wrench/ Phillips head combo for assembly, which is a nice touch.
Highly adjustable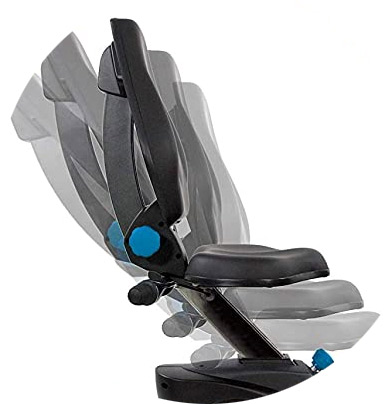 The Skeeter FreeStep adjusts easily to user dimensions and accommodates my 5.3 stature and my colleague's 6ft frame without problems. Homes with multiple users could easily share the unit without too much fuss to adjustments to suit their size.
Check Current Amazon UK Price
---
What We Didn't Like About the Skeeter FreeStep
So where does the Teeter FreeStep fall short? It's time to see where this machine doesn't do so well.
No online connectivity to 3rd party apps
There's no current way to connect the FreeStep to apps and services like Kinomap or iFit with the FreeStep. While this won't be an issue for everyone, those seeking a more connected experience might have to look to something like the NordicTrack FreeStride FS9i, or one of the other FreeStride series. There is an app that you can download to use with this machine but it's not able to dynamically control things like your resistance.
No seat 'side' handles
As a regular user and somewhat fan of recumbent bikes, one of the things I like to do is to push back and grab the handles to the side of the seat. Due to the way the FreeStep LT1 is set up, the handles are located at the rear of the seat, rather than the side. This is clearly a design decision and won't bother everyone, but I prefer them to the side.
The monitor is way too low
There's two pretty big gripes we had with the Teeter's display console. The first is to do with it's positioning.  It's really low down. And on a machine that's here to save your back, it's a strange choice to position it where you have to sit right forwards to access it.
Some will argue you don't need to poke around with it too much once you're on your way, but it should be in a place that's easier to reach. It's a bitt of a design flaw to have it so low.
The display is also very basic
There's no getting around the fact that the display console on the Teeter is really basic. It looks like an extremely cheap alarm clock and is an odd choice on a machine that's normally sold at over £700. It's also strange considering the quality of the rest of the machine.
While the letters are large, they're dull and the overall display is just not up to scratch. Luckily, they provide a place for your iPad, so you have other viewing options other than the pokey console. That still doesn't make up for the fact the display and console are way behind other recumbent bikes.
Water bottle holder could be better placed
I'm not sure what the logic of the placement of the water bottle holder is with the FreeStep (yes, I know… it's nit-picking!) Reaching down between your legs to fetch your drink isn't as easy to get to as the ones where it's fixed to the front column. Or the holders that are to the side of most recumbent bike's seats.
---
Conclusion: Is the Teeter FreeStep any good?
The Skeeter FreeStep Recumbent cross trainer is a competitively priced home exercise machine that would suit users seeking low to mid-level intensity training.
There are not too many bells and whistles with the unit, but the super-quiet and smooth action with dual motion and lumbar support make the FreeStep a fantastic option for anyone looking to lose weight and increase muscle strength and tone.
The FreeStep is easy to use and one of the more comfortable machines we've seen. It's also incredibly tough and doesn't have any wobbling, creaking or instability we've seen on cheaper cross trainers.
Overall an excellent machine and highly recommended.
Check Current Amazon UK Price
---
FreeStep Review FAQs
Other stuff you need to know before you buy the Teeter bike
Do you need a floor mat?
Yes. Although the Teeter FreeStep has padded feet, they're still pretty hard and will likely mark your floors. It's definitely advisable to get a decent gym mat to put under the machine, for added support and to protect your surfaces.
---
FreeStep Full Specs
| Brand | Teeter |
| --- | --- |
| Display | Basic LCD display |
| Water Bottle Holder | Yes |
| Bluetooth Enabled | No |
| Chest strap compatible | No |
| Construction | Commercial-gauge solid steel |
| Model | LT1 |
| Seat type | Ergonomic, padded seat |
| Seat adjustments | Vertical & Horizontal |
| Handlebars | Ergonomic non-slip handlebars |
| Handlebar ajustment | Vertical |
| Pedals | Oversized cross trainer pedals |
| Assembled dimensions | 137.2 x 96.5 x 133.4 cm |
| Max user weight | 136kg |
| Product Weight | 50kg |
| Transport wheels | Yes |
---
References & Further Reading