Welcome to our review of the NordicTrack VR25. In this guide we'll cover everything you need to know about Nordic's recumbent bike including our opinion on what this bike gets right, and where it falls short. Is this reclining exercise bike for you?
Let's find out!
---
What is the NordicTrack VR25?
The NordicTrack VR25 is a high-end recumbent exercise bike designed for home use. It has an oversized cushion seat that's designed to provided enhanced lumbar support and a ventilated backrest to keep you cool while you're working out. The step-thru design allows users to easily slide in and out of the bike, unlike traditional exercise bikes, where you have to climb up, or swing your leg over.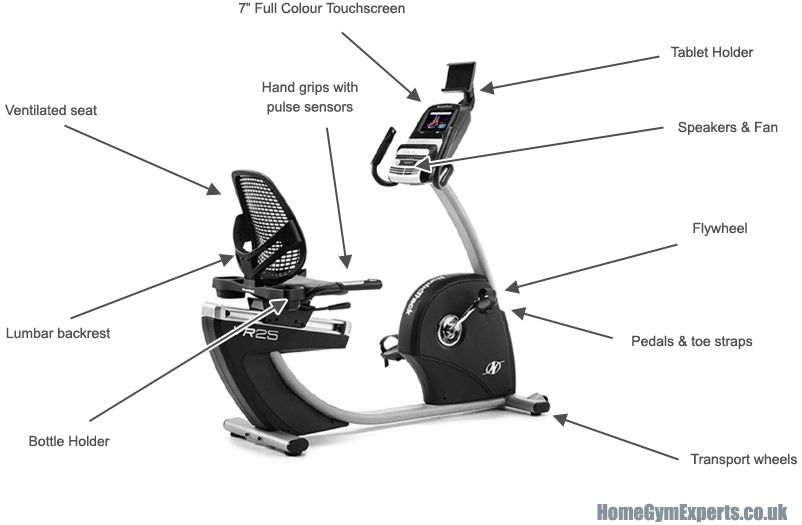 The VR25 provides an 11kg flywheel and over 26 digital resistance levels. Speaking of resistance, this machine uses magnetic resistance – which is quieter and smoother than brakes or other types.
One of the main thing that sets this bike aside from other recumbents is it's 7-inch full-colour touchscreen. This lets you take advantage of 35 built-in workout apps or stream one of many iFit programs for variety. Alternatively, you may use the integrated tablet holder to provide your entertainment.
The VR25 is made by NordicTrack (more on them below) and is one in a series of VR recumbent bikes. (See our guide to the VR19 and the VR21 to see the others…)
See the VR25 in action in this short video
---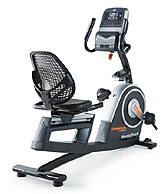 The NordicTrack VR25 is a super-sturdy recumbent bike. Packed with NordicTrack's tech and trademark quality, it's one of the best machines in it's price range. It's also an ideal starting point for the awesome iFit service.
The VR25 At A Glance Features
Here's all the important things you can expect from this recumbent machine:
Recumbent Frame – Unlike the upright stationary bikes, recumbents allow the user to recline while exercising. This design reduces strain on the users back and evenly distributes weight for a more comfortable workout without saddle soreness.
Advanced Lumbar Support – The cushioned seat with the mesh backrest provides advanced support with enhanced ventilation for coolness during exercise.
Extra-wide Pedals – The ergonomic extra-wide pedals fit any foot size and shape and have easily adjustable straps to provide stability during training.
26-Resistance Levels – The 11kg flywheel has 26 magnetic resistance levels to offer users of all fitness levels their chosen intensity of workout. The one-touch resistance response is quiet and smooth with SMR (Silent Magnetic Resistance) technology.
35 Pre-programmed Workouts – The pre-programmed workout is created by experts to offer multiple levels of training intensity and variety. These programs allow you to focus on your training without having to set up your own workout program.
7'' iFit Enabled Touchscreen – You may choose from anywhere around the world with the iFit Google map enabled fitness programs. The VR25 comes with a one-month subscription with personalized workouts delivered to your every day.
Wireless Heart Monitoring – A Bluetooth enabled wireless heart monitor with an adjustable strap allows you to monitor your heart rate for peak performance. You have the alternative option of using the handgrip heart monitoring on your VR25's handlebars.
'Smart Fan' Cooling – The VR25 provides users with a self-adjusting fan that increases its cooling output as you increase your workout intensity.
Compact Dimensions – The VR25 recumbent is made to fit into your home with its compact dimensions of only 61'' by 23'' and comes with ready to use transport wheels for easy storage. Yet despite its compact frame, the VR25 can accommodate users up to 350lbs.
Competitive warranty – It is good to know that a manufacturer provides a good warranty for its products, and the VR25 has a competitive warranty plan. The NordicTrack VR25 comes with a lifetime warranty on its frame and brake and a warranty on parts and labour for the first three years.
---
Who are NordicTrack?
The brand are best known for: quality, customer service and modern bikes and gym gear that wouldn't look out of place in a sci fi movie.

NordicTrack are a long-running luxury exercise machine brand, known for pushing boundaries and advancing the idea of what technology can be used for when it comes to home exercise. About as far as you can get from a budget brand, this company sites at the upper end of the market and have some gorgeous fitness gear on the market.
While anyone into treadmills will likely have heard of them, you'd be forgiven for not knowing Nordic have a line of recumbent bikes (and other gym gear) for sale online. The brand are best known for: quality, customer service and modern bikes and gym gear that wouldn't look out of place in a sci fi movie.
---
Benefits to training With the NordicTrack VR25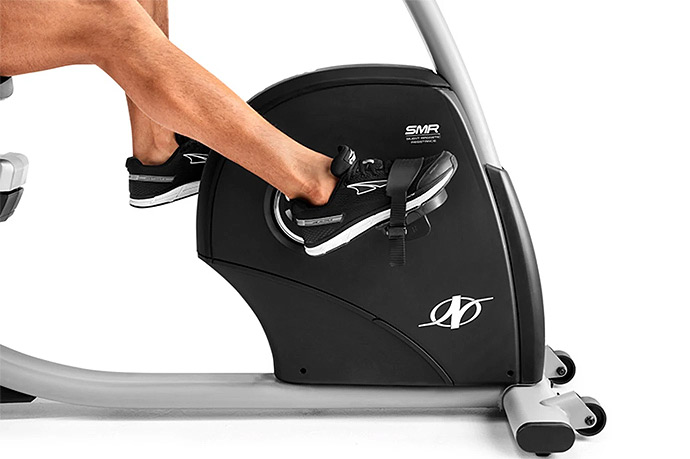 The reclining position on a recumbent offers many advantages over treadmills and traditional upright stationary bikes. These benefits include:
Increase Your Workout Duration
Because the VR25 recumbent provides a pedal forward reclined user position, many traditional upright bikes' discomfort is eliminated. You can still burn calories and work your thighs, calves, and glutes without saddle soreness and back pains from conventional exercise bikes. The recumbent design means that you may work out for longer stretches without strain and discomfort and potentially increase your fitness levels.
A strain Free Workout
Recumbent bikes offer the same benefits as an upright bike without the strain and soreness many users experience on the uprights. Recumbents provide cardiovascular fitness and muscular strength and even provide more significant activity in the semitendinosus and tibialis anterior muscles.
Greater Stability and Comfort
Recumbents such as the VR25 provide all the calorie-burning actions of an upright bike without sacrificing pepper lumbar support. The recumbent versatility means that users with conditions such as arthritis or back injuries can safely use the bike for exercise.
---
Who Would Suit the NordicTrack VR25?
With a flywheel weight of 11kg, the VR25 would suit beginners and mid-level users looking to increase their fitness and lose weight from home.
The recumbent position provides for senior users, or anyone who may have suffered injuries or have existing conditions such as arthritis. The durability and strength of the VR25 accommodate various user' weights from the very small to those up to 158kg. A sturdy, versatile machine which makes it an excellent option for homes with multiple users.
Who shouldn't buy this recumbent?
While the VR25 is a great machine, it won't be for everyone. If you're on a tight budget, the steep price of entry (just under £1000) is likely to put you off, and there are cheaper recumbent machines up for grabs on places like Amazon.
Also, if you're used to recumbents and are looking for something that's really going to challenge you, then you're likely going to want something with a heavier flywheel. That's not to say this machine is easy going, but if you're already in peak condition and really want some punishment, this might not have enough OOMPH for you.
---
VR25 Review: What We Like About the NordicTrack VR25
At last – a decent looking recumbent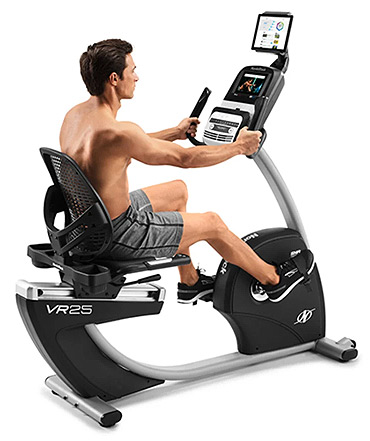 For some reason, a lot of the recumbent bikes we've seen have been largely functional and not especially well designed. The VR25 pulls away from many 'ugly' reclined exeercise bikes, providing something you won't want to hide out of the way when people come around. Bold, sweeping curves and punchy black and silver frame add some flair to the proceedings and make for a really nice-looking machine.
Not a vital aspect of the product, but worth noting!
Compact and Portable
As with the other VR family of recumbents, the 25 has a fairly compact frame that doesn't hog half your living room, while still offering a roomy cycling space that's fine for taller people too.
The bike strikes a good balance of power and reduced footprint, and we liked that the VR25 has a transport wheels that make it easy enough to scoot away if you're not setting aside a dedicated space for it. The bike can be fairly easily moved from room to room, and the neat dimensions fit in snugly in a home-use environment.
Comfortable and User Friendly
The VR25 uses a slightly different kind of seat to what you'll find on many recumbent bikes. It opts for a thin, 'bouncy' sort of mesh backrest as opposed to a flat back panel with thick padding. The result is a lighter feeling, springy support with a good bit of ventilation. We're talking less 'sweaty back', not to put to fine a point on it.
Is this seat better than the usual offering? Yes and no. I really like a thick padding personally but what's on offer here still provides that crucial lumbar support and is fine for prolonged cycling, as well as shorter bursts.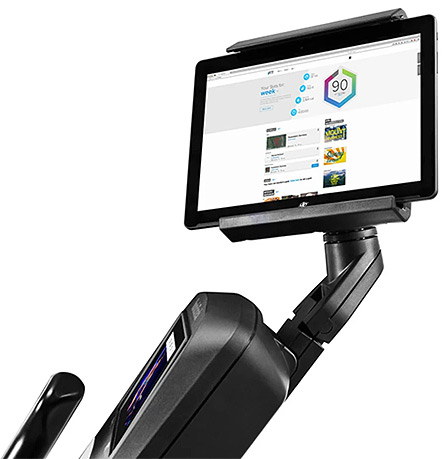 VR25 is quick to adjust and pulse is easy to track
Like other recumbents, pulling up the handles on the side of the seat allow it to slide forwards and backwards effortlessly. It's here that you'll also find the pulse sensors. Although we prefer a chest strap, for the added accuracy (which the bike also ships with), the quality of the NordicTrack VR25's are well above average and in a good position if you want to track your pulse.
While  recumbent position provides proper support to your back during the exercise, sturdy, wide pedals allow free movement with a quiet operation. The controls are intuitive, and the one-touch resistance system makes it easy to change between levels without a lot of fuss.
iFit is awesome
The VR25 comes bundled with a one-month family pass to the world of iFit. You'll need to sign up but it's a quick and simple process. Once you're in you'll be able to do a whole host of things such as:
Daily classes
Choose from 1000's of recoded workouts
Go off on your own adventure in 3D using maps
Google Maps technology
The VR25 contains the option to go just about anywhere on the planet and stride through the views on offer while you're doing your workout. We like this feature as, unlike in traditional gyms, your most exciting view is usually a wall or a window.
With the VR25, the rolling scenery keeps you engaged with what you're doing and can keep your mind off of the fact that you're doing a pretty tough workout.
This feature is sometimes combined with the personalized coaching at hand. The coaches will talk you through the views and sometimes tell stories related to what you see in front of you.
While the scenery you see doesn't stream past you real time, as such, you get a photographic view that refreshes every second or so. The while thing is just incredibly-clever. While it's in no-way only available with iFit, it's really well implemented here.
If you've ever got bored exercising in the past (who hasn't, really?) This tech is just made for you.
Personalized Coaching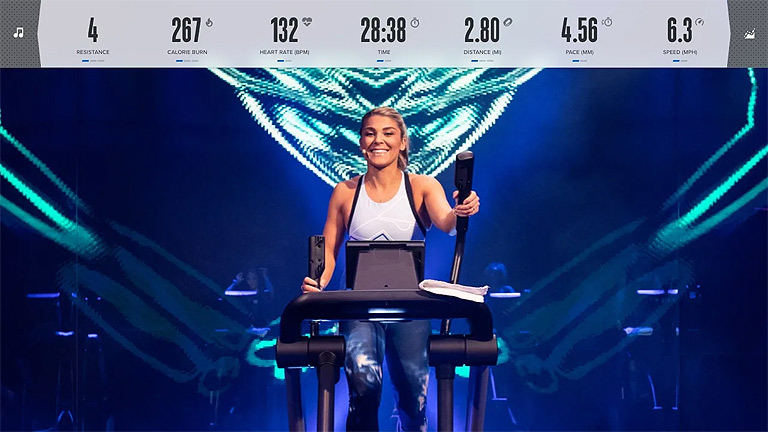 As mentioned earlier, the NordicTrack VR25 bolsters a subscription service that gives you a team of professional coaches leading daily workouts.
If you decide to follow one of these coach-led workouts, one of the excellent features is that the coaches can adjust how your FS5i works, adjusting the resistance and stride levels to create a workout of differing intensities.
Some days the workouts involve short, but high-intensity interval training and others are more endurance-focused, with slower, less intense activity levels but for longer periods. We found this made things interesting as it mixed things up.
To our surprise, the coaching staff you'll encounter using the NordicTrack VR weren't cliché like you maybe think they might be. Most coaches were pretty funny and told some pretty interesting stories.
Sometimes it would just be straightforward coaching, but on the longer, endurance-based workouts, the coaches would tell us stories or give us nutrition tips, which was a nice touch.
Top notch 7″ screen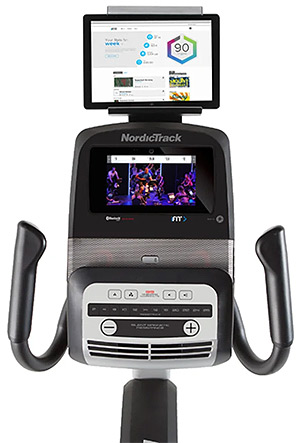 The VR25 bike comes with a 7″ screen built in that's HD and touchscreen. As well as doing all the iFit stuff, this is responsible for all the stat reporting and displaying time, distance and the other important stats you'll need with or without iFit.  It's a good quality screen and makes for one of the best displays we've seen.
Added Features
We liked the added features such as the chest strap for heart monitoring purposes, as these are often not included in exercise bike packages. The one-month iFit membership is also a selling point, and we loved the cooling fan system, which is a necessity for indoor training in smaller locations.
It's also worth mentioning the tablet holder. A simple feature that's often sadly lacking on so many exercise bikes, the VR25 comes with a fantastic tablet holder built in so you can put your iPad on and watch Netflix or even do facetime, if you want family and friends to see you sweating and out of breath that is.
Multiple-User Friendly
We liked the quiet operating system of magnetic resistance, which is essential when training in a home with multiple occupants. There are 26 levels of resistance, which provides for a variety of users with different fitness levels.
Check the Price at NordicTrack
---
What We Didn't Like About The NordicTrack VR25
A meatier flywheel would have been appreciated
We did expect a greater flywheel capacity for the' commercial' label, although we did struggle to get even close to maximum resistance. Those who are seeking an intensive high-level workout may find the flywheel weight limiting for maximum intensity workouts.
Verdict: Is the VR25 going to rock your world?
At the time of writing, the VR25 is just shy of a £1000. It's certainly not the cheapest machine on the market. Having said that, what's on offer here is a superb quality recumbent bike that's got great features and will last a very long time.
iFit integration is as good here as with other Nordic Track products but the built in computer and display is just as good on it's own.
Build quality is excellent here too; the unit is solid and wobble-free. You can expect a smooth, quiet action that's well suited for home use. The impressive warranty sets the VR25 apart from its competitors and makes it an excellent choice for beginners and those seeking mid-level intensity training.
In short this is a fantastic recumbent bike that should prove to be a sturdy workhorse of a training partner for you, or the entire family, if they're looking to get into shape too.
Highly Recommended
Check the Price at NordicTrack
NordicTrack VR25 – Full Specs
Brand
NorticTrack
Model
VR21
Delivery
Free ground floor
Construction
Commercial Solid Steel Construction
Color
Gray, Black and Silver
Display
7" Full-colour Smart HD touchscreen
Stats tracked
Time
Calories
Distance
Speed
Heart rate
Speakers
2 x 2'' iPod Compatible
Flywheel
11kg
Resistance type
SMR™ Silent Magnetic Resistance
Resistance levels
26
Workout fan
Yes
Max user weight
158kg
Pedals
Extra-wide Ergonomic Pedals with Adjustable Straps
Seat
Lumbar Supported Cushioned seat
Water bottle holder
Yes
Hand grips
Static frontal grips and on the side of the seat
Dimensions
155L x 59W cm x 132H cm
Bike weight
47kg
Warranty
5 Year Frame Warranty
2 Year Parts and Labour
Chest strap compatible?
Smart BlueTooth (BLE) Chestbelt Compatible
Transport wheels
Yes
Tablet holder?
Yes, shelf for tablet or phone
VR25 FAQs
Do you have to use iFit with this machine?
No. Although you get a month's subscription to iFit, it's definitely not mandatory and the bike is designed to work as a stand-alone machine without it. If you choose not to use iFit, the onboard computer can be used just like any other fitness bike, and has some top-notch exercise programs you can use instead.
Is this a good machine for beginners?
Is the VR 25 a good machine for seniors?
Yes. Recumbents in general are an excellent choice for older people or anyone with limited mobility or injuries. They're easy to get onto, provide an easy-going laid back position, and are a very easy-going form of exercise.
Is this a good bike for weight loss?
Yes – but it depends on the intensity and the duration. Like any exercise, you can put in as much or as little effort as you like. But definitely don't think of recumbent machines like the VR25 as a soft option. Crank up the resistance, and workout for longer periods of time and you'll soon feel out of breath and get a bit of a sweat on. These bikes are excellent at burning calories.
Is this a good recumbent for tall people?
Yes. Despite having a reasonably compact foot print, this bike is perfectly fine for users up to 6′ 5″ and taller users up to and around this height won't feel cramped.
Any more questions about the VR25? Please let us know in the comments!
---
Nordic Track VR 25 video review
References and further reading