Today we've got our review of the JLL Ventus 3 (available on Amazon UK), the upgraded version to JLL's popular Ventus 2. But there are so many competing air rowers on the market today. Does the third version improve on its predecessor and do enough to set itself apart from the competitors?
What exactly is the 'JLL Ventus 3'?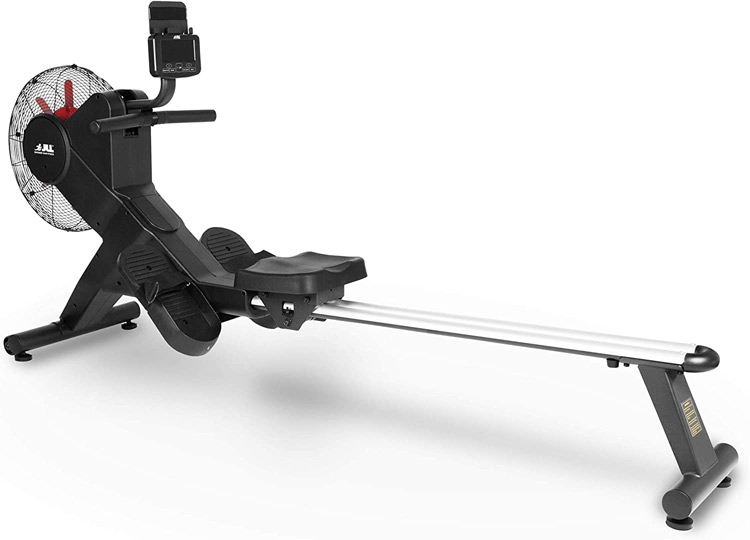 A mid-range air-based rowing machine
The Ventus 3 plonks itself firmly above the budget rowing machines but a good distance away from the lofty Concept 2's of the world. It's a mid-priced rowing machine that uses a combination of air and magnets is its resistance as opposed to water, hydraulics or just air.
Combined air and magnetic resistance
It's a good mix because magnetic resistance alone can easily be out-rowed if you've got a few nautical miles under your belt but you've got air here to fight back. Whist the electromagnetic resistance lets you still have a bit of control over how hard you want to work.
The setup is pretty standard for a mid-priced rower; front-mounted fan flywheel with an aluminium rail and a single coaster underneath. It will take users up to around 120kg which is normal for an air rower, if a lot less than what you'd get on the Concept 2.
Connects to your smartphone
There's a simple LCD display which we'll talk about later but you can also use the built-in tablet holder and connect to the awesome Kinomap.
Ventus 3 Key features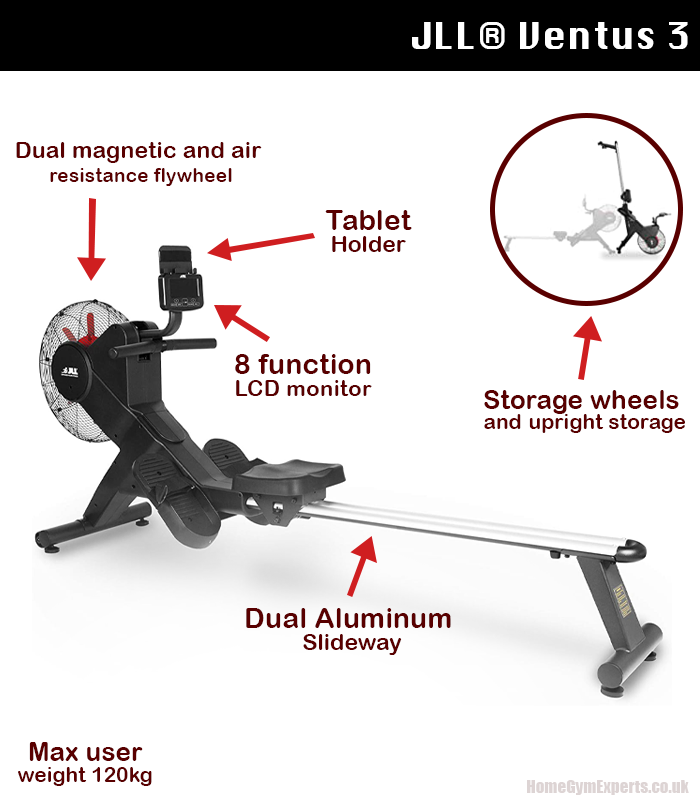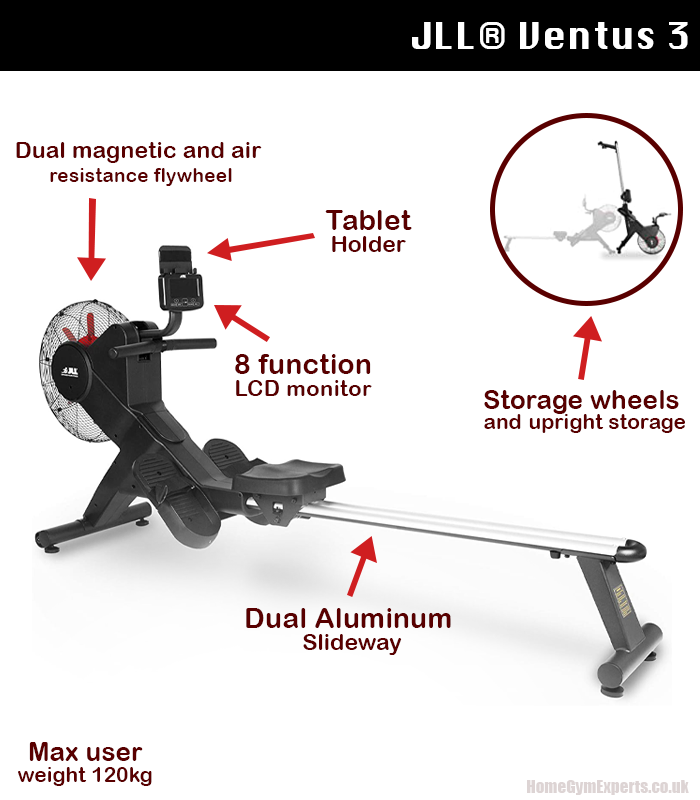 Dual magnetic and air resistance flywheel
8 function LCD monitor
Kinomap functionality
Max user weight 120kg (265lbs)
Included heart rate band
Storage wheels and upright storage
12 months included warranty
---
What's different from the Ventus 2 rower?
I didn't get a chance to review the very first Ventus machine and it's not easy to find to buy these days but we did a review of the Ventus 2 here not so long ago. So, what's this newer one got to offer? And what have JLL improved on?
The Ventus 3 brings adds air-based resistance
The major difference between the second and third iteration of JLL's rowing machine is that the Ventus 3 uses a combination of air and magnetic resistance, whereas the second machine was purely magnetic.
This is a definite step up, especially if you're looking for more of a challenge. The downside of course being that added WHOOOOSH! You get when using this machine. Not ear-splitting by any means but definitely louder.
The seat and rail remain largely the same, with some minor differences to the frame. The rail on the Ventus 3 also has a double-bar look to it, rather than the standard block of the older model. No noticeable difference in feel or stability, however.
No more folding
The Ventus 2 also opted for a folding design which has been chucked out on the third machine in favour of the flip-up and store system you get on Water Rowing machines.
Which is better? You can make cases for both. Arguably the Ventus 3 handles storage better as the stowed footprint is almost half the size of it's older relative. It will stand up a lot higher though. Both have wheels to let you scoot them out of the middle of the floor.
The pedals are a lot more robust on the Ventus 3 too, with a thicker casing and a more sturdy feel. Straps are also slightly wider and a bit easier to use on the Ventus 3.
The Ventus 3 lets you use online apps
Another improvement here that most people will be pleased about is that the third version uses Bluetooth to connect to Kinomap. With the second version, there was a decent tablet holder but that's where things stopped.
---
Who are JLL and are their rowing machines any good?
JLL are a Birmingham based fitness company that is a specialist in delivery equipment that hits an even balance between price and effectiveness.
We've already reviewed a whole bunch of JLL exercise machines, including exercise bikes, treadmills, and the predecessor to the Ventus 3.
Across the board, we've found that their equipment range is decent, with just enough high-quality touches where it matters to compete with some of the big names.
On the customer support side of things, I was really impressed when I had a problem with some gym gear I got there. They shipped a new product out and collected the faulty one. Very nice to deal with too.
Check Current Amazon UK Price
What you'll from training with the Ventus 3
A quick and easy way to do cardio at home
Rowing is some of the best cardio possible because it combines adaptable full-body exercise that can be performed at a low intensity; for warming up and recuperation, with high-intensity muscle building, body blasting burns that will leave anyone in a sweaty, sobbing heap.
A low impact workout for any age
On top of this, because your entire body is supported throughout the entire movement, rowing is also incredibly low intensity.
This keeps the pressure off of your joints, meaning you'll generally need less recovery time, and also making rowing a great choice for anyone who might have health issues or injuries.
You can get into rowing whether you're 18 or 80+. You'll get a lot from the fluid motion of rowing. It's also really good fun (if hard work at its higher levels!)
I've been rowing for over 10 years and would never take it out of my training repertoire. It's so easy to get a sweat on, even if I'm short on time.
What're the downsides of rowing?
I've never had any injuries from rowing and it's fairly easy to get started, especially if you read up on how to perfect your rowing form. The only negative I'd say is that it can get boring doing the same motion over and over.
However, things like online apps (like Kinomap) can help alleviate this. *
* Or just watching Netflix.
Check Current Amazon UK Price
---
Who is the Ventus 3 best suited for?
This is a good all-round machine for anyone looking to get into rowing or replace their current machine
The Ventus 3 itself, with its dual magnetic and air resistance system and Kinomap app functionality, is in the unique position of offering workouts that are suitable for anyone, whether they're an absolute beginner or a seasoned competition rower.
It offers a wide range of resistances from the magnetic flywheel, which is backed up by the supplementary air resistance settings that increase work levels as you crank up your own intensity.
Finally, the workouts on offer run the full range of experiences, from slow and steady starting plans, up to intense and full-on fitness routines.
If you don't want some cheapo budget rower
There are a lot of decent budget-priced rowing machines up for grabs on places like Amazon in 2023 but if you're looking for something on the next tier, which will last a long time, then this rower is a good choice. It's still around half the price of the Model D too, which is awesome.
---
Related Guides
---
What we like about the JLL Ventus 3
Combined air and magnetic resistance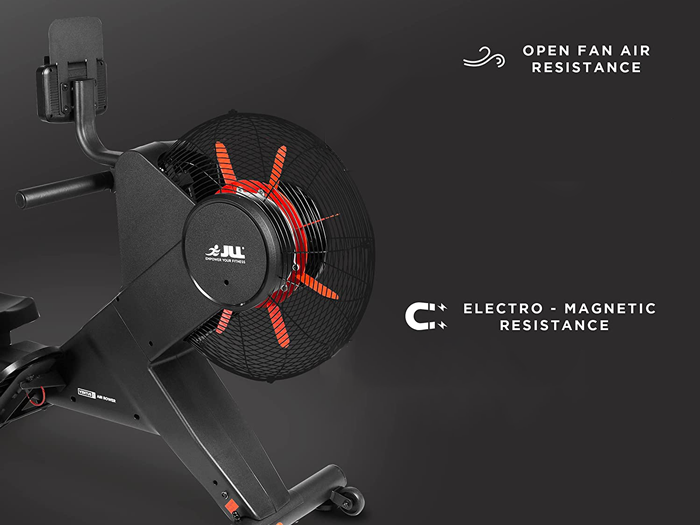 The Ventus 3 combines the best of both worlds when it comes to resistance and exercising, by offering both air and magnetic resistance.
Well-thought-out resistance and programs
The magnetic resistance system is high end, with a total of 16 levels of resistance. Magnetic resistance is far preferable to the conventional style of physical, friction-based resistance because it's generated by two sets of magnets that use magnetic fields to slow the flywheel.
The reason this matters? One, magnetic resistance is smooth through the entire range of each rep, both forwards and backwards. This might sound minor, but once you put ten thousand reps through your rower, you'll appreciate the lack of stutter and smooth action.
Friction free goodness
Two, magnetic resistance doesn't put any strain on the machine itself, because the resistance is friction-free and doesn't require physical contact. This extends the lifespan of your purchase by a big margin.
This is backed up by the air resistance system, which is far more convenient for a rower like this.
Put simply, the harder you pull, the faster the turbine flywheel spins, and the more resistance is added. This gives you on the fly control over your workouts, letting you spike resistance as and when you want.
Great construction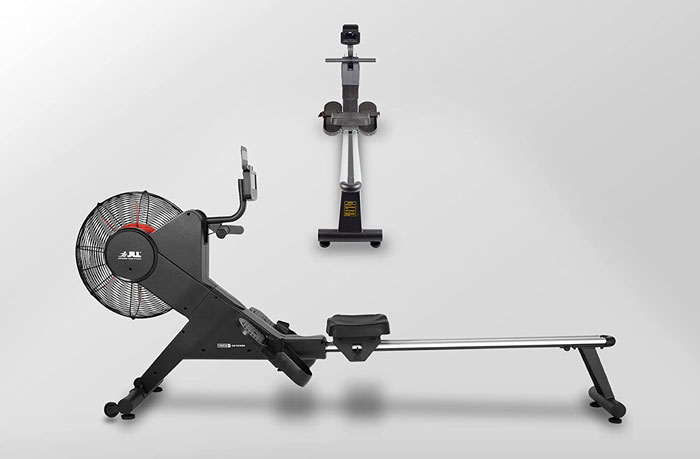 Across the board, the Ventus 3 is incredibly well built, with a lot of smart design touches that help it stand out.
For starters, unlike a lot of rowers, the Ventus 3 uses a double-tracked aluminium slideway for seat movement.
This keeps the seat stable throughout the whole rep, helps to waste less movement, and also keeps the weight down compared to steel, which probably contributes to the light total weight of 33.8kg.
Instead of using a cable or chain, the Ventus 3's action is direct belt-driven. This keeps the action smooth, and also helps to keep noise levels down, without any ugly clattering or spin at the ends of a rep.
All of the fittings are smartly placed, with an LCD monitor that displays all of the usual stats, a built-in heart rate band, large footplates, an easy hold the handle, plus storage wheels and the option for space-saving, vertical storage.
Kinomap utility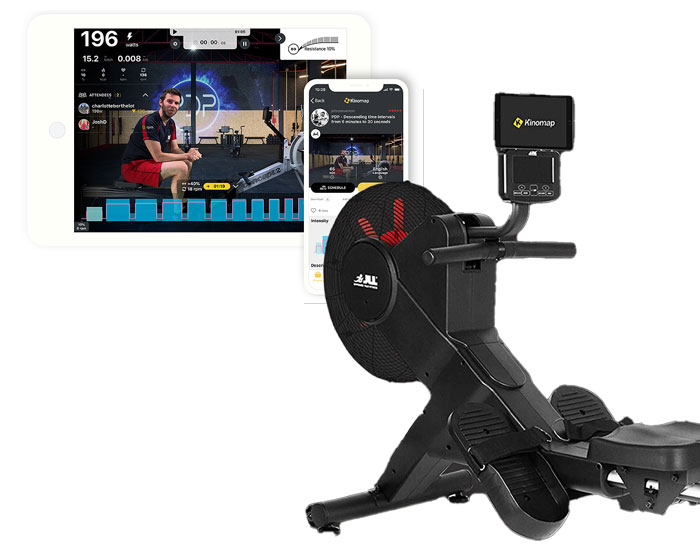 The Ventus 3 comes stock out of the box with the ability to link into any Kinomap applicable device and use it to drive your workouts.
We've already written a full guide on the benefits of Kinomap but put simply, Kinomap links to your rower using Bluetooth, and lets you access a library of thousands of specialised workouts that are designed around your goals and can be accessed wherever and whenever you choose.
We're staunch believers that fitness apps like Kinomap are the future because they bring gym-quality workouts directly into your home.
The benefits, when it comes to health, fitness, and motivation, are massive, and the overall costs are far less than any standard gym membership, especially if you spread the cost between multiple family members.
Bring your own screen
It's worth bearing in mind that the Ventus 3 doesn't actually have a device that can run Kinomap out of the box, but it links into any Apple or Android device that you already have, from phones to tablets, so the chances of you not already having a compatible device (or five) in your home are slim to none.
Check Current Amazon UK Price
---
What we don't like about the JLL Ventus 3
No tablet display
Mid-range rowers like the Ventus 3 don't generally come with multimedia systems built-in, as a way to keep costs down.
Still, it would have been nice to see even a small touchscreen tablet instead of the LCD console that's on offer.
There are also reports by users that linking to devices via Bluetooth can take a little working out at first. We know from experience that Bluetooth linking can be finicky, so we recommend you don't get too frustrated if your first session has a couple of teething problems.
Not as elegant looking as the Concept 2
The Ventus 3 has a slightly more bulky profile than its more expensive counterpart, with a thickening of the frame towards the flywheel.
It's actually not a heavy machine; weighing under 33kg in total, but the front section especially has a hefty look to it which we'd like to see reduced for the Ventus 4.
Read some of the other Reviews on Amazon here.
---
Final thoughts
All of these things combine to make the Ventus 3 one of the best mid-price home rowers on the market right now in 2023.
In our review of the JLL Ventus 2, the predecessor to this rower, we found that it was an impressive piece of kit that delivered a solid performance at a really good price.
The Ventus 3 only improves on that formula and doesn't bump up the price to match.
Combining dual resistance modes, a huge amount of workout options, and great build quality, for a very reasonable price, the Ventus 3 comes off really favourably when compared with some of the higher-end models on the market, like the flagship Concept 2.
It's reliable, well built, and we've said it a dozen times already, aggressively priced for what's on offer. All of these things combine to make the Ventus 3 one of the best mid-price home rowers on the market right now in 2023.
Check Current Amazon UK Price
---
JLL Ventus 3 Tech Specs
Brand
JLL Fitness
Model
Ventus 3
Resistance mechanism
Magnetic & Air
Item dimensions L x W x H
219cm x 49cm x 95cm
Rower weight
33.8 Kilograms
Material
Aluminium
Maximum weight recommendation
120kg
Batteries included?
Yes
Number of batteries
2 AA batteries required
Frame material
Alloy Steel
Rail material
Aluminum
Display type
LCD
Tablet holder
Yes
# Programs
22
Resistance levels
16
Display stats
Time (mins:secs)
Time 500M (mins:secs)
Calorie
Distance (km)
Strokes
Strokes Per Minute (SPM)
Pulse (bpm)
Total Strokes
Watts
Folding?
No
Standard Safety Compliant
CE & EN957
Handlebars
Ergonomic handlebars
Kinomap Compatible?
Yes
Heart rate belt compatible?
Yes
Heart strap band
2.4hz
Drive mechanism
Direct belt drive
---
Resources and further reading