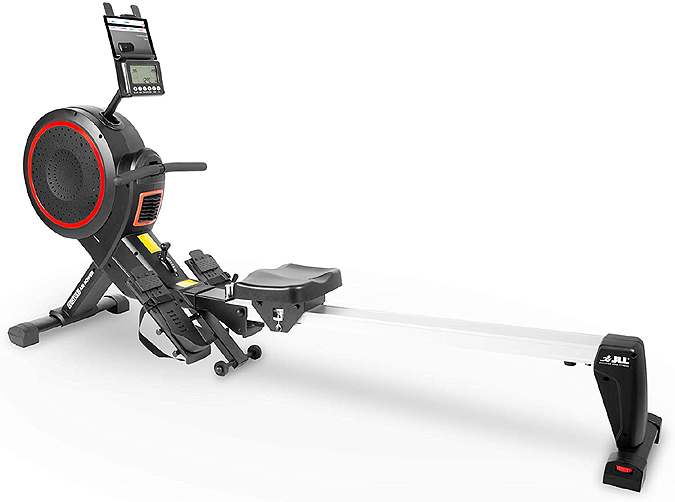 JLL Ventus 2 review Best price & full guide
Welcome to our review of the JLL Ventus 2. By the time you've finished this guide you should know everything there is to know about this rowing machine, including it's strengths and it's drawbacks, and if this is the rowing machine that's going to get you to your fitness goals.
If there's anything we've missed, please get in touch or ask in the comments!
Ventus 2 – at a glance
The Ventus 2 is an air rower
Also has magnetic resistance
8 levels of adjustable rowing difficulty
Whole body workout
Good for veteran rowers and beginners
What is the JLL Ventus 2?
The Ventus 2 is a high quality home rowing machine. It uses a combination of air and magnetic resistance. It has an LCD display which tracks important stats.
The Ventus is a good way to get in shape, lose weight and tone up just about all muscle groups.
Benefits to training with a machine like the Ventus
Improves your cardio vascular strength
Suitable for new or experienced rowers
Sturdy & well built
A low-impact form of exercise
Belt drive means it's quiet
1 year warranty
30 day money back guarantee
Easy to assemble
Commercial quality rowing at home without going to gym
It's fun!
Here's a more in-depth look at the benefits of rowing.
 Who are JLL Fitness?

Thew Ventus 2 Air Rower machine is made by JLL Fitness. They're a well-know fitness brand who make mid-level fitness gear. We've reviewed a number of their products one Home Gym Experts and been impressed with the overall build-quality and value for money they offer.
They've currently got an 'Excellent' rating on Trust Pilot, the independent user reviews website.

How do they fair on our customer support tests?
JLL's support has proved both fast and friendly on our covert tests, with replies always within one hour during weekday working hours. A lot of people buy more than one machine from this company as they're reliable and the products are good quality.
---
Related Guides
---

The GOOD: What we like about the Ventus 2 machine
High quality materials
While just about every rowing machine from cheap to expensive looks the part on the pics, they often fall apart on closer inspection.
The Ventus 2 is made from sterner stuff than the budget offerings and each part feels weighty, well made and of good quality.
As a side note, this is also one of the better-looking rowers in this price bracket too. So if you're planning on leaving it un-folded for the world to see, it should look pretty good in your home gym.
Going up a few hundred pounds from the budget offerings gives you a decent leap in quality.
The Ventus 2 is comfortable and stable
Going up a few hundred pounds from the budget offerings gives you a decent leap in quality. The Ventus rower definitely has the stability nailed where it counts. Foot rests are wide and have high quality straps that stay in place.
The seat is padded but not squishy (that's definitely a real word). And the running track and bearings offer a good smooth slide throughout the stroke. The rowing action itself is slick and feels more like a commercial gym machine.
Belt operation is a lot smoother than some chain machines
The Ventus 2 uses a belt drive system which sees a long strip pulling the flywheel as opposed to a chain. There's nothing wrong with chain-driven systems if they're done well, but that's not often the case in the sub-professional machines.
The Ventus 2's belt offers a gorgeous silky-smooth stroke. With the belt being thick, sturdy and built to last a long time.
Innovative resistance gives you best of both worlds
Air resistance is clever stuff. Like water resistance, the harder you pull, the greater resistance you get back. This is the kind of resistance you'll find in the Concept 2 rowers and many other machines. The Ventus 2 does something even smarter though. It also builds in magnetic resistance.
This means you can make things even harder for yourself (come on, you love a challenge!) By ratcheting up the magnetic resistance up to 8 levels. So one of the best things about the Ventus rower is it's one machine that will suit new rowers and more experienced folks too.
A proper tablet holder
At last. rowing machine manufacturers have cottoned on to the fact that we need somewhere to put our phones or tablets. This little thing is often overlooked on pretty much every type of machine, from rowers to runners. Thankfully, JLL's Ventus 2 has a brilliant tablet holder.
There's a simple curved cradle with generous arms that will fit anything from a smaller phone to a full-on tablet. And unlike a lot of misfires we've seen in this department, it doesn't cover the machine's console. You can watch Netflix and keep an eye on your performance too. Really well done on this front!
Good value for money
For a sub £500 machine (often much cheaper) the Ventus offers good value for money. For anyone looking for something similar to a Concept 2, but without the similar price tag, JLL's Ventus is a decent addition to your shortlist. The quality on offer for the cash asked is very fair.
The display console does a good job
Like the Concept 2, and other good rowers, the display console tilts up and down so you can get it just right for your position. The display is nothing fancy. It's not colour and there's no games to be played on it. Having said that, it shows the important information you need.
Here's what you can track with the Ventus 2
Number of strokes
Time
Strokes per minute (SPM)
Total strokes
Date & Clock
Calendar
Temperature
Distance you've rowed
Calories
Pulse *
The Ventus 2's console also shows multiple stats on-screen at the same time and there's decent sized buttons you can quickly jab at when rowing without squinting or aiming too carefully!
The LCD display is clear, if unremarkable and it's definitely a step up from some of the stripped back basic ones you'll find at lower price points. All in all, it's what you'd expect from a mid-priced machine and does a good job of tracking your stats.
* Pulse is taken with an extra heart rate band which you can buy from any third party. As long as it emits 2.4 G, it should work fine with this rowing machine.
£489.99 at Amazon
Price last checked: 1st Jul 2022 - 05:33
---
Instructions and assembly
Do you love putting gym gear together? No? Join the club. Thankfully the Ventus comes in nice big, pre-made parts that don't spill out everywhere when you open the box. There's actually not much to do when it comes to assembly, something that definitely can't be said for all rowing machines.
There's also not a vast amount of bolts or washers. Literally a handful.
You get the tools in the box, including a hex spanner, Allen key and a multi-tool. They're nothing fancy and you might prefer to use your own tools. But they get the job done! There's 8 steps to putting your JLL Ventus together so don't expect a multi-page manual from hell. Instructions are clear, easy to follow and in perfect English.
Definitely a breath of fresh air when it comes to assembling this rower.
The only 'downside' to assembly is that the parts can take a bit of getting out of the box. They're definitely well packed! Removing the tape and getting them ready to assemble will take a little time, so be prepared for that.
QUICK TIP: JLL have a super-handy video on how to put your Ventus rower together. (You can also get a sneaky peak what's in the box).
---
Moving the Ventus 2 around
The Ventus 2 is a folding rowing machine
The Ventus machine folds down to a more compact size. 123cm x 54cm x 140cm to be precise. If you're looking for a machine you can move out of the way after each session, this is actually pretty easy to do.
There's also transport wheels hidden in the frame so you can easily tip it up and wheel it off into a corner or another room out of the way. It's a case of unscrewing a bolt, lifting it up and then securing it with the quick-grab bolt. The bolt is a bone of contention – but more on that in a bit.
Folding is quick and easy. It takes literally a few seconds to get it folded and it's ready to put in another room until next time.
---
THE BAD: Downsides and things that could have been better with this rowing machine
No way to connect your phone/tablet to the console
Unlike the Concept rower, water rowing machines or some other (usually more expensive machines) the Ventus lacks connectivity to your devices. So there's no way to currently do online races or upload your performance from the console. This is going to be a deal-breaker if you're looking for this kind of connectivity but not totally unexpected at this price point.
Obviously, if you're not looking to do this and are happy to track your performance with the built-in console, you're not going to see this as a huge problem.
Folding is easy, but the bolt could have been designed better
One thing you might not like with this machine is when it comes to folding it. There's an enlarged bolt you'll unscrew in order to fold the machine up. These are generally added in to give the machine added stability when rowing and prevent it from folding when you don't want it to.
Once folded, you'll need to re-insert the bolt and screw it in again. If you're planning to move this machine out of the way over and over, that's a fair bit of … well 'screwing'. We've seen better solutions on other machines, or simply not having a bolt at all. It's not an issue for everyone but worth mentioning.
---
What are the reviews like for this rowing machine?
The JLL Ventus has very positive reviews out there in the wild, with users on platforms like Amazon scoring this rowing machine very highly. They praise the value for money, sturdy design and good quality rowing feel of the machine.
Check out the reviews on Amazon for the JLL Ventus 2 here.
In other sources, buyer's are similarly pleased with the machine. One buyer posted:
"Bought my Ventus 2 in-store yesterday and absolutely love it. The setup was extremely easy as most of it is already pieced together and the instructional tutorial on JLL's own YouTube channel makes it even simpler. I'd recommend having two of you two install it but it's definitely doable to piece it together by yourself."
Josh – Buyer on JLL Website – 2/2/2021
---
Why is this rower more a higher price than say a budget bike on Amazon?
If you've spent any time on Google or Amazon checking out rowing machines, you'll know one thing. There's a lot of them! Some cheap. Some VERY expensive. So where does the Ventus 2 sit? Home come it's more expensive than the budget ones?
The Ventus machine is a step up from budget rowers in terms of quality and what it can do. Here are the main differences between this air rower and some of the cheaper £200 ish ones on sale:
Better quality parts
Smoother rowing action
LCD screen is bigger and shows more information
Larger and more robust (good for taller people)
Better flywheel and tougher resistance
£489.99 at Amazon
Price last checked: 1st Jul 2022 - 05:33
Conclusion: Is the Ventus 2 worth a buy?
The Ventus 2 occupies a much-needed space between the budget machines and the way more expensive Concept 2's of the world.
It's a solid, comfortable machine that's suitable for new users or anyone who've already found their sea legs. The rowing stroke has a superb quality to it and the parts here are all high quality.
Sadly, there's no connectivity like the Concept 2 has, so you're limited to the allbeit very capable onboard console of the Ventus 2.
If you're in the market for a new rowing machine and not bothered by the lack of online and phone connectivity, and not looking to go all out on a Concept 2, then this is a brilliant machine that will last a very long time.
---
Using your Ventus 2 safely
If you've read anything on this website before, you'll know we're nuts about rowing machines and the (proven) benefits to getting stuck into some rowing at home. If this is your first foray into rowing, or even if you're a hardened pro, here are some quick notes to help you get going with your Ventus machine:
As always, get advice from a pro – If you are new to rowing or have any medical problems, or even if you're not sure rowing is for you, ask for help from a health professional.
Is everything tight? No, not your muscles! Double-check all the nuts and bolts on the Ventus 2 are tight and secure before hopping on.
Know your form – While anyone can jump onto a machine like the Ventus and give it some welly, you'll be rewarded if you can master good rowing form (it's not as boring or difficult as it sounds, we promise). We've got a free guide on rowing the correct way here.
Check for weird noises – While the Ventus 2 won't be silent (don't worry – air rowers aren't!) There shouldn't be any weird grinding, clicking or other mechanical noises other than the smooth whoosh of the air. If you do get any dodgy audio, give JLL a call on 0800 6123 988  and check what's going on.
Watch what you wear – Lose clothing isn't the best choice for rowing. There are lots of moving bits so wear something that won't get caught.
Take it easy! – Rowing can be tough. Start small and build up.
---
What kind of warranty do you get when you buy the Ventus 2?
JLL have a history of good customer support and the Ventus rower comes with a 12 month warranty.
There's also a 30-day money-back guarantee so you can send it back if you find it's not what you need.
Full Ventus 2 Specs
Resistance
Air and Magnetic
Adjustable resistance
Yes
# Levels
8
Construction
Aluminuim Frame
Drive system
Belt drive
Display
LCD
Stats tracked
Time
Time 500M
Calorie
Distance
Strokes
Strokes Per Minute (SPM)
Pulse
Total Strokes
Date
Clock
Calendar
Temperature
Self assembly?
Yes
Dimensions
Folding?
Yes
Tablet holder?
Yes
Shipping weight
39.5 kg
Transport wheels
Yes
Max user weight
120kg
Max user height
Up to 6 and half feet
Performance monitor
Warranty
1 year warranty
30 day money back guarantee
Resources and further reading