Today we're on the hunt for the very best treadmill under £1000 on the market in 2023.
If your budget for your new running machine is around or just under the thousand pound mark, there's some cracking treadmills up for grabs in this price range. This guide will focus on UK machines and dive into their build quality, feature set and all the other important bits to help you find the very best one for your money.
So sit back and enjoy the guide!
Top Pick
What's the best overall machine in this price range: Here's the quick, ten second version. The best treadmill for a budget of under £1000 we found was the JTX Sprint 7. This machine has that luxurious quality, offers a wide range of programs and has a really powerful motor.
Quick View – The Top Running Machines For Under £1000 in 2023
"JTX's machine is packed with great features and has a large running track plus a powerful motor."

145cm x 51cm running track

"Proform's machine offers a large, really well built machine that's lots of fun to use with iFit.

46 x 127 cm running track

"This is an incredible bit of kit for way less than £1000. It's solid, has plenty of power and is a good choice for low to medium intensity."

51 x 140 cm running track

"At just under £1000, you're getting a superb home treadmill that has stability, a large running surface and plenty of power too."

140cm x 48cm running track

5 Year frame and motor warranty

"The F10 is a great little machine for anyone looking for light weight running and walking."

"This unusual-looking machine is perfect for anyone who really wants to save space."

Perfect for walking or running
What we look for when reviewing treadmills
What can you expect to get for your money in the £1000 (ish) range?
Having previously reviewed and rated the top treadmills under £200, and the best running machines for under £500, it was great to be given a higher budget of £1000 for our next round of testing. Stepping up to this higher-budget price range gets you  even more in terms of quality, stability and features.
Things we're looking at in this price range: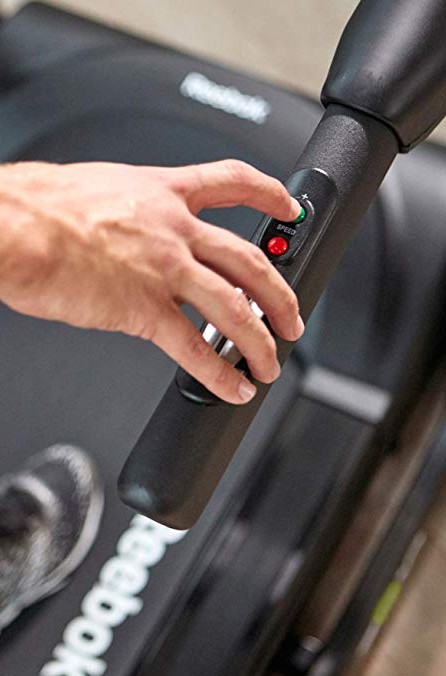 Build quality – £1000 (or thereabouts) is a decent budget for a treadmill and at this price level we're looking at build quality with a fine-tooth comb. No wobbling, creaking or just flimsy quality.
Running track – A lot of super-cheap runners will compromise heavily on running track size. For the £1000 range, we want to see a track that's got at least 48cm width and a stride length that will accommodate even tall runners, without feeling cramped.
Size – There's some shall we say 'compact' treadmills on the market. In this guide, we want something serious – a real sturdy, good-sized treadmill, with plenty of space to stretch our legs.
Upper speed – We're looking for a treadmill with a reasonable upper speed limit – 16km/h – 20km/h range ideally.
Folding – Although many people won't be storing their treadmill at this price range, the majority of treadmills we review do still 'flip up' – at least providing a bit of space in your gym for other things. We looked at how easy each treadmill was to fold up and store.
Powered incline – Pushing into the higher-tier treadmills, these machines should all have powered incline that can be adjusted via the console, and during the workout programs.
Console and display – One thing cheaper treadmills suffer from is very shoddy quality displays. At this price point we looked more closely, with a less-forgiving eye, at the quality of the LCD display. We looked into the info on display, the amount of info on screen at a time, and exactly what was being tracked.
Live services and online connectivity – While not everyone's 'thing', online connectivity and hooking up your tablet are a huge thing right now with treadmills, so we'll be looking at how each machine uses this kind of tech.
---
So, what are the best treadmills up to £1000?
For this respectable budget, expect a really good machine that will be a trusty training partner and last a long time. Here's the treadmills we found were actually worth the money, starting with the top pick first.

#1 – Best overall: JTX Sprint 7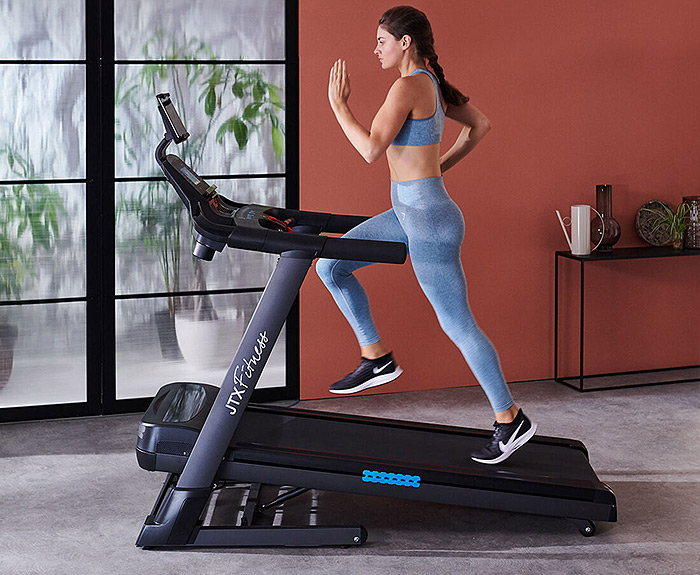 this treadmill is suitable for anyone who has run before, while also being a good choice for newbies too.
Top level build quality
We've reviewed a good bit of JTX's home gym gear here over the years and the one thing they nail on every machine they put out is the build quality. Forget thin, wobbly steel pipes. Think chunky, thick commercial quality stuff.
The Sprint 7 (full review here) is one of the 'Sprint' family of machines from UK-based JTX and it's one of the toughest machines out there. At just under £1000, it's easily the best quality machine we were able to pick out in this price bracket.
Plenty of speed and power
So let's get to one of the best things about this treadmill – it's powerful (and near-silent) motor.
The Sprint 7 ships with a gym quality 3HP motor that will give you up to speeds 20km/h and also has a respectable 0 – 15% incline to give more of a natural 'outdoor' feel to the running. In short, it's bloody hard going if you crank it up. So this treadmill is suitable for anyone who has run before, while also being a good choice for newbies too.
Proper-sized running deck
The running area here is spot on what we look for too  (145cm x 51cm) which means that even taller runners won't have any issues getting a proper sprint, or feel cramped up. The deck uses an 8 point cushion system so your joints will thank you afterwards (more than can be said about your aching muscles, but that's what we're here for, right?!)
The console is top-notch
Visually the display you get with the Sprint is a bright, bold and good size 7″ display. It's nothing fancy and isn't full colour, but as far as treadmill consoles go, it's extremely easy to read and has a strong bold backlight that make the characters stand out.
Another thing we really like with this machine is that you get a lot of programs to play around with. Personally, I use these a lot and with some treadmills only having a handful, you can get bored of them easily. The Sprint has a whopping 43 programs to try out and has the usual hill climbers, fat burners and everything in between.
Verdict: The Sprint 7 is so easy to recommend and, by a long shot, the better treadmill we were able to find in this price bracket. It's strong, powerful and packed with everything we like to see in a top-quality machine.
Good quality throughout
Excellent customer service
Chunky, strong and built to last
Powerful motor and high top speed
Large running track
Above average display
It's a the top of our budget price point
---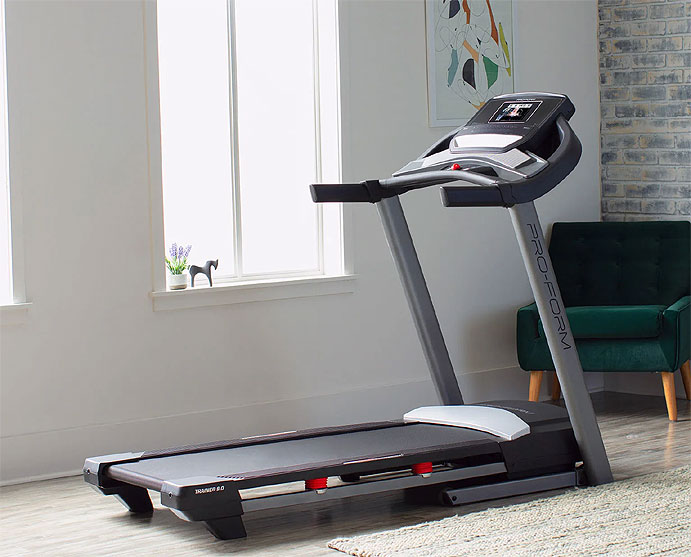 Proform have some impressive treadmills if your budget is around the 1 grand mark, with the Trainer 9.0 being a good example of the quality on offer.
Powered by a 2.75 CHP motor, this machine has enough power to go around, which is reflected in the impressive 0 – 18mph maximum speed and 10% automatic incline. The running deck is top quality and will support runners up to 135kg in weight.
As this is a Pro-form machine, it comes with a 7″ touchscreen display which takes centre stage on the display panel. This is designed to be used with their iFit service which offers access to online content such as follow-along runs, interactive classes and pre-recorded training videos. This is a paid service, although the machine will work fine without it.
With or without iFit, you've got a decent machine here with a decent-sized 46 x 127 cm deck. Our final thought on the Trainer 9 was that it was a workhorse; powerful and effective, especially for the price. It offers a whole lot for under a grand.
Verdict: The Trainer 9 is another brilliant machine and we love what we've seen from Pro-form so far. The iFit app integration is fantastic and it's a well-known brand. Hard to imagine anyone not enjoying this forward-thinking treadmill.
Exceptional running deck
Powerful motor
10% incline
iFit service has a lot to keep you entertained.
Requires a paid subscription to get the most out of it.
---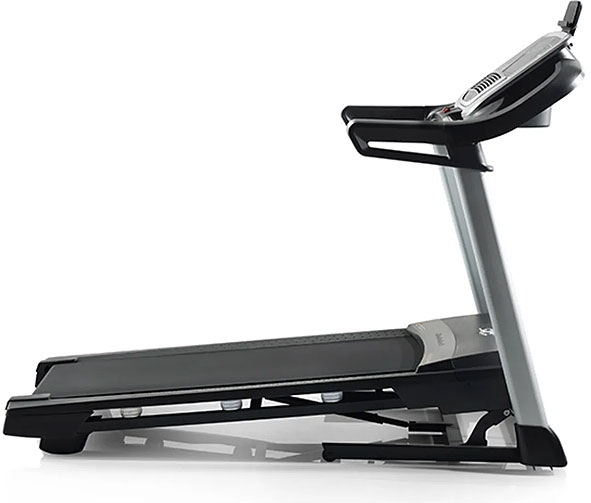 Solid and dependable, with a monster warranty and a laundry list of features, the C700, from NordicTrack is an exceptional treadmill that offers a lot more than its price would suggest. (At the time of writing, it's about a hundred quid short of our one thousand pound budget).
First, the good. It's incredibly well built, with an alloy steel frame holding together a large 51 x 140 cm  cushioned running deck that's capable of up to 20km/h with a standard 10% incline.
The max user weight is high at 120kg, (265lbs,) which is is a tad lower than we'd like to see but a moot point if you're within that weight.
Let's go over the console on this machine as there are a couple of things to note here. First, it does look a bit like the 60's Starship Enterprise consoles and there's an initially overwhelming choice of buttons. After a while, they do make sense and you can jump to the speed or inline you want.
There's a basic, if very clear, LED display within the built-in panel but the tablet holder at the top is really where it's at.
Here you can use your iPad or other tablet and explore what iFit has to offer. Follow trainers, get some live interactive training. There's a monthly fee for this service but there's a lot to offer runners and walkers alike.
The whole thing is also covered by an ironclad lifetime frame warranty, with 10 years on the motor and 2 years of general parts and labour.
Verdict: For a good chunk of change less than £1000, you can get a seriously good treadmill from the NordicTrack family that will last for years to come. Whether you want to use iFit, or are just looking for a solid runner for home, this could be the one.
Great range of speeds and inclines
Powerful motor for the price
Great construction all round
One of the largest running decks in this price range
iFit monthly subscription (if you want to keep using the service beyond the trial)
---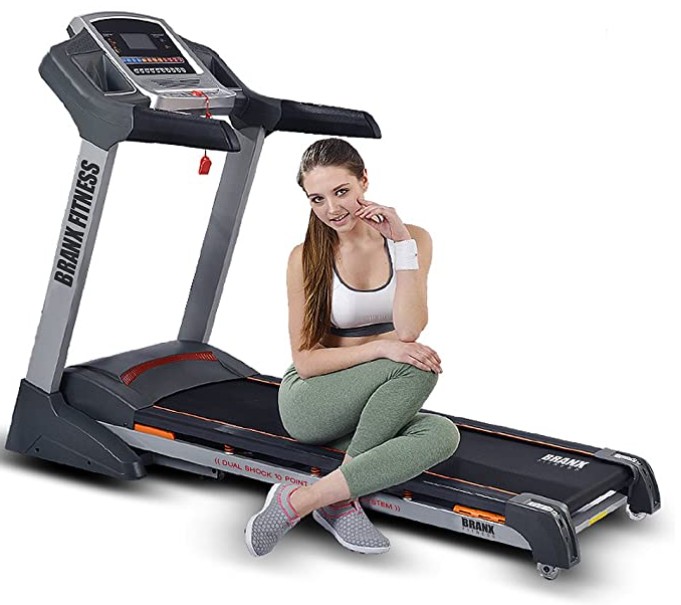 German-made, with an ironclad frame that could hold an elephant, the Branx Elite doesn't look like a folding treadmill at first glance. That's not hyperbole, by the way, the maximum weight on the Elite Runner Pro is a massive 160kg, or 350lbs, which is one of the highest we've seen on any treadmill, let alone one at this price.
The motor has an effective maximum output of 6.5hp, with a general use rating of 3.5chp, which lets this hit 13mph as a top speed.
The running deck is also impressive. Large, with 10 points of cushioning, which is doubly impressive when you realise that this thing has 22 levels of automatic incline, and also folds upwards to almost vertical when not in use, reducing the footprint by more than half and hugely helping with storage.
Downsides? The controls aren't the best, and there's no live training, which is a massive shame. But there is Bluetooth functionality.
Finally, if something goes wrong, this has a fantastic warranty, with 2 years on parts and labour, and 5 on everything else, which is comforting when you're spending this amount on a piece of kit.
Verdict: Branx have some brilliant machines out there and this treadmill packs all their best tech and quality into an easy-to-store machine. There's a massive motor here that packs quite a punch and will keep new joggers or experienced road runners equally happy.
Powerful motor means high top speed and incline
Despite the power, it folds upwards, saving space
Well built all round
No live services or touch screen
Check Current Amazon UK Price
---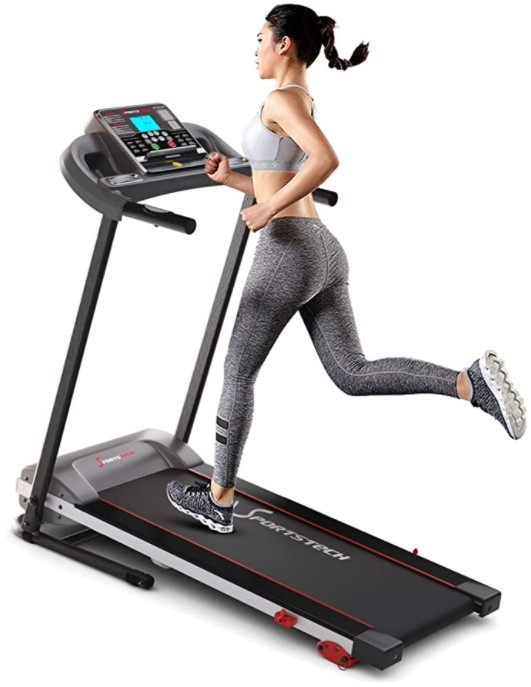 Another Sportstech model hits our list, this one far cheaper, with a slimmer list of features, but the same general quality and attention to detail that we've come to expect from the name.
To start with, the overall build is good. It's lightweight, with a reasonably small running deck that's powered by a 1hp motor that pushes it to a maximum speed of 7mph, which is relatively low, but still enough for general training.
The deck itself is made from Sportstech's 5 layer running tech surface, meaning it's better for your joints, and everything is effortlessly controlled by the built-in LCD display.
But the big reason this is on our list? It has the same access to Sportstech's Live Training and Kinomap interactive training systems as its larger cousin, which, for the price you're paying here, is incredible!
In our opinion, live training is such an advantage to most people that we'd seriously consider one of the Sportstech range before anything else on this list, no matter what our goals were.
Verdict: A steal at this price and if you're looking for something way under the £1000 price point, and like the look of this machine, it's a solid, well built runner.
Live training and interactive workouts
Good build quality
Simple controls
Built-in pulse belt
Light motor and relatively low top speed
Check Current Amazon UK Price
---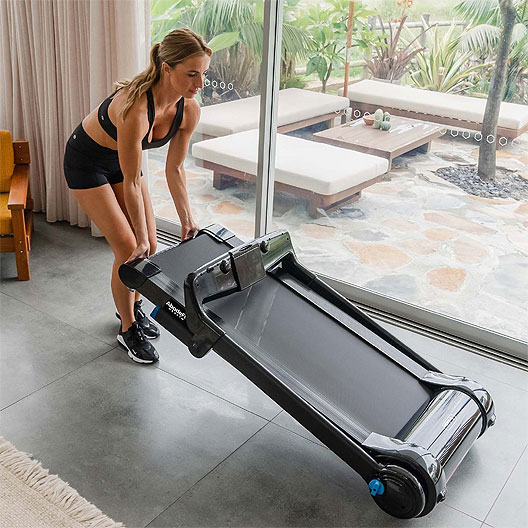 The Walkslim treadmills are an absolute life-saver if you're short on space but really want a good treadmill for home. This one comes in at well under the £1000 mark too.
Sleek and lightweight, it's easy to move around, and simple to store. With a maximum height of 43cm  and a footprint of only 152 x 76 cm, it fits almost everywhere. It weighs 36kh but it's easy to scoot around on the front transport wheels so you don't have to leave it setup in your home.
The motor is a lightweight 560W. Despite the smaller motor, it has a speed range of between 0.8 and 13km/h, which is a mild jog, and the noise reducing, shock absorbing running deck keeps the sound down, perfect for shared accommodation or if you don't want to wake anyone up when you're doing an early jog.
It arrives fully assembled out of the box, and has incredibly simple controls which come on a handy remote, so you can adjust it as you go, without even breaking your workflow.
Verdict: While the design of this treadmill won't be for everyone, if you're looking for something far cheaper than £1000, that can be stored easily – and like the look of this 'sideless' machine, this is a fab running machine.
Good quality
Simple set up and easy to store
Comfortable and quiet
Incredibly easy to control
Space saving design
Not built for sprints – walking and jogging only
110kg weight limit lower than full-scale machines
---
£1000 Treadmill Buyer's Guide
AKA how not to get stuck with a treadmill you HATE
One of the key staples of fitness is cardiovascular training, and one of the simplest and best ways to get that is running.
But running from home isn't easy, especially in 2023, with everything going on in the world. This is why sales of home treadmills have spiked in the last few months.
But making the choice can be hard, especially with the sheer variety of options out there. We wrote this guide to help you make an informed choice. Here's what you need to know.
Why own a treadmill?
There's a reason treadmills are such an iconic and enduring icon in the fitness world.
They work.
At first glance, treadmills are simple. After all, you just get on them and run, right? But they're actually a deceptively effective and nuanced piece of training equipment.
Whether you're using your treadmill to warm up and get your body moving, starting your workout with some light cardio, burning your muscles with intervals, or building endurance with long distance running, almost any goal can benefit from the use of a treadmill.
When we're looking at treadmills, there are several key criteria that we're measuring them by, including:
The running deck
A quality running deck is important because it's the part of the treadmill you're actually interacting with. So spending a little extra money and getting something decent here is more than worth it, in the long run.
Bigger running decks give you more room and hugely improve overall comfort. Longer running decks give you more forward space and let you take much longer strides without risk of falling off or hitting your feet, and width is mostly a comfort thing, but no one likes running while feeling tightly constrained.
The second thing to consider with running decks is padding, or cushioning. It's not a secret that long term running can lead to achy joints, and a padded running deck can really help with that, by absorbing some of the impact of every step.
The motor and speed
The motor is what drives everything on the treadmill therefore a more powerful motor means a higher top speed. Most of us aren't professional athletes, so under most circumstances, you're not going to need a ridiculously powerful motor, but having the option to push it is always useful. Anything less than around 2hp is generally not good, with some quality treadmills tripling that.
But there's also another reason for a strong motor, which we discuss in our next point.
Incline and decline
If you've never run on a treadmill before, an incline is literally just the treadmill angling itself upwards, like you're running uphill.
It doesn't sound like much, but even a relatively gentle 5% incline can quickly start your calves burning. More expensive models will push the incline up to 15-20%, perhaps higher.
Inclines come in manual, meaning you have to set it by hand before jumping on the system, or automatic, where it's all controlled and powered by the motor. If you want an automatic incline, you'll need a stronger motor, as the incline puts additional strain on it.
The multimedia options and online training
Lastly, we look at what you can actually do on your new purchase.
We're not going to lie, for a lot of people, the idea of running on a treadmill for an hour seems quite boring. Because it can be.
Which is why every big brand in the business has begun to embrace virtual or streaming training technology.
Put simply, these let you bring a gym class right into your home, generally to a tablet or TV that's linked to your treadmill.
This lets your treadmill automatically change settings based on the workout, and also gives you a huge boost of motivation because you're working out in front of a trainer, and alongside other (virtual) people.
The nice little extras
A couple of super-basic things we like to see on treadmills, that aren't especially vital – but are handy:
Somewhere to put your bottle. Even better if there's two cup holders as the other one can always be used to stash phones, keys and other bits 'n' bobs.
A tablet holder. It's amazing that otherwise excellent treadmills can often neglect make space for a tablet. A little shelf is always appreciated.
See our guide how to pick a treadmill for more info on getting it right.
---
Tell us about your treadmill
Got a cool running machine you want to shout about? Please let us know in the comments if you've found a good treadmill that's not mentioned here, or about any of your own experiences with these popular fitness machines.
References & Further Reading