We love treadmills. They're a great way to get in shape and avoid the perils of UK weather, especially in the winter months. My little gym has a incline type treadmill in the corner and it's proved to be a great addition to my home gym. Do you need to spend a fortune to get the benefits of your own running machine? We wanted to find out what was out there for under £200. Here's the top cheap treadmills on the market at the moment.

#1 – Fit4home healthmate JK-04
Diving in with our first sub-£200 bargain and it's the Healthmate JK-04. This is a motorized treadmill that's definitely punching above it's weight, to use a boxing expression. It combines a decent feature set with a sturdy design and durable quality. It's ideal for anyone looking for gentle walking exercise, or those wanting to get into running.
The Fit4Home is a compact treadmill so it's a good choice if you've not got tons of space to spare. This comes at the cost of some width however and it's narrower than commercial treadmills.
Top notch display for the price
While the display or on-board computer might sound like a small thing, there's some really cheap and nasty ones on some budget treadmills out there, and you'll spend a good amount of time looking at them. This one is great though; you can see calories, time, distance and a lot more all on one screen. Not only that, it's backlit and really easy to see your progress, at a glance.
Decent adjustable incline, although it is manual
It's just not possible to make a treadmill for under £200 that has automatic incline, but the JK-04 still offers a decent 4 levels of manual incline. This increases the difficulty, for anyone looking for a steeper challenge in both running and walking.
The machine itself is surprisingly sturdy for a budget treadmill, with chunky tubular steel frame.
Some welcome little touches
This machine comes 99% assembled. No messing around for hours figuring out what goes where. Having said that, the instructions could use more depth and clarity. But you shouldn't have any problems putting this thing together.
Another thing we like about this machine is the two cup-holders (hey, they're handy!) And you currently get a free bluetooth fitness tracker with it. Nice!
Fact: This machine has a top speed of 10km / hour!
Verdict: This is a fab, compact treadmill that's easy to use and easy to store. There's blissfully little assembly required and the computer and display are excellent. Highly recommended at this price point.
Easy to assemble
Excellent, back-lit display
Stores away neatly
Compact design
Free fitness tracker
Surprisingly sturdy
More narrow than commercial gym running machines
Instructions could be clearer
£299.99 at Amazon
Price last checked: Sunday 20th September 2020 – 19:03 pm
---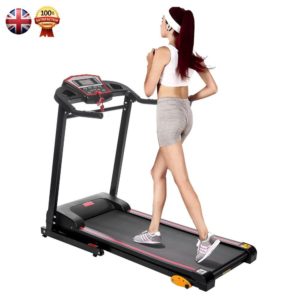 The Rocket Bunny treadmill is a lot more advanced than the other runners we've featured on the site and has some cool features, especially for the sub-£200 price tag.
One of the best things about this treadmill is the LCD display, which shows all the info you want without scrolling, on one bright easy-to-read screen. It tracks your time, distance, speed and even heart rate. There's 10 pre-set programs depending on what kind of workout you want. Or you can just set your own speed and go for it.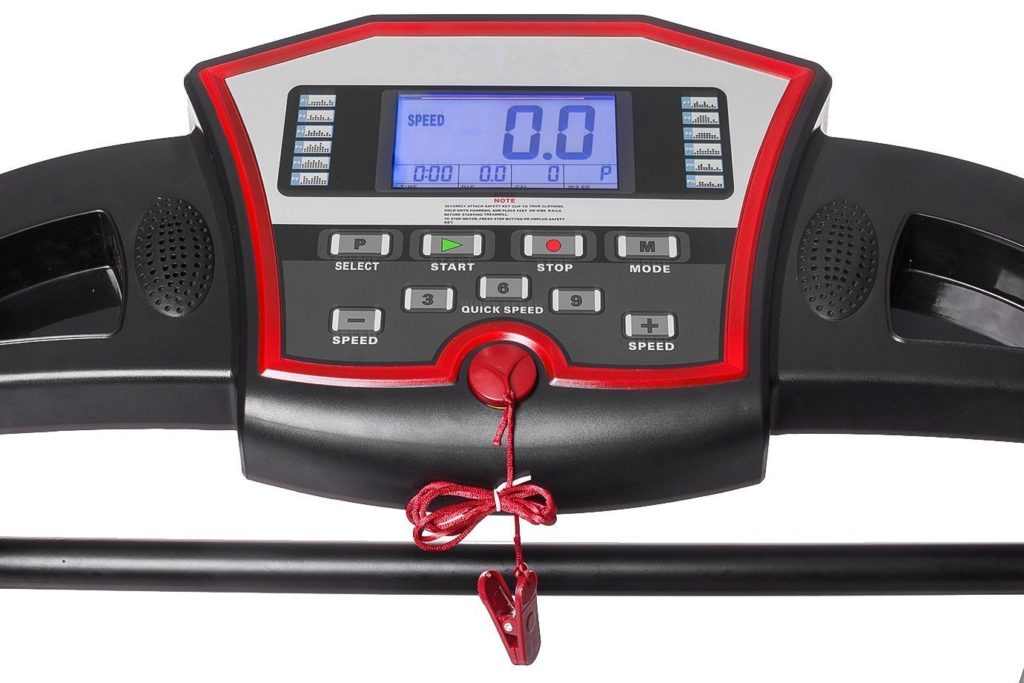 Above: The Rocket Bunny's control panel is clear and easy to use
It folds away neatly and if you're wondering what the yellow things are you'll see underneath, they're shock absorbers. Something other running machines in this price range could do with.
Fact: This machine has a top speed of 12km / hour!
Build on the Rocket Bunny treadmill is very good. It's a strong, solid construction and doesn't wobble when in use. In fact it feels a lot more like the larger treadmills you might have tired at the gym, if that makes sense.
Quick TIP: If you want to make for a smoother run on this, or any treadmill for that matter, think about getting a soft mat from Amazon to go under it.
So there you have it. Our number one choice is the Rocket Bunny treadmill. It's solid, has great features, the best display, and at under £200 it's great value too.
Happy running!
Easy-to-use console
3 levels of incline for better workout
10 programmes to suit all levels
Extra wide running surface fits everyone
Heavy duty – feels built to last
Could do with more comprehensive instructions
---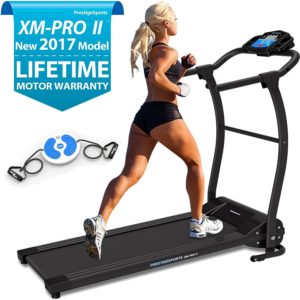 One of the best treadmills for under £200 at the moment might look like any other machine, but the Prestige Sports XM-Pro 2 has some interesting differences and cool features that make it a worthy contender.
The 1 horse power motor comes with an impressive lifetime warranty and the other parts (including frame) come with a two year warranty. It's good to have peace of mind when you're buying any machine but this is very welcome.
The display panel is simple but shows everything you need – speed, distance, calories and the controls are large enough you can hit them pretty easily when running. There's drinks holders and a towel holder. Hey, the little things add up too.
One downside is that the incline is fixed to 10%, but we did like the 8 auto programmes available. The do things like alternate between high and low intensity. This helps tone and get in shape quicker, so they're worth playing around with.
One of the things that's surprising about this treadmill is that it's a folding design, but it's solid appearance might have you fooled. This isn't some flimsy treadmill – this one can take a serious pounding. Don't worry if you're in a flat or have neighbors, this is a nice quiet treadmill. And if you're an older user, the speed can be reduced easily to 1km.
In short, great build, good value for money, excellent guarantee and very easy to move around.
Great fold-away design
Simple installation
Sturdy construction
Straight forward controls
Takes up minimal space
No way to adjust incline
Slightly narrow if you have wide running stride
---
If you're looking for the best treadmill for under £200, and get fit from the comfort of your own home, it's worth checking the Homcom range. In particular, we'd like to show you this model, currently from around the £160 mark (with a larger version available).
At the time of our review, this tread mill has a 4.5 star rating on Amazon, from 165+ reviews. Pretty good! So what do people like about this machine so much?
You've got a treadmill here offering a range of speeds from 1km to 10km per hour. So it's suitable for all levels. There's a nice bright LED screen to keep track of how you're doing (speed, time, distance and calories). And there are three programmes to help get your fitness up to scratch.
This is also another space-saving running machine which will fold away when you're not using it. The small wheels make it easy to move out of the way too. There's no shame wheeling it in front of the TV and watching your favourite box sets at the same time.
Unlike a number of running machines, installation is not complicated.
Cheap treadmill
Simple installation
Sturdy construction
Straight forward controls
Takes up minimal space
Instructions could be better written at the start
Slightly narrow if you have wide running stride
---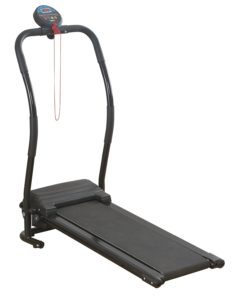 Talk about compact. If you're really strapped for space then this might be the running machine you're looking for. It folds down to just 28cm x 51 cm. It's quick and easy to fold down.
It has a clear, easy-to-read display that shows speed, time, distance and calories.  I personally only use calories but the others are there too.
Ideal for anyone up to 16.5kg and perfect for walking or light running. If you're a serious gym head, you might want to look for a more robust / larger model though.
And at just under £125, this is the cheapest treadmill we were able to find. Well, motorized ones in any case! Comes with a 12 month manufacturers guarantee too. Handy.
Excellent support from Clifford James
Folds away to save space
Small wheels make it easy to move around
Great for walking or running
Perfect for elderly
Compact unit, not suitable for tall people
Not robust enough for serious runners
---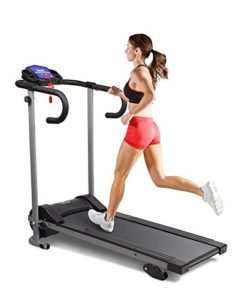 This running machine is a great bit of equipment with a solid feel and 10km/h top speed. There's also 3 programmable modes. Surprisingly, for the price, it's also got an incline setting. This is manually adjusted, but still welcome addition.
As a lot of the treadmills on this page are, this unit folds away to save space, or to clear the floor for your other exercises. You've also got a handy calorie counter and a stop cord. I've never really used my stop cord but it's there if you need it. * TIP * Don't forget to place the disc on the treadmill or it won't start.
Quick n easy to put together – you only need to add the handles on – and you're good to go.
At under 150 quid, this treadmill sits at the budget end of the scale is a steal for the price.
Solid build
Folds away easily, very compact
Easy to assemble – just insert handles
Great for walking or running
Not suitable for anyone over 5 and a half feet
Instructions on using programs could be better