MaXimus Pro Trampoline Best price & full guide
Rebound exercise, on home trampolines like the MaXimus Pro has become hugely popular in recent years. And is a form of exercise that's grossly underrated, in our humble opinion. You can train safely after an injury, workout everything from your core, bum, legs and chest and burn more calories than you can in the same time running.
There's many documented benefits associated with using a mini trampoline, such as draining your lymphatic system. In this guide, we're looking at a popular folding rebounder called the Maximus Pro.
Check Current Amazon UK Price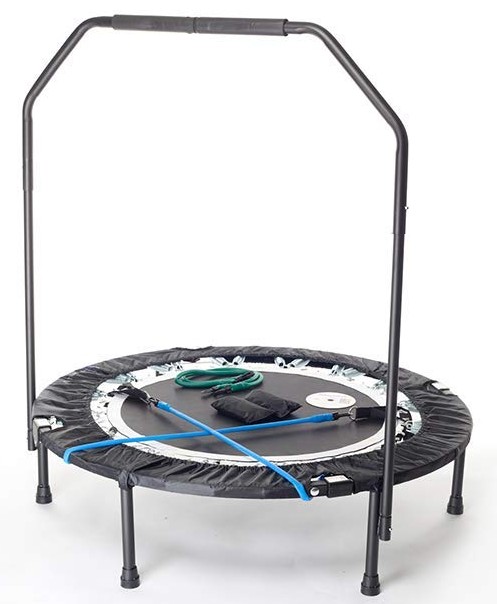 The Maximus Pro at a glance
Indoor fitness trampoline
Folds into a compact size
Not a toy – built for adults
Includes stabilization bar
No assembly required
Online and DVD workouts available
Included DVD has 7 workouts
Free storage bag
140kg max user weight
6 support legs
Carry bag included
---
What is the Maximus Pro Mini Trampoline?
This is high quality home fitness trampoline, which is built exactly like a full size trampoline. It's designed for home use and can be folded down into quarters, making it small enough to fit into a carry-bag, and can fit neatly into a car.
It's made from 32 highly calibrated springs and is suitable for adults of all sizes. It has an impressive max user weight of 140kg.
---
Voted the #1 indoor mini trampoline
The Maximus trampoline is made by Rebound Fitness and is the most popular rebounder in 2023. There are many health and training benefits to using a trampoline like the Maximus pro.
What's a fitness trampoline?
If you're new to this form of exercise and are wondering if this is just some insane gimmick, there's actually a lot of proven benefits to using a trampoline like the MaXimus Pro.
Because of the nature of trampolining, there's no impact on your joints and it's a lot harder than it sounds – in a good way. You can burn off a serious amount of calories in a shorter workout.
---
If it's good enough for NASA…
While using a mini trampoline for home fitness is as much fun as it looks, there's also some serious benefits to training on a rebounder. NASA conducted research and found that more calories could be burned off on a rebounder than in the same time running.
, I hadn't found anything that I really enjoyed until now!!! I love rebounding, it's fun and I am already seeing better results than I did with any other exercise.

C.L Shepherd – Amazon Buyer
Benefits to training with a fitness trampoline like the Maximus Pro
Burn calories efficiently
Quiet
Low impact workout
Kind on the knees!
Open up the lymphatic system and help body flush toxins
Lost weight
Ideal for elderly
Lots of fun to use
Use as part of recovery programs for a host of injuries
Watch the video below for an overview on what comes int he box and how to go about assembling your Maximus pro.
What are the reviews like for this rebounder?
The Maximus Rebounder has received good critical reception from users on sites such as Amazon and Trust Pilot. It's currently sitting at 4.9 stars out of five on the latter, spread over 67 reviews.

One user said:
"It's been really enjoyable, quick and easy to use and I already feel trimmer around the waist after only two weeks. My dad, in his late 70s has also been using it!"
---
Why is this mini trampoline a higher price than a budget mini trampoline?

If you're digging into the wonderful world of re-bounders and deciding which one you should buy, you'll have seen there's trampolines out there that are a good bit cheaper than this Rebound Fitness ones. Are they the same? Why are they cheaper?
The Rebound products, like the Maximus, are overall a much higher quality than the cheaper trampettes you'll see for sale. You can expect:
Professional quality trampoline
Will last a lot longer
Have a lot more springs (32 to be exact)
Offer a quieter bounce
Are suitable for heavier participants
The Rebound products are also used by health professionals and personal trainers because they're built to last. While you pay less for a cheaper trampoline, these lower priced products might not last as long.
Where can you get the best price for the Maximus Pro re-bounder?
You can normally order this product on Amazon UK. Click here to check the latest Maximus Pro Rebounder price.
How to assemble your Maximus Pro trampette
Open the packaging – take care not to damage the DVD, which is found between the polystyrene.
Lay the trampoline on it's back, so that the legs will point upwards when it opens.
Open it into the half-fold position
Put your weight on the edge of the rebounder
Gently open up the rebounder until it clicks into place
Remove the cardboard cover from the legs
Slide the elastic covers off
Pull each leg outwards, until it locks into place
Remove plastic covers from end of legs
Check that all legs are locked into place
Turn the rebounder over and it's JUMP TIME!

Maximus Pro Rebounder references and sources