When the brains at Nasa released a study that showed Rebounding could be more beneficial than running, people started taking these mini trampolines seriously! In this guide we're jumping on this new trend (apologies for that one) and digging into the very best rebounders you can buy in 2022.
Rebounding is currently seeing a big bounce in popularity, with classes springing up in gyms and fitness centres across the country. Now is the perfect time to get one for your home or gym.
| | | | |
| --- | --- | --- | --- |
| | | Super-tough comes with everthing you need in one kit. Top notch rebounder. | |
| | | A robust, well-priced mini trampoline that's ideal for beginners. | |
| PhysioRoom Mini Fitness Trampoline | | | |
| JandecFit Mini Trampoline | | | |
| H.yeed 50 inch Fitness Trampoline | | | |
---
What we look for when reviewing mini trampolines
Top things you should check before buying a new bouncersizer (we made that word up…)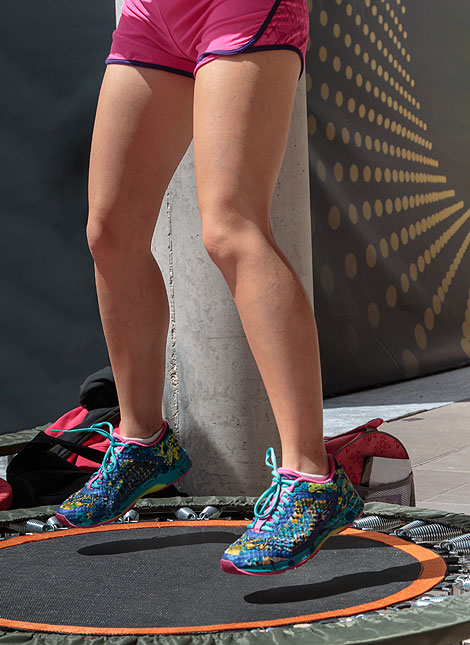 Size and build – Most mini trampolines are around 40 inches across, and made from strong steel. Anything smaller is going to be difficult to use, and larger trampolines aren't suitable for inside use.
Do I have enough room at home for a mini trampoline? One real 'gotcha' with mini trampolines is if you have a home with low ceilings. Some rebounders are fairly tall. Combine that with your height and an added 'bounce' and you might find you'll have to use it outside. Measure up and follow the height guides below.
Weight limit – A good mini trampoline should be able to easily hold the weight of most adults, so somewhere in the range of 250lbs. Ideally, you want a trampoline that's going to hold a lot more than you weigh, so it's not under a lot of strain in use. In general, bigger trampolines hold more weight.
Sound – Rebounding workouts can be pretty intensive, and if you don't want your friends, family, neighbours and cat to hate you, buying a higher quality trampoline that's very quiet is a great move.
Storage – Unless you're keeping it outside or in a permanent room, you're going to want to store your trampoline when it's not in use. Better models will fold up and might come with other storage options.
Extras – Things like handlebars for extra stability and bounce counters that track your workout and calories burned aren't essential, but they're a great thing to have, and make using your trampoline that much better.
Portability – While it's not on everyone's mini-trampoline shopping list, it's worth noting that there are some folding rebounders around which fold down to a size you can chuck in the boot of your car. If you're using it for a class, or want to take it to the office or use it as part of your personal training, it's good to know how well it folds down.
---
So, what are the top rebounders for your home gym?
Before the buyer's guide, let's go over the current top mini trampolines for 2022. Here are the ones we found were actually worth the money, starting with the top pick first.
---
The best rebounders in 2022
Before the buyer's guide, let's go over the current top rebounders up for sale today. Here are the ones we found were actually worth the money, covering a range of training disciplines and sexes.

#1 – Fit Bounce Pro 2
Frame width: 99cm
Trampoline height: 33cm
Tension connectors: 60 x Bungees
Max user weight: 150kg
Much better construction than a lot of rebounders
First off, compared to so many others, it's incredibly well made. The Fit Bounce Pro 2 body and frame are made from strong, tough steel, which gives it its high weight limit of 330lb. The frame is 40 inches wide, and the mat is held in place with 60 super strong connectors, up to twice as many as a lot of competitors.
Comfortable and fine with bare feet
In use, it's comfortable on the feet, and perfectly safe to use barefoot, with shoes, or with grip socks. The springs are supported by a silent bounce system that's strong but quiet, so you can use this anywhere without interrupting what's going on around them.
There's no denying that the Fit Bounce Pro 2 is more expensive than the competition, but you get so much more. Included in the pack is an exercise DVD, and there's also an option for streamed workouts online 24 hours a day.
British made, it arrives fully assembled, which will save you a lot of time and effort. It also comes with a bounce counter that tracks all of your workouts. There is an option for handlebars, and when it's not in use, this trampoline can be collapsed down with folding legs, and locked in place with a metal safety bolt and safely stowed in its zip-up carrying bag.
Finally, everything is covered with a full lifetime frame warranty and a 3-year warranty on the mat.
Verdict: Easily the best rebounding trampoline up for grabs in 2022. Strong, with every option you need in the bag, if you're looking for luxury and you're serious about health and fitness, you want this. The Fit Bounce Pro 2 is well made, has a soft, bouncy feel and managed to keep noise to a minimum.
Incredibly high quality and comfortable
Comes with everything you need
Quiet
Comfy
Collapsible design
Check Current Amazon UK Price
---
Frame width: 105cm
Trampoline height: 25cm
Tension connectors: 32 x springs
Max user weight: 150kg
A new and improved model for 2022, the Maximus Bounce and Burn trampette is a solid and stable workhorse that's good at everything it does but doesn't quite excel enough to make our top slot.
It's made from the same high-quality steel as our other top models and comes fully assembled, so it's ready to go straight out of the box. Everything is incredibly strong and tough, with a 330lb weight limit and super strong legs.
The trampoline is 40 inches across, with 32 support springs that offer loads of support. Where this stands out is the fact that it comes with a support rail already included, as well as a workout DVD with 7 progression workouts that take you from absolute beginner to intermediate fitness.
There's also an option for online workouts, helping you reach your goals. Finally, when you're done, you can fold everything up and slide it away.
Verdict: A great beginner trampoline that's really well priced, if you're looking to get into rebounding, the Maximus has everything you need, in one smart package.
Excellent build quality
High weight limit
Comes with safety railing and workout DVD
Check Current Amazon UK Price
---
Frame width: 102cm
Trampoline height: 22cm
Tension connectors: Springs
Max user weight: 100kg
A small, absolutely budget trampoline that sits at an incredibly low price, if you're looking to get started but you're not sure that rebounding is for you, then the PhysioRoom is the cheapest way to get started, as simply as possible.
Made from steel, it's strong and tough, with a weight limit of 220lb, which is reasonably low but easily high enough to work with. The 40-inch diameter gives you a stable base to work on, and the 6 legs are capped with non-slip rubber, so it won't move when you're using it.
It only takes a couple of minutes to assemble, with a simple screw-in leg design, and everything is covered with vinyl, keeping you safe and protecting your home from scratching when you pop it away at the end of the day.
Verdict: While you're not getting the same list of features as other trampolines, it still performs incredibly well. And if you need a trampoline on a budget, this comes at such a ridiculously low price, it's hard not to recommend it. There's a reason this was recommended by Women's Health magazine.
Amazingly low price
Strong steel construction
Very easy to use
Lower weight limit
Fixed legs don't fold down
Check Current Amazon UK Price
---
Related guides
---
Frame width: 101cm
Trampoline height: 28cm
Tension connectors: Bungees
Max user weight: 145kg
JandecFit has several home rebounders on the budget end of the scale. This mini-trampoline comes in a pink trim or a more neutral colour and has an arched leg design that adds to its stability. In fact, this is way stronger than it looks in the images. It can take up to 145kg quite happily.
Considering you can usually pick this rebounder up for under £100, the quality on offer is admirable. Everything from the alloy steel frame to the bungees are really well-made. The size is ideal for both adults and children too.
As for your cover, it's a scratch and wear-resistant PP mesh so it can take a bit of a bashing. And you can use it with bare / socks or keep your trainers on. As with a lot of rebounders, there's some serious pulling work to be done thanks to the bungees. So you'll need strong hands or someone in your house who has!
Another thing that trips this trampoline up is it's not quick or easy to fold. Compared to some of the rebounders above, this one takes a bit more work.
Verdict: Another budget model, there's a lot to love here, especially considering it's the second cheapest trampoline on the list. Choose this if you want a high weight limit and great performance.
High weight limit
Really strong and stable
Great materials
Can be difficult to put together
No stability bar option
Not the best for folding
Check Current Amazon UK Price
---
Frame width: 127cm
Trampoline height: 33cm
Tension connectors: Springs
Max user weight: 100kg
The largest trampoline on the list, this is a full 10 inches larger across, which means you have more than 50% more space across the top.
The same as the rest on our list, this is made from strong alloy steel, which gives it a 220lb weight limit and the mat is held in place with 40 extra strong steel springs. The trampoline comes with 8 strong, detachable steel legs and an adjustable handle, made from the same alloy steel, that can be adjusted to multiple heights and it's covered with soft foam for a gentle grip.
When it's not in use, you can collapse it down with the smart, twice folding design, and it can be tucked away into a 420D waterproof Oxford cover.
Verdict: If you're looking for a larger trampoline that offers you extra stability and size, then this is the perfect choice for you.
Extra-large 50-inch trampoline
Collapsible design
Comes with safety cover
Reasonably low weight limit
Check Current Amazon UK Price
---

What is rebounding?
Put as simply as we can, rebounding is any exercise regime that you do on top of a small trampoline. Adding jumping on a trampoline to a workout helps to really work the lower body, and burns a lot more calories than most other types of cardio, without being too hard on the joints or requiring a lot of expensive equipment.
Rebounding can help you:
Strengthen your core, legs, butt, and back
Improve your cardiovascular health
Help flush out toxins and strengthen the lymph system
Improve your balance, strength and coordination
Helps build up bone strength and density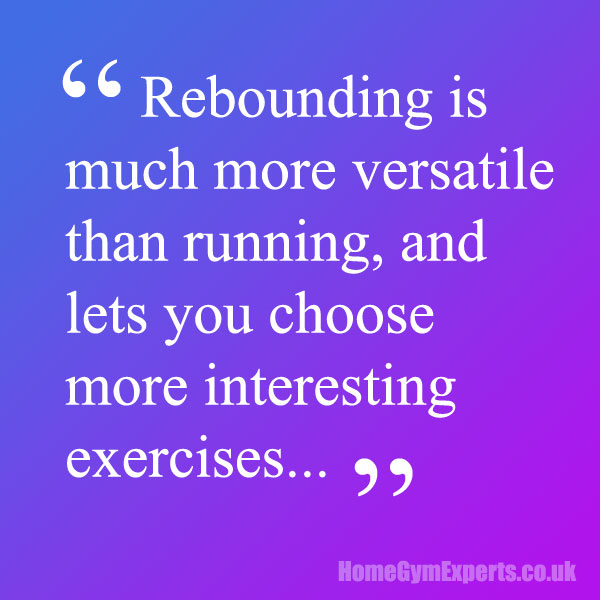 On top of this, it's easy to start rebounding from the comfort of your own home, because it needs almost no equipment except a rebounding trampette, (small trampoline,) and a space to exercise in.
Most people have used a trampoline at some point in their lives, but there's a big difference between a larger, standard sized trampoline and a smaller rebounder.
One, the way they're used is completely different. Larger trampolines can be used for acrobatics, fitness, games, and more.
Smaller, trampette style trampolines that are used for rebounding, are basically only suited for health and fitness. But that's precisely why you're buying one.
What can you do on a rebounder?
Warming up
Most people don't bounce around in their day to day life (if you do, good on you!) so it's extra important to warm up before you start a rebounding workout, as it's going to hit muscles that you don't usually use.
Start by stretching, then a few minutes of gentle jumping on your trampoline will relax your muscles and get you ready to exercise.
Jogging
You can use a mini trampoline for standard jogging, and it's a great way of getting started and building up your health and fitness. Make sure you keep your back straight and drive your arms, to give yourself a full body workout.
To increase difficulty, you can move to high knees, change stances so you're running with a wider stance, and move your arms up above your head or outwards.
Jumping Jacks
Performing jumping jacks on a trampoline feels completely different to standard jumping jacks because you'll be driving yourself downwards rather than jumping up, to make yourself bounce.
Make sure you bend forwards slightly to keep your balance and use your arms to help drive your hips and feet downwards into the trampoline with every rep.
Intervals
An interval series isn't a specific exercise. Instead, it's a type of exercise that you can do on your rebounder that could be a really good way of getting fit and healthy, fast.
The simplest way of doing intervals is to work as hard as possible for 20 to 30 seconds, then slow down to a very easy effort for the same amount of time. Repeat this five or six times, then gently warm down.
Pelvic Floor Bounces
Rebounders are great for working your pelvic floor.
Hold a softball or a thick pillow between your knees, then squeeze your thighs together and bounce gently for a few minutes. Start slowly, and work up the time over several days.
Should you wear shoes on your rebounder?
There are generally three options for what you can wear on your feet when you're on your rebounder; bare feet, grip socks, and training shoes.
Under most circumstances, wearing shoes isn't going to damage your rebounder, and it's completely safe to do so. As long as your shoes don't have any sharp or spiky sections, they won't catch or damage your trampoline, and wearing shoes can add stability, help with ankle and foot pain, and even help with flat feet.
Make sure that laces are tucked away or tied securely, and never wear just socks on your rebounder, as they can lose grip and cause you to fall.
Is rebounding better exercise than walking?
For most people, rebounding is a much better exercise than walking. For starters, rebounding burns way more calories than walking. Around 5 to 8 minutes on a trampoline is equivalent to running a mile.
On top of this, rebounding is much more versatile than running, and lets you choose more interesting exercises, vary your workouts, and target different parts of your body for maximum effect.
Lastly, rebounding can be done anywhere, whether that's your local gym, a park, your garden, or the comfort of your front room. That means that, no matter how horrible the weather or what's going on outside, you can always get your exercise.
Are there any safety issues with rebounding?
Like all exercise, you should be careful when beginning a new exercise regime and may want to talk to your doctor before you start.
When you're using your trampoline:
Make sure it's stable and undamaged before you use it
Don't exercise too close to anything you could fall into
Don't overdo your exercise, and stop if you feel lightheaded or woozy
If you struggle with balance, buy a trampoline with a safety handlebar
Keep your trampoline away from pets and small children
---
References & Further Reading